Mark Trenka Installed as CAR Chairman
Colorado Association of REALTORS® Announces 2016-17 Leadership.
Mark Trenka, broker/owner of Century 21 Trenka Real Estate was inducted as Chairman of the Colorado Association of REALTORS®  during the 2016 CAR Conference and Expo last week.  Mark will assume his new role from Nov. 1, 2016 through Oct. 31, 2017.
Trenka has extensive experience with the Colorado Association of REALTORS® dating back to 2008. Of note, he served as Chairman of the Legislative Policy Committee from 2013 through 2015, during which time he worked with the local legislature on individual bills to ensure REALTORS® were fairly represented.
In his new position, Trenka will serve as a conduit between CAR's more than 24,000 members and the Board of Directors. Working in tandem with the leadership council, he will assist with strategic planning, helping to set the organization's direction and vision for the coming year.
"The real estate market here in Colorado is particularly unique, as we have four distinct regions that boast a diverse real estate landscape – the front range, mountain resort market, eastern plains and west slope," said Trenka. "I'm eager to hear from and continue working with brokers on the ground in each of these markets to help ensure our association is meeting their unique needs."
CAR CEO Tyrone Adams said, "We're very excited to welcome someone with Mark's combination of real estate and leadership experience as our chairman for the coming year. He is obviously very passionate about his work and, with his leadership at the local and state levels; he has earned the trust of his real estate peers and our CAR staff, as well as the confidence of our membership."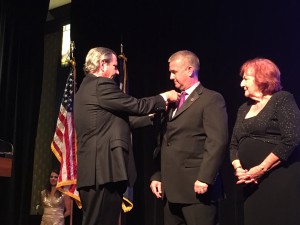 Other top officers who will serve with Trenka are:
Ann Hayes (Keller Williams, Grand Junction)  – Chair-Elect
Gary Bauer (Garold D. Bauer, Denver) – Treasurer
Alan Lovitt (RE/MAX Advantage, Colorado Springs) – Immediate Past Chair
Dennis L. Johnson (Paffrath & Thomas, Summit) – Appointed Past President
The board's main responsibilities include leading and coordinating volunteer efforts of the association aimed at maintaining stability in Colorado's real estate industry, protecting private property rights, supporting efforts for affordable housing opportunities and providing resources and services designed to help Colorado REALTORS® succeed in their business.
Other members of the 2016-17 Leadership Council:
District Vice Presidents:
Ron Thorne (Keller Williams, Golden) – Metro District Chair
Paul Hunter (Windemere Real Estate, Ft. Collins) – Northeast District Chair
Donna Major (RE/MAX Advantage, Colorado Springs) – Southeast District Chair
Brenda Wild (RE/MAX Premier Properties, Aspen) – Mountain District Chair
Marjorie Genova (RE/MAX 4000, Grand Junction) – Northwest District Chair
Jarrod Nixon (Coldwell Banker, Durango) – Southwest District Chair
Division Chairmen:
Francie Martinez (Elevations Real Estate, Fort Collins) – Member Services Division Chair
Julie Retzlaf (Slifer, Smith & Frampton Real Estate, Vail) – Board Services Division Chair
Dave Kupernik (24K Real Estate, Parker) Government Affairs Division Chair
Association Representative:
Clink Skutchan (Association Executive, Fort Collins) – Association Executive Representative
Ex-Officio