Inventory Remains Key Factor in Markets Across the State
Median sales price for Colorado's single-family homes dips for second time in three months while condominium/townhouse prices increase.
The median sales price of a single-family home in Colorado has dropped for the second time in the past three months to $336,700. The one percent dip comes on the heels of a flat August and a nearly 3 percent dip reflected in the state's median sales price from June to July. At the same time, the median sales price for condominiums/townhouses in the state increased for the second straight month to $252,000, a two percent increase from August to September and a steady rebound to the only median price decrease (3.6 percent) measured in 2016 in the condo/townhouse category from June to July. Compared to September 2015, single-family median prices were up more than 10 percent and condominiums/townhouses were up just over 13 percent.
Median Sales Price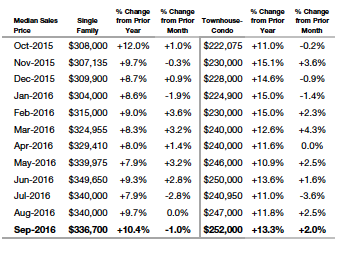 Affordability, based on the relationship between housing prices and local income levels, remained relatively flat for single-family homes while the affordability index for condominiums/townhomes decreased slightly in conjunction with reported price increase. The Northwest and Southeast regions of the state remain the most affordable, although median sales prices in those areas have increased 8 percent and 10 percent from this time last year, respectively.
In addition, sales also declined from August to September, down 7 percent to 7,538 single-family homes and -6.6 percent to 2,501 condominiums/townhouses.  However, compared to September 2015, single-family sales were just one-half of a percent lower while condominiums/townhouse sales were down 5 percent.
Inventory continues to be a major challenge across the state.  There were 8,525 new single-family listings in September, down 13 percent from August but relatively even with the market one year ago.  New listings for condominiums/townhouses decreased 13 percent to 2,566 from August to September and were also even with the market's new listings one year prior.  Overall, there were 25,580 homes on the market in September, nearly 28 percent fewer than a year ago, providing a 3-month supply of single-family homes and 2-month supply of condominiums/townhouses.
Sold Listings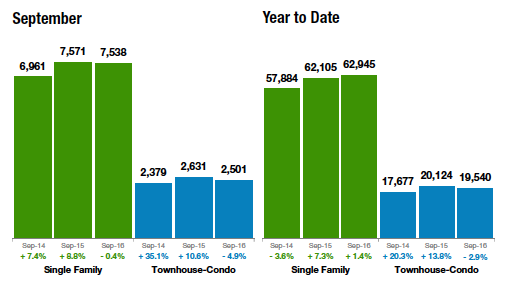 Short supply has driven down the average number of days that homes stay on the market (DOM) before selling.  The DOM for single-family homes in September was 51  –  up six days from the August DOM. For condominiums/townhouses it was 46, up just two days from the August report. Both single-family and condominium/townhouse DOM were down compared to a year ago.
For the full reports on each region, please visit:  www.coloradorealtors.com/real-estate-statistics/
The Colorado Association of REALTORS® Monthly Market Statistical Reports are prepared by Showing Time, a leading showing software and market stats service provider to the residential real estate industry, and are based upon data provided by Multiple Listing Services (MLS) in Colorado.  The September 2016 reports represent all MLS-listed residential real estate transactions in the state.  The metrics do not include "For Sale by Owner" transactions or all new construction.