Demand and Low Inventory Keep Prices Flat for Single Family
Despite typical seasonal and market factors, strong demand and record low inventory keep median sales prices for single-family homes flat while condo/townhouse prices reach a new high.
While temperatures across Colorado remained more summer-like than fall throughout November, traditional seasonal real estate market slowdowns were met head-on by strong consumer demand and a continued shortage of inventory, according to the latest statewide housing report from the Colorado Association of REALTORS®. The combination of factors helped to keep the median sales price for single-family homes flat at $335,000, and drove Colorado townhouse/condominium median sales prices to $255,000, a new high that is up $30,000 from where the median price was in January 2016.
Colorado's growing population combined with the overall shrinking number of available properties continue to shape the state's housing markets. November also saw mortgage interest rates begin to creep higher and waiting time for property appraisals also served as contributing factors to the statewide market.
With just 5,576 single-family home listings added in November, there were only 15,645 active listings in the state, a 37 percent decline from the categories July peak. For townhouse/condos, there were 1,720 new units listed in November bringing the statewide total to 3,639, down 35 percent from its July peak as well (see the chart below). Overall, there were less than 20,000 homes on the market in November across the state, the lowest total in more than a year, providing just over a two-month supply of single-family homes and, for the first time since CAR has commissioned the monthly reports, a less than 2-month supply of townhouse/condominiums.
Inventory of Active Statewide Listings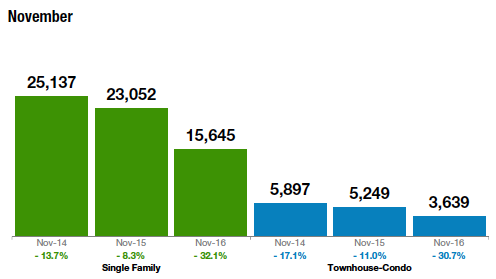 With less inventory comes fewer sales, a category that also declined from October to November, down -6.7 percent to 6,636 single-family homes and -11.6 percent to 2,093 condominiums/townhouses. However, compared to November 2015, single-family sales were up 24 percent while condominiums/townhouse sales were up more than 13 percent.
Sold Listings Statewide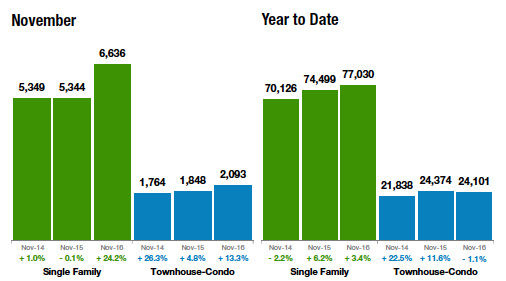 The median sales price for both single-family homes and townhouse/condominiums remained relatively flat in the Metro Denver market and experienced a mixed bag of results across the remaining five regions of the state.

The November median sales price of $347,000 in the metro Denver area was flat with October pricing, as did the southeast region of the state. Other Colorado markets experienced mixed results from October to November with homes in the mountain region of the state increasing 2.1 percent from a median sales price of $455,000 in October to $465,000 in October. The state's northeast region experienced a nearly 8 percent increase from $302,000 to $328,000 while the northwest region had a 2 percent increase in its median sales pricing going from $205,000 to $209,000. The southeast region, the state's second most affordable, stayed flat at $230,000 while the southwest region showed the only decrease for the month dipping -4.5 percent from $277,000 to $265,000 for November.
Inventory is a major factor in the Denver metro market as the supply of single-family homes sits at 1.5 months of inventory, while condo/townhouse inventory has dipped below a one-month supply.
Statewide Months Supply of Inventory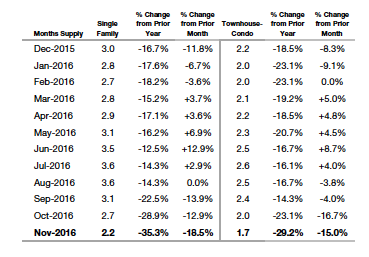 The continued short supply of homes plays a role in the average number of days that homes stay on the market (DOM) before selling.  The DOM for Colorado single-family homes in October was 55, its highest average since April 2016. For condominiums/townhouses it was an average of 50 days on the market before sale, up two days from the October report and reaching an average not seen since early in 2016.
Affordability, a measurement based on the relationship between housing prices and local income levels, also took a hit in the month of November for both single family (-8.5 percent) and townhouse/condominiums     (-10.8 percent).
The Colorado Association of REALTORS® Monthly Market Statistical Reports are prepared by Showing Time, a leading showing software and market stats service provider to the residential real estate industry, and are based upon data provided by Multiple Listing Services (MLS) in Colorado.  The November 2016 reports represent all MLS-listed residential real estate transactions in the state.  The metrics do not include "For Sale by Owner" transactions or all new construction.
The complete reports cited in this article, as well as regional reports specific to the Denver Metro, Mountain, Northeast, Northwest, Southeast and Southwest markets are available online at: www.ColoradoREALTORS.com/HousingStatistics