New and Active Listings Continue to Decline in Colorado
ENGLEWOOD, Colo. – Dec. 12, 2017 – With a significant decline in new listings and active listings continuing to define a low inventory market across the metro area and the entire state, median home prices are holding their own, according to the latest housing report from the Colorado Association of REALTORS® (CAR).
With limited new housing starts, the record low inventory figures are likely to continue until spring 2018 as the hot seller's market continues among consistent demand from a growing statewide population.
Key findings from the November 2017 research data
Denver metro area:
While new listings in the Denver metro area remain up 6.8 percent from a year ago, they were down 27 percent from a month ago.
Active listings in the Denver metro area are also down 17 percent from a month ago and are down more than 30 percent from November 2016.
The median sales price of a single-family home in the Denver metro region dipped slightly to $395,000 in November, up just over 8 percent from a year prior while the condo/townhome median sales price also dropped to $271,500, also up 9.5 percent year-over-year.
With only a 1.5 month supply of inventory for single-family homes in the Denver metro area, inventory supply is down nearly 35 percent from a year ago.
Affordability continues to be a driving factor for both single-family and condo/townhome purchases.
Statewide:
When looking at the entire state, the median sales price of a single-family home remained flat from a month ago at $361,000 but is up more than 9 percent from a year ago.
Condo/townhome median sales price also remained flat at $275,000 and is up nearly 9 percent from November 2016.
Statewide, new listings (7,625) are down 25 percent from October to November but remain flat from a year ago.
Inventory for single-family homes (14,677) is down nearly 26 percent statewide while the months supply of inventory dipped to 2 months, down 26 percent from November 2016.
While many of the state's rural markets offer more house for the dollar, affordability continues to be a driving factor down more than 6 percent from a year ago.
INSIGHTS FROM LOCAL EXPERTS
Following are insights about local market conditions from several of the Colorado Association of REALTORS® research spokespersons practicing across the metro area and state:
BOULDER/BROOMFIELD
"The Broomfield market is ending the year on a high note, with single-family homes up more than 10 percent and attached dwellings up over 16 percent from a year ago.  The market remains a hot, seller's market with days on the market hovering around 20 days. Low inventory and pent-up demand are keeping this area in the hot market zone, even in the cooler winter months.
Boulder, however, showed moderate increases with single-family prices up 6.9 percent and condos trailing at 3.4 percent. Affordability continues to be an issue for the city of Boulder, and even some of the surrounding areas. That being said, some exciting, new building projects and the new Google campus coming in 2018 have Boulderites still pumped about the market.  The modest appreciation numbers also alleviate many concerns of a market shift as conservative growth tends to withstand market changes," said Boulder-area REALTOR® Kelly Moye.
DENVER
"In comparison to the entire metro area, we continue to see our Denver housing market tightening even further. There is now just one month's worth of inventory available as compared to the metro-area's 1.3 months, and in Denver, the average days on market is just 27 while metro competes at 32 – a number unchanged from last month. Our median price is up 9.9 percent over November of 2016 but is seeing a much slower climb in recent months. While the metro area is also shattering record median prices, rising 6.2 percent overall since 2016, Denver's performance in this category is just shy of 10 percent. Denver's metro area remains in hot demand, especially as it pertains to central business district-cored areas like Parker's Mainstreet, Golden's Downtown or Arvada's Olde Town, but Denver remains king moving in to 2018," said Denver-area REALTOR® Matthew Leprino.
GLENWOOD SPRINGS
"Glenwood Springs' November housing market resulted in some split results with new listings down 30 percent for single-family homes while multi-family was up 16 percent. Sold listings in the townhome-condo market were also up 4 percent over 2016 while single family sales were down more than 12 percent. The median price for single-family homes was up 13 percent while the multi-family median price was half that at a little over 6 percent, year-over-year.
"Overall the valley is still experiencing low inventory due to a lack of new construction starts even though those starts were higher than have been seen since 2008. Prices are holding through the slower winter season and new listings are scarce. Most home sellers will wait out the winter and list in the spring which notoriously brings out more buyers," said Glenwood Springs REALTOR® Erin Bassett.
VAIL
"The Vail Valley Market experienced a seasonal lull, along with a softening in sales activity for the month.  Single family/duplex sales were down 19 percent versus November 2016, yet year to date, sales are up 7 percent. Our townhome/condo market saw a 28 percent decline on a monthly comparison versus 2016 with the year-to-date trend at -7 percent. Some of the sales performance is attributable to the 20 percent decline in active listings which lowers the months of supply on single family/duplex to 6.7 and townhome/condo to 5.1 which are extremely low as we enter the ski season sales cycle. The high end of the market was significant in the decline as the single family/duplex segment was down 52 percent versus the month of October, while townhome/condo sales were down 32 percent for the same period.  On the year-to-date trend we continue with single family/duplex up 7 percent in sales and townhome/condo -7 percent which translates to an overall dollar increase of 14 percent as the strong performance early in the year and the summer season have driven the 2017 numbers. This is a market that highlights the value of a knowledgeable REALTOR®  to help a buyer or seller optimize their objectives," said Vail Valley REALTOR® Mike Budd.
GOLDEN/JEFFERSON COUNTY
"The market in Jefferson County is virtually unchanged from last month, there are very small amounts of homes/townhomes on the market. The average price range for a single family home still sits at  $480,000, where the average price for a townhome is at $288,000. The days on the market have increased for higher end homes, where the homes under $350,000 are sill under contract within days.
"In Golden, the inventory also remains low, partly because of the time of year and the homes and townhomes that do come on the market are under contract quickly. The average price range for a single-family home has increased by 10.6 percent from this time last year and 11.3 percent for townhomes," said Golden-area REALTOR® Barb Ecker.
PUEBLO
"Pueblo's November listings were actually up 5.6 percent for single-family homes. Pending sales also rose 17.4 percent while days on market dropped 15.2 percent. We continue to have a very strong seller's market because of low inventory however, our local agents believe inventory will increase in 2018.
"New home construction has been strong. November permits were up 41.5 percent this year and are looking even better for next year despite costs going up.  Pueblo West is leading all areas with 173 permits," said Pueblo-West REALTOR® David Anderson.
ROYAL GORGE AREA
"The Royal Gorge Area Market continues to see low inventory issues with new residential listings slightly lower than last month and below last year's numbers overall. Residential unit sales last month equaled the same time period one year ago but have increased by 2 percent overall for year-over-year. Our current median priced home value of $183,400 is up compared to last month and shows an increase of 6.1 percent overall year-to-date. Days on the market from listing to closing average 110 days; however, 25 percent of the sold listings over the past year close within 45 days of the listing date. Buyers moving from the higher priced metro areas of the state are finding great home values here and putting their excess cash in the bank," said Royal Gorge-Area REALTOR® David Madone.
Statewide – includes data for single family homes and condo/townhomes
Denver Metro – (includes – Adams, Arapahoe, Boulder, Broomfield, Denver, Douglas and Jefferson counties)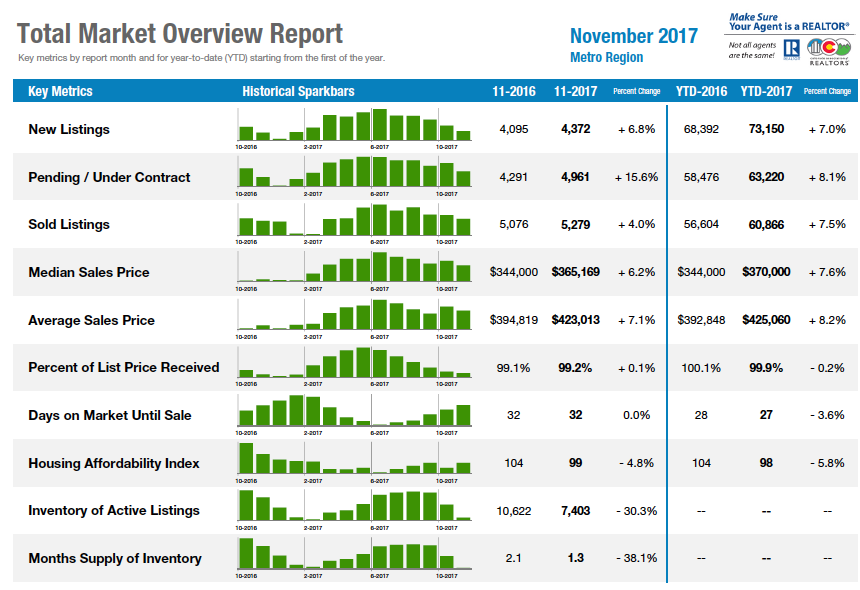 Inventory of Active Listings — Statewide

Inventory of Active Listings – Metro Region

Median Sales Price Metro Region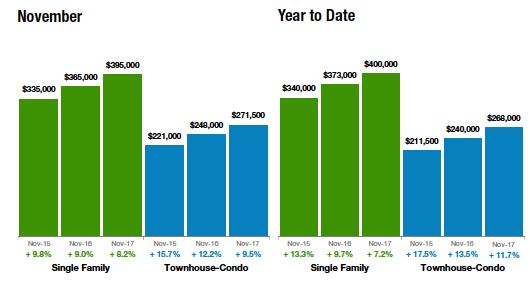 Median Sales Price – Statewide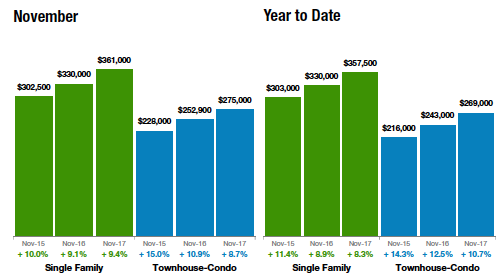 The Colorado Association of REALTORS® Monthly Market Statistical Reports are prepared by Showing Time, a leading showing software and market stats service provider to the residential real estate industry, and are based upon data provided by Multiple Listing Services (MLS) in Colorado.  The November 2017 reports represent all MLS-listed residential real estate transactions in the state.  The metrics do not include "For Sale by Owner" transactions or all new construction.
The complete reports cited in this press release, as well as county reports are available online at: https://coloradorealtors.com/market-trends/