Colorado Home Prices Continue to Rise: 2017 a Record-Breaking Year
Median sales prices rise 10 percent in back-to-back years lack of inventory a consistent theme statewide
ENGLEWOOD, Colo. – Jan. 11, 2018 – From the Denver metro area's urban core and suburbs, to smaller communities across the state, Colorado's housing market experienced back-to-back years of 10 percent bumps in the median sales price of a single-family home as record low inventory dictated markets, according to the latest statewide housing reports from the Colorado Association of REALTORS® (CAR).
Mirroring conditions from December 2016 – but with a continually growing population and a limited number of new construction and new listings in the winter months – the 2017 statewide market closed out with median sales prices for single-family homes equal to or near their summer highs, while condo-townhome median sales prices reached their highest point of the year in December.
Some key findings from the December 2017 Report and a look back at the year:      
The December median sales price of a single-family home in Denver reached $400,000, up 8.4 percent from a year ago, while the median sales price for a Denver-metro area condo/townhome reached $284,000 during the last month of the year, surpassing its previous June 2017 high of $277,000.
The average sales price of a single-family home in the Denver metro region reached $465,818 in December, up just shy of 11 percent from a year ago. Statewide, the average sales price was $433,368 in December, up 8.3 percent year-over-year.
Condo/townhome average sales price in Denver metro closed the year at $338,992, an increase of 10.6 percent from December 2016 levels. Statewide, the average sales price was $373,788, an increase of 10.5 percent from a year prior.
In the Denver metro area, active listings were down 30 percent from December 2016 to 2017 and the months supply of inventory for single-family homes dipped 37 percent to 1.2 months in the metro area year-over-year while condo-townhome inventory slipped below a one-month supply for the first time in the 8-year history of the CAR market trends reporting.
Statewide, active listings were down 27 percent with month's supply of inventory at 1.7 months, down 26 percent from a year prior.
With limited new housing starts and traditional winter slowdowns in new and active listings, the record low inventory figures are likely to continue until spring 2018 as the hot seller's market continues among consistent demand from a growing statewide population.
INSIGHTS FROM LOCAL EXPERTS
Following are insights about local market conditions from several of the Colorado Association of REALTORS® research spokespersons practicing across the metro area and state:
AURORA
The Aurora market experienced a 9 percent increase in the average sales price throughout much of the City in 2017 with areas in north Aurora up as much as 12 percent on single family homes. Sold listings totaled 5372 representing a 2 percent increase over 2016. As we move into the early days of 2018, the market is already off to an active start. With low inventory and high demand it is reasonable to expect that homeowners will continue to enjoy healthy appreciation throughout the spring. Aurora continues to be a very affordable option with the average sales price of $383,700 for single-family residential homes compared to the Denver metro area's average sales price of $464,334. As the market heats up for the spring and summer season it is expected that we will see an increase in the inventory and buyers should expect that the pricing will most likely see an increase as well," said Aurora-area REALTOR® Sunny Banka.
BOULDER/BROOMFIELD
"Homes in the Broomfield area crossed the 2017 finish line strong with a solid 10.9 percent appreciation in single-family homes and an impressive 15 percent for townhomes and condos. Days on the market still hover under 30 days and even though there were a few new listings this year, they were all gobbled up faster than the inventory could accumulate.
"Boulder County showed more modest gains of 7.3 percent and 3.8 percent, respectively. Seeing that the city of Boulder topped $1 million for its average single-family home price, most believe the lack of affordability is pushing buyers outside of Boulder to more affordable areas. So while Boulder is still in a strong seller's market, the neighboring, more affordable communities are experiencing the benefit of the more prudent buyer.
"Still a brisk market, with no slowdown in site! If the spring-like weather continues this winter, our spring market will start earlier and the year looks like it will continue in an upward trend," said Boulder-area REALTOR® Kelly Moye.
COLORADO SPRINGS
The sales activity in the Colorado Springs area housing market set a new record in 2018, while the inventory of listings continued to deplete to a drastically low level.  Compared to 2016, single-family patio home sales volume was up 17.3 percent in 2017, listings sold were up 6.7 percent, average sales price by 9.9 percent, median sales price by 9.4 percent and new listings were up 2.9 percent. The strongest demand continues to be for properties priced under $400,000. There is a reasonably balanced supply and demand situation for properties priced between $400,000 and $600,000. It is indeed an opportune time for buyers in higher price ranges. Looking ahead, all indications point to a very strong 2018," said Colorado Springs-area REALTOR® Jay Gupta.
DENVER
"The new year kicks off what is sure to be a banner successor to 2017 where we experienced incredible changes ranging from a 9 percent average sales price increase to a staggering 40 percent decrease in available inventory for single-family homes in Denver. However, the story is not one of doom and gloom, as the second half of 2017 showed that while prices continued to increase on average, the rate at which they were increasing has mellowed. In fact, the median price for Denver dropped more than $18,000 from November to December or 4.1 percent – not terribly uncommon over the Holidays but a large enough number to take note of for future buyers over future holiday seasons. With less than one month's supply of inventory available to the homebuyer today and 4 months being the rule of thumb for a balanced buyers-to-sellers market, the prices, though slowing, are sure to increase in 2018 as demand once again conquers supply," said Denver-area REALTOR® Matthew Leprino.
GOLDEN/JEFFERSON COUNTY
"Like most every other county in the metro area, Jefferson County slowed down over the past month of the year with a combination of seasonal factors and too little inventory on the market – the lowest amount in decades. Hopefully, the new year will bring better conditions for buyers with more homes to be built and new listings for sale," said Golden-area REALTOR® Barb Ecker.
PAGOSA SPRINGS/ARCHULETA COUNTY
"With an exceptionally strong 2017 in the books, there are no signs of weakening in 2018 for Pagosa Springs and the southwest Colorado housing market. We continue to benefit from a great real estate purchase value as compared to most Colorado ski mountain towns, even with the average sales price jumping an impressive 17 percent this past year.  The 2017 median sales price also jumped 11.4 percent, pushing median homes sales toward the mid $300s. The higher inventory of new construction homes in the last quarter of 2017 contributed to the increase and the new construction trend and price increase should continue through the first quarter of 2018, as spring-like weather has allowed new construction into January. Although average 'days on market' was the same in 2016 and 2017 at 151 days, price points under $350,000 are averaging just 90 days on market in the last quarter of 2017. Considering almost 70 percent of homes in Pagosa Springs are second homes, with less inventory and days on market, buyers no longer have the luxury to hesitate on their purchase. Second-home buyers (mainly from Texas, Oklahoma, New Mexico, Arizona, and the Front Range of Colorado) are making purchase decisions more quickly than ever! This is also true for local buyers, as they compete with second-home buyers.
"Condos/townhouses were also up 5 percent ($163,757) in 2017 median sales price and 7.2 percent ($186,816) average sales price. Fourth quarter 2017 showed the most increase with fewer days on market and higher sales prices and we anticipate more of the same in 2018 as inventory is slim. Units coming onto the market are hovering higher than 2017 median sales prices and going under contract much sooner. With the exception of a few luxury priced townhouses, the Pagosa market lacks new condo/townhome construction which will drive prices higher. Should the lack of snow and spring-like temperatures continue, the traditional April/May home listing season and even more new construction will start earlier with prices expected to climb," said Pagosa Springs-area REALTOR® Wendy Saunders.
PUEBLO/PUEBLO WEST
"With a very strong finish in December, 2018 looks to be a very good year for real estate in Pueblo once again. We wrapped up the year on a high note with December listings up 40.2 percent from the prior month and 6.6 percent for the year. Pending sales increased 21.3 percent in December and were up 12 percent year-over-year.  Total listings sold in 2017 increased just over 12 percent with an average sales price $177,897 reflecting a 6.6 percent increase for the year.  The list price to sale price stayed strong at 98 percent while days on market dipped to 83. However, in Pueblo West it is just 37 days.  Pueblo West lot sales have increased as builders are planning to increase home construction beyond the 187 they built in 2017," said Pueblo-West REALTOR® David Anderson.
ROYAL GORGE AREA – FREMONT AND CUSTER COUNTIES
"The 2017 housing market throughout the Royal Gorge area displayed an increase in the median sales price of more than 6 percent while the total number of sales increased by 3 percent compared to 2016. This growth has been steady over the past five years. While home prices are rising and more units are being sold, our
new listing inventory decreased by 4 percent and the average days on the market decreased by
16.8 percent. More and more people are choosing to live in this area around the Arkansas River and Southern Colorado Mountains. Our reasonably priced median home value of under $200,000 makes it easy to do that. Our seller's market will continue into 2018," said Royal Gorge-Area REALTOR® David Madone.
TELLURIDE
The Telluride market finished up 36 percent in total sales dollars over 2016 posting $616.1 million for 2017. That is the best annual sales amount for our region in 10 years, as the number of sales were up 10 percent over 2016. Like other Colorado markets, we are seeing a shortage in inventory, especially in condominiums and somewhat in homes in the Town of Telluride and Town of Mountain Village. Generally, it takes two years to get a home built in these communities from getting architectural plans completed and approved to finished construction. Condominium projects can be two to three times longer. All of this means that the shortage of inventory will most likely become even more restricted with significant upward pressure on prices. The Telluride region hasn't had a new subdivision approved in more than 15 years and it is unlikely that any new subdivisions will ever be created due to the political environment. Additionally, the new Tax Reform package that was just passed by Congress will most likely benefit the clientele that patronizes affluent markets like Telluride creating more demand for an increasingly limited supply of finished inventory. We anticipate a building boom in the Telluride region for the next few years and continued sales records," said Telluride-area REALTOR® George Harvey.
VAIL
"December played out as a very interesting month for the market as the basic trend for 2017 flipped around. Transactions were up 18 percent over December 2016 while dollar volume increased by just 2 percent. This performance is dramatically different then the overall 2017 results which showed a 1 percent increase in transactions and a 12 percent increase in dollars. The $2 million-plus market drove the early part of the year however, it began to slip in the fourth quarter. The upper segment of the market maintained a 14 percent transactional share and a 49 percent share of dollars for the year which was the entire increase in dollars as the under $2 million represented 86 percent of transactions and 51 percent of dollars.
"The under $1 million market held its market share of 70 percent in transactions and 31 percent of the dollar market. The weakest market niche was the $1-2 million range which was off 12 percent in transactions and 14 percent in dollars. In summary, 2017 was a solid performance but one requiring proficiency to optimize a clients' goals," said Vail Valley REALTOR® Mike Budd.
Statewide – includes data for single family homes and condo/townhomes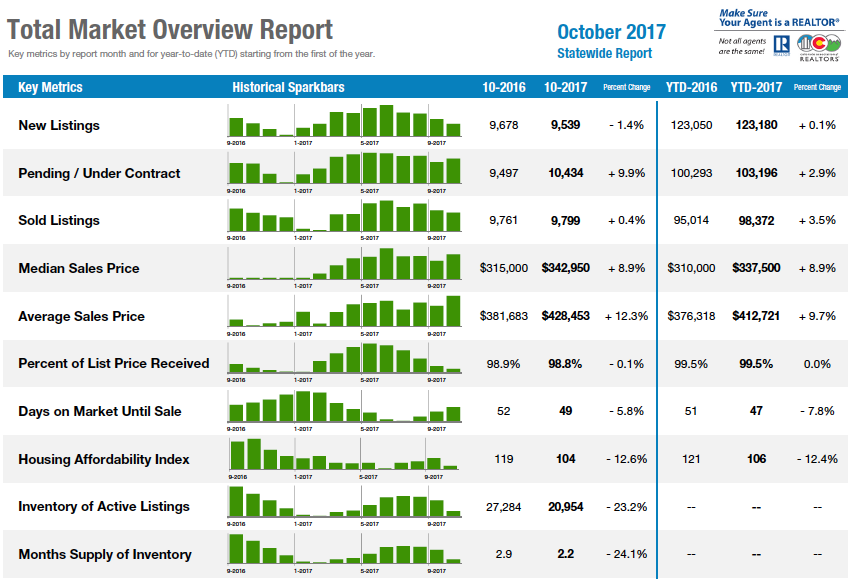 Denver Metro – (includes – Adams, Arapahoe, Boulder, Broomfield, Denver, Douglas and Jefferson counties)
Median Sales Price – Statewide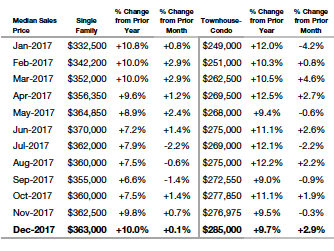 Median Sales Price Metro Region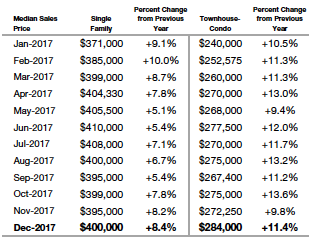 Average Sales Price – Statewide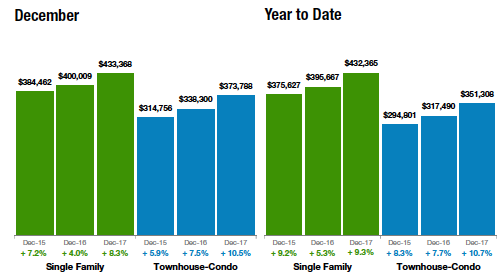 Average Sales Price – Denver Metro Region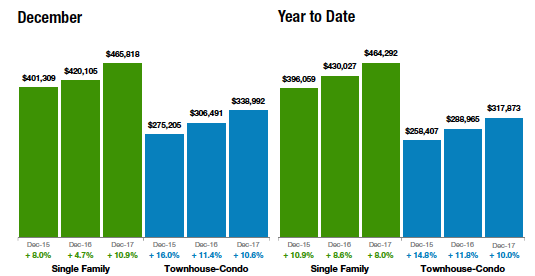 Inventory of Active Listings — Statewide
Inventory of Active Listings – Denver Metro Region

The Colorado Association of REALTORS® Monthly Market Statistical Reports are prepared by Showing Time, a leading showing software and market stats service provider to the residential real estate industry, and are based upon data provided by Multiple Listing Services (MLS) in Colorado.  The December 2017 reports represent all MLS-listed residential real estate transactions in the state.  The metrics do not include "For Sale by Owner" transactions or all new construction.
The complete reports cited in this press release, as well as county reports are available online at: https://coloradorealtors.com/market-trends/
CAR/SHOWING TIME RESEARCH METHODOLOGY
The Colorado Association of REALTORS® (CAR) Monthly Market Statistical Reports are prepared by Showing Time, a Minneapolis-based real estate technology company, and are based on data provided by Multiple Listing Services (MLS) in Colorado.  These reports represent all MLS-listed residential real estate transactions in the state.  The metrics do not include "For Sale by Owner" transactions or all new construction.  Showing Time uses its extensive resources and experience to scrub and validate the data before producing these reports.