How low can you go?
Homebuyers facing inventory supply levels never before seen in Colorado
ENGLEWOOD, Colo. – Feb. 12, 2018 – Housing affordability, a popular discussion from renters to REALTORS®, elected officials to economists, and many others across our state, is taking a back seat to the real housing conversation across most of Colorado – availability – or the lack thereof, according to the latest statewide housing reports from the Colorado Association of REALTORS® (CAR).
Despite major increases in the number of new listings for single-family homes both in the Denver metro region (+75 percent) and statewide (+63 percent) from December 2017 to January 2018, pent up demand led to a nearly equal bump in homes under contract during the month of January as properties were gobbled up by hungry buyers nearly as quickly as they were hitting the market. Condominium and townhome new listings also enjoyed nice bumps over the past month, up 60 percent in the Denver metro market and plus 50 percent statewide however, they too were met with nearly equal numbers in the under contract category.
As a result, the total inventory of active listings for single-family homes and condominium/townhomes in Denver metro (6,061), as well as all statewide markets (15,025), are at an all-time low, according to CAR's January housing reports. And, with only one-month supply of inventory in the metro area and a month-and-a-half across the state, we are moving further from a balanced housing market which typically ranges from 4-6 months supply of inventory.
Other key findings from the January 2018 Housing Reports from the Colorado Association of REALTORS®:
Median sales price of a single-family home in Denver ticked up $5,000 in January to $405,000 reflecting a nearly 9 percent increase from a year ago and nearing mid-summer record highs.
Denver area condo/townhomes median prices reached yet another new high at $285,000, up 17.6 percent from a year prior.
Statewide, the median sales price for single-family homes ticked lower by less than a half a percent to $361,930 however, they too are up just shy of 9 percent from January 2017.
The median sale price for a condo-townhome statewide also dipped slightly to $280,000 but remains within approximately one percent of its all-time high reached just a month ago.
INSIGHTS FROM LOCAL EXPERTS
Following are insights about local market conditions from several of the Colorado Association of REALTORS® research spokespersons practicing across the metro area and state:
AURORA
"What is up and what is down in Aurora? The up is home prices, just like the rest of the Denver Metro area.
Single-family residential home prices are experiencing home price increases from 4 to 14 percent depending on the zip code.
What is down? You guessed it, inventory. We are experiencing an extremely low number of homes on the market in both the single family and condo markets throughout Aurora. For example, in the 80013 zip code, active residential homes on the market are down 75 percent over January 2016. Many potential home sellers are holding back on putting their homes on the market with the fear of difficulty finding a replacement home.
The condo market is following the same path, prices are up and inventory is down considerably.
We've had a very active January and it is expected that we will continue to have a very busy spring.
The good news Aurora offers a variety of price range options.  Many areas in Aurora continue to have very affordable options compared to the rest of the metro Denver area," said Aurora-area REALTOR® Sunny Banka.
BOULDER/BROOMFIELD
"Broomfield County started off the year with a strong, 10.5 percent appreciation for single family homes. Ask any buyer who tried to get in on the market and they'll tell you the average number of days to sell of 43 days made it very challenging to find a home to buy in this area.  We saw a healthy amount of new listings, especially in condos and townhomes, but the buyers gobbled them up as soon as they came on the market.  The convenient Broomfield location, highly-rated schools and still somewhat affordable housing is fueling this market.
"Boulder County's numbers look a  little different. Single-family homes started the year in the red, losing 3 percent of their median value. Condos fared better with a solid gain of 14 percent, leaving us to surmise that the lack of affordability in single-family homes is starting to cause a correction in the market. If the activity in the first month is any indication of what our spring market will be, it will be another fast-paced sellers' market. Time will tell if Boulder's prices come up again and it was a mere seasonal blip, or if that lack of affordability is really a challenge," said Boulder-area REALTOR® Kelly Moye.
BRIGHTON
In the I-76 corridor area, the numbers of both closed properties and homes for sale are down from last year yet the prices continue to climb.  Moving into the spring season should bring more properties to the market, giving buyers more options. As interest rates slowly start to climb, you may see the market start to soften," said Brighton-area REALTOR® Jody Malone.
COLORADO SPRINGS
"The sales activity in the Colorado Springs area housing market remains robust.  In January 2018, sales volume, average and median prices for single-family homes were up more than 11 percent while new listings were up by 20 percent over January 2017. One of the most significant year-over-year changse was a 7 percent increase in sales of properties priced between $400,000 and $800,000 however, the months supply of inventory fell to 2.6 months for this price range. On the challenging side, active listings for single-family homes in all price ranges fell by 7 percent causing a continuing plunge in supply to only 1.3 months as days on the market dipped to 39 days," said Colorado Springs-area REALTOR® Jay Gupta.
DENVER
"The post-holiday recovery is in full swing for Denver as we look at January's sales numbers provided by the Colorado Association of REALTORS®. With new listings falling 3.2 percent in December 2017 over 2016, January 2018 showed that we are looking at 7.3 percent more homes coming on line this year than January of 2017. Further, despite more listings coming on, the month's worth of supply drops another level to 0.7 (or 36.4% year-over-year). This means that in just three quarters of a month, the supply feeding the market will be absorbed leaving 30 percent of buyers completely out of options. Despite promising numbers of increased supply, the Denver market continues to experience a far superior demand than is currently available while, despite promising inventory additions, the level falls far short of the needed amount," said Denver-area REALTOR® Matthew Leprino.
GOLDEN/JEFFERSON COUNTY
"Jefferson County also finished strong with an 11.2 percent increase in the medium home price from $390,000 last year to $433,000 this year. New listings for single-family homes are also up just shy of 10 percent from this time last year. The supply for homes and condos however is down from 1.2% in 2017 to .08% in 2018. The days on market for single-family homes still sits at around 37. And for condos the days on market is 22.
In Golden there are 18 active listings with the price range from $530,000 for a townhome to $1,400,000 for a single-family home. Homes and condos in the Golden area continue to be under contract within days of hitting the market. This spring will be just as active as last year if not more with homes under $500,000 getting multiple offers. We will continue to experience a sellers market for at least this year if not longer," said Golden-area REALTOR® Barb Ecker.
PUEBLO/PUEBLO WEST
"The Pueblo residential market is started off the new year strong throughout the county with new listings up 23.6 percent in January and pending sales up just over 21 percent. Sold listings were down 2.4 percent yet the average price of a single-family home was up 24.1 percent to $180,000.  Lot sales have been strong from last fall accounting for the increase in new home permits. In January, 45 permits were pulled, including 26 in Pueblo West, and were up more than 60  percent from last January. We're still short on inventory which has caused multi offers on homes. Attitudes are still good for a positive year," said Pueblo-West REALTOR® David Anderson.
ROYAL GORGE AREA – FREMONT AND CUSTER COUNTIES
"Positive news continues for sellers in the Royal Gorge Area Market with the median home price increasing year-over-year by more than 8 percent. This positive trend will continue fueled by the positive Colorado economy and buyers in search of a little less traffic and bigger bang for their buck in this neck of the woods.
"The positive news for our buyers is the 'bang!' Our median priced homes are a lot of home, but a buyer can find a mountain-view dream home on a half-acre lot with about 4,000 gross square feet of living space for under $400,000," said Royal Gorge-Area REALTOR® David Madone.
VAIL
"The 2018 Vail Valley housing market is starting off somewhat in line with the snowfall in the Valley. We can use more activity from both components and to a certain degree the catalyst to movement is not necessarily in the control of the REALTOR community. Transactions were flat with a swing in the pricing niches. In the $3 million-plus segment, units were down 56 percent and dollars down 50 percent while the under $1million segment saw a 9 percent dollar increase and a 6 percent increase in units. Beyond the dollar implications of this mix, which generated a $41 million decline in comparable volume, we exasperated an inventory imbalance.  Overall, the market has a six-month supply of inventory at current absorption rate however, the under $1 million market is significantly below that rate. All pricing niches, with the exception of the $5 million-plus markets, are in what is defined as a sellers' market. The pending contracts are holding but the need for more active inventory in the key price segments is extremely important. February is showing much better snowfall and hopefully our listing and sales activity will follow suit," said Vail Valley REALTOR® Mike Budd.
Statewide – includes data for single family homes and condo/townhomes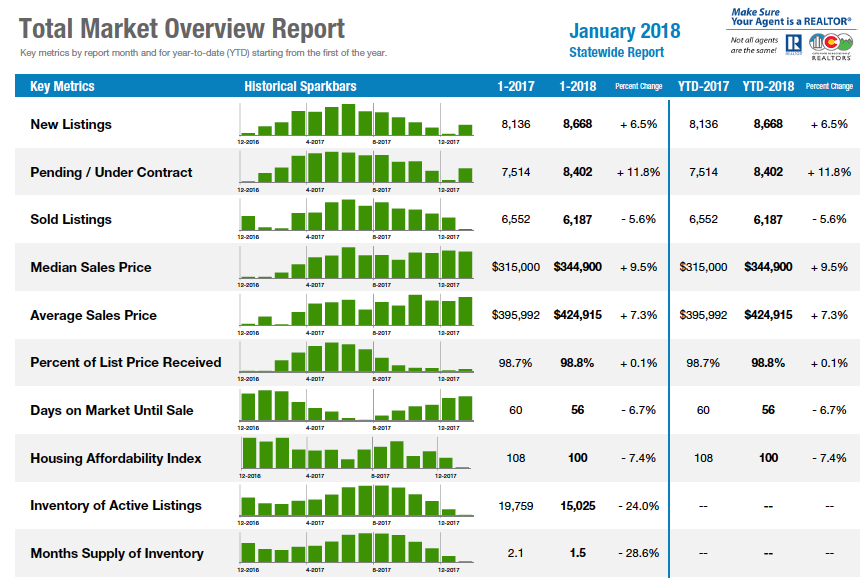 Denver Metro – (includes – Adams, Arapahoe, Boulder, Broomfield, Denver, Douglas and Jefferson counties)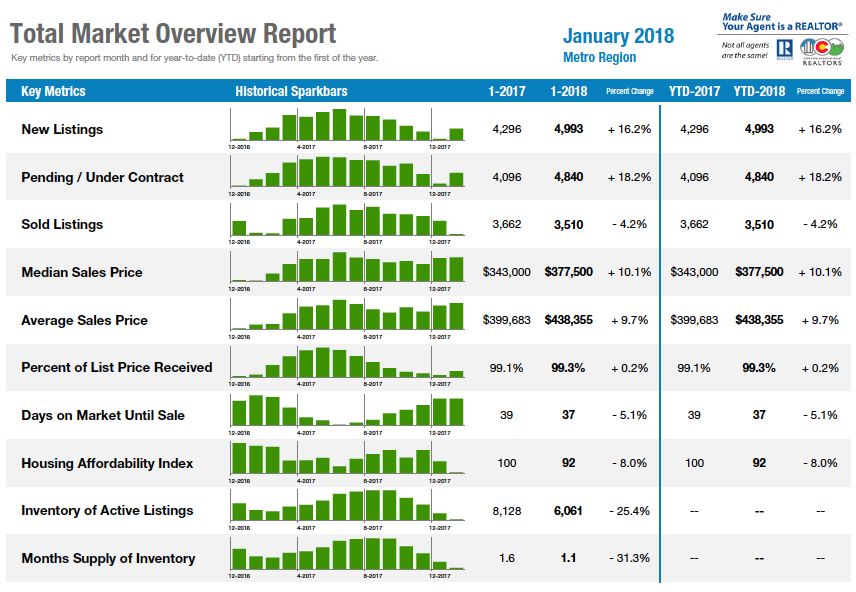 Inventory of Active Listings — Statewide

Inventory of Active Listings – Denver Metro Region

Pending/Under Contract — Statewide
Pending/Under Contract – Denver Metro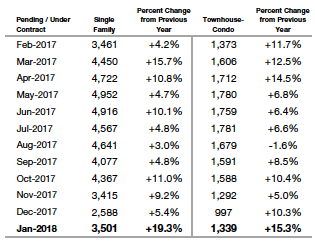 Median Sales Price – Statewide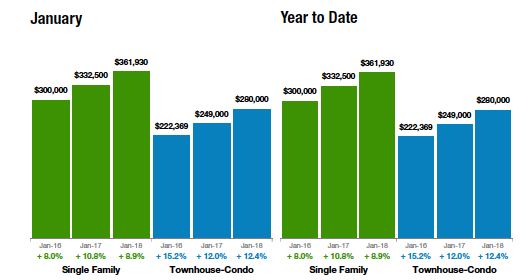 Median Sales Price – Metro Region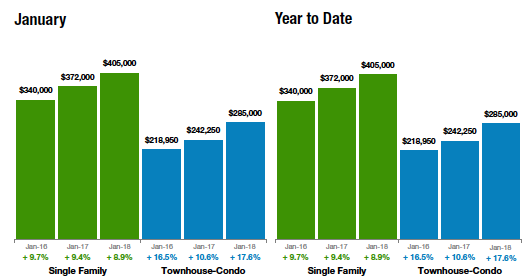 The Colorado Association of REALTORS® Monthly Market Statistical Reports are prepared by Showing Time, a leading showing software and market stats service provider to the residential real estate industry, and are based upon data provided by Multiple Listing Services (MLS) in Colorado.  The January 2018 reports represent all MLS-listed residential real estate transactions in the state.  The metrics do not include "For Sale by Owner" transactions or all new construction.
The complete reports cited in this press release, as well as county reports are available online at: https://coloradorealtors.com/market-trends/
CAR/SHOWING TIME RESEARCH METHODOLOGY
The Colorado Association of REALTORS® (CAR) Monthly Market Statistical Reports are prepared by Showing Time, a Minneapolis-based real estate technology company, and are based on data provided by Multiple Listing Services (MLS) in Colorado.  These reports represent all MLS-listed residential real estate transactions in the state.  The metrics do not include "For Sale by Owner" transactions or all new construction.  Showing Time uses its extensive resources and experience to scrub and validate the data before producing these reports.
The benefits of using MLS data (rather than Assessor Data or other sources) are:
Accuracy and Timeliness – MLS data are managed and monitored carefully.
Richness – MLS data can be segmented
Comprehensiveness – No sampling is involved; all transactions are included.
Oversight and Governance – MLS providers are accountable for the integrity of their systems.
Trends and changes are reliable due to the large number of records used in each report.
Late entries and status changes are accounted for as the historic record is updated each quarter.