Listings have Increased, but Inventory is Still a Concern
Despite a 39 percent increase in new listings in March, inventory issues continue to dominate housing discussions statewide as Denver Metro Area sees new price records
ENGLEWOOD, Colo. – April 11, 2018 – With signs of new life popping up across the Centennial state, many REALTORS® find themselves wishing they'd see available inventory pop up again as they continue facing record-low inventory headed into the competitive spring selling season, resulting in yet another month of record-high median pricing levels, according to the March statewide housing report from the Colorado Association of REALTORS® (CAR).
Despite the number of new listings increasing a whopping 38.7 percent statewide and 29 percent for the Metro region between February and March of this year, any increases in homes on the market were quickly erased by buyers eager to find available inventory in light of anticipated interest rate hikes. Despite more listings coming onto the market, buyers looking to purchase a home are still facing significant challenges as housing market factors both in the seven-county Denver-metro area and across the state show declines in the number of active listings for single-family homes which are off more than 23 percent from a year prior, according to CAR's March housing reports.
As supply continues to tighten, prices reflect the considerable market demand and once again, these factors continue to drive median and average sale prices higher in markets throughout the state, including a 2 percent year-over-year bump in the median price for single-family homes across the state to a record high $380,000, and a 6.3 percent increase in the median price in the Denver metro area to an all-time high of $425,000.
Other record March housing numbers include:
Denver area condo/townhomes median prices dipped slightly (-1.25 percent) to $296,250 but are still up 12.9 percent from a year prior.
Statewide, the median sales price for a single-family home increased 2 percent in March to $380,000, nearly 9 percent higher than a year prior and a new record high.
The median sale price for a condo-townhome statewide also eased in March to $290,000 (down from 295,000 in February).
INSIGHTS FROM LOCAL EXPERTS
Here's a look at market conditions from several of the Colorado Association of REALTORS® research spokespersons in key markets across the metro area and state:
ARVADA
"With inventory in metro Denver down 25.6 percent since last year at this time, under contracts are up by 10.3 percent and sales down slightly (1.1 percent). What does this mean to the consumer?  If you are a seller we need you to enter the market sooner than later.  If you're a buyer you better be willing to bring your very best to the market. With limited inventory, any buyer who has cash, or a pre-approved loan with extra cash to insure an ability to overcome an appraisal objection, is going to win most every time. This is not a market for the light hearted. You'll need to enter the search with tenacity, a strong will and a desire to win," said Arvada-Area REALTOR® Karen Levine
AURORA
"With just 304 current active single-family residential listings in all of Aurora, the primary question remains, 'Where is all the inventory?'  Active listings are down more than 23 percent for Aurora and more than 50 percent in Centennial year-over-year while demand is still very high.  At the same time, prices are up 10 percent since March 2017 in Centennial and 9 percent in Aurora.  The median price for single-family residential homes in Aurora reached $365,000, up from $335,000 just a year ago.  Centennial's median price reached $478,000, up from $435,000 in March 2017.
"The Condo market is following the same pattern.  Active inventory in Centennial is down 18 percent year-over-year with 18 active listings and inventory is down 28 percent in Aurora with just 123 active condo listings.   The median price for a condo hit $290,000 in Centennial and $230,000 in Aurora.
"With properties selling as quickly as they come on the market in most cases, the biggest issue continues to be a lack of inventory.  We're hoping to see an increase in the inventory as we near the end of the school year," said Aurora-area REALTOR® Sunny Banka.
BOULDER/BROOMFIELD
"'We need inventory!' is the cry being shouted from the rooftops across Boulder and Broomfield counties. The much-awaited spring burst of homes on the market just hasn't happened – yet.  REALTORS® and buyers are holding out hope for April and May. New listings were down in Boulder County by 14 percent compared to last year (which was already the lowest we have seen) and a whopping 23 percent in Broomfield County. Lack of inventory is keeping prices high, and both areas experienced a strong 9 percent price appreciation in the single-family home market since last year.
"With days on the market hanging under 60 days for Boulder county and under 40 days for Broomfield, the seller's market remains strong as buyers try to inch their way into the market before anticipated interest rate hikes. Bidding wars are back and it's starting to feel a lot like 2017 all over again." said Boulder-area REALTOR® Kelly Moye.
COLORADO SPRINGS
"Spring has sprung in Colorado Springs' housing market. The month-over-month single-family home activity in March 2018 was very active with new listings up 43 percent, total active listings up 12 percent, a 30 percent increase in sales volume, and average and median prices up 3 percent.  However, with the increased sales, months supply of inventory dropped to a pathetically low 1.1 months. Year-over-year, sales volume is up by 19 percent in 2018, the average price by 13 percent. In addition, sales are up 5 percent, and new listings are up 4 percent. In March 2018, 77 percent of the single-family homes sold were priced under $400,000, 12 percent were between $400,000 and $500,000, 9 percent were between $500,000 and $800,00, and 2 percent were priced over $800,000," said Colorado Springs-area REALTOR® Jay Gupta.
DENVER
"City wide, there is only a 1.2 month supply of inventory, tighter in Denver County at just 0.8 – both of which continue to set historic lows. While this number reflects 33.3 percent less inventory than just 12 months ago, the big moment comes when we see that as supply continues to tighten, prices reflect this demand. Up 11.4 percent on average since March 2017, Denver proper trends higher than the CAR Metro Median of $425,000 at $473,250 for a single-family home," said Denver-area REALTOR® Matthew Leprino.
GOLDEN AND JEFFERSON COUNTY
In Jefferson County the medium single-family home price reached $450,000 up 7.4 percent from this time last year. Inventory has decreased by 37.3 percent from this time last year driving the months supply to well under a full month (0.8). We experienced an uptick in the market by the second week of March and it has been slowly increasing with more homes and townhomes coming on the market now that spring is here. Buyers still far outweigh the homes for sale and it will be a seller's market well into the rest of this year and most likely next year as well.
"In downtown Golden there are just 17 listings, single family and townhomes combined with prices ranging from $440,000 to $2,850,000. There are quite a few new builds in the Golden area with several new townhome projects that are in the higher price range," said Golden-area REALTOR® Barbara Ecker.
GRAND JUNCTION
"Grand Junction, like much of the rest of the state, is clearly a seller's market with multiple offers coming within days on market and a significant increase in sales in the $300,000-$400,000 market. Buyers need to be prepared to move fast when homes come on the market, to be pre-qualified and ideally, pre-approved to make strong offers and have a chance for success. Also like the rest of our state, inventory is a tremendous problem with just a 2.4-month supply," said Grand Junction-area REALTOR® Ann Hayes.
GLENWOOD SPRINGS
"The Roaring Fork and Colorado River Valleys are also experiencing a shortage of inventory in the single- family home market with new listings down 15 percent over the same period last year. Pending and sold listings are up substantially as the few homes coming on the market are swooped up in days. The townhome/condo market is being highlighted with new listings up almost 25 percent and the median sale price up 18 percent over last year. It seems as though most homeowners are staying put with a lack of affordable new construction or move-up inventory, while investors that purchased before the crash are able to sell and realize a profit. We are starting to see the return of multiple offers and homes missing appraisal value as prices rise. The months supply of inventory in both markets is at an all-time low," said Glenwood Springs-Area REALTOR® Erin Bassett.
PUEBLO/PUEBLO WEST
"March data reflects the continued low inventory throughout the Pueblo market with no sign of it getting better any time soon. New listings were down 8.8 percent month-over-month, but up 8.3 percent year-over-year. Pending sales were up 3.9 percent month-over-month and up 8.6 percent year-over-year while sold listings were up 7.5 percent from March 2017 to March 2018.
"New residential building permits are up 25 percent in 2018 over 2017 and Pueblo West is leading the way with 71 permits while the rest of the county has 49. Our days on market is down 18.4 percent to 80 days, with Pueblo West at 53 days. Our average price reached $183,200 with listings selling for 98 percent of list price," said Pueblo-West REALTOR® David Anderson.
ROYAL GORGE AREA – FREMONT AND CUSTER COUNTIES
"The Royal Gorge-area market, Fremont and Custer counties is experiencing a similar trend in the housing market trend as much of the rest of the state. Lower inventory is causing higher prices and much quicker sales. In other words, it is a seller's market. New listings, year-over-year, are down 8.6 percent while the median and average sale prices are up by 5.6 percent and 7.1 percent, respectively. Days-on-the-market is down nearly 29 percent and we're seeing multiple offer situations on many properties that come on the market.
"Historically new listing inventory begins to increase in April and peaks in June.  We are telling our Sellers to plan to be away from home the day their home goes live on the market and Buyers to be ready show up on a minutes notice to look at any new listing that hits the market.  The next three months will have Buyers in a foot race while Sellers will have a walk in the park," said Royal Gorge-Area REALTOR® David Madone.
TELLURIDE
"The first quarter of 2018 brought declines in dollar volume and the number of sales, 21 percent and 27 percent, respectively. As is the case with most every other Colorado housing market, a lack of inventory is a major problem. As you might expect, prices of individual sales continue to move upward in the $1,000-per-square-foot area for resale inventory and $1,200 to $1,300-per-square-foot for new construction. February and March sales were better than January, so the trend is slightly upward. Record low snow is definitely a factor and, as we move forward to spring and summer, we hope for better sales this summer," said Telluride REALTOR® George Harvey.
VAIL
March proved to be the stronger month of the first quarter based on revenue and transaction compared to the same period in 2017.  The dollars were positive 28 percent and transactions were up 7 percent which pulled the first quarter up to just a 1 percent decline in dollars and a 4 percent decline in units.  The mix by pricing niche maintained the trend we saw in the first two months of the year with a couple niches showing strong positives and a couple on the negative side. The net effect is a relatively stable market early in the year however, concern does exist on the inventory level.  We've seen a 22 percent decline in single family/duplex inventory and the same for condo/townhomes.  The effect of this decline is a 6.7-month supply of inventory on single family/duplex and 5.3-month supply for condo/townhomes. While this supply is a stable relationship in a non-resort area it is low by our historical numbers, which causes an average 20 percent decline in days on the market across all price points and product types.  We are hitting the end of our ski season market and will enter a bit of a lull until the summer season kicks into gear.  An excellent window of time for buyers to look for value product across the breadth of the market," said Vail Valley REALTOR® Mike Budd.
Inventory of Active Listings — Statewide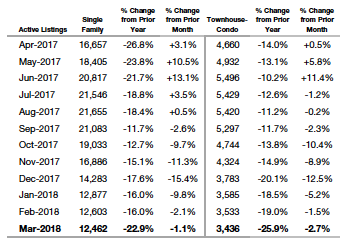 Inventory of Active Listings – Denver Metro Region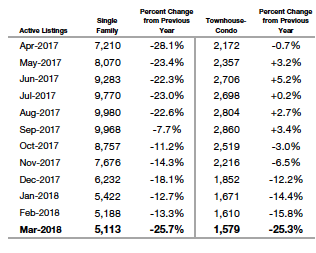 Median Sales Price Denver Metro area – (includes – Adams, Arapahoe, Boulder, Broomfield, Denver, Douglas and Jefferson counties)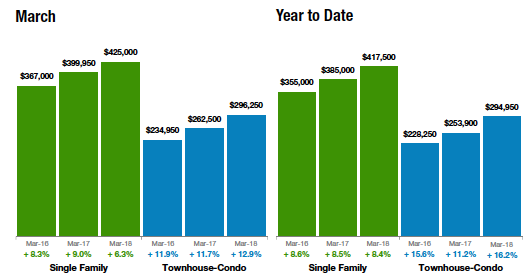 Median Sales Price – Statewide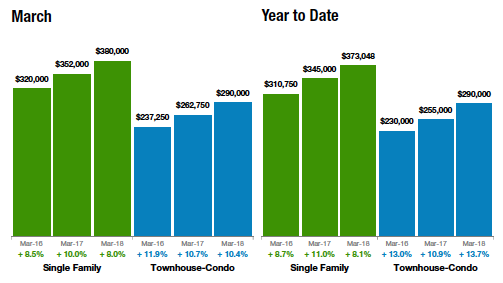 The Colorado Association of REALTORS® Monthly Market Statistical Reports are prepared by Showing Time, a leading showing software and market stats service provider to the residential real estate industry, and are based upon data provided by Multiple Listing Services (MLS) in Colorado.  The March 2018 reports represent all MLS-listed residential real estate transactions in the state.  The metrics do not include "For Sale by Owner" transactions or all new construction.
The complete reports cited in this press release, as well as county reports are available online at: https://coloradorealtors.com/market-trends/