Colorado Housing Prices Continue to Break Records
Record housing prices continue their pace across the state as homebuyers weigh a growing list of market factors
ENGLEWOOD, Colo. – May 10, 2018 – With a solid seasonal bump in the number of new listings both in the Denver metro area and many markets across the state, hungry homebuyers continued to gobble up properties while others sit and monitor a growing list of market factors including rising interest rates, rising prices and a continued lack of choices – particularly in the below median price range – according to the April statewide housing report from the Colorado Association of REALTORS® (CAR).
Spring hope remains as the selling season accelerates in the weeks ahead and eager homebuyers weigh their options and market conditions in the face of record-high pricing statewide.
Key findings from the April 2018 Housing Reports from the Colorado Association of REALTORS®:
Denver Metro Area –
Up another 2.8 percent from March to April, median home prices for a single-family residence hit a new record high at $437,000 and are up just shy of 8 percent from a year ago. Condo/townhome median pricing ticked back up in April to near record highs at $299,500.
The average sales price of a Denver area single-family residence rose 3.6 percent to a record $518,154. Average sales price for a condo/townhome also rose again to a record $357,553. Both single-family and condo/townhomes were up 10 percent from a year ago.
Despite 8,164 new single-family and condo/townhome listings in April, pending/under contract (7,243) and sold (5,556) properties easily outpaced that increase.
With just over 5,600 active listings in the Denver metro area, the inventory is down 22 percent from a year ago and off its late summer 2017 volume by 44 percent.
Total months supply of inventory remains at 1.4 months for single-family residence and just 1.1 month for condo/townhomes – well below a balanced market inventory of 4-6 months.
Average days on the market for a single-family home dipped to just 25, down 7.4 percent from April 2017.
Statewide –
Up 2.6 percent from March to April, the median price for a single-family home across the state reached a record $390,000, up 9.5 percent from a year ago. Condo/townhome median pricing also hit a record $299,750, up more than 11 percent from April 2017.
The average sales price of a Colorado single-family residence rose 4.6 percent to a record $477,039. For condo/townhomes, the average sales price dipped slightly to $383,283 but remains up nearly 9 percent year-over-year.
April's 13,824 new single-family and condo/townhome listings in April – a 3.5 percent increase over April 2017 – were also easily outpaced by the 12,125 pending/under contract and the 9,401 sold properties in the month.
Active listings across the state were up 1 percent for single-family homes but were down just over 1 percent for condo/townhomes from March to April. Both categories are off more than 20 percent year-over-year.
Months supply of inventory remained flat across the state at 1.7 percent but is off nearly 23 percent from a year prior and also well below the 4-6 month supply that defines a balanced market.
Here's a snapshot of metro-area and statewide market conditions from several of the Colorado Association of REALTORS® research spokespersons:
AURORA
"Temperatures are heating up and so is Aurora's real estate market. Over the past few weeks we've seen a 62 percent increase in inventory, however, that increase is still far from the inventory needed to meet the current homebuyer demand. With 491 active listings for single-family homes across all prices we saw 592 single-family residential homes go under contract in the month of April, with a median price of $367,000.
"Aurora 80010 zip code is an amazing secret with a median sales price of $303,500 – up 20 percent from a year ago – this is a market that is both affordable and experiencing rapid appreciation. Another strong location is in the 80247 zip code located in the northeast part of the city. Single-family homes in this area have seen a 36 percent increase over 2017.  The median sales price currently sits at $510,000, fueled in part by new construction throughout the area," said Aurora-area REALTOR® Sunny Banka.
BOULDER/BROOMFIELD
"People in Boulder and Broomfield counties must love where they live because no one's going anywhere! With new listings down 10 percent in Boulder and 15 percent in Broomfield from this time last year, there just aren't many choices for buyers. Sellers are opting to stay and remodel their homes instead of moving up which is causing an inventory shortage that is proving to be the norm in these counties. Those who are selling are doing so in just under an average of 50 days on the market and typically getting 100 percent of the list price. That being said, those listings that are priced too high aren't moving. Buyers are itching for more options and inventory but are unwilling to overpay. Prices are up at a strong but modest pace of about 8 percent since last year and, as a result, we are still experiencing a strong, seller's market," said Boulder-area REALTOR® Kelly Moye.
COLORADO SPRINGS
"During the past year, the Colorado Springs area housing market set so many new records that it has become challenging to continue to exceed them every month. But, just keeping up with those amazing levels represents an awesome market reality. Though the month-over-month single-family home sales and total active listing numbers were flat, new listings were up by 8.5 percent, average price was up 11.8 percent, median price was up nearly 11 percent, and year-to-date volume is up almost 16 percent. Comparing April 2018 to the previously record-setting market in April 2005, the stats are mind-blowing. Monthly sales are up 16 percent, year-to-date sales are up by 24 percent, monthly volume is up by almost 70 percent, year-to-date volume is up 80 percent, average price is up 46 percent, and the median price is up 56 percent," said Colorado Springs-area REALTOR® Jay Gupta.
DENVER
"April did bring some great news for the Denver homebuyer as the number of new listings coming to the market was up nearly 10 percent. Although our inventory is only two-thirds of what it was just a year ago, largely driven by unrelenting homebuyer demand, 930 homes came to the market during April 2018, according to data provided by the Colorado Association of REALTORS®.
"Also during April, Denver saw its median price for a single-family home – the direct center of the sampled data – cross over the $500,000 mark for the first time. At just over $613,000, the average price, which takes all data into account, shows just how many larger dollar listings are affecting what is widely consider the 'average' with the extreme highs easily swaying the curve.
"Another noteworthy statistic for Denver during this late spring season is the 'days on market until sale' which fell to 17 in April, down a day from March and down 3 days from April of last year. Compiling this with home sales closing at 101 percent of list price and in just two and a half weeks, spring is hot, red hot – if you can, lock down that home before summer," said Denver-area REALTOR® Matthew Leprino.
GOLDEN AND JEFFERSON COUNTY
"Jefferson County's median sale price has increased yet again to $470,000 for a single-family home and $274,000 for condo/townhomes. There were 899 new single-family home listings in April, an increase of just over 1 percent. The inventory supply dropped just shy of 1 percent and the days on the market stayed flat at 21 days. For condo/townhomes there were 265 new listings, a decrease of a little more than 8 percent from March to April 2018 while inventory supply stayed flat and days on the market increased to 13 days.
Buyers are a lot more cautious these days and not wiling to overpay for a home as we have seen in past years. Even though May statistically is the best time to put your home on the market, we're seeing just a slight increase in new listings. Buyers are becoming a lot more selective on what they are willing to buy and what they are willing to pay for it. Looking specifically at the Golden market, there is still very low inventory and home prices are high with plenty of competition," said Golden-area REALTOR® Barbara Ecker.
PUEBLO/PUEBLO WEST
"With listings and sales relatively unchanged from a year ago, the big change in the Pueblo market for April was a nearly 17 percent year-over-year jump in the medium price of a single-family home to $184,000. With low inventory and buyers facing multi-offer scenarios, homes are still selling at 98 percent of list price. New home permits hit 158 over the first four months compared to last year's mark of 361 in Pueblo County. Sellers are in a good position and buyers need to be flexible and ready to sign," said Pueblo-West REALTOR® David Anderson.
ROYAL GORGE AREA – FREMONT AND CUSTER COUNTIES
"We're establishing a new normal in the Royal Gorge Area Market, Fremont and Custer Counties. Month after month we keep saying, 'What a crazy market.' Inventory drops and prices rise, and we have to ask ourselves, 'is this craziness becoming the new normal?'  New listings were down by 11.5 percent in April 2018 compared to a year earlier and sold listings were up by nearly 14 percent from April 2017.  The negative differential has driven the median price up by 12.6 percent to $184,000 over the same period in 2017. Sellers who have owned their real estate for more than just a few years are seeing a strong profit on their investments and everyone wishes that they would have purchased that rental 5 years ago," said Royal Gorge-Area REALTOR® David Madone.
VAIL
"April followed March as a very strong month versus April 2017 as we watched the dollar volume rise 35 percent while total transactions increased 29 percent. This brings the YTD performance to a plus $41 million or 9 percent growth. Unit growth is plus 6 percent YTD thus, both units and dollars have turned positive based upon the strong March/April performance.
"The inventory continues to decline with approximately 5.7 months of supply overall and it drops much lower in the under $1 million market niche. The trend of the higher-end market continues with 10 percent of the transactions representing 42 percent of April volume.  The YTD high-end percentages are 9 percent equal 34 percent of dollars. We're entering our shoulder season which becomes a bit of a buyers' market historically but, based upon inventory in the different price niches, there is potential for variable scenarios based upon price point and inventory," said Vail Valley REALTOR® Mike Budd.
Inventory of Active Listings — Statewide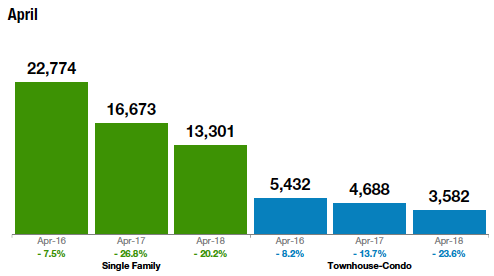 Inventory of Active Listings – Denver Metro Region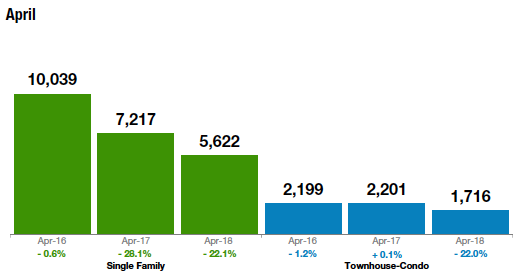 Median Sales Price Denver Metro area – (includes – Adams, Arapahoe, Boulder, Broomfield, Denver, Douglas and Jefferson counties)
Median Sales Price – Statewide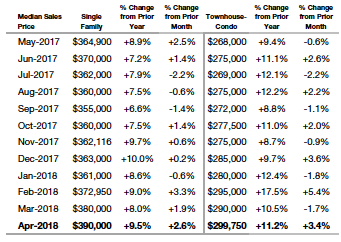 The Colorado Association of REALTORS® Monthly Market Statistical Reports are prepared by Showing Time, a leading showing software and market stats service provider to the residential real estate industry, and are based upon data provided by Multiple Listing Services (MLS) in Colorado.  The April 2018 reports represent all MLS-listed residential real estate transactions in the state.  The metrics do not include "For Sale by Owner" transactions or all new construction.
The complete reports cited in this press release, as well as county reports are available online at: https://coloradorealtors.com/market-trends/