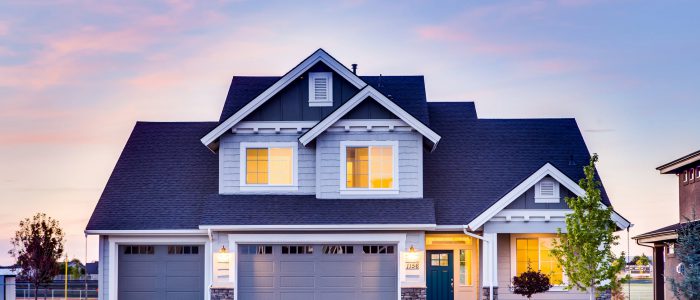 Colorado's August housing numbers prove 'all real estate is local'
August housing reports from across the state reflected the same levels of diversity and at times extreme fluctuations of our Colorado weather at this time of year. For buyers and sellers alike, the message remains the same: understand what the conditions will be like in your neighborhood.
While the market reflects springtime conditions in areas like Boulder and Broomfield counties, a full-on late summer slowdown is in effect just down the road in Jefferson County. Buyer demand remains strong and steady across the state, however, fluctuations in new inventory, pricing, and a wide range of other variables in each local market are creating diverse conditions that require buyers and sellers to do their homework and be prepared for anything.
Taking a closer look at some of the state's local market conditions, here are some perspectives from several of the Colorado Association of REALTORS® market trends spokespersons:
AURORA
"It is all in the numbers. Total Aurora listings were up a big 2 properties over total listings in July 2017. With just 695 homes listed, the numbers indicate that we are still dealing with a housing shortage. Our median sales price for single-family homes, in the $370,000 range, was slightly lower than July but remains up 7.2 percent year-over-year. We stayed flat on days on the market, sitting at 17 days.
"The condo/townhome market ended the month of August with listings down 8.6 percent from a year prior and the median price up 9.1 percent at $240,000. Again, this median price is down slightly from last month.
"Some good news for buyers is pricing for both single-family residential and condo/townhomes was down slightly from last month. We'll keep a close eye on pricing over the next several months as buyer opportunities improve," said Aurora-area REALTOR® Sunny Banka.
BOULDER/BROOMFIELD
"You'd think it was springtime in the Rockies in Boulder and Broomfield counties! Instead of summer slowly and lazily crawling into fall as it's done in past years, our inventory dropped to new lows, prices went to new highs, and the market was busy! Boulder County's listings were down another 7.6 percent while prices grew 7.7 percent. Typically, prices even out at the end of the summer as we coast to the end of the year, but not here. Average days on market is still a brisk 59 days and sellers are most often getting their list price.
"The heat continued in Broomfield County as well with inventory lower than last year at this time at an astounding 19 percent. With so few homes on the market, the modest price increase of 4.9 percent since last year creates a bit of a question but with the average days on the market hovering around 49 days and sales price to list price remaining at 100 percent, this single-family market is still hot. It's the townhome and condo market in Broomfield County that will leave you shaking your head.  Listings are down 28 percent, and guess what, so are prices, down 9.3 percent. Yet, days on the market are around 30. The metrics here don't add up and don't necessarily indicate a trend, just a moment in time where more affordable condos sold during this month than in others. We'll watch this metric closely as we haven't seen prices fall in 6 years in this area," said Boulder-area REALTOR® Kelly Moye.
COLORADO SPRINGS/PIKES PEAK AREA
"There continues to be a big difference between fact and feelings. The facts are, both average and median price are up year over year.  Year-over-year, the number of listed homes is almost identical with a slight increase in inventory, 1.26 months of inventory in August 2017 to 1.4 months in 2018. Days-on-market increased from 24 days in August 2017 to 26 in 2018. Looking year-to-date, we're actually better off this year than last. So, looking at facts, we're looking good and trending similar to last year at this time.
"Now, on to the feelings. Local REALTORS® are feeling a difference. Buyer's agents are getting properties with a little less competition and they feel they are also getting them at a better price, with concessions and a little less pressure in most price points. Listing agents are stating showings are down. Seasonal, or trend, that's the question?
"The foreclosure market continues to be non-existent for the Pikes Peak Region. Filings are very low. We have seen a change on investor buys. Last week's Public Trustee saw fewer buyers in the room to purchase, and a few homes actually went back to the bank. Not normal for the last couple years.
"With job wages on the rise and the Feds worried about inflation, the talk of the town is interest rates and the effects of those on the real estate market," said Colorado Springs-Area REALTOR®  Patrick Muldoon.
"The Colorado Springs area housing market has set so many new records over the past four years that it has become challenging to continue to exceed them every month. Perhaps a comparison with the previously record-setting housing market in 2005 can provide a noteworthy perspective. Looking at the single family/patio home sales data of August 2018 with August 2005 shows some absolutely mind-blowing escalations including: monthly sales up 16 percent, year-to-date sales up 22 percent, monthly sales volume up 57 percent, and year-to-date sales volume up 75 percent. Average sales price is up 41 percent, and median sales price up 50 percent while active listings are down 47 percent.
"Also, in August 2018, year-over-year single-family/patio home active listings were up 6 percent, average sales price up 14 percent, median sales price up 11 percent however, sales were down 8 percent. And, the sale of homes priced under $300,000 dropped 29 percent, while sales of homes priced between $300,000 and $500,000 increased 14 percent. Sales of homes priced between $500,000 and $800,000 grew 45 percent, and priced over $800,000 climbed 67 percent," said Colorado Springs-Area REALTOR® Jay Gupta.
DENVER
"Perhaps the most poignant view of Denver's inventory shortage comes from examining the gap between inventory for sale and the number of new listings. In Denver this August, single-family inventory was down year-over-year just over 15 percent – worse for condos at 22.5 percent. What seems contradictory is that while inventory of available homes isn't just down, but way down, the number of new listings is actually up 9.3 percent. That 'less homes available but more are entering the market' is the precise indicator of where demand sits as it reflects just how quickly houses leave the available market again. With just 22 days on market until sale and a strong demand remaining, Denver does not yet show signs of being any less 'the place to be,'" said Denver-area REALTOR® Matthew Leprino.
FORT COLLINS
"Demand for housing in the Fort Collins area remains strong as our median price continues on an upward trend both year-over-year and year-to-date. Multiple offers are still quite common for well-priced homes and inventory levels continue to drop rather than increase.
"Certain price bands in the townhome and condo market are seeing a bit of softening as investors are reaching a point of diminishing returns with lease rates stabilizing (rather than increasing) and purchase prices increasing. This may actually be a good thing for first-time homebuyers looking to buy a condo or townhome without having to compete against cash offers," said Fort Collins-area REALTOR® Chris Hardy.
GOLDEN AND JEFFERSON COUNTY
"It is officially the fall season for inventory in Jefferson County as single-family home product has been reduced by 26.6 percent in August. However, for townhomes and condos the inventory increased by 6.5 percent. Yes, there's typically a decline in inventory as fall approaches and, for single-family homes there were only 804 new listings compared to last year at this time when we had 899. Sold listings are down year-over-year from 762 in August 2017 to 734 this past month. Homes that are priced right are only sitting on the market an average of 20 days.
"Townhomes/condos that are at a lower price point are still going fast with 306 coming on the market in August compared to 297 at this time last year. Solds finished at 262 last month, up slightly from 256 a year prior and our days on the market increased to 15.
"As for Golden, properties overall are still selling at their list price or just below however, they are sitting on the market until the seller gets down to a palatable price which results in some homes selling over list price. We'll watch and see what comes of the market next spring to see if there is a real change in the air," said Golden-area REALTOR® Barbara Ecker.
PUEBLO/PUEBLO WEST
"The Pueblo housing market report for August shows new listings down 2.8 percent and pending sales down 3 percent. With no shortage of buyers getting qualified, the percent of list price received is still holding up at 99.2 percent and we continue to experience a strong sellers market. Our median sales price ticked up to $190,000 as our inventory of active listings fell to 517 properties which is clearly contributing to our overall low inventory scenario and decreased sales. The average Days on Market now sits at 61.  New home construction is still strong and in Pueblo West, there are more lots being sold for new homes," said Pueblo-West REALTOR® David Anderson.
ROYAL GORGE AREA – FREMONT AND CUSTER COUNTIES
"The Royal Gorge real estate market for the month of August 2018 delivered some progress in the way of new single-family listings coming to the market. New listings in Fremont County increased 15.6 percent over July and Custer County increased just shy of 19 percent. Sold listings for the same period decreased in Fremont County by just over 1 percent, but were down 26.7 percent in Custer County. This means we may have some holdover inventory for September and maybe a few more properties to choose from. Year-over-year, Fremont County new single-family listings were up slightly (3.4 percent) while Custer County listings were down almost 11 percent. Sales in Fremont County year-over-year were fairly flat, while in Custer County they are lagging by about 7 percent.  It's still good news for sellers as the median sales price continues upward with Fremont County showing an increase of 17.5 percent from this time last year and Custer County showing an increase of 14.8 percent," said Royal Gorge-Area REALTOR® David Madone.
VAIL
"The summer season ended with a bit of a whimper. The trend that began a few months ago continued with unit and sales dollars both off 6 percent versus July. This brings the year-to-date performance to a negative 2 percent in units and a plus 7 percent in dollars. The year-to-date dollar performance continues to be driven by the significant increase in the high-end product sales. This high-end niche represents only 4 percent of transactions but 29 percent of the dollar sales year to date. One of the catalysts for the trend is the decreasing inventory of product in key price niches. Overall, the inventory is down 8 percent from July however, the comparison from August 2017 is a negative 16 percent. We are entering our fall season with historically lower velocity than summer or winter. We may maintain that trend but could stabilize and hopefully, begin to increase inventory for the ski season," said Vail-area REALTOR® Mike Budd.
Inventory of Active Listings – Denver Metro Region – includes Adams, Arapahoe, Boulder, Broomfield, Denver, Douglas and Jefferson counties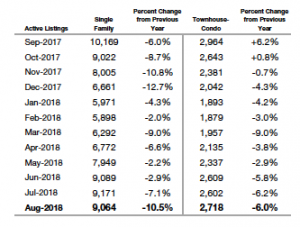 Inventory of Active Listings — Statewide
New Listings – Denver Metro Region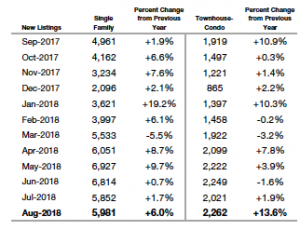 New Listings – Statewide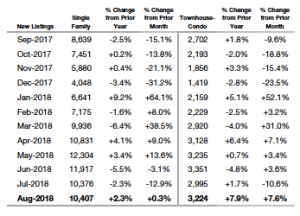 Median Sales Price Denver Metro area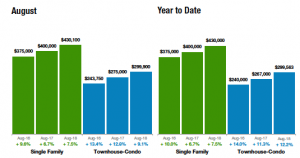 Median Sales Price – Statewide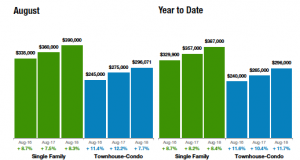 The Colorado Association of REALTORS® Monthly Market Statistical Reports are prepared by Showing Time, a leading showing software and market stats service provider to the residential real estate industry, and are based upon data provided by Multiple Listing Services (MLS) in Colorado.  The August 2018 reports represent all MLS-listed residential real estate transactions in the state.  The metrics do not include "For Sale by Owner" transactions or all new construction.
The complete reports cited in this press release, as well as county reports are available online at: https://coloradorealtors.com/market-trends/
CAR/SHOWING TIME RESEARCH METHODOLOGY
The Colorado Association of REALTORS® (CAR) Monthly Market Statistical Reports are prepared by Showing Time, a Minneapolis-based real estate technology company, and are based on data provided by Multiple Listing Services (MLS) in Colorado.  These reports represent all MLS-listed residential real estate transactions in the state.  The metrics do not include "For Sale by Owner" transactions or all new construction.  Showing Time uses its extensive resources and experience to scrub and validate the data before producing these reports.
The benefits of using MLS data (rather than Assessor Data or other sources) are:
Accuracy and Timeliness – MLS data are managed and monitored carefully.
Richness – MLS data can be segmented
Comprehensiveness – No sampling is involved; all transactions are included.
Oversight and Governance – MLS providers are accountable for the integrity of their systems.  Trends and changes are reliable due to the large number of records used in each report.
Late entries and status changes are accounted for as the historic record is updated each quarter.