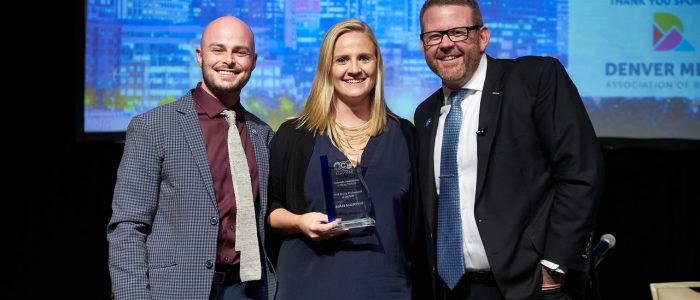 Colorado Association of REALTORS® honors Siân Murphy as Young Professional of the Year
FOR IMMEDIATE RELEASE
Oct. 3, 2018
Contact: Lisa Hansmeier – VP Member Services
(303) 790-7099 or lhansmeier@coloradorealtors.com
Colorado Association of REALTORS® honors Siân Murphy as Young Professional of the Year
ENGLEWOOD, Colo. –Siân Murphy, broker associate at WK Real Estate in Boulder, Colo., was recently awarded the "Gus Williams Colorado Young Professional network REALTOR® of the Year" at the Colorado Association of REALTORS® 2018 Fall Forum in Broomfield, Colorado.
This award honors an individual who exemplifies leadership and has a strong commitment to the Young Professional network, as well as raising the bar for success both in their community and business.
Murphy is an active ambassador and current chair of the Boulder Young Professional Network at Boulder Area REALTOR® Association (BARA YPN). She has helped implement the Junior Achievement program with the BARA YPN and is also a co-founder of a local networking group called Boulder Leading Ladies (BLL).  This group helps brings young career-driven professionals together to build successful relationships and set a standard for excellence through educational, philanthropic, and social events within the Boulder community.
Murphy shared that some of her highlights from her six-year involvement with the CYPN have been the opportunities to create friendships and network with so many other professionals that have similar goals. Boulder born and raised, this group has also given her an outlet to give back to the community where she grew up and attended university.
Justin Knoll, newly inaugurated 2019 Chair of CAR said, "Everyone here at CAR is so excited to add Siân to the impressive list of CYPN winners. She has clearly displayed her intentions of serving her clients and peers with all she has and furthering our industry through her efforts. Siân is a rising star in real estate and her community, and I believe will be a fixture in leadership for years to come. Congrats to Siân, and her family, for being an example of the best the REALTOR® world has to offer."
Murphy's professional accolades include being the youngest of four recipients in 2015 to be awarded the "President's Award" from the Boulder Area Association of REALTORS® (BARA). In 2016, she was named to the Board of Directors for the YWCA-Boulder helping to empower women and eliminating racism.  In 2017, she was an honoree in the BizWest Boulder Valley "40 under Forty" class, recognizing young leaders in Boulder and Broomfield counties who are making a difference in the industry and community, as well as receiving an additional President's Award from BARA. Most recently, she was a top finalist for the National Association of REALTORS® (NAR) "30 under 30" award.
2018 CYPN Chair, Taylor Wilson said, "I am so proud of Siân for winning the CYPN award. She is very deserving of it and has been a phenomenal YPN representative on a state and local level since I've known her.  Siân is reliable and regularly offers her time to help anyone around her.  She is an amazing ambassador for YPN, and a great representation of a REALTOR®."
The Colorado Association of REALTORS® is the state's largest real estate trade association that represents more than 26,500 members statewide. The association supports private property rights, equal housing opportunities and is the "Voice of Real Estate" in Colorado.  For more information, visit www.ColoradoREALTORS.com.
###