Capitol Connection: March 8, 2019
Governor Polis Signs House Bill 19-1098 into Law
###
Yesterday, the Colorado Association of REALTORS® (CAR), the Land Title Association of Colorado (LTAC) and other industry partners celebrated a big win for the real estate industry as Governor Jared Polis signed HB19-1098 into law. HB19-1098, sponsored by two-time CAR Legislator of the Year, Rep. Matt Gray (D-Broomfield) and Sen. Pete Lee (D-Colorado Springs), is a common sense public policy solution that fixes a longstanding problem concerning the authority to draft deeds conveying real property in a real estate transaction. Before this new law, only a licensed real estate broker was authorized to prepare a deed; however, the broker could delegate this limited authority to prepare the deed to a title company which then completed the deed under the direction and review of the broker.
###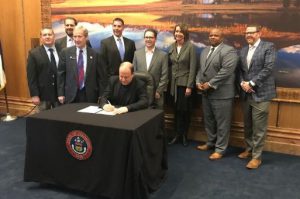 ###
CAR is proud to be a part the solution. Upon adoption of this change, the industry can expect reduced confusion and lessened disputes arising from the current contract form to transfer real property, and a clear public record of the real estate transaction. CAR is currently working on educational materials to ensure members have the resources they need to adhere to the new law.
###
Senate Bill 19-023: Cryptocurrency Exemption Colorado Digital Token Act
###
Earlier this week, SB19-023, titled Cryptocurrency Exemption Colorado Digital Token Act, was signed into law by Governor Polis and joined by bill sponsors Sen. Jack Tate (R-Centennial), Sen. Stephen Fenberg (D-Boulder), Rep. Tracy Kraft-Tharp (D-Arvada) and Rep. Hugh McKean (R-Loveland). The bill provides limited exemptions from securities registration and broker-dealer licensing for individuals involved in purchasing, selling, or transferring digital tokens for a strictly consumptive purpose. This new law will take effect on Aug. 2nd.
###
Many industries, including real estate, are taking a closer look at the use of emerging blockchain technology for new ways to adopt digital currency and collect data and research in a way that also addresses cyber security. Just last month, during the first-ever Blockchain Day at the Capitol event, Governor Polis stated, "Our goal and my goal would be with you is to make sure that Colorado is truly the national hub for blockchain innovation in business and in government and with your help, we'll get that done."
###
READ: Governor aims to make Colorado 'national hub for blockchain innovation' (Denver Business Journal)
READ: Gov. Polis signs Colorado's first blockchain-related bill into law (Denver Business Journal)
###
House Bill 19-1175: Property Tax Valuation Appeal Process
###
HB19-1175, sponsored by Rep. Matt Gray (D-Broomfield) and Sen. Julie Gonzales (D-Denver), modifies the information property owners and county assessors must exchange when the valuation or denial of an abatement of rent-producing properties is being appealed, and changes the appeals deadlines for property in counties that use the alternate schedule. Under current law, a county at the request of the county assessor may use an alternate appeal process that allows for extended time to evaluate and determine property valuation protests and objections received for that year.
###
CAR's Legislative Policy Committee (LPC) supports this legislation because it improves the process, providing more clarity and more accurate tracking with regard to commercial real estate. CAR believes increasing the time to file an appeal, moving the deadlines to appeal and requiring more specific documentation on rates supports Colorado's commercial real estate industry. The bill has made its way through both chambers and will prepared for the Governor's signature.
###
CAR's 50-State Research Aims to Identify Nation's Most Innovative Housing Solutions
###
The Colorado Association of REALTORS® (CAR) completed a 50-state research analysis, designed to identify the most innovative and successful programs being implemented to address affordable housing across the United States. The research focused on the entire spectrum of housing needs including low-income populations, workforce housing, first-time homebuyers, and senior citizens.
###
From affordability and product type to inventory needs, CAR's research set out to help identify what state and local governments, public and private businesses, and individual communities are doing to tackle a housing supply and the nexus of surrounding issues impacting every state. The analysis revealed distinct common attributes of the most successful programs that included bold, innovative, out-of-the-box thinking to address housing shortages, as well as a clear cooperation and participation in program implementation from the public, private, and not-for-profit sectors to address the full spectrum of housing issues. Read full report here.
###
NAR Midyear Legislative Meetings (May 13-18, 2019)
###
The REALTORS® Legislative Meetings and Trade Expo allows NAR members an opportunity to take an active role in advancing the real estate industry, and public policy directly. REALTORS® come to Washington, DC, for special issues forums, committee meetings, legislative activities, hill visits and the industry trade show. Registration is now open.  Click here for more information.
###
For Colorado, we have nine hill visits to complete and as we approach May, CAR Government Affairs staff will be in contact with attendees regarding the hill visits meeting schedule for their specific congressional district.
###
Colorado Project Wildfire
###
Developed by the Colorado Association of REALTORS®, Project Wildfire is designed to help reduce the destruction of land, property, and lives.  Working in partnership with other like-minded fire prevention organizations across the state, local REALTOR® associations are bringing education and awareness, as well as access to resources, directly to residents in their local communities. To learn more about Colorado Project Wildfire, click here.
###
###
Sign up for REALTOR® Party Mobile Alerts
###
More than 50,000 REALTORS® from across the country have already signed up for REALTOR® Party Mobile Alerts – have you? Text REALTORS to 30644 to stay up to date on REALTOR® issues!  You'll be among the first to know about NAR Calls for Action and more! Click here for more information.