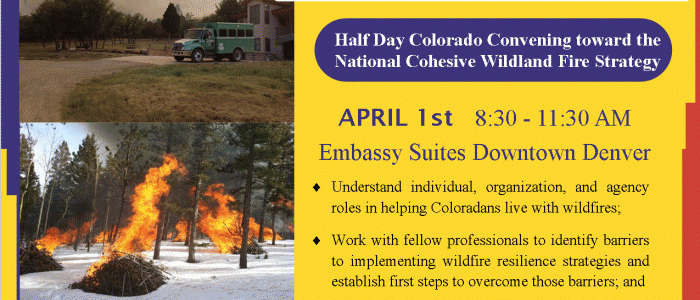 Wildfire Preparedness: National Cohesive Wildland Fire Strategy Discussion
The Colorado Association of REALTORS® is proud to support the ongoing efforts and discussions taking place around Wildfire education, mitigation, safety and recovery for the residents throughout our state. As a part of our long-term commitment to work with local, state and federal agencies and organizations on these important issues, including our own Colorado Project Wildfire initiatives, we are proud to be a part of the half-day Wildland Fire Strategy discussion.
All Coloradans who are working toward better wildfire outcomes are invited to this free, half-day convention on April 1st from 8:30am-11:30am. Professionals across in the state will gather together at the Embassy Suites Downtown Denver to understand roles in helping Coloradans live with wildfires, work with fellow professionals to identify barriers to implementing wildfire resilience strategies and establishing first steps to overcome these barriers, and work across disciplines to find opportunities to support each others efforts with existing capacity.
Register and reserve your spot today by clicking here.