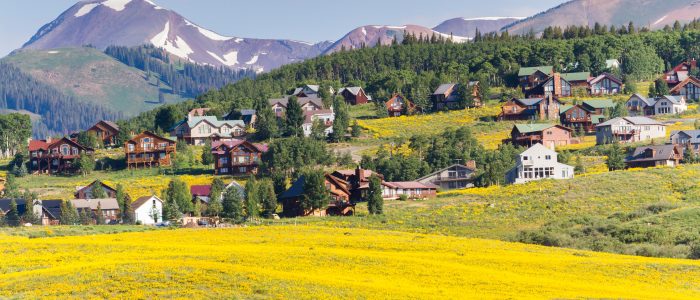 September Housing Market Trends: Home Sales Decline as Colorado Housing Markets Work to Find Their Sweet Spot Amid Seasonal Challenges
Regional and Statewide Statistics
Contact: Marty Schechter for CAR
303-882-4585 cell
marty@schechterpr.com
ENGLEWOOD, CO. – Oct. 10, 2019 – Single-family home sales across the state fell more than 14 percent from August to September but remain up 9.1 percent over September 2018 in the seven-county Denver metro area and 5.3 percent statewide, according to the latest monthly market data from the Colorado Association of REALTORS®.
As expected, new listings are down seasonally, and overall inventory remains a significant issue statewide. Yet, continued buyer demand has kept median and average sales prices relatively flat. In general, homes are sitting on the market a few days longer and sellers are having to adjust pricing and/or make concessions to get the sale across the finish line.
The median price of a single-family home in the metro-Denver region fell $4,100 to $439,900 over the past month but remains up 6 percent over the same time last year. Statewide, the median price of a single-family home fell 1.2 percent ($5000) to $400,000 in September, but also remains up 6.7 percent over September 2018.
The median price of a condo/townhome ticked up slightly to $315,000 for both the Denver-metro area and statewide and both remain up 3.3 percent over last year.
The September 2019 average days-on-market reflected buyers' patience and demands with single-family homes in the Denver-metro area on the market an average of 35 days in September, up nearly 10 percent from September and 16.7 percent over last year. Condo/townhomes slipped one day from 35 to 34 average days on market from August to September but was up nearly 26 percent over September 2018.
Statewide, single-family homes and condo/townhomes were on the market an average of 47 days, up 6.8 percent from August to September 2019. However, condo/townhomes average days on market were up nearly 24 percent year-over-year.
Taking a look at some of the state's local market conditions, Colorado Association of REALTORS® market trends spokespersons provided the following assessments:
AURORA/CENTENNIAL
"Although we keep hearing inventory for single-family residential homes and condos is up throughout the metro area, Aurora is showing a different set of numbers. Almost every zip code in Aurora and Centennial has fewer active homes for sale when compared to a year ago. Inventory is down about 25 percent for both Aurora and Centennial from September 2018. The number of sold listings was up about one percent for the 80013 zip code to 61 percent in 80010. This shows that we still have a very strong seller's market with average days on market at about 27 days. That said, sellers still need to be pricing property appropriately. We see a number of price reductions on a daily basis. The median sales price is also up between one and 9 percent depending on the zip code area. Currently, you can expect to pay a median price of $385,000 for single-family residential homes in Aurora and $481,500 in Centennial," said Aurora-area REALTOR® Sunny Banka.
BOULDER/BROOMFIELD
"Looking at Boulder County, one wonders if this is that sweet spot between a seller's market and a buyer's market, the one that never seems to last long and is only apparent in hindsight. With 9.4 percent more listings on the market, inventory is loosening, and prices are just about what they were at this time last year. Homes are still selling fairly briskly at an average of under 45 days on market, but accurate pricing is key, with more homes from which to choose and a more tepid market with buyers expressing concern about the economic future.
"Broomfield County has been moving and shaking all year and the fall shows more of the same. An increase of 14 percent more listings was met with a 19 percent sales increase. Broomfield appears to be a popular place and the median price increase of 3.4 percent is higher than its neighboring counties, indicating a strong market here. Even with fewer townhome and condo sales, their prices increased by 4.4 percent. The mix of affordable houses, great schools and proximity between Boulder and Denver seems to be driving this market, which still remains one that favors sellers," said Boulder-area REALTOR® Kelly Moye.
COLORADO SPRINGS/PIKES PEAK AREA
"The economic winds of change are not changing. September continued to be a record-setting month as we watched new listings drop while pending sales increased. Not a good scenario if you are trying to buy, which of course then lead to an increase in median price to $325,000 in the single-family home market and the townhome/condo market was up 7.9 percent. There is no need to dig deep when the stats make this so easy. Low inventory, high demand equals increased prices. It is like Groundhog Day every time we discuss this Front Range market.
"Let's skip to something a little more interesting that could affect our local and national future. China and the U.S. continue to not come to an agreement on trade deals. This led to choppy waters in the World economy and not something that should be overlooked. Farmers in the U.S. continue to get crushed because of this. Manufacturing retracted, dropping to 2009 levels. The FED then got nervous and dropped interest rates again. Gold rallied and pulled back slightly and we got to witness another inverted yield curve. September posted huge declines in auto sales and we witnessed 100-plus point swings in the stock market as everyone tries to figure it all out.
"What comes next is anyone's guess. Rumor is devaluation of the dollar, another FED interest rate drop, and central banks trying to stop a slowing World economy. Stay tuned because one of these days we may see a reverse here in housing. But until then, buyers are getting great interest rates and sellers are getting top dollar. I am not sure if that is a win/win, but it's what we have at this time," said Colorado Springs-area REALTOR® Patrick Muldoon.
"September 2019 was another strong month for the Colorado Springs-area housing market for single-family/patio homes. Surprisingly, even with a 15 percent drop in active listings, we recorded the highest monthly and year-to-date sales volumes, highest average and median sales prices, and the second highest monthly and year-to-date sales compared to any month of September on record. The average days on market were 26 days, with the sales price to list price ratio was at 99.5 percent. Our average sales price was $368,430, with the median sales price of $325,500, and a 1.5-month supply of inventory. Since buyers generally purchase properties offering competitive values, 42 percent of El Paso and 31 percent of Teller counties active listings in the Pikes Peak MLS had price reductions.
"Last month, 85.5 percent of the single-family/patio homes sold were priced under $500,000, while 12.2 percent were between $500,000 and $800,000, and 2.3 percent were priced over $800,000. Year-to-date, there was a 19 percent drop in the sale of single-family/patio homes priced under $300,000, primarily due to the inventory shortage; while we had a 23 percent increase in homes priced between $300,000 and $400,000, and 26 percent increase in homes priced between $500,000 and $600,000. The Colorado Springs area housing market continues to be restrained by low inventory and affordability challenges due to ever-soaring prices," said Colorado Springs-area REALTOR® Jay Gupta.
DENVER
"Many wonder this time of year if the seasonal real estate cooling is just that, or is there more to the story. The answer is the latter as the gap between new homes to the market and sold ones continue to widen this September. In September 2016, there was a 162-home spread. That number widened in 2017 to 195, 265 in 2018 and this September, there was a 248-home gap difference between the two figures. What does that mean for consumers? Well, simply put, more inventory. When there are either more homes arriving than selling or less selling of those currently available, the result is an increasing inventory, which in-and-of-itself slows home appreciation, a direct result of demand. This is further demonstrated in Denver this month as the average days on market, unchanged 2016-2018, recognized a 45 percent increase. While this information alone does not trigger doomsday theorists battle plans, it does point to the inevitable change from a seller's market to a buyer's market," said Denver-area REALTOR® Matthew Leprino.
DURANGO
"Total residential sales numbers in La Plata County were up significantly in September of 2019 when compared to 2018 but are flat when comparing year-to-date numbers. Last year, Durango and the surrounding area were recovering from the 416 Fire, thus comparing one year to the last doesn't fairly represent true market conditions.  Single family sales in 2019 are -8 percent when compared to the same period 2017. Condo/Townhome sales, boosted by recent construction, are up 11.2 percent over 2018 and 9.5 percent over 2017. With showing activity decreasing with traditional seasonal fluctuation enhanced by a slowing market, buyers are starting to see home pricing softening in some segments. With many homes currently pending, the year will finish well, although different from our robust past years," said Durango-area REALTOR® Jarrod Nixon.
ESTES PARK
"September 2019 in the Estes Valley was strong in comparison to September 2018 as the market continues to grow. New listings were up 9.3 percent for single-family homes and townhome/condos were up 21 percent. The increase in new listings has not affected the single-family home market with a flat 67 days on the market exactly the same as last year. Townhouse-condos are slowing drastically with a nearly 65 percent increase in the average days on market, 94 days, compared to 57 in 2018. Even with the lengthened days on market, the average sales price has not waned, hitting $324,392 in September, an increase of 5.6 percent from September 2018. Sold listings are exponentially up 28.6 percent.
"Sold listings are up 28.6 percent for townhouse-condos from September 2018, but single-family homes are down just shy of 10 percent. Pending sales for single-family homes however were up 11.5 percent indicating a strong sold figure to come in October and November once these transactions close. Townhouse-condos are also waiting to close on an increased 4.3 percent of properties year-over-year," said Estes Park-area REALTOR® Abbey Pontius.
FORT COLLINS
"As we moved towards fall, the number of homes available for sale at the end of September in the most popular price range, $300,000 – $399,000, was up 14.6 percent. Conversely, the number of homes sold in this price range has dropped 15.5 percent over the past 12 months. The next most popular price point – $400,000 – $499,000 – has enjoyed a 20 percent increase in available units and a 4.8 percent increase in number of sales. This helps explain why the median price in Fort Collins has ticked up to $425,000 on a year-to-date basis. A secondary cause of the increases in median price is found in the uptick in home sales at the $700,000 – $999,000 mark at just over 11 percent. Some combination of continued inbound population growth and move-up home buyers taking advantage of built-up equity and low interest rates appear to be driving these numbers. Clearly, housing affordability in northern Larimer County continues to worsen as the number of homes sold for less than $300,000 totaled just 652 units – a bit more than half the total number of homes sold in the next price bracket.
"What's the outlook? Interest rates seem to have stabilized in the sub-four-percent range given the current Fed guidance. The economy appears to be inching forward as well with the threat of recession appearing less imminent but still on the radar. Homes on the market right now are likely selling for less than they would have during the spring – so even though there's less than three months of inventory on the market, now may be a great time to look at properties that haven't sold and may be ripe for a price reduction," said Fort Collins-area REALTOR® Chris Hardy.
FREMONT/CUSTER COUNTIES
"Fall has rounded the corner but the real estate market has kept a steady pace in the high altitudes of the Sangre-de-Cristo Mountains. Custer County new listings were up 60 percent over September 2018 and are up 19.5 percent year-over-year. The median price home for September 2019 is up approximately 6.6 percent over September 2018.  
"Fremont County new listings dropped by a little over 14 percent from September 2018 and were about half as many as in August 2019. It appears that sellers were in a rush to get their property on the market in the warm weather before the snow starts to fly. The median price of homes in the area, currently $220,000, have shown an annual increase of about 10 percent. It is still a great seller's market; in the past 12 months 70 percent of all new listings have sold. Inventory issues continue to drive the market," said Fremont and Custer County-area REALTOR® David Madone.
GOLDEN/ARVADA – JEFFERSON COUNTY
"In Jefferson County, new listings for single-family homes dropped off slightly however, for townhome/condos we experienced a significant 12.5 percent decline. The markets new listings are likely being affected by the typical fourth quarter seasonal slowdown. Sold listings for single-family homes increased 13.4 percent along with the average days on market which increased 25 percent from this time last year. The median sales price for single-family homes now sits at $465,000.
"Looking a little closer at the townhome/condo market, we saw sold listings decline 1.7 percent and average days on market increase nearly 28 percent going from 18 days to 23 days year over year. The median sales price for townhome/condos is now at $295,000.
"Although it remains a seller's market, it is a little softer. Along with the seasonal slowdown, sellers will need to price their home correctly for it to move quicker. Well priced homes with nice upgrades and a great location are still moving quickly, yet others in the same neighborhood with average amenities are sitting on the market for months. With low interest rates there are buyers in the market however, they are analyzing all of the information and making sure the home they purchase is the best fit for them," said Golden/Arvada-area REALTOR® Barb Ecker.
GRAND JUNCTION/MESA COUNTY
"Although inventory is still tight, listings in Mesa County are up 12.8 percent month-over-month but down 0.6 percent year-over-year. Sales are also up 4.4 percent month-over-month but are down 4.5 percent year-over-year. Our median price of $263,250 for Mesa County is definitely outside of the affordable price range, and the average sale price is up 15.5 percent to $300,112," said Grand Junction -area REALTOR® Ann Hayes.
GLENWOOD SPRINGS
As the leaves fall, so does the inventory in the Roaring Fork and Grand River Valley. September numbers across Garfield County show inventory down 36 percent over the same period last year. The lower valley month's supply is hovering in the three- to five-month range while further up the valley the town of Carbondale shows the most inventory, 8.8 months' supply and the highest median sales price, $777,000. The law of supply and demand is evident, as year-to-date single-family home prices have continued to rise in all the communities where we collect data. Year to date, the inventory in the townhome/condo market was up 16 percent over last year with an increase of 8.9 percent in median price. Once again, Carbondale takes the lead with the median sale price of $495,000. The average year-to-date sale price is up just shy of 10 percent, coming in at $584,666," said Glenwood Springs-area REALTOR® Erin Bassett.
PUEBLO
"Despite its ups and downs, the Pueblo real estate market remained strong through September. Although new listings were down slightly compared to September 2018 and down 80 units year to date, pending sales were up 21 percent year over year. Sold listings were down nearly 10 percent in September but remain relatively equal to 2018. The big difference shows up when looking at price. The September median and average sale prices were up 13.5 percent and 11.8 percent, respectively, and the list to sale price is steady at 98.6 percent as buyers are stepping forward. Although new home permits are increasing, we remain short on housing inventory as builders aren't able to build fast enough to meet demand," said Pueblo-area REALTOR® David Anderson.
TELLURIDE
"September dollar amount of sales were down 30 percent compared to September 2018 sales, yet the number of sales were up 6 percent. That puts the total annual dollar amount of sales down 8 percent for the year with the number of sales up 4 percent in 2019. It appears that the affluent are not yet shaken by international trade wars or the volatility of the stock market. Some real estate economists believe the affluent like the long-term security of real estate in a mix global economic environment. The appeal of a somewhat remote resort like Telluride to get away from the craziness of the political and economic news is very appealing to many second homeowners. Looking at properties under contract, our prediction for October sales is good. Recorded sales activity is usually 30 to 60 days out from when properties actually contract. At the end of October, we should get several resort market sales statuses for the first three quarters of 2019 to get an overview of how they are doing here in Colorado. Local government seems to be planning for an economic slowdown and is being careful with their budgets for next year and the year after. A two percent GDP for 2020 looks good to us from where we are sitting. However, there are many factors nationally and internationally that could affect real estate sales especially in U.S. resort markets. The volume of U.S. sales coming from international buyers if off significantly from the last couple of years. As we have said before, resort real estate is not something people have to have but a reward for their economic successes in the broader economies," said Telluride-area REALTOR® George Harvey.
VAIL
"The summer selling season wrapped with a good solid performance in September. Closed sales in units of all property types were plus 13.2 percent for the month versus September 2018. The strength came from the townhome/condo segment as single family/duplex sales were flat. We continued the trend of solid performance in the mid-price range, but the weakness in the lower and upper price niches continues to decline. The lower price decline is driven by lack of inventory which has been the trend for the past two years. The good news for this segment is a number of new projects coming on stream for delivery in fourth quarter through next summer. The upper end of the market has been soft all year and unlikely to get back to 2018 levels. The macro economic factors tend to drive the upper niches as inventories are significant in certain price points which may be opportunities for buyers.
"The inventory on townhome/condos is at 5.2 months of supply while single family/duplex is 7.7 months. Both categories are at historically low levels however, the variability by pricing niche is quite significant. This variance could be a buying opportunity," said Vail-area REALTOR® Mike Budd.
Sold Listings – Denver Metro area (Adams, Arapahoe, Boulder, Broomfield, Denver, Douglas and Jefferson counties)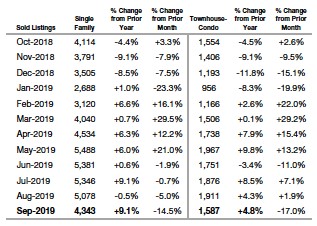 Sold Listings – Statewide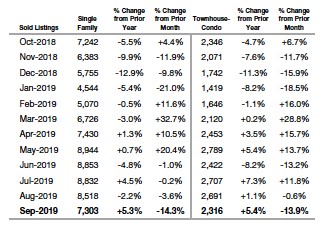 Days on Market – Denver Metro area (Adams, Arapahoe, Boulder, Broomfield, Denver, Douglas and Jefferson counties)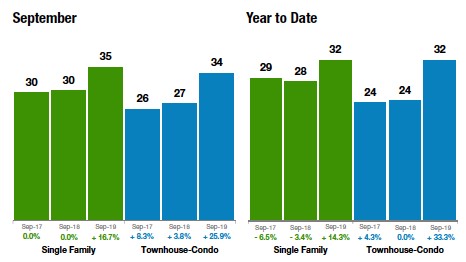 Days on Market – Statewide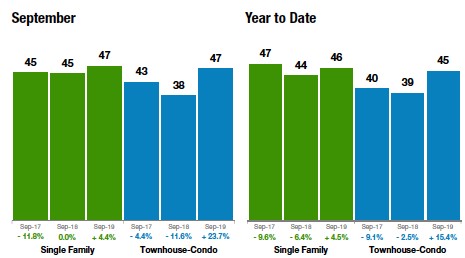 Median Sales Price – Denver Metro area (Adams, Arapahoe, Boulder, Broomfield, Denver, Douglas and Jefferson counties)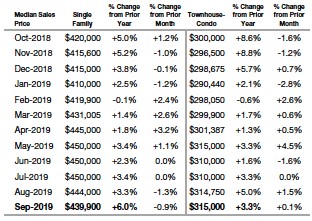 Median Sales Price – Statewide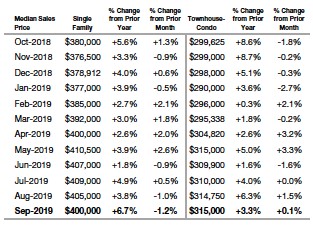 The Colorado Association of REALTORS® Monthly Market Statistical Reports are prepared by Showing Time, a leading showing software and market stats service provider to the residential real estate industry and are based upon data provided by Multiple Listing Services (MLS) in Colorado. The September 2019 reports represent all MLS-listed residential real estate transactions in the state. The metrics do not include "For Sale by Owner" transactions or all new construction.
CAR's Housing Affordability Index, a measure of how affordable a region's housing is to its consumers, is based on interest rates, median sales prices and median income by county.
The complete reports cited in this press release, as well as county reports are available online at: https://coloradorealtors.com/market-trends/
###
CAR/SHOWING TIME RESEARCH METHODOLOGY
The Colorado Association of REALTORS® (CAR) Monthly Market Statistical Reports are prepared by Showing Time, a Minneapolis-based real estate technology company, and are based on data provided by Multiple Listing Services (MLS) in Colorado. These reports represent all MLS-listed residential real estate transactions in the state. The metrics do not include "For Sale by Owner" transactions or all new construction. Showing Time uses its extensive resources and experience to scrub and validate the data before producing these reports.
The benefits of using MLS data (rather than Assessor Data or other sources) are:
Accuracy and Timeliness – MLS data are managed and monitored carefully.
Richness – MLS data can be segmented
Comprehensiveness – No sampling is involved; all transactions are included.
Oversight and Governance – MLS providers are accountable for the integrity of their systems.        Trends and changes are reliable due to the large number of records used in each report.  
Late entries and status changes are accounted for as the historic record is updated each quarter. 
The Colorado Association of REALTORS® is the state's largest real estate trade association representing more than 26,500 members statewide. The association supports private property rights, equal housing opportunities and is the "Voice of Real Estate" in Colorado. For more information, visit https://coloradorealtors.com.