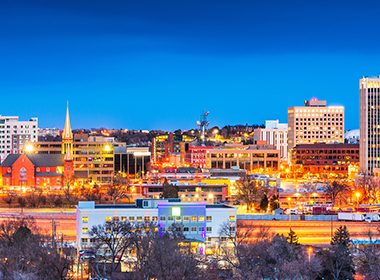 Colorado Springs and Pueblo Make April's Top 10 List on Realtor.com®
For the third consecutive month, Colorado Springs, Colo., continued its streak as the hottest housing market in the nation, according to realtor.com®'s monthly housing report.
Realtor.com® bases its monthly rankings on which markets' home listings sites visitors frequent the most as well as where homes are selling the fastest. In Colorado Springs, homes sold in a median of 32 days last month, which is twice as fast as the rest of the nation. The market also received twice as many views on its online listings than the national average.
The hottest housing markets in the nation continue to be smaller, more affordable cities, realtor.com® reports.
"We're seeing the continuation of earlier trends where we don't expect the smaller, more affordable markets to cool down anytime soon," says Javier Vivas, director of economic research for realtor.com®. But "for markets to remain hot, they'll need to have an abundant supply of homes and a thriving job market."
The COVID-19 pandemic is still taking a toll on many housing markets. In only four of the top 20 markets on this month's realtor.com® list did homes sell faster this April than a year ago. But that is an improvement over March—the onset of the coronavirus outbreak in the U.S.—when days on market were down in all housing markets tracked.
Pueblo, Colo., about 45 minutes south of Colorado Springs, was the only market to see more views per property and post an improving number of days on the market.
"Homebuying demand has been pushed out of the bigger cities and into adjacent, [smaller] cities that tend to be lower-priced," Vivas says.
The hottest housing markets in April were:
Colorado Springs, Colo.
Fort Wayne, Ind.
Topeka, Kan.
Pueblo, Colo.
Columbus, Ohio
Modesto, Calif.
Manchester, N.H.
Lafayette, Ind.
Sacramento, Calif.
Fresno, Calif.