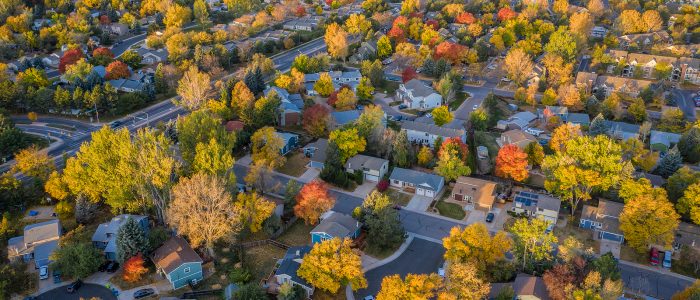 A Snapshot of the State's October 2020 Housing Markets
October highlights for the Denver market include:
The greatest 12-month-period price appreciation (21.3%) ever tracked by the Colorado Association of REALTORS®.
There were 42% more single-family homes sold than the previous year, and 23% more new listings arrived to replace them, all while the median single-family price increased $32,000 in one month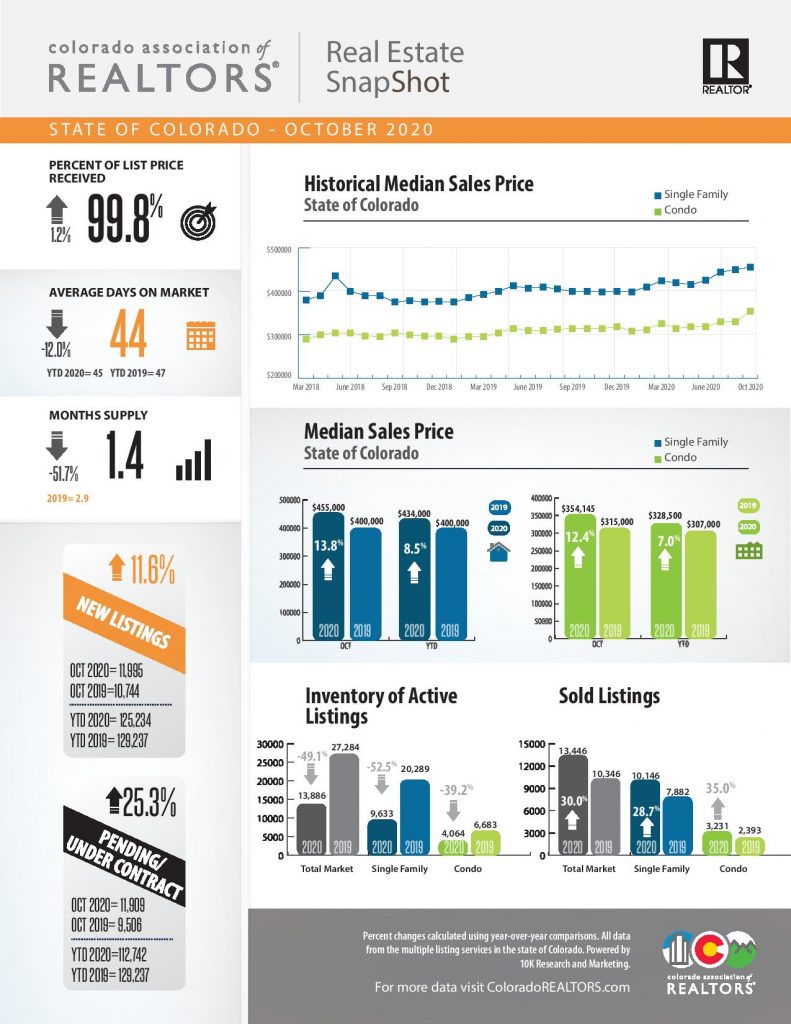 Taking a look at some of the state's local market conditions, Colorado Association of REALTORS® market trends spokespersons provided the following assessments:
AURORA
"The last of the falling leaves and upcoming holidays have not slowed the Aurora and Centennial housing markets. We are still experiencing multiple offers on properties and less than 30 days average on the market. Prices continue to move up as demand is still very high. Very low interest rates and some of the most affordable housing in the Denver-metro area, coupled with great first-time homebuyer programs are driving buyer demand. Patience and persistence are the key words," said Aurora-area REALTOR® Sunny Banka.
BOULDER/BROOMFIELD
"In the midst of closings and shutdowns, Boulder and Broomfield's housing market is the shining light of our local economy. With modest but solid appreciation of 5% so far this year for single-family homes and even a bit more for townhomes and condos, the market is strong and healthy. Inventory is low, but with those who live in dense surroundings moving to the more spacious suburbs, sales remain strong. Fueled by first-time homebuyers hoping to get in on the action, the townhome and condo market is holding steady, even thriving, with price appreciation of 7% since the beginning of the year, and days on market falling to 53. The extraordinary quality of life in this area has attracted many buyers from other states who hope to work and school from home in one of the most beautiful and active communities in our state," said Boulder/Broomfield-area REALTOR® Kelly Moye.
COLORADO SPRINGS/PIKES PEAK AREA
"How do you make a volcano erupt? Combine the vinegar, water, dish soap and 2 drops of food coloring into the empty soda bottle.How do you make a real estate market erupt? Combine pent-up demand, historically low-interest rates, COVID-19 pandemic making working from home a necessity, good economy, and record low inventory creating fear of higher prices tomorrow. In October 2020, the Colorado Springs-area housing market for single-family/patio homes logged the highest level of monthly and year-to-date sales and sales volumes, as well as the highest level of average and median sales prices compared to any October on record.
"According to the latest rankings from U.S. News and World Report, Colorado Springs is among the top four best places to live in the U.S. 'Colorado Springs attracts students, professionals and military personnel to the area with a cache of military bases and nationally ranked colleges,' U.S. News said in their write-up. Plus, construction in Colorado Springs is booming, with new residences popping up alongside quality schools, parks and cultural attractions.' Yet, Colorado Springs real estate tends to be more affordable than in other parts of the state, which is a huge reason many people choose to live here," said Colorado Springs-area REALTOR® Jay Gupta.
"With the holiday season fast approaching and the thoughts of days off, time with family, and pumpkin spice, the one thing we will not be enjoying is gifts of more housing inventory in the Pikes Peak Region. In fact, we dropped our active inventory 54% in a year. We have half the number of listings that we did last year. It is not uncommon for agents to log into our MLS and find 400-600 active homes for their buyers. Which is bad, but to add insult to injury we are up 14% on our median price for single-family homes and we continue to drop days on market. This is the real estate story of how the Grinch stole all the housing inventory.
"Now, let's take into account the bad news in the nation. We have unemployment numbers going up, lockdowns back in place in many areas, COVID cases increasing, mortgage forbearances on the rise, but housing is so limited that prices are continuing up even though the entire economy across the nation is in an economic free fall. Even as we see families shutting down their businesses, commercial spaces with lease signs in windows and overall, every sector getting crushed, housing does not care. It quite literally has shrugged off every punch thrown at it despite what normally should have slowed it down.
"With the FED saying interest rates will remain artificially suppressed for years, low inventory, and enough buyers moving to our area along with a complete moratorium on evictions and foreclosures, housing appears to be on sure footing until at some point something gives. The economy loves free money and more is coming, trillions more. The current environment appears to be poised for more inflation..er..increases in value until at some time it isn't. And when that occurs is anyone's guess. Sellers enjoy your dominance in this market because at some time the buyers will get to play ball again," said Colorado Springs-area REALTOR® Patrick Muldoon.
CRESTED BUTTE
2020 has been record setting in the Crested Butte real estate market. September and October were the two busiest sales months on record and we had more than twice the properties under contract this year vs. last October. We continue to see single-family homes come on the market and sell quickly if priced correctly. The condo and townhome inventory is very low and not many are being listed. This could change as we get into ski season, but it doesn't seem that there will be a lot of condos to choose from as we head into 2021. Land sales are picking up as buyers are not finding what they want in existing homes. Unlike many resort areas, Crested Butte has a variety of vacant land, so builders will be busy for the foreseeable future and there are a lot of opportunities for speculative building in all price ranges. Affordable housing is getting more and more challenging as prices increase, but with low interest rates, locals may still be able to get their foot in the door if they act quickly and are prepared. With ski season starting, we are hoping for a lot of snow and planning for continued buyer interest in owning property and even moving permanently to the Gunnison Valley," said Crested Butte-area REALTOR® Molly Eldridge.
DENVER COUNTY
"October 2020 saw the greatest 12-month-period price appreciation we've ever tracked; 21.3%. During this same 'October to October' span, 42% more single-family homes sold than the previous year, and 23% more new listings arrived to replace them, all while the median single-family price, in just one month, increased $32,000," said Denver-area REALTOR® Matthew Leprino.
DURANGO/LA PLATA COUNTY
"In October, Durango and La Plata County continue the trend of extremely low inventory and high sales
numbers. Traditionally a strong closing month, October numbers show single-family sales volume up 66% and townhome/condo sales up an astonishing 364% when compared to 2019. Year-to-date sold residential units are up 20.8% over 2019, while the total inventory of new listings is down 12.7%. With the low inventory and high demand, prices are climbing with YTD median single family up 11.9% at $489,000 and townhome/condos up 13.3% at $339,875. As of this writing, there are more under contract listings below $1 million than active listings in La Plata County.
"Helping slow the gap of an inventory crunch are single-family new listings which, in October, climbed 66.3% over October 2019. It's possible the cause was a delay in our season and listing dates correspondingly because of our COVID-19 spring shut down, as we are seeing that delay trend across
our markets. It's also possible the sellers are getting the REALTOR message loud and clear if you are thinking about moving, Now is the time to list to take advantage of the low rates and high demand," said Durango-area REALTOR® Jarrod Nixon.
ESTES PARK
"Sold listings are up dramatically for both single-family homes and townhouse/condos. Single-family homes are up 36.9% over October 2019 and up 11.3% year to date. Townhouse/condo sold listings are up 45.2% compared to October last year and up 10.4% year to date. Prices continue to climb with average sales price up 17.3% to $545,958 for single-family homes and an increase of 5.4% to $341,509 as compared to October 2019 for townhouse/condos. Inventory continues to be an issue with new listings down 4.4% for single-family homes and down 2% for townhouse/condos," said Estes Park-area REALTOR® Abbey Pontius.
FORT COLLINS
"Essential. With all the tumult surrounding the nationwide spike in COVID infections, hospitalizations, and fatalities, municipalities, counties, and our state governments are doing their best to strike a regulatory balance between social responsibility and economic crisis. Any way you slice it, real estate, and more broadly, housing, has never been a more essential component of daily life. With so many people working from home, schooling from home, eating from home, quarantining from home, and recovering their health from home – home is essential. The monthly numbers support this concept with more news of astounding statistics for October 2020 compared to October 2019. For example, the number of homes sold this past month is a 43% increase over the previous October. There was a slight dip in median price – yet it is still $460,000. Homes available to purchase are in short supply and even in the fourth quarter, we are still seeing multiple, competing offers for many homes across all price ranges. Low interest rates, a desire to move to less crowded areas, and homes that can accommodate more comfortable sheltering in place are just a few of the factors driving demand for this most essential of human needs," said Fort Collins-area REALTOR® Chris Hardy.
GOLDEN/ARVADA – JEFFERSON COUNTY
"The Jefferson County real estate market shows no signs of a slow down even with the holidays around the corner and the continuing challenges and uncertainty of the pandemic. Buyers continue to look but, with fewer and fewer homes coming to the market, the competition is fierce. For single-family homes, October saw an increase in homes to the market with a 10.3 percent uptick. The median home price increased to $537,750 while the average days on market dropped to 19.
"The condo/townhome market also saw a rise in new listings, up 13.3 percent along with the median sales price reaching $310,000, a 2.4 percent increase from this time last year. Buyers will need to be very aggressive to compete in this market with fewer listings as we head into the holiday season," said Golden/Jefferson County-area REALTOR® Barb Ecker.
GRAND JUNCTION/MESA COUNTY
"Mesa County real estate activity continues to be strong, but it is definitely affecting available inventory as single-family fell 46.8% and townhome/condo dipped 53.3% compared to a year ago. Both median and average sale prices are up, especially in single family, with the median hitting $314,900, an increase of 14.5%, and the average now at $356,372, an increase of 20.6%. Lower-priced inventory is scarce, and people are buying more expensive homes because of the low interest rates. Our average days on market is also down 8.4% to 76 days. We have only a 1.4-month supply of single-family homes across all price categories, and townhome/condo supply is just 1 month. There are just 455 total residential units available," said Grand Junction-area REALTOR® Ann Hayes.
PUEBLO
"The Pueblo Market continues to be very active and very productive as all measurable October categories are positive compared to October 2019, with the exception of new listings which are down just 1%. Solds rose more than 20%, median sales price was up 20.7%, list price percent received was up 1.6% to 99.8%, days-on-market dropped to 65 days, down 17.7%, total inventory of 240 units is down more than 50%, and our months supply of inventory sits at just one month. The result for October continues the trend for the entire year – inventory is down, prices are up, we have multiple offers on all price categories. Looking at lot sales in Pueblo West for 2020, we are at 500 to date, with a two-month supply of inventory at 85," said Pueblo-area REALTOR® David Anderson.
STEAMBOAT SPRINGS/ROUTT COUNTY
"Another wild month leads to yet another jaw dropping report. October closings in Routt County totaled an astonishing $185 million, an enormous increase from last October's solid $76 million. The record month puts total market volume up 45% year over year. In October in Steamboat, residential properties went under contract on average in a mere 15 days. Just five short years ago, sellers waited closer to 100 days for their properties to go under contract. The 132 current listings is a steep decline from the 400 listings that were available in the summer of 2019 when there was balance between buyers and sellers. Steamboat now has only 1.7 months of supply, just a tad above the rest of Colorado which has only 1.4 months available. Steamboat Resort recently delayed the start of the ski season due to lack of snow but is still making every effort to open on December 1. Clearly COVID will continue to spur a significant boost in the number of people seeking refuge and adventure in the Yampa Valley," said Steamboat Springs-area REALTOR® Marci Valicenti.
SUMMIT, PARK AND LAKE COUNTY
"The slopes are opening in Summit County and real estate remains a vigorous economic local boon. Almost 75% more residential properties were sold this October compared to October 2019 and the inventory of active listings is down about 54% which means buyers are acting fast when that perfect property hits the market. Mud season was busy this year with more sales and more pending properties than any previous October with an average residential price of $801,985, which is 22.6% higher than last October and almost 10% higher when looking at the year-to-date median. Single-family home prices soared 46.6% to $1,522,201 this October, while townhouse and condo prices grew 4.7%.
"The highest price single-family home sold in October was $4.8 million while the lowest price single-family home sold for $491,000. The highest townhome/condo sold for $2.2 million and the lowest for $261,000. So far this year, 47% of our sales are from buyers coming from the front range, 22% local and 31% from out of state," said Summit-area REALTOR® Dana Cottrell.
TELLURIDE
"The Telluride market was in a frenzy in October and set a new record monthly sales volume for the third month in a row at $194.1 million. The 2020 year-to-date total of $832.6 million through October is more sales volume than any year total sales volume in Telluride's history. The best annual sales record was in 2007 at $756.6 million.
"The average sales price in San Miguel County is up 33% compared to 2019, the total number of sales are up 52% for the year through October, and the total dollar volume has more than doubled that of 2019 for the same period of time," said Telluride-area REALTOR® George Harvey.
Inventory of Active Listings – Statewide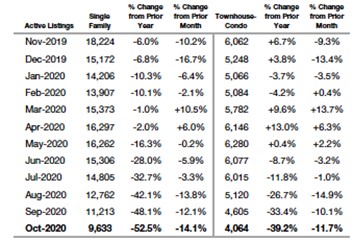 Inventory of Active Listings – Denver Metro area (Adams, Arapahoe, Boulder, Broomfield, Denver, Douglas and Jefferson counties)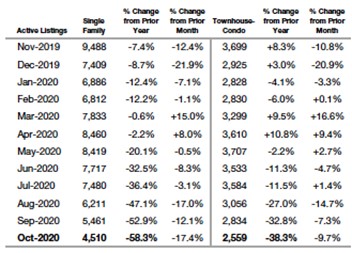 Pending/Under Contract – Statewide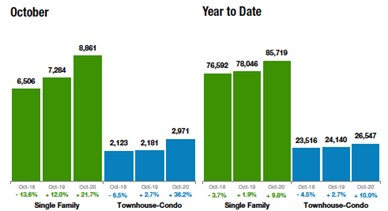 Pending/Under Contract – Denver Metro area (Adams, Arapahoe, Boulder, Broomfield, Denver, Douglas and Jefferson counties)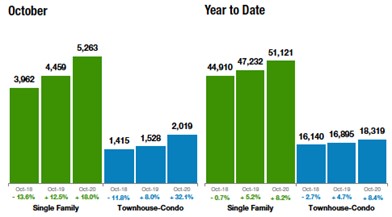 Median Sales Price – Statewide

Median Sales Price – Denver Metro area (Adams, Arapahoe, Boulder, Broomfield, Denver, Douglas and Jefferson counties)

Months Supply of Inventory – Statewide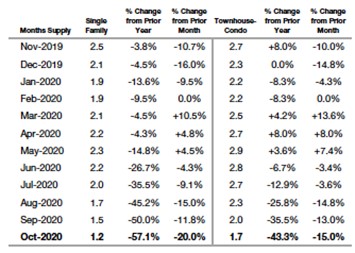 Months Supply of Inventory – Denver Metro area (Adams, Arapahoe, Boulder, Broomfield, Denver, Douglas and Jefferson counties)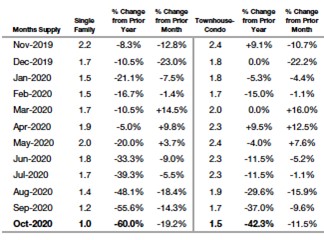 The Colorado Association of REALTORS® Monthly Market Statistical Reports are prepared by Showing Time, a leading showing software and market stats service provider to the residential real estate industry and are based upon data provided by Multiple Listing Services (MLS) in Colorado. The October 2020 reports represent all MLS-listed residential real estate transactions in the state. The metrics do not include "For Sale by Owner" transactions or all new construction. CAR's Housing Affordability Index, a measure of how affordable a region's housing is to its consumers, is based on interest rates, median sales prices and median income by county.
The complete reports cited in this press release, as well as county reports are available online at: https://coloradorealtors.com/market-trends/
###
CAR/SHOWING TIME RESEARCH METHODOLOGY
The Colorado Association of REALTORS® (CAR) Monthly Market Statistical Reports are prepared by Showing Time, a Minneapolis-based real estate technology company, and are based on data provided by Multiple Listing Services (MLS) in Colorado. These reports represent all MLS-listed residential real estate transactions in the state. The metrics do not include "For Sale by Owner" transactions or all new construction. Showing Time uses its extensive resources and experience to scrub and validate the data before producing these reports.
The benefits of using MLS data (rather than Assessor Data or other sources) are:
Accuracy and Timeliness – MLS data are managed and monitored carefully.
Richness – MLS data can be segmented
Comprehensiveness – No sampling is involved; all transactions are included.
Oversight and Governance – MLS providers are accountable for the integrity of their systems.           
Trends and changes are reliable due to the large number of records used in each report.  
Late entries and status changes are accounted for as the historic record is updated each quarter. 
The Colorado Association of REALTORS® is the state's largest real estate trade association representing more than 27,500 members statewide. The association supports private property rights, equal housing opportunities and is the "Voice of Real Estate" in Colorado. For more information, visit https://coloradorealtors.com