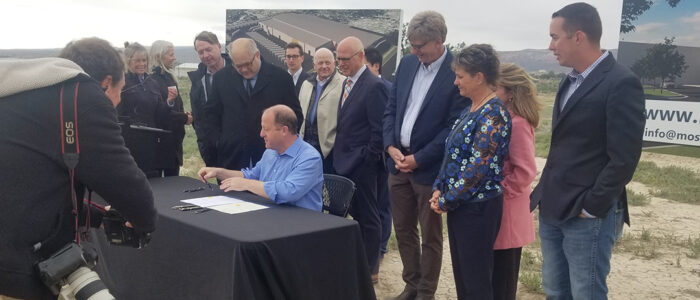 HB 1282 Means Affordable Housing
Gov. Polis signed HB22-1282 on May 20, which allows for building high-quality, attainable modular and 3-D printed homes. "When Colorado leads the nation in driving innovative policy that creates new affordable housing units across the housing continuum but also brings new jobs to our state it's a win-win for Colorado and the Colorado Association of REALTORS® are proud to see truly transformative policy take hold in Colorado," said CAR's Vice President of Government Affairs Liz Peetz.
The Innovative Housing Incentive Program bill was sponsored by Rep. Kyle Mullica, Rep. Mike Lynch, Sen. Jeff Bridges, and Sen. Rob Woodward.
CAR Director Ann Hayes attended the bill signing, which took place in Grand Junction, Colorado, at the soon-to-be-built Mosaic Housing construction factory, which will "create housing opportunities at 20% lower costs for on-site construction on the Western Slope and the deployment of modular homes to communities across the state," according to a press release from Gov. Polis' office.
http://www.realvail.com/13264-2/a13264/