Will Recreational Marijuana Affect Real Estate?
It's all over the news and impossible to ignore: Colorado has legalized recreational marijuana. USA Today recently published a story about how joint-rolling and Dorito eating are among anticipated pot-themed contests at the Denver County Fair in August. It seems Colorado has become the butt of a few jokes the last few months.
No matter where your personal opinion lands on the new law, if you're a REALTOR ® in Colorado, you'll eventually have to deal with client concerns and questions brought about by recent media hype and what legalization of the drug means for them.
In general, municipalities and people across the state seem less concerned about the consumption of marijuana and more concerned about how to handle recreational pot sales, tax income, and what it means to neighborhoods where pot shops might open up. Opponents argue that recreational pot shops will traffic in more crime, and eventually bring down property values. The biggest issue REALTORS ® will face is how the law influences their buyers.
"Some people don't want to come [to Colorado] with their families," says Joyce Burford, executive director of Colorado Association of Ski Towns. "Because they have this image that all these pot smokers will be everywhere." That's not happening, she says, and "I don't think that's going to happen." 5
Knowing the facts about the new law will help you reassure any clients hesitant to relocate from out of state or local clients who are curious about how the new laws will affect them.
Recreational Sales and Property Values
For homeowners or buyers concerned about the possibility of a marijuana business springing up next door, the impact may not be as prevalent as some expect. 4
Although state law allows pot shops to exist, amendment 64 gives local governments the authority to regulate commercial activities associated with the recreational use of marijuana.
The majority of counties in Colorado have either already passed bans on recreational marijuana retailers or have delayed making a decision and placed a moratoria on pot business; closely monitoring how enactment is working in other parts of the state.
It looks as though recreational marijuana businesses will be absent from large portions of the state for the foreseeable future. According to the Denver Post, of the ten largest cities in Colorado (by population), only Denver is expected to accept license applications for recreational marijuana stores this year. 4
For now, its brokers in Denver and Denver County who will need to be the most concerned with how recreational pot shops will affect their business and whether or not it is a concern for their clients.
It's also important to note that in counties and cities that have decided to allow recreational sales, grow operations will only be in areas zoned industrial. 6
Visit the Colorado Springs Gazette's interactive map that shows the 136 licenses Colorado has issued for recreational marijuana sales as of December 31, 2013. Another interactive map shows each county's decision on recreational sales.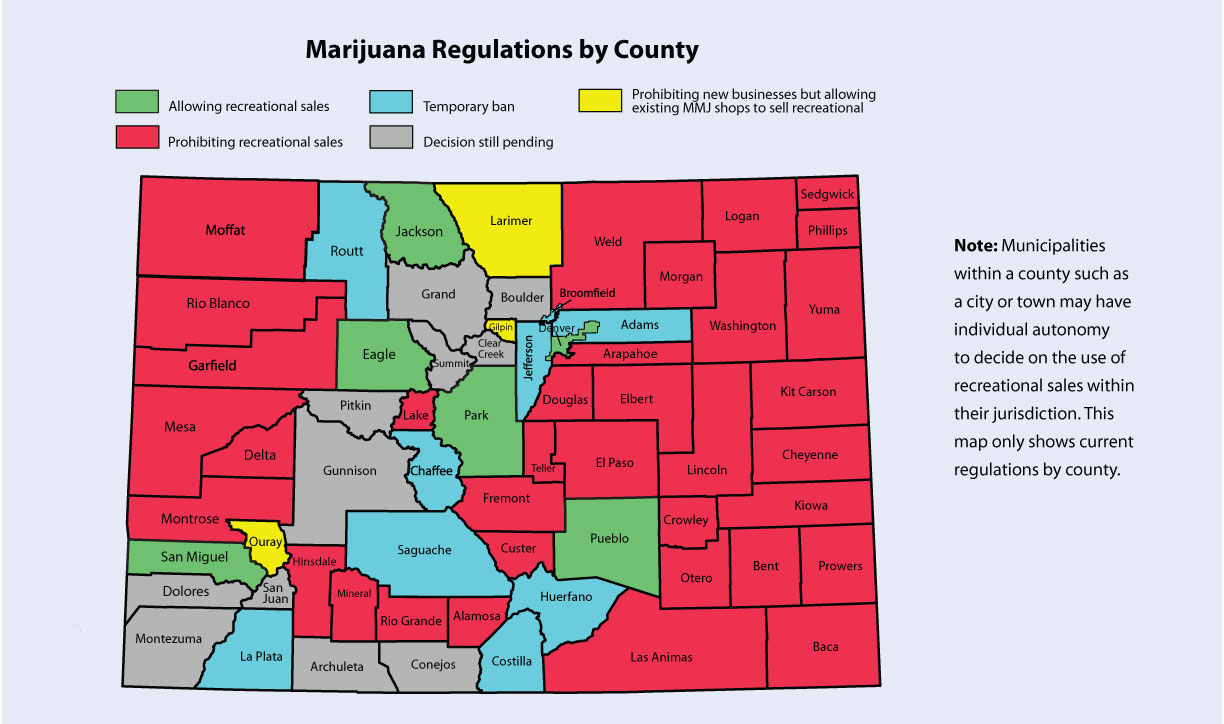 Grow Houses
With the new law allowing in-home cultivation of up to six plants, you and your buyers may concerned about an increase of indoor grow houses and how this changes the inspection process. Indoor growing may sound nonthreatening, but purchasing a home that was used to grow pot can be a nightmare for a homebuyer. 2
Granted, six plants don't exactly constitute a grow operation. However, brokers should be prudent when showing homes that show signs of extensive grow operations. Most grow houses wind up having widespread mold due to the use of the irrigation and moisture needed for the plants.
Larger-scale growers also cut holes in ceilings to allow ventilation and run water lines. According to Colorado Inspection Services, growers also change the ductwork and rewire the house to accommodate the high voltage grow lights, and illegal growers have been known to run wires up to the power line to bypass electric meters.2 NAR's Field Guide to Identifying Grow Houses
Grow House Damage Checklist Courtesy of Colorado Inspection Services:3
Unsafe wiring
Oversized fusing
Damaged fixtures
Holes for ventilation and electrical access
Wood rot
Rusted hollow columns
Rusted gas burning appliances and damaged vents
Mold from venting to interior, attic or crawlspace
Deterioration of chimney mortar from venting to fireplace
Marijuana Use and Federally-Subsidized Housing
Despite the fact that Colorado law legalizes recreational use of marijuana, its use is still illegal on the federal level. And, like most REALTORS, you'll deal with the occasional HUD transaction. So you'll want to be armed with the knowledge that current federal policy means pot consumption in any form remains illegal within properties built or operated with federal funds or insured by HUD, in spite of state legalization. This affects nearly 300 federally-subsidized housing projects across the state. 1
These policies could change in the coming years, as the Obama administration has been discussing new policies that will address public housing rules regarding the use of marijuana.
What Landlords and Property Owners Should Know
Regardless of state law, recreational pot use is still illegal on the federal level. This alone is enough to encourage most landlords and property managers to keep marijuana use out of their properties. While personal use is legal, pot use on a rental property may result in violations in loan covenants relating to "illegal activities", or issues with insurance carriers. 4
The law allows landlords to control how their properties are used, and clearly allows property owners to create conditions barring the use of marijuana on their property. 4
Sources:
1. http://www.denverpost.com/marijuana/ci_24989650/federal-housing-colorado-remains-off-limits-marjuana-now
2. http://realestate.msn.com/article.aspx?cp-documentid=26924092
3. http://www.inspection-perfection.com/marijuana-grow-room-dangers.html
4. http://www.ottenjohnson.com/news-events-resources/otten-johnson-alerts/2013%20Otten%20Johnson%20Alerts/Amendment-64-Retail-Marijuana-Businesses-on-the-Horizon
5. http://www.thedailybeast.com/articles/2014/01/11/high-time-to-head-to-colorado-native-pot-smokers-warn-of-shortages.html
6. http://www.pagosadailypost.com/news/24083/A_Thick_Haze_of_Marijuana_Smoke,_Part_Three/
7. http://gazette.com/list-and-map-colorado-issues-136-licenses-for-recreational-marijuana-sales/article/1511511