Housing Recovery Slows Down End of Year
Through the first three quarters of 2013 most areas of Colorado showed steady and significant improvement on such leading housing indicators as sales, median pricing and days on the market.  During the fourth quarter the housing market overall slowed down significantly, a trend that some experts believe will carry into 2014.
Sales of single-family homes, condominiums and townhouses (taken together) increased just 3.4 percent statewide to 20,898 units during fourth quarter 2013 compared to fourth quarter 2012, according to Quarterly Market Statistical Reports provided by the Colorado Association of REALTORS® (CAR).   Sales of single-family homes rose modestly (+2 percent) while condo/townhome sales increased more significantly (+10 percent).  Historically sales are lowest during the fourth quarter of the year and 2013's pattern was consistent with the previous two years.
Inventory statewide continued to be at low levels with new listings increasing just 1 percent to 28,822 (comparable quarter to quarter).  New listings of single-family homes dropped slightly
(-0.1 percent) while the townhouse-condo markets experienced an increase of nearly 7 percent. Median sales prices statewide continued to rise but at a slower pace than previous quarters; up 6 percent to $250,000 for single-family homes and 6 percent to $168,000 for townhouses and condominiums, again, compared to the same quarter in 2013.
Days on the market continued a downward trend (-18 percent for single-family and -22 percent for townhouses-condos) and the statewide number of total active listings at the end of the year of 28,627 represents less than a 4-month supply for single-family homes and just over a 3-month supply for townhouses-condos.
Lender-mediated properties (foreclosures, short sales, REO or other distressed property sales) represented 9 percent of all sales during the quarter.
"Last year was a very good one for Colorado real estate with significant improvement in sales and home values," said CAR spokesperson, Duane Duggan.  "Our biggest challenge is not having enough inventories to meet the needs of all the buyers wanting to be in the market.  With interest rates still low there is strong competition for the limited number of properties available leading to competition through multiple offers.  Many people end up disappointed.  As our markets continue to improve we are hopeful that sellers who have been hesitant to move on their properties will come into the market which should improve the atmosphere for everyone."
The CAR Housing Affordability Index, a newer statistical measure for Colorado's housing market, uses median sales price, prevailing interest rates and average income to measure local housing affordability. An index of 120, for example, means that the median household income in that area was 120 percent of what was necessary to qualify for the median-priced home under prevailing interest rates. A higher number is usually interpreted as greater housing affordability.  Higher values generally benefit buyers whereas lower values help sellers.
The combined statewide affordability index during the fourth quarter of 2013 was 147 with the townhouse-condo market enjoying more affordability (195) than for single-family homes (140).  As housing prices rise, affordability tends to go down unless median income rises to keep pace with the increased cost of real estate.  All areas of Colorado saw decreasing affordability through 2013.
The Colorado Association of REALTORS® Quarterly Market Statistical Reports are prepared by 10K Research and Marketing, a Minneapolis-based real estate technology company, and are based on data provided by Multiple Listing Services (MLS) in Colorado.  The current Q4 2013 reports represent approximately 86 percent of all MLS-listed residential real estate transactions in the state.  The metrics do not include "For Sale by Owner" transactions or all new construction.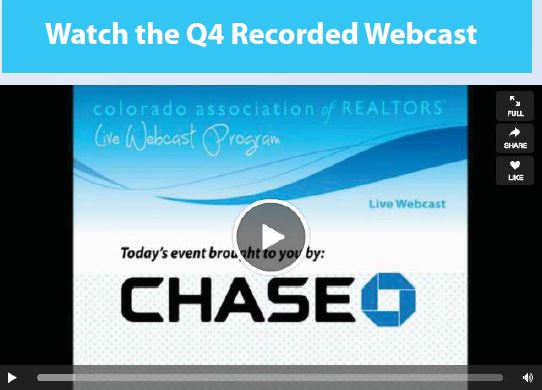 Read what CAR spokespersons are saying about the housing market in your region:
Metro District- Michael Welk
"In many ways 2013 was a very good year for housing in our area. Home values continued to rise, sales were steady and we're seeing fewer lender-mediated properties as part of the mix.  What we hope to see in 2014 is an increase in inventory as hesitant sellers realize that with low mortgage rates their opportunity to maximize their home's value is now so they should make the move to be part of the market"
Mountain District- Andrew Ernemann
"At year end the Mountain District enjoyed significant YTD increases in median price and improvement in days on the market with a decrease in affordability. Sales of single-family homes, condominiums and townhouses (taken together) declined by 15 percent to 937 units during fourth quarter 2013 compared to fourth quarter 2012.  While we welcome more inventory unlike other parts of the state, our market has plenty of high quality properties available for second-home buyers and those wanting to relocate for a mountain lifestyle."
Northeast District- Kelly Moye
"In spite of a traumatic flood and a government shutdown, 2013 was a good year in much of our region.  We sold a record number of homes, just beating out our biggest year ever which occurred in 2006. Prices went up but inventory didn't.  So, the 'chicken and the egg' theory is at work here.  If no one lists, no one can move. Buyers seem apprehensive. They are waiting for something – anything – else to come on the market.  The best word to describe the market in this area is optimistic."
Northwest District- Sandy Borman
"Our region, while seeing improvement, hasn't enjoyed the significant turnaround yet that some other areas of Colorado have experienced.  Days on the market can be a challenge but our biggest need is to encourage more buyers to come into the market.  So much of that is driven by employment and the overall financial health of the area which we hope to see improve further in 2014.  We offer affordability and an incredible lifestyle.  With low interest rates there are great opportunities here that we will be promoting in the coming year."
Southeast District- David Anderson
"The early part of 2013 included some significant increases in sales and home values. We weren't able to sustain that pattern towards the end of the year with both sales and pricing showing some slippage.  Looking at the last three years a chart of new listings looks a bit like a roller coaster with a lot of ups and downs.  Like most areas of the state we can use more inventory.  With interest rates still so low we are hopeful that more sellers will enter the market it in 2014 and take advantage of good conditions."
Southwest District- Mike Heraty
"We were pleasantly surprised with the strength of our market in the fourth quarter especially with what we knew was happening in other parts of the state. The truth is no two areas of the state are exactly the same and here in the Southwest we have such a range of housing options and prices that sometimes the collective statistics don't tell the whole story.  We are concerned about inventory as we continue to urge sellers to move into the market while interest rates are still low enough to help most buyers."
The reports cited in this press release are available online at www.ColoradoREALTORS.com/HousingStatistics.  For detailed local reports please contact your local association.