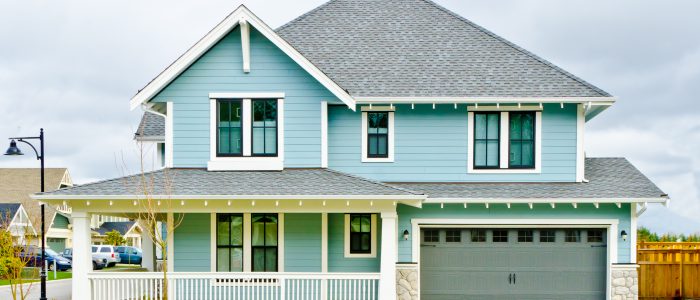 Median sales price of Colorado homes up 10 percent over last year while available listings dip 37 percent statewide
Key findings from the April 2017 research report include:
Following a dramatic increase in new listings in March 2017, April saw a small decline in the number of new listings for single-family and townhome/condos across the state.
Median sales price for a single-family home in the Denver metro area hit another record high, $404,900.
Statewide, the median sales price for a single-family home hit $357,000, while condo/townhome median sales price reached $269,500.
Median sales prices statewide are up more than 10 percent from year prior.
There are just over 18,100 active Colorado listings, down nearly 37 percent from a year prior, while in the Denver Metro area, there are just shy of 7,000 active listings, down nearly 40 percent from a year ago.
Inventory stood at a 1.9 month supply for the state, while in the Denver Metro area there remains just a 1.3 month inventory supply.
A decline in new listings for single-family homes across the state was met with yet another increase in median sales prices that once again set new record high levels, according to the latest statewide housing report from the Colorado Association of REALTORS® (CAR).
Following dramatic increases in new listings for single-family homes and townhouse/condominiums in March, April brought a small decline in the number of new listings across the state. Once again, strong sales kept inventory hovering around record lows and bumped median sales prices to record highs in the Denver metro area at $404,900 for a single family home and $269,900 for townhome/condominiums, both are CAR market trends report record highs.
Further complicating the housing market is the continued decline of active listings. Statewide, active listings are down nearly 37 percent for single-family homes from a year prior, while in the Denver-metro area, active listings are down more than 42 percent year-over-year.
Statewide Median Sales Price

Statewide New Listings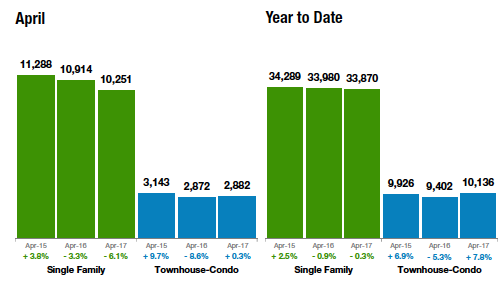 Statewide Active Listings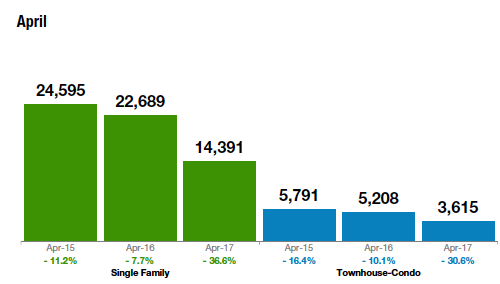 The monthly supply of housing inventory remains below 2 months across the state and is nearly 37 percent lower than one year ago. Balanced markets range from a 4-7 month supply.
Statewide

In a limited inventory market, and with growing seasonal demand from would-be home owners, the average days a for-sale home stayed on the market continued to drop. Statewide, the report shows a 48-day average for single family and townhome/condo units, while the Denver metro market saw that average dip to just 25 days from a house going on the market through closing.
Here are a few quotes about the most recent housing market conditions from Colorado Association of REALTOR®  research spokespersons representing regional markets:
"The market in Boulder and Broomfield counties continues to move at a fast pace with more affordable properties and condos going for up to 10 percent over list price in fierce bidding wars. Appraisals continue to be a challenge and while they should pull the reins back on a market out of control, most buyers are waving their appraisal conditions and making up the difference between appraised price and purchase price.  This makes our market particularly challenging for first time buyers or buyers without a lot of cash," said Boulder-area REALTOR® Kelly Moye.
"The Denver County Market continues its record-breaking performance as spring progresses. With one month's supply of homes offered to the buyer – a tenth of a percent up from March of 2017- we continue to see supply outweigh demand. The appraisal industry seems to be adapting to the demand and realistic production appears to be reemerging. Our median sales price continues to rise though the moderate increase in supply could produce slower results," said Denver-area REALTOR® Matthew Leprino.
"The Jefferson county area single-family medium home sale in April 2017 was $427,000. We had 889 new listings hit the market while 629 homes sold in April 2017.  With just over one-month supply of inventory, our days on the market dipped to 20. When looking at condo's, the medium price reached $260,000, with 286 new listings and 215 that were sold in the past month resulting in just a few weeks of inventory supply.
Looking specifically at Golden, we continue to have very little inventory and multiple offers on most listings. We've seen a slight uptick in condo's and townhomes that have come on the market in the Golden area the last few weeks," said Golden-area REALTOR® Barb Ecker.
"In the month of April 2017, the Colorado Springs-area single family-patio homes housing market had record high sales with over 33 percent less active listings compared with April 2016. The strongest demand remained for homes priced under $300,000. Over 46 percent of the homes sold last month were priced between $200,000 and $300,000 with an alarmingly low 0.4 months supply. Townhouse-condo sales were up by 15 percent along with the median price increase of over 18 percent in April 2017 over April 2016," said Colorado Springs REALTOR® Jay Gupta.
"In Pueblo West, we're faced with the same low levels of inventory, only 5-6 weeks of homes and strong competition for what is available creating multiple offers. New home construction is up 63 percent in year-to-date.  However, there is far more work needed to get to closing with problem areas that include loans, inspection, buyer concessions and appraisals," said Pueblo-West REALTOR® David Anderson.
The Colorado Association of REALTORS® Monthly Market Statistical Reports are prepared by Showing Time, a leading showing software and market stats service provider to the residential real estate industry, and are based upon data provided by Multiple Listing Services (MLS) in Colorado.  The April 2017 reports represent all MLS-listed residential real estate transactions in the state.  The metrics do not include "For Sale by Owner" transactions or all new construction.
The complete reports cited in this press release, as well as county reports are available online at: https://coloradorealtors.com/market-trends/