Seasonal slowdown or changing market?
July housing data delivers mixed bag across Colorado
ENGLEWOOD, Colo. – Aug. 10, 2017 – While Colorado's housing market remains extremely hot, seasonal factors contributed to create a mixed bag of results in Colorado's housing market activity in July, according to the monthly statewide housing report from the Colorado Association of REALTORS® (CAR).
Despite decreases in new (-14 percent), active (-3.5) and sold (-14.8) listings in the Denver metro region, median sales prices for single family homes remained at $410,000, up 7.6 percent from a year ago.

Statewide, the median sales price for single family homes fell 2.2 percent to $362,000 but remains nearly 8 percent higher year-over-year.

Although some numbers have dipped, a continuation of record low inventory and strong buyer demand remains across the state, leaving many wondering if it's just the typical seasonal slowdown or if a change in the market is on the horizon.
Key findings from the July 2017 research report include:
New listings for single-family homes in the Denver metro area dropped 14 percent from June to July. However, they are up slightly (1.1 percent) from a year prior.
Overall active listings for single-family homes in the Denver area dipped 3.5 percent from June to July but are down more than 36 percent from a year prior.
Median sales price for single-family homes in the Denver metro region stayed flat at $410,000 but still 7.6 percent higher than a year ago.
Statewide, the median sales price for a single family home dipped 2.2 percent to $362,000 but remain nearly 8 percent above the median price from a year ago.
Condo/townhome median sales price statewide also dipped 2.2 percent to $269,000 but are 12 percent above their July 2016 level.
Active listings for single-family homes across the state rose slightly (3.7 percent) from June to July. However, there are still nearly 30 percent fewer active statewide listings than a year ago.
Median sales price for a condo/townhome in Colorado dipped slightly (-2.1 percent) but remain 12 percent higher than a year ago. In the Denver metro region, condo/townhome prices dipped 2.7 percent to $270,000, but also remain nearly 12 percent higher than July 2016.
Statewide, the number of single-family new listings dropped 15.6 percent from June to July while new condo listings dropped 16.6 percent.
Sold listings also dipped statewide from June to July, (-12.2 percent) for single-family homes and -5.4 percent for condo/townhomes. Sold listings were down 14.8 percent in the Denver metro region.
In the Denver metro region, the number of days a home was on the market rose slightly from 22 to 24 days for single-family homes and from 17 to 19 days for condo/townhomes.
Statewide, average days on the market for a single-family home dipped to an average of 40 days, while condo/townhome average days on the market rose 8.8 percent from the prior month to 37 days.
Inventory supply for single-family homes throughout Colorado remained relatively flat at 2.6 months while condo/townhome inventory stands at 1.9 months. Both remain more than 30 percent below July 2016 statewide inventory.
Here are a few quotes about the most recent housing market conditions from Colorado Association of REALTOR®  research spokespersons representing regional markets:
"The statistics for the Boulder/Broomfield markets show a strong, seller's market with under 30 days on the market for average selling time, and prices up between 8-11 percent, depending on the price point and area.  However, the reality is that on the street, it's been quiet here, with very few showings and not much activity.  It is typical to have a seasonal slowdown every summer, but this summer has been slower than most and there is some speculation as to whether this is purely seasonal or may indicate a change in our fast-paced market.  It is common to see price reductions and bidding wars are saved for the most affordable and unique properties.  The statistics for August and September may reflect this market shift," said Boulder-area REALTOR® Kelly Moye.
"The Denver Real Estate Market has recently been a hotbed of conflicting cause and effect, and this month's numbers show a continuing trend. Is inventory low solely because demand by way of population increase or is it because Denver homeowners simply do not want to re-enter the marketplace as a buyer? With both scenarios likely contributing in a significant way, of note this month are the decreases in average sales price in both the single-family and condominium sectors from last month. While inventory continues to decrease, down 25.5 percent from the historic lows of last year, prices appear to be; dare we say, showing signs of a slow simmer. The average price for a single-family home in July was $560,150, down 2.4 percent from the previous month and for condos, $409,514, down 4.6 percent. We must still consider that the overall numbers are still up substantially from years past and June is almost always one of the strongest months of the year. With our inventory numbers this month, one could attribute the shift to summer travel and even some folks choosing to rent vs. buy but, the one thing we can agree on is that Denver remains a heavily supply vs. demand-ruled marketplace and doesn't appear to be altering from that driver anytime soon," said Denver-area REALTOR® Matthew Leprino.
"The Vail Valley Market has maintained a strong performance through July with transactions up 11 percent from 2016 and sales dollars up 30 percent primarily due to a significant increase in upper price point sales. Currently, 4 percent of transactions are representing 26 percent of the dollar volume which is a three-fold increase from the same period in 2016. The days of inventory on a macro base are 8.6 months however, in the lower price arena, certain niches are as low as two months.  We look to the next two months to wrap up our summer season and then prepare for the snow to fall and ski season activity increase," said Vail Valley REALTOR® Mike Budd.
"The Golden market has remained strong at all price points with low inventory throughout. Despite a typical slowdown in activity throughout Jefferson County as people are getting ready for the new school year to begin, there are still multiple offers for homes priced below $300,000. Homes above $450,000 are staying on the market a bit longer and some are even coming down in price. Although buyers are becoming a little more particular on what they are receiving for their purchase, the average days on the market has dropped from this time last year to an average of 19 days. New construction remains strong," said Golden-area REALTOR® Barb Ecker.
"In the Brighton Market and along that portion of the I-76 Corridor, real estate is still in favor of the seller. Active listings are down 16.4 percent from a year ago and the average sales price is up 11.2 percent. Commercial real estate signs are also popping up along the I-76 corridor as the next phase of growth and development heads northeast of the Denver area," said Brighton-area REALTOR® Jody Malone.
"The resort markets in Colorado are booming. Telluride is up in dollar amount of sales (44 percent) and 23 percent in number of sales for the first seven months of 2017. The greatest shortage of inventory is in the bottom 25 percent of the price ranges for homes or condominiums. The Town of Telluride has been a seller's market for four years with the Town of Mountain Village approaching that situation this year. Best values are 15 to 30 minutes out of town on the mesas and in the valleys. We are on our way to the best sales year in over 10 years," said Telluride REALTOR®  George Harvey.
"The Pueblo market is still feeling the effects of low inventory and we had a 10 percent drop in new listings from July 2016 numbers for single family homes and active listings are down nearly 33 percent year-over-year. Pending sales were up 32.9 percent for single family homes and we're seeing homes that are priced right and well kept going in a just a few weeks. Our days on the market number continues to fall – down 19.3 percent to 71 days. However, in Pueblo West it's about 45 days. New construction is getting stronger and we're seeing a few more builders getting back in the game," said Pueblo-West REALTOR® David Anderson.
"In the Colorado Springs-area, the strongest demand remained for single family/patio homes priced under $300,000. At the beginning of the month, there were under 500 active listings priced under $300,000, however, there were over 800 sales during the month of July. On the other hand, it is incredibly opportune time for buyers to buy homes priced over $800,000, as there is a wide selection of properties to choose from and there are motivated sellers. Year-over-year, overall there was a 10% increase in sales with 15% decline in inventory, and 10% increase in average and median prices," said Colorado Springs REALTOR® Jay Gupta.
Statewide New Listings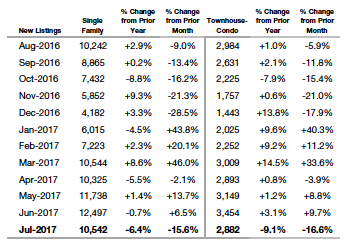 Metro Region New Listings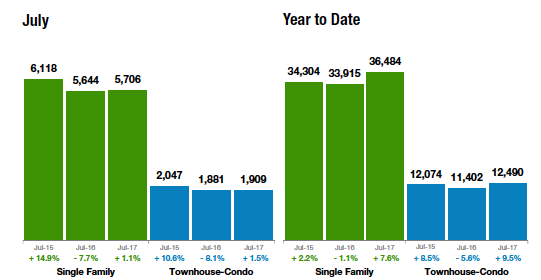 Statewide Active Listings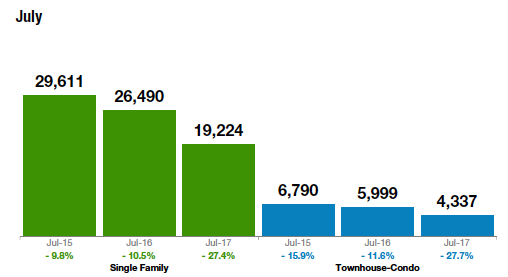 Metro Region Active Listings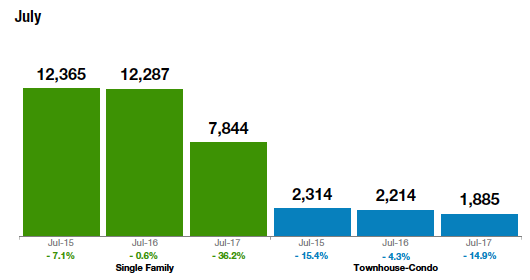 Metro Region Median Sales Price

Statewide Median Sales Price 2017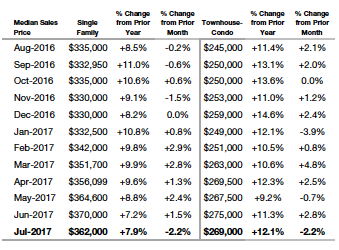 The Colorado Association of REALTORS® Monthly Market Statistical Reports are prepared by Showing Time, a leading showing software and market stats service provider to the residential real estate industry, and are based upon data provided by Multiple Listing Services (MLS) in Colorado.  The July 2017 reports represent all MLS-listed residential real estate transactions in the state.  The metrics do not include "For Sale by Owner" transactions or all new construction.
The complete reports cited in this press release, as well as county reports are available online at: https://coloradorealtors.com/market-trends/