Colorado Association of REALTORS® Announces 2017-18 Leadership; Ann Hayes Installed as Chairman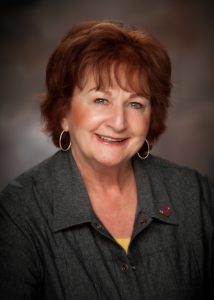 ENGLEWOOD, Colo. – The Colorado Association of REALTORS® (CAR) installed its 2017-2018 Leadership Council during the organization's 97th annual State Conference in Broomfield, Colo. last week.
Ann Hayes, Broker Associate at Keller Williams Colorado West Realty in Grand Junction, Colo. was inducted as Chairman of the Colorado Association of REALTORS®, a role she will assume from Nov. 1, 2017 through Oct. 31, 2018.
Hayes has extensive experience with the Colorado Association of REALTORS® dating back to 1998. Of note, she has served on numerous CAR committees including serving as the State REALTORS® Political Action Committee Co-Chair in 2015 and 2016, and multiple years on Legislative Policy, Grievance and Finance committees. Hayes also served as the CAR State Treasurer in 2014 and as a CAR Director for the last several years. Most recently, she served as CARPAC Co-Chair and as the 2016 Colorado Representative for the National Association of REALTORS® Major Investor Council. In addition, she is a recipient of the Chairman's Distinguished Service Award.
In her new position, Hayes will serve as a conduit between CAR's more than 25,000 members and the Board of Directors. Working in tandem with the leadership council, she will assist with strategic planning, helping to set the organization's direction and vision for the coming year.
"It has been a wonderful journey, and I could not have asked for a better foundation," remarked Ann Hayes as she reflected on the road to becoming Chair of CAR. Asked about her goals for 2018, Hayes said,"Moving forward, communication and collaboration are my two main goals. I'll strive to be a conduit for membership to express their thoughts and ideas on how to make CAR a great organization for REALTORS® in Colorado. Reach out to me – I want to hear from you."
"CAR is honored to continually benefit from Ann's extensive knowledge of real estate and her commitment to the REALTOR® organization," said CAR CEO Tyrone Adams. "She is not only passionate about protecting homeownership, she is dedicated to making REALTORS® more successful, and these core beliefs directly influence her goals for the coming year as she steps up to lead our organization."
Other top officers who will serve with Hayes are:
Justin Knoll (Madison & Company, Denver)  – Chair-Elect
Gary Bauer (Garold D. Bauer, Denver) – Treasurer
Mark Trenka (Trenka Real Estate, Denver) – Immediate Past Chair
Scott Matthias (Re/Max Professionals, Highlands Ranch) – Appointed Past President
The board's main responsibilities include leading and coordinating volunteer efforts of the association aimed at maintaining stability in Colorado's real estate industry, protecting private property rights, supporting efforts for affordable housing opportunities and providing resources and services designed to help Colorado REALTORS® succeed in their business.
Other members of the 2017-18 Leadership Council:
District Vice Presidents:
Dale Carroll (Coldwell Banker – Denver) – Metro District Chair
Lisa Wade (Re/Max of Boulder – Boulder) – Northeast District Chair
Cris Salerno (Berkshire Hathaway HomeService – Pueblo) – Southeast District Chair
Bob Fullerton (Glenwood Brokers –  Glenwood Springs) – Mountain District Chair
Debbie Laity (Cedaredge Land Company – Cedaredge) – West District Chair
Division Chairs:
Sunny Banka (MB – Sunny Homes – Denver) – Member Services Division Chair
Jarrod Nixon (Coldwell Banker Heritage House – Durango) – Board Services Division Chair
Dave Kupernik (24k Real Estate – Parker) Government Affairs Division Chair
Association Representative:
Veronica Precella (Boulder Area REALTOR® Association – Boulder) – Association Executive Representative
Ex-Officio
The Colorado Association of REALTORS® is the state's largest real estate trade association that represents more than 25,000 members statewide. The association supports private property rights, equal housing opportunities and is the "Voice of Real Estate" in Colorado.  For more information, visit www.ColoradoREALTORS.com.