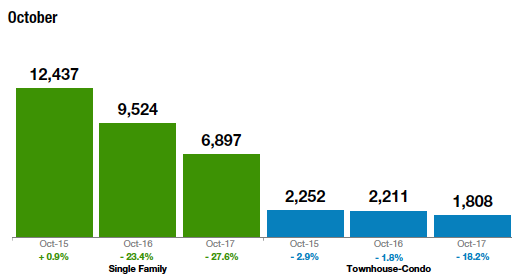 Despite the Cooler Season, Colorado Housing Market still Remains Active with Indications of Leveling out for the Winter Months to Come
ENGLEWOOD, Colo. – Nov. 10, 2017 – From the continued roar of Denver's urban core, Boulder and Broomfield County to the seasonal leveling off of markets across the state, Colorado REALTORS® continue to closely monitor market conditions detailed in the October 2017 statewide housing report from the Colorado Association of REALTORS® (CAR).
Key findings from the October 2017 research data
Denver metro area:
After slipping slightly in September, the Median Sales Price of a single-family home in the Denver metro region rose again to $399,500 in October nearly matching the August 2017 price and up just over 8 percent from a year prior.
New listings for Single-Family homes were up 7.2 percent from a year ago however, the inventory of active Single-Family home listings is down 27.6 percent from October 2016 numbers.
With only a 1.7 month supply of inventory for single-family homes in the Denver metro area, inventory supply is down more than 34 percent from a year ago.
Affordability continues to be a driving factor for both single-family and condo/townhome purchases.
Statewide:
When looking at the entire state, the Median Sales Price of a single-family home mirrored the market in Denver rising 1.4 percent to $360,000 also matching the August 2017 median sale price.
Unlike the Denver market, new single-family home listings were down approximately 1 percent across the state.
Inventory for single-family homes are down nearly 23 percent statewide while the months supply of inventory sits at 2.3 months, down nearly 26 percent from a year ago.
While many of the state's non-urban markets offer more house for the dollar, affordability continues to be a driving factor down roughly 12 percent from a year ago.
INSIGHTS FROM LOCAL EXPERTS
Following are insights about local market conditions from several of the Colorado Association of REALTORS® research spokespersons practicing across the metro area and state:
BOULDER
"The market continues to roar in Broomfield County and the areas around Boulder.  However, for the first time in five years, the condo market in Boulder showed a decline in appreciation and the city of Boulder is showing signs of a slow down, perhaps in response to high prices and lack of affordability.
In contrast, Broomfield had 33 percent new listings and a 36 percent increase in new sales year-over year, showing that as soon as those properties hit the market, they were gobbled right up!  Prices are up 13 percent for houses and 21 percent for condos from October 2016 to October 2017, and with average time on the market hovering at 45 days, this market shows no signs of a fall or future slow down.  It seems there are plenty of buyers but the more affordable areas are the ones benefitting from this activity," said Boulder-area REALTOR® Kelly Moye.
DENVER
"The Denver-area market continued its leveling out in October with bold and decisive numbers. Last month's data suggests the rapid ascent continues to mellow beyond what is seasonally expected. Between Octobers of 2016 and '17 the inventory of available homes has decreased a staggering 33 percent while the way they perform once they do arrive shows an emerging trend; gathering just a touch of dust before sale. Despite the fact that inventory remains exceptionally low, we have seen a nominal increase (2.3 percent) in the number of new listings. Telling numbers when we challenge the notion of hundreds of offers and consistently difficult negotiations.  Perhaps the best number to consider when forecasting after this month is the 15.3 percent decrease in sold homes year-over-year. These properties are selling as our month's supply of homes dipped from 1.8 to 1.3 in October, but it is taking ever so slightly longer now.
Our latest numbers show that although options continue to decline, buyers are getting used to having a smaller pool to shop from – a game of musical chairs where we have no fewer players, just fewer seats. They can see that while demand remains, the time on market is beginning to rise ever so slightly. The quieted and bullish seller is providing some breathing room to the home shopper, allowing the pressure to ease and the seller's side to become more balanced with that of the buyer," said Denver-area REALTOR® Matthew Leprino.
COLORADO SPRINGS
"Even in the midst of the slower fall seasonal cycle, year-over-year the Colorado Springs area housing market remains robust.  Compared to October last year, this year single family patio home sales were up 13 percent, average price by 7.9 percent, median price by 9.7 percent, new listings by 8.4 percent. Days on the market dropped to 29 compared to 39 days in October 2016 even though the listing inventory dropped by 12.9 percent. The strongest demand remained for properties priced under $300,000. At the beginning of the last month, there were 492 active listings priced under $300,000, however, by the end of the month, 819 properties sold in this price range. There is a healthy supply of properties in higher price ranges, and there are motivated sellers," said Colorado Springs REALTOR® Jay Gupta.
VAIL
"The trend in the Vail Valley continued in October from a seasonality standpoint and market distribution.  The upper end of the market is still representing 20 percent of the transactions and 57 percent of the dollars year to date, compared to the same period in 2016 when the upper end represented 17 percent of the transactions and 51 percent of the total dollar value. Inventory in the lower price points continues to be below equilibrium and continues to hold back the overall market. With a 2 percent increase in transactions resulting in more than $151 million in positive volume and a 13 percent increase in total value through October.  The market continues to be driven by this increase versus a slight decrease in the lower-end market. Upper-end inventory remains above desired levels creating an opportunity for resort buyers as the ski season begins to stimulate activity," said Vail Valley REALTOR® Mike Budd.
GOLDEN/JEFFERSON COUNTY
"With the fast approaching holiday season, the Jefferson County market has slowed down for single-family homes. Overall, the market has 2.4 percent fewer new listings in October this year compared to last year. The median home price stayed level at $425,000, while the average home sale price dipped to $480,000. Inventory remains historically low and the average days on the market sits at 25 days for single-family homes and just 13 days for condo/townhomes. Condo/townhome listings are up by 5.1 percent and sold townhomes are also up 2.5 percent with the average price dipping to $273,000.
Looking specifically at Golden, there are currently 10 listings, five of those are attached housing and they range in price from $400,000 to $1.4 million. Most homes for sale in Golden sell within a week, if they are less appealing they sell within 30- 90 days. We'll wait and see in March 2018 if the market has truly slowed down or if it was just seasonal," said Golden-area REALTOR® Barb Ecker.
PUEBLO
"The Pueblo Market remains positive even though sold listings were down 1.7 percent in October. New listings were up 11.8 percent and pending sales rose 26.8 percent.  With low inventory throughout, buyers are still buying. Our median price moved up to $177,750. Looking ahead, new home permits are up 40 percent over last year and that has REALTORS® staying very positive about the 2018 market," said Pueblo-West REALTOR® David Anderson.
ROYAL GORGE AREA
"The Royal Gorge Area Market is in our normal annual fall/winter slowdown and showing similar low inventory issues as are many other Colorado markets. New listings and pending sales are lower overall for the year to date, however residential unit sales are up over 2 percent from the same time last year. The current median priced home value of $175,000 shows an increase in value of 6.1 percent over last year for the same time period. Average overall days on the market, list date to closing date, clocks in at 109 days but 23 percent of all sold residential units for this year to date have closed in 45 days or less. Buyers shopping in the Royal Gorge Area Market must be prepared to make a quick decision, just as in other markets, but our lower median priced properties offer the buyer more room for their money," said Royal Gorge area REALTOR® David Madone. 
Statewide – includes data for single family homes and condo/townhomes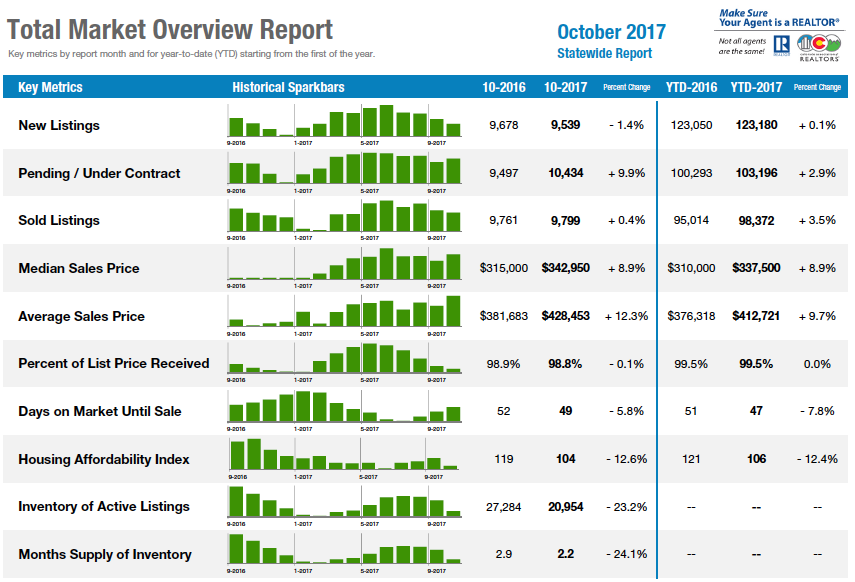 Denver Metro – (includes – Adams, Arapahoe, Boulder, Broomfield, Denver, Douglas and Jefferson counties)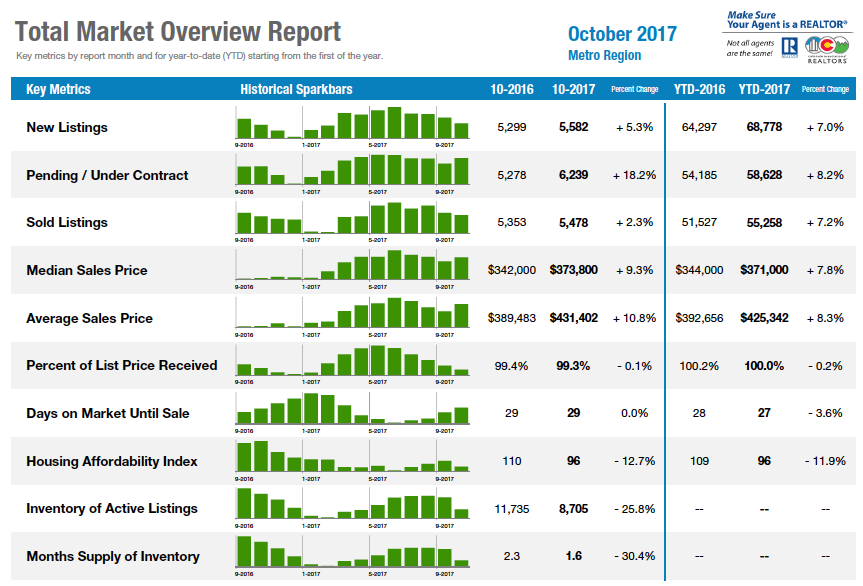 Inventory of Active Listings — Statewide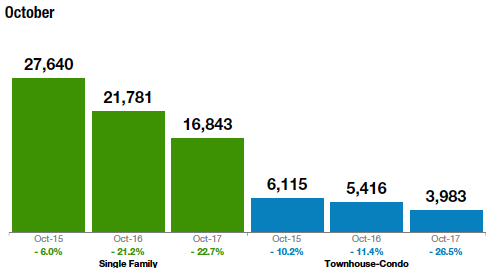 Inventory of Active Listings – Metro Region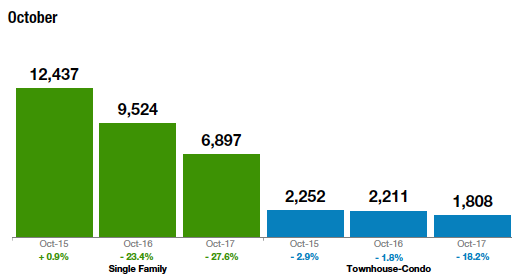 Medin Sales Price Metro Region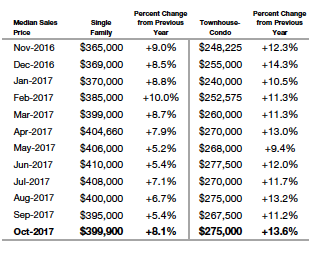 Median Sales Price – Statewide
The Colorado Association of REALTORS® Monthly Market Statistical Reports are prepared by Showing Time, a leading showing software and market stats service provider to the residential real estate industry, and are based upon data provided by Multiple Listing Services (MLS) in Colorado.  The October 2017 reports represent all MLS-listed residential real estate transactions in the state.  The metrics do not include "For Sale by Owner" transactions or all new construction.
The complete reports cited in this press release, as well as county reports are available online at: https://coloradorealtors.com/market-trends/
CAR/SHOWING TIME RESEARCH METHODOLOGY
The Colorado Association of REALTORS® (CAR) Monthly Market Statistical Reports are prepared by Showing Time, a Minneapolis-based real estate technology company, and are based on data provided by Multiple Listing Services (MLS) in Colorado.  These reports represent all MLS-listed residential real estate transactions in the state.  The metrics do not include "For Sale by Owner" transactions or all new construction.  Showing Time uses its extensive resources and experience to scrub and validate the data before producing these reports.
The benefits of using MLS data (rather than Assessor Data or other sources) are:
Accuracy and Timeliness – MLS data are managed and monitored carefully.
Richness – MLS data can be segmented
Comprehensiveness – No sampling is involved; all transactions are included.
Oversight and Governance – MLS providers are accountable for the integrity of their systems.
Trends and changes are reliable due to the large number of records used in each report.
Late entries and status changes are accounted for as the historic record is updated each quarter.
KEY METRICS GLOSSARY
New Listings –This is a measure of how much new supply is coming onto the market from sellers.  For example, Q3 New Listings are those listings with a system list date from July 1 through September 30.
Pending/Under Contract – This is the most real-time measure possible for homebuyer activity, as it measures signed contracts on sales rather than the actual closed sale.  As such, it is called a "leading indicator" of buyer demand.
Sold Listings – This measures how many home sales were actually closed to completion during the report period.
Median Sales Price – This is a basic measurement of home values in a market area and basically states that 50 percent of the homes sold were either higher or lower than the Median Sales Price.
Average Sales Price – This is another basic measurement of home values in a market.
Percent of List Price Received – The mathematical calculation of the percent difference from the list price and the sold price for those listings sold in the reported period.
Days on Market – A way to measure how long it is taking homes to sell.
Affordability – Uses median sales price, prevailing interest rates and average income to measure local housing affordability.  A higher number is usually interpreted as greater housing affordability.
The Colorado Association of REALTORS® is the state's largest real estate trade association representing more than 24,000 members statewide. The association supports private property rights, equal housing opportunities and is the "Voice of Real Estate" in Colorado.  For more information, visit https://coloradorealtors.com.