Market conditions result in record-high median pricing
Market conditions result in record high median pricing levels in both Denver metro area and state as low inventory dominates housing discussion.
ENGLEWOOD, Colo. – March 12, 2018 – While housing hope springs eternal, inventory statistics across the state paint a different picture and have resulted in numerous record-high median pricing levels in Denver and across the state, according to the February statewide housing report from the Colorado Association of REALTORS® (CAR).
Despite increases in the number of new listings for single-family homes both in the Denver metro region (+10.7 percent) and statewide (+7.2 percent) from January to February 2018, an equal or even greater increase in homes under contract quickly erased the opportunity to improve upon the number of available listings for the growing number of buyers — a group whose size is sure to increase as the traditional buying and selling season begins in the weeks ahead.
Once again, housing market factors both in the seven-county Denver-metro area, as well as across the state show declines in the number of active listings for single-family homes month-over-month and are off more than 20 percent from a year prior, according to CAR's February housing reports.
Those factors continue to drive median and average sale prices higher in markets throughout the state, including a 4.2 percent bump in the median price for single-family homes in the Denver metro area to a record high $419,950. The average sale price for the seven-county Denver metro area came in at $477,075, in-line with highs seen in the heart of summer 2017.
Other record February housing numbers include:
Denver area condo/townhomes median prices reached yet another new high at $299,000, up 17.3 percent from a year prior.
Statewide, the median sales price for a single-family home increased another 3 percent in February to $373,000, nearly 9 percent higher than a year prior and a new record high.
The median sale price for a condo-townhome statewide also rose 5.4 percent in February to $295,000 and surpassing its previous high mark reached in December 2017.
INSIGHTS FROM LOCAL EXPERTS
Here's a look at market conditions from several of the Colorado Association of REALTORS® research spokespersons in key markets across the metro area and state:
AURORA
"Aurora's residential real estate market continues its theme with high demand, low inventory and increasing prices. With just 270 single-family homes on the market, there are 385 homes under contract across most zip codes and price ranges as these properties sell as soon as they hit the market. The February median home price hit $365,000 which is up just shy of 15 percent over February 2017.
"The condo/townhome market is also experiencing extremely low inventory with February numbers down 34.5 percent year-over-year. The median sales price for condo/townhomes finished February at $225,000, up from $200,500 in February 2017.
"Aurora is experiencing the same dilemma that the rest of the Denver-metro area is, high demand and low inventory. We're hopeful that as we move into spring and closer to the end of the school year, we will see the inventory increase. Aurora continues to offer an excellent opportunity for home value and appreciation relative to the entire Denver market," said Aurora-area REALTOR® Sunny Banka.
BOULDER/BROOMFIELD
"In Boulder County, it's hard to tell the difference between this February and last. Our numbers are almost identical, with the exception of a healthy 9 percent appreciation in single family homes and 7.8 percent for townhomes. Days on the market remains the same – about 60 days – and we're still just about 100 percent sales price to list price. We're still experiencing a strong, seller's market and the lack of affordability in single-family homes is fueling the townhome market, which had a 25 percent jump in sold listings since this time last year.
In Broomfield County, buyers are struggling to find anything active on the market. New listings are down 16 percent for single-family homes and 8 percent for townhomes. Houses had an appreciation boost of about 6 percent since last year. Strong, but nothing to excite potential doomsayers who think the market is about to burst. Townhomes actually went down in price by 5 percent year-over-year but sales are up over 50 percent due to an influx of more affordable condo complexes on the market.
The market still belongs to the seller and with interest rates going up, buyers are trying to jump on whatever scraps they can get. Moderate price increases will be the best bet to stave off a serious affordability issue in these areas," said Boulder-area REALTOR® Kelly Moye.
BRIGHTON
"A hot start to the spring market with the average sales price up 9.4 percent from a year ago. Although prices are up, our latest statistics show sellers receiving an average of 1.2 percent under their asking price. More homes will be coming on the market as we get fully into the spring season however, it is still very much a sellers' market as there are plenty of interested buyers," said Brighton-area REALTOR® Jody Malone.
COLORADO SPRINGS
"In the Colorado Springs area housing market, the month-over-month single-family home activity for February 2018 was basically flat in almost all areas including sales, active listings, median and average prices. However, when looking at the year-over-year results, single-family home sales were up by 18 percent, the median price was up 15 percent, average price was up 10 percent as active listings were down by 8 percent. Our year-to-date sales volume is up 22 percent over 2017. In February 2018, more than 78 percent of the single-family homes sold were priced under $400,000, approximately 11 percent were between $400,000 and $500,000, 9.6 percent were between $500,000 and $800,00, and 1.4 percent were priced over $800,000," said Colorado Springs-area REALTOR® Jay Gupta.
DENVER
"In February 2018 the seven-county Denver Metro area's average sales price for a single-family home was $477,075. The median price, or the exact center of the data however, shows a different picture – different than the average in that it doesn't compile the dollar volume of sales and divide it by the number of sales.
"This month, the metro area saw a median sales price of $419,950 for a single-family home – nearly $83,000 less than a widely-publicized half-million dollar average price mark reported earlier in the month. While that reporting group and the Colorado Association REALTORS® both attain their data from the same sources, what is different is the date in which the data is pulled and the more limited focus of data – eliminating Clear Creek, Elbert and Park Counties from it's values.
"While Denver County's median home price is certainly higher at $455,500 with an average at $546,667, the average price analysis reveals a growing tendency towards the luxury market. Larger outliers, like Denver's most expensive sale in February at $3.2 million, can play a pivotal role in what we consider to be a snapshot of our maturing city while the median data tends to demonstrate the most accurate picture of what the bulk of our market is experiencing," said Denver-area REALTOR® Matthew Leprino.
JEFFERSON COUNTY AND GOLDEN
In Jefferson county – it has been a slower start to the spring season – but as of last week things are starting to pop again. The numbers are on an upswing with more listings coming on the market with single family at 1,103 in February and sold homes at 812. With the days on the market sitting at 37. As for townhomes 407 new to the market and 311 sold in February, with days on the market at 18. Townhomes are still going quick because there is just not enough affordable homes in Jefferson county.
There are a total of 36 homes on the market in Golden one at $320K the rest are above a half a million up to $1,600,000. There are actually quite a few high end homes for sale in Golden at the moment. A lot of people want to live in Golden and the homes are going for way over the asking price so bring your cash! The monthly supply of inventory for single family homes and town homes in Golden is approximately .7%.
It is still a very strong sellers market however, interest rates are increasing. The average price range for Jefferson county's single family home is $497K and for townhomes it is $291K." said Jefferson County-area REALTOR® Barbara Ecker.
PUEBLO/PUEBLO WEST
"We experienced some market changes in February as interest rates started to move up, new home permits increased, listings rose more than 17 percent from last year, and pending sales were up nearly 24 percent. Inventory continues to be the driving factor with just 442 available listings in Pueblo County, of which 86 are in Pueblo West where 50 percent of the new home permits live. This inventory equates to a paltry six-week supply and is well below a balanced inventory market.
"Median prices rose 13.2 percent to $180,000 and yet we're still experiencing multiple offers above list price in many cases — great for sellers and a very challenging environment for buyers. The average number of days on the market, from listing to closing, was down 28 percent, to 78 days," said Pueblo-West REALTOR® David Anderson.
ROYAL GORGE AREA – FREMONT AND CUSTER COUNTIES
"We've seen the slowdown hit our Royal Gorge, Fremont and Custer Counties market but not due to a lack interest, simply a lack of inventory. Compared to February 2017, we've experienced a 5.7 percent decrease in new listings and a 12.7 percent decrease in sales.
"The lack of inventory is creating an increase in the average and median sales prices, up 17.6 percent and 16.3 percent, respectively year-over-year. The February 2018 median sales price came in at $189,000 with the average price at just over $209,000. Compared to home prices in markets throughout Colorado, our market delivers buyers great value when relocating from other parts of the state. The dilemma for local buyers and sellers is being able to find the home to move into once they have a contract on the home they are selling. 'Cash is King' and a Bridge Loan is the Queen in this low inventory market. We need more 'Jacks,' preferably with tool belts," said Royal Gorge-Area REALTOR® David Madone.
TELLURIDE
"Down significantly in January, the Telluride market made a little recovery in February and nearly matched the market's performance from a year ago. There are three factors clearly shaping the market at this point: Buyer's trying to understand how the new tax law will impact them; lack of snow in the first two months of the ski season; and, what else, lack of inventory. Most of the current inventory of homes and condominiums in our region is a little dated and the new construction product has really been picked over. We see more upward pressure on prices due to a lack of inventory, but some price resistance for older construction that needs remodeling. Remodeling from long distance doesn't appeal to many buyers, which further reduces the buyer pool.
Homes or condominiums that are new to newer are pushing pricing levels to $1200 per square foot or more. We'll have a better picture of how the whole year might go at the end of the first quarter," said Telluride REALTOR® George Harvey.
VAIL
"With transaction volume remaining relatively flat so far this year, dollar volume rose by 3 percent in February versus a year ago. However, the dollar volume for the Vail Valley year-to-date is down 19 percent with the decline driven by fewer transactions in the upper-end pricing niches. Inventory also remained flat in February versus the month prior when looking at the total product mix. In the condo/townhome market inventory was up significantly for the month and year-to-date, while single family/duplex inventory dipped. The major issue on inventory is how it relates to key price niches which impacts the transactional volume. Currently, 26 percent of the active inventory is in the niche, representing 70 percent of the transactions. Unless more inventory becomes available in this key market segment it could be a drag on the market going forward," said Vail Valley REALTOR® Mike Budd.
Inventory of Active Listings — Statewide

Inventory of Active Listings – Denver Metro Region

Median Sales Price Denver Metro area – (includes – Adams, Arapahoe, Boulder, Broomfield, Denver, Douglas and Jefferson counties)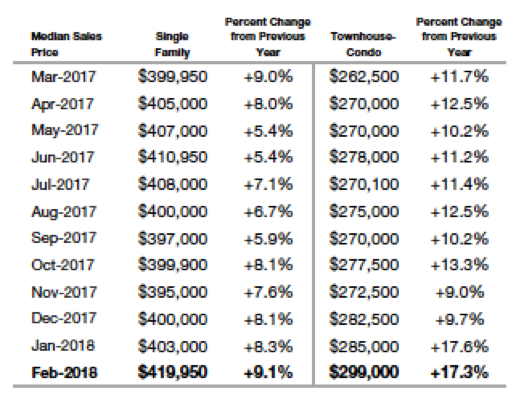 Median Sales Price – Statewide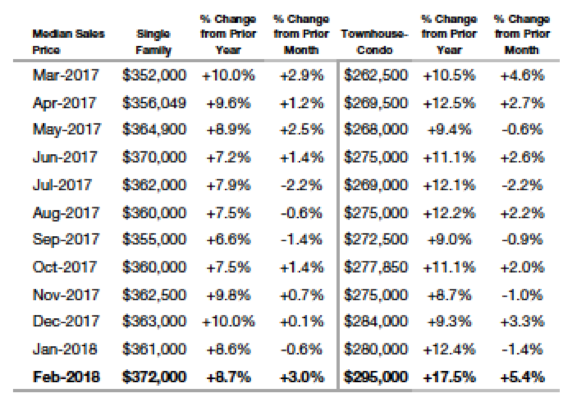 The Colorado Association of REALTORS® Monthly Market Statistical Reports are prepared by Showing Time, a leading showing software and market stats service provider to the residential real estate industry, and are based upon data provided by Multiple Listing Services (MLS) in Colorado. The February 2018 reports represent all MLS-listed residential real estate transactions in the state. The metrics do not include "For Sale by Owner" transactions or all new construction.
The complete reports cited in this press release, as well as county reports are available online at: https://coloradorealtors.com/market-trends/
###
CAR/SHOWING TIME RESEARCH METHODOLOGY
The Colorado Association of REALTORS® (CAR) Monthly Market Statistical Reports are prepared by Showing Time, a Minneapolis-based real estate technology company, and are based on data provided by Multiple Listing Services (MLS) in Colorado. These reports represent all MLS-listed residential real estate transactions in the state. The metrics do not include "For Sale by Owner" transactions or all new construction. Showing Time uses its extensive resources and experience to scrub and validate the data before producing these reports.
The benefits of using MLS data (rather than Assessor Data or other sources) are:
Accuracy and Timeliness – MLS data are managed and monitored carefully.
Richness – MLS data can be segmented
Comprehensiveness – No sampling is involved; all transactions are included.
Oversight and Governance – MLS providers are accountable for the integrity of their systems. Trends and changes are reliable due to the large number of records used in each report.
Late entries and status changes are accounted for as the historic record is updated each quarter.