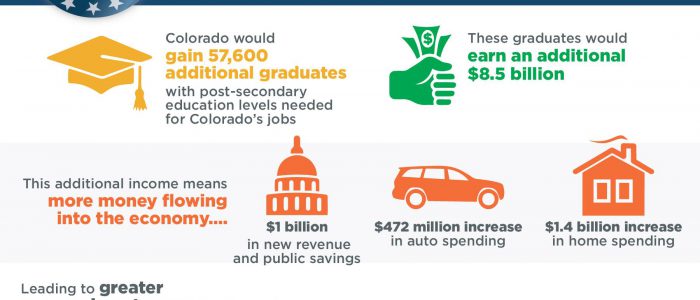 What if Colorado Schools were Number 1?
Just-Released Economic Data Finds Improving Education in Colorado Would Generate Billions for the Economy
New statewide polling shows education is a top tier issue for Colorado voters and employers, alignment on improvement strategies
May 15, 2018 – Denver – If Colorado schools were the best in the nation, the state and its economy would receive a multi-billion-dollar boost.
That's the conclusion of a new study commissioned by Colorado Succeeds, Common Sense Policy Roundtable, the Denver Business Journal, and 18 other industry partners released today in an interactive web-based voter guide for the 2018 gubernatorial race: What if Colorado Schools Were #1 – A Business Guide for Colorado's Next Governor.
The Business Guide uses the REMI model—a dynamic economic modeling program funded by the REMI Partnership—to answer a vital question: What if Colorado high school graduates went on to earn the level of post-secondary education and training needed to meet the demands of Colorado's economy? Also included in the Business Guide are recent statewide voter polling results, a statewide employer survey, and a candidate survey, all of which cover key education and talent development issues in Colorado.
Key economic findings from the REMI economic analysis:
If Colorado schools produced graduates with sufficient post-secondary education to meet workforce demands, after 10 years of improvement Colorado would see 57,600 more high school graduates earning some form of post-secondary education. The exponential impacts of a decade of improvement would mean:
$8.6 billion in additional earnings over those 10 years
14,600 new jobs created each year by the tenth year, with that number continuing to increase annually
An increase in spending on housing by $1.4 billion over the decade
An increase in spending on automobiles and parts by $472 million over the decade
Almost a $1 billion in new revenue and savings from lower rates of incarceration and fewer people relying on public assistance.
An additional $12 billion added to GDP over the decade. By contrast, the National Western Stock Show has an annual economic impact of about $115 million, according to a 2010 study.
"As automation and artificial intelligence drive major changes in our economy and society, an increasing proportion of high school graduates will need to continue their education if they are to have any shot at a self-sustaining career," said Scott Laband, president of Colorado Succeeds. "The findings from our economic modeling prove that increasing Coloradans' educational attainment delivers an astounding return on investment, one that Colorado's next governor cannot ignore. We encourage the gubernatorial candidates, voters, and employers alike to use the Business Guide we've developed to drive meaningful and transformational change in Colorado public schools. Colorado's business community stands by ready to support this work."
"Education has consistently been among the top concerns for Colorado voters," said Kristin Strohm, executive director of the Common Sense Policy Roundtable. "With our study, we can accurately quantify just how important education is to Colorado. A quality education system will ensure our economic future, our quality of life, and improve opportunities for our children. We hope our guidelines for candidates will be a catalyst for the next Governor, the business community, and our education leaders to strive for improvement and reach #1."
The coalition also surveyed nearly 300 Colorado employers and conducted a poll of likely statewide voters on their views of Colorado's education system and potential improvement strategies. Results from both show significant agreement on the challenges and solutions.
77 percent of employers said it has been difficult to hire people in Colorado with the right skills for open positions, while three out of five voters (62 percent) said Colorado schools need to do better at preparing graduates for post-secondary education and the workforce.
77 percent of employers also struggle to find workers with specific skills, including applied skills like critical thinking and problem-solving. 65 percent of employers said that job candidates lack workplace skills like teamwork, communication, and planning.
86 percent of employers say the skills gap is a threat to their business. And due to the skills gap, more than 50 percent of employers:

Spend more on training and recruiting
Experience productivity and revenue loss
Have slower business growth, lower work quality, and higher turnover

 If Colorado didn't have a skills gap:

85 percent of employers would hire more applicants from Colorado and rely less on importing talent
84 percent of employers would grow their operations in Colorado and create more jobs
76 percent of employers would increase employee compensation

Nearly 90 percent of voters and employers see attracting and retaining quality teachers as a top improvement strategy. Other top strategies include:

Developing workplace and applied skills like collaboration
Providing access to work-based learning experiences such as apprenticeships
Developing computer and digital literacy skills
To see more from the economic impact study, statewide poll, employer survey, and candidate survey, visit BestSchoolsCO.org.
About Common Sense Policy Roundtable: Common Sense Policy Roundtable (CSPR) is a non-profit free-enterprise think tank dedicated to the protection and promotion of Colorado's economy. CSPR actively follows job and economic development legislation and public policy initiatives. Read more about our latest study here.
About the REMI Partnership: Common Sense Policy Roundtable, Colorado Concern, Colorado Association of REALTORS®, Colorado Bankers Association, and Denver South Economic Development Partnership have partnered to develop independent, fact-based analysis that quantifies the broader economic impacts associated with policy changes. The partnership has provided Colorado lawmakers, policy makers, business leaders, and citizens with greater insight into the economic impact of public policy decisions that face the state and surrounding regions.
About Colorado Succeeds: Colorado Succeeds is a non-profit, non-partisan network of Colorado business leaders who join forces to ensure our education system works better and smarter for all people of Colorado. We believe Colorado is the best place to live and work, and we want it to stay that way. This great state can only continue its tradition of excellence when all of our children are educated to their greatest potential and all of our businesses have the talented and innovative workforce they need to thrive. We believe great schools are good business. We know when Colorado schools improve, everybody wins. Learn more: www.coloradosucceeds.org.
Click HERE to learn more!