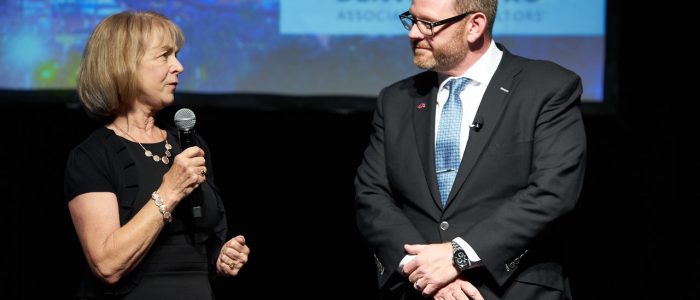 Colorado Association of REALTORS® Announces 2018-19 Leadership; Justin Knoll Installed as Chairman
FOR IMMEDIATE RELEASE
Oct. 3, 2018
Contact: Lisa Hansmeier, VP of Member Services
(303) 790-7099 or lhansmeier@coloradorealtors.com
Colorado Association of REALTORS® Announces 2018-19 Leadership;
Justin Knoll Installed as Chairman
ENGLEWOOD, Colo. – The Colorado Association of REALTORS® (CAR) installed its 2018-2019 Leadership Council during the organization's 98th annual State Conference in Broomfield, Colo. last week.
Justin Knoll, President of Madison & Company Properties and REALTOR® in Denver, Colo. was inducted as Chairman of the Colorado Association of REALTORS®, a role he will assume from Dec. 1, 2018 through Nov. 31, 2019. Knoll began his work with CAR as the Metro District Chair in 2014, followed by an appointment as VP of the Board Services Division. A year later he was appointed Chair of the Colorado Young Professionals Network (CYPN), followed by a three-year term as a Director for REColorado, the largest MLS in the region. In 2012, Justin received the Colorado Young Professional Network REALTOR® of the Year award and in 2013 was recognized as the REALTOR® of the Year for the Denver Metro Association of REALTORS®.
In his new position, Knoll will serve as a conduit between CAR's more than 26,500 members and the Board of Directors. Working in tandem with the leadership council, he will assist with strategic planning and help set the organization's direction and vision for the coming year.
"Part of my wanting to take on this adventure is the people I am surrounded by, from the staff to volunteers, and to continue to build energy and further our momentum," said Justin Knoll as he reflected on the road to becoming 2019 CAR Chair. Asked about his goals for 2019, Knoll said, "I want to continue our legislative efforts, education, data and market trends, boiling down to better lines of communication through social media and video in ways that matter to members. I want to reestablish the tools that we already have in place and tell the story of how to use them and why they are important."
"Justin is going to be an amazing Chairman for the Colorado Association of REALTORS® and our real estate industry," said CAR CEO Tyrone Adams.  "His passion and focus on CAR's mission, coupled with his teamwork philosophy will bode very well for the future of Colorado REALTORS®."
Other top officers who will serve with Knoll are:
Janene Johnson (Real Estate of Winter Park, Winter Park) – Chair-Elect
Linda Lowry (RE/MAX Associates, Pueblo) – Treasurer
Ann Hayes (Keller Williams Colorado West, Grand Junction) – Immediate Past Chair
Keith Kanemoto (RE/MAX Traditions, Inc., Longmont) – Appointed Past President
The board's main responsibilities include leading and coordinating volunteer efforts of the association aimed at maintaining stability in Colorado's real estate industry, protecting private property rights, supporting efforts for affordable housing opportunities, and providing resources and services designed to help Colorado REALTORS® succeed in their business.
Other members of the 2018-19 Leadership Council:
District Vice Presidents:
Chris Djorup (MB Djorup & Associates, Centennial) – Metro District Chair
Cecilia De Villiers (Shasta Realty, Inc., Longmont) – Northeast District Chair
David Madone (River Street Real Estate, Ltd., Cañon City) – Southeast District Chair
Steve Mills (Coldwell Banker Bighorn Realty, Crested Butte) – Mountain District Chair
Michelle Martinez (Premiere Realty LLC, Montrose) – Western District Chair
Division Chairs:
Molly Eldridge (Red Lady Realty, Crested Butte) – Member Services Division Chair
Chris Hardy (Elevations Real Estate, Fort Collins) – Board Services Division Chair
Jarrod Nixon (Coldwell Banker Heritage House, Durango) – Government Affairs Division Chair
Association Representative:
Ann Turner (Denver Metro Association of REALTORS®, Denver) – Association Executive Representative
Ex-Officio
The Colorado Association of REALTORS® is the state's largest real estate trade association that represents more than 26,500 members statewide. The association supports private property rights, equal housing opportunities and is the "Voice of Real Estate" in Colorado.  For more information, visit www.ColoradoREALTORS.com.
#  #  #