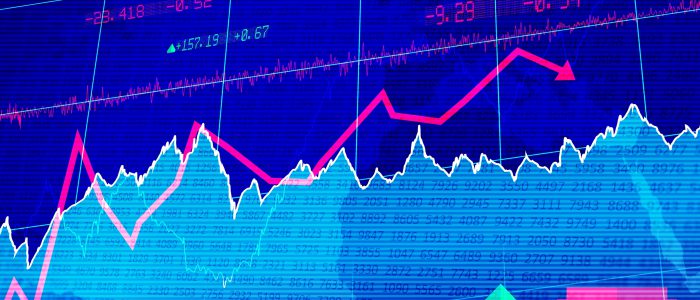 Colorado homebuyers may be getting a touch of relief in seesaw housing markets
https://coloradorealtors.com/market-trends/regional-and-statewide-statistics/
ENGLEWOOD, Colo. – Oct. 10, 2018 – Colorado homebuyers may be feeling a little bit of relief as a combination of seasonal and market factors have helped to slow down the fast-paced, over asking price sales and hold steady or even drop the median sales price in many parts of the metro area and state. Yet, some of the state's hottest markets continue to see inventory shortages and rising prices despite all other factors, according to the latest monthly market trends data from the Colorado Association of REALTORS®. The conditions leave industry professionals using a wide range of adjectives and analogies to describe and help consumers understand the details of their local market.
Taking a closer look at some of the state's local market conditions, here are some perspectives from several of the Colorado Association of REALTORS® market trends spokespersons:
AURORA
"It is not just the weather that is changing here in Aurora, as it appears that we're experiencing more than just seasonal slowing. Month-over-month numbers reflect an uptick in single-family listings while the number of homes under contract is down from August to September 2018. At the same time, the median sales price rose slightly during that same period.
"Ironically, the condo market shows a little different story. Inventory is up from August 2018 with 267 units available. The number of sold properties is down, however, the median price went up from $240,000 in August 2018 to $250,000 in September.
"When comparing year-over-year data, we see that inventory is up, prices are up, and the number of sold listings is down. So where are we headed? It will be interesting to see what these numbers look like in the coming months. As of Sept. 1, 2018 we had 733 single-family homes on the market with a median price of $375,000. We had 267 condos on the market at a median price of $250,000. Days on market has increased as well.  It looks like a opportune time for home buyers wanting to get into the market and maybe not experience as many listings with multiple offers," said Aurora-area REALTOR® Sunny Banka.
BOULDER/BROOMFIELD
"It's a tale of two cities in looking at Boulder and Broomfield housing markets over the past month. Boulder's market is strong and steady with a 7.6 percent appreciation in both single-family and attached dwellings. In what is a typically slow fall market, average days on the market remains a brisk 58 days and sales price to list price is just under 100 percent. That being said, there are a number of price reductions, again, typical for this time of the year. If it's not priced right, the fall will make a needed correction!
"Broomfield's numbers are a different story. For the first time in a long time, the stats are showing a significant slowing in the market. With single-family home prices up just 4.4% and attached dwellings down 9.5 percent, many wonder if the sky is falling. But, with average days on the market still hovering at 51 for houses and 33 for attached dwellings, the median price doesn't tell the whole story. There are more affordable attached units selling more often for those seeking affordable options. Time will tell if these market corrections continue or if it's just a brief dip in an otherwise strong, seller's market," said Boulder-area REALTOR® Kelly Moye.
BRIGHTON/I-76 CORRIDOR
"As the fall temperatures start to cool down, so is the housing market in the Brighton and surrounding areas. For sale properties appear to be sitting on the market a few days longer than they had been this spring and summer. While the number of available listings is up nearly 12 percent from one year ago, the number of single-family homes that have sold in September is down 22.5 percent. Pricing in the Brighton and I-76 Corridor still remains below the median sales price of the Denver metro area. Like the leaves on the trees, this market may be changing slightly and becoming more appealing to the buyers coming into the market with a larger inventory to choose from and prices that are softening slightly," said Brighton-area REALTOR® Jody Malone.
COLORADO SPRINGS/PIKES PEAK AREA
"A missed market for sellers?  We may be seeing the pendulum swing the other way. Sellers who thought they would wait to sell may question that thought as interest rate hikes start to chip into affordability for buyers. New listings hitting the market this month were down 3 percent over September 2017 and yet, total active listings increased by 2.4 percent compared to the same time last year. The big number REALTORS® may be feeling is the -17.2 percent year-over-year drop sold listings for all property types – single-family, patio, townhome and condos.
"Digging into the numbers further shows values are still up over last year and days on market still very low. We continue to see a limited supply of inventory in our market areas. Townhome/condos saw a 35.4 percent increase in active listings through the same period last year, which pushed the monthly supply to a whopping 1.2 months, still extremely far from a balanced market.
"A couple of big takeaways from the data; if you are a seller, the market is still very good and if you are a buyer, affordability continues to be an issue in our area. The Fed is still seeing a very robust economy and has been quite vocal on future interest rate hikes. With unemployment at a 50-year low, and the economy continuing to be very good nationwide, REALTORS® continue to watch to see what affect interest rates will have on our local market," said Colorado Springs-Area REALTOR®  Patrick Muldoon.
"In the Colorado Springs-area housing market, during the past couple of months, there has been a noticeable increase in the sales of single family/patio homes priced over $800,000. The September year-over-year sale of homes priced over $800,000 was up 122 percent. There's a great opportunity for buyers to buy in this price range as the supply and demand situation is terrific. Also, active listings of single family/patio homes were up over 14 percent improving the months supply of inventory to 1.9 months from 1.4 months last September. Every improvement in the supply of homes is highly welcomed by buyers as it eases the pressure for making an instantaneous decision. On the other hand, the rising interest rates along with a more than 11 percent increase in both the median and average prices made it even more challenging for first time buyers to purchase a home," said Colorado Springs-Area REALTOR® Jay Gupta.
DENVER
"In Denver, the seller has control during the warmer months. Like a schoolyard seesaw, they have what the buyer wants and are able to throw their entire weight on that balance to maintain it. The buyer, who ideally has the money and the ambition to buy the home, may only have gravity on their side but eventually we all know that gravity is triumphant. In this month's release of numbers, we see a new trend not previously seen to such an extent. While prices traditionally dip from those warm months to cool, the numbers show that speaking to our median price, it was $25,000 less expensive to have bought a home in September than August. Previous years saw a $7,000 decrease in 2017 while 2016 showed a gain of $12,650 during that same time period.
"Other forces at play – let's consider them perpetual motion and pent-up-energy ahead of recess – stay quite consistent over time. Our average days on market remained unchanged over the last three years while the percentage of list price vs. final sales price also remains unchanged. The number of sold homes has been decreasing year-over-year, 3.2 percent in 2018, but this is a stronger reflection on supply rather than demand," said Denver-area REALTOR® Matthew Leprino.
FORT COLLINS
"Sold listings – down. New listings – down. Affordability – down. Inventory supply – down. Days on market – down. Interest rates – up. Median price – up and down.
"With all these ups and downs – how do you know what's good and what's bad? Housing market ups and downs aren't necessarily quantifiable as good or bad, as it all depends on what your goals are.
"If selling is what you're interested in, then it should be noted that inventory remains tight and in certain price points, housing remains highly competitive as sellers with well-maintained, move-in ready properties are still commanding great prices. However, in the townhome and condo market, there appears to be a bit of softening as active listings and median sales prices are coming down from the summer highs. Sellers in this part of the market may have to sharpen their pencils and price aggressively to stand out from the competition.
If buying a house is your focus, now may be a great opportunity to take advantage of lower interest rates before they pop-up again at the end of the year as popularly predicted. With inventory levels increasing for townhomes and condos, entry-level housing may finally see some relief as median prices in that sector have dropped from the multiple offer driven highpoint in April and May of this year.
"Northern Colorado remains a net in-migration area with low unemployment, moderate wage growth, and access to great schools, universities, and vibrant cultural attractions. If making a move to this area is in your near or long term plans – there may be no better time than the present to take advantage of these economics," said Fort Collins-area REALTOR® Chris Hardy.
GLENWOOD SPRINGS
"The overall September numbers in Glenwood Springs remain strong with new listings, pending sales and sold listings all up over the same period last year. However, agents are feeling a slowing across all communities, whether it's seasonal or otherwise remains to be seen. Extended days on market, fewer showings and price reductions are becoming more common as the leaves fall and we move towards winter. More inventory and less competition is making it a better market for buyers than has been seen this year," said Glenwood Springs-area REALTOR® Erin Bassett.
GOLDEN AND JEFFERSON COUNTY
"In Jefferson County, the bear is not in hibernation just yet, with new listings for single-family homes ticking up slightly from this time last year and townhome/condo new listings dipping nearly 6 percent over the same time last year. Buyers are becoming a little more picky with sold properties dropping in numbers for both single-family and condos. However, a single-family home in good condition and a good location is still selling within 24 days on market; just 17 days for condos.
"It is fantastic to see inventory increasing and it is still a great time to look for a home in Jefferson County with the median sales price at $444,500 for single-family homes and $280,000 for condos," said Golden-area REALTOR® Barbara Ecker.
PUEBLO/PUEBLO WEST
"Pueblo's September housing numbers clearly reflected the slowdown our local agents felt. Compared to last year, new listings were flat, pending sales dropped just over 8 percent, and sold listings were down almost 26 percent. Showings have increased slightly over the past few weeks and we're seeing a few more price reductions. Yet, with a 98.9 percent sale price to list price, the long-term seller's market continues. We saw new home permits rise in September and our average days on market fell slightly to 64," said Pueblo-West REALTOR® David Anderson.
ROYAL GORGE AREA – FREMONT AND CUSTER COUNTIES
"The Royal Gorge area real estate market housing inventory has remained fairly stable over the last few months. Custer County had new sales equal to new listings for the month of September, and for the past 4 months has enjoyed a 10-month supply of inventory available. Custer County properties are averaging 160 days on the market despite a very affordable median price range for these mountain properties at $237,500.
"Fremont County has a 4-month supply of inventory and that mark has remained stable for the last 4 months. New listings in September were down 18 percent while new sales were down 16 percent. Year-over-year new listings are up 5.4 percent while new sales for the same period are flat. Although up 17.6 percent year-over-year, Fremont County's median sales price sits at a very affordable $200,000. Homeowners in the area are enjoying a calm stability and steady growth," said Royal Gorge-Area REALTOR® David Madone.
TELLURIDE
"The 2018 Telluride market story has remained the same month-in and month-out. For the year, the dollar amount of sales is down 17 percent and sales volume is down 27 percent compared to 2017. The higher-end market has some scattered outlier sales in the $7 million to $8 million price range in the Town of Telluride, the Town of Mountain Village, and one on a nearby mesa. The stock market appears to be benefiting the luxury clientele, but there is some apprehension about trade wars and steam running out of the booming economy. In other words, the economy is great, but how much upside is left in it and are we headed for a leveling off? Additionally, the time to build in the Telluride market gets longer due to short supply of contractors and sub-contractors and the lengthy governmental approval process. I expect the market to continue at about the same pace for the next six to 12 months, not increasing or decreasing too much," said Telluride REALTOR® George Harvey.
VAIL
"The September market for the Valley showed a 23 percent increase in dollars versus a year ago with a 6 percent decrease in units sold. Our year-to-date volume is plus 11 percent in dollars and 1 percent ahead in units. New listings were positive by 7.4 percent for single-family/duplex units over the same period in 2017 which is a good trend ramping up for the ski season. Townhome/condo unit inventory is still down nearly 14 percent compared to a year ago and our months supply of inventory is off slightly from six-and-a-half months to six. The market trends have remained relatively stable over the past few months and the high-end product continues to drive positive dollar volume. Lack of inventory in the opening and mid price points holds down the overall market opportunity however, we are hoping for a good seasonal bump in product. We continue to be optimistic about the upcoming ski season and the snow that has fallen in the past few days is a welcome sight for stimulating visits and hopefully transactions that coincide with a good snow year. Let the snow fall and visitors follow to jump start our winter season," said Vail-area REALTOR® Mike Budd.
Inventory of Active Listings – Denver Metro Region – includes Adams, Arapahoe, Boulder, Broomfield, Denver, Douglas and Jefferson counties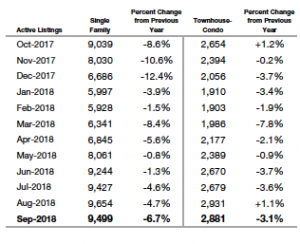 Inventory of Active Listings — Statewide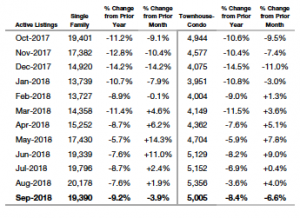 Sold Listings – Denver Metro Region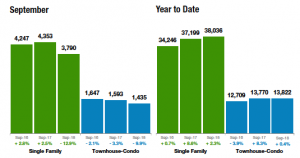 Sold Listings – Statewide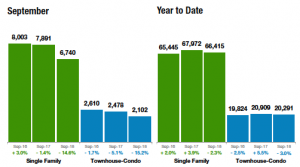 Median Sales Price Denver Metro area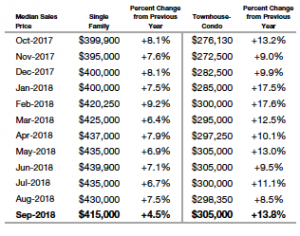 Median Sales Price – Statewide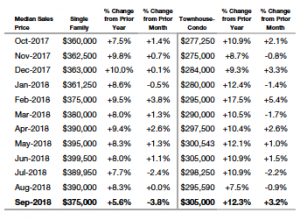 The Colorado Association of REALTORS® Monthly Market Statistical Reports are prepared by Showing Time, a leading showing software and market stats service provider to the residential real estate industry, and are based upon data provided by Multiple Listing Services (MLS) in Colorado.  The September 2018 reports represent all MLS-listed residential real estate transactions in the state.  The metrics do not include "For Sale by Owner" transactions or all new construction.
The complete reports cited in this press release, as well as county reports are available online at: https://coloradorealtors.com/market-trends/
###
CAR/SHOWING TIME RESEARCH METHODOLOGY
The Colorado Association of REALTORS® (CAR) Monthly Market Statistical Reports are prepared by Showing Time, a Minneapolis-based real estate technology company, and are based on data provided by Multiple Listing Services (MLS) in Colorado.  These reports represent all MLS-listed residential real estate transactions in the state.  The metrics do not include "For Sale by Owner" transactions or all new construction.  Showing Time uses its extensive resources and experience to scrub and validate the data before producing these reports.
The benefits of using MLS data (rather than Assessor Data or other sources) are:
Accuracy and Timeliness – MLS data are managed and monitored carefully.
Richness – MLS data can be segmented
Comprehensiveness – No sampling is involved; all transactions are included.
Oversight and Governance – MLS providers are accountable for the integrity of their systems.
Trends and changes are reliable due to the large number of records used in each report.
Late entries and status changes are accounted for as the historic record is updated each quarter.
The Colorado Association of REALTORS® is the state's largest real estate trade association representing more than 26,500 members statewide. The association supports private property rights, equal housing opportunities and is the "Voice of Real Estate" in Colorado.  For more information, visit https://coloradorealtors.com.