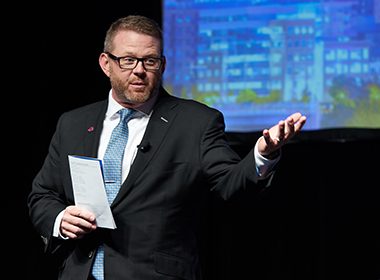 An Interview with 2019 CAR Chair Justin Knoll
How long have you been in real estate and why did you decide to make this your career? 
I am a 4th generation REALTOR®, a story that began with my great grandfather, then my grandmother, to my mom, and now me. My mom is still an agent after 45 years in the business. I always joked that it's like the mob: I can't get out. It all started 18 years ago for me. I have always been drawn to real estate, housing, and the service side of it all. My mom told me not to do it, but we have worked together for 18 years on the same team and it has been amazing.
What tips would you give someone starting out new in the business? 
I would have to say to manage your expectations and emotions, understand that every decision is your clients' and not yours, don't count your commission check until you have it, and treat everybody like they are a potential client, whether that's today or 10 years from now.
How did you get involved in your local and state association and how do you think it has helped you in your career? 
I was a Managing Broker at Coldwell Banker and one of my agents was the Director for Denver Board of REALTORS® and she asked if I would get involved. I interviewed and was chosen for the position of Director of the Board and I have been involved ever since. And that was 9 years ago!
I've realized that I couldn't have learned what I have by paying for a 4-year education in college. Learning to run a business and serve others is the best thing I've gotten out of it. Volunteering on the board has helped my networking immensely by building things and facing difficult situations with my peers. It has also helped me create deeper relationships.
What do you think is the most important trait as a leader? 
Put yourself last and others first. One of the most influential books I have read is "Leaders Eat Last" by Simon Sinek. It's all about putting yourself in other peoples' shoes to gain more of an understanding of who they are, what challenges they face, and then making decisions based on that.
Briefly, what are your top goals for this year as CAR Chair?
To compel our members to dig deeper into what we offer and understanding where their money goes. I want us to be in control of our own story and find better ways to tell it. In regard to legislative priorities, we'll continue to fight to promote investment in RPAC, as the challenges are not going away. We are seeing more legislative initiative within the real estate industry.
What do you enjoy doing when you are not working? 
In addition to being at home and spending time with my family, I love to coach baseball, play softball, and spend time at Rockies games as I am a season ticket holder!
Where are you from? 
I grew up in Aurora and have lived in the Colorado metro area my whole life. I am as Denver as they come!
Tell us more about how your family being in real estate has shaped your career?
It's the center point of most family conversations. I've probably been exposed to more sides of real estate than most people around. Seeing different perspectives and different ways to do business through my family has been eye opening for me. My mom and I have done business together for 18 years, but we both do it very differently. That has taught me to look and find new, creative ways to do business and not be fooled into thinking there is only one way to do things.
Favorite TV show and or book you have read or watched lately? 
My favorite book is "Team of Rivals" by Doris Kearns Goodwin and my favorite TV show is "Ballers" on HBO.
Anything else you would like to share?
Anyone who has thought about leadership or volunteering, the payoff is much greater than you can ever imagine. I totally recommend it. Let's have fun and do great things! Is there a better place to be than in Colorado right now?