Capitol Connection: January 25, 2019
Senate Bill 19-051: Increase General Fund Funding for Transportation
SB19-051 sponsored by Senator John Cooke (R-Greeley) and Senator Ray Scott (R-Grand Junction), authorizes the state to transfer additional general fund money to fund the state's transportation needs as enacted by Senate Bill 18-001 in 2018. Under Senate Bill 18-001, the state now dedicates $105 million to the state highway fund, $22.5 million to the highway users tax fund to be divided equally among counties and municipalities and $22.5 million to multimodal transit options. This bill would increase only two of those buckets, allocating a total of $66.5 million to the state highway fund and $51 million to counties and municipalities.
###
CAR's Legislative Policy Committee (LPC) supports this legislation because Colorado's transportation needs have been underserved for decades and CAR has a long record of supporting increased transportation spending. Although, this bill marks a positive initial step forward to address the state's transportation needs, it isn't the panacea to address the Colorado Department of Transportation's (CDOT) $9 billion deficit and the needs of local municipalities and counties across the state. The state's current revenue stream does not allow us to keep up with today's infrastructure needs or technological advancements. And, as the gas tax revenue continues to diminish as citizens increasingly opt for using electric vehicles, there is more work to be done to identify a sustainable revenue stream that will provide Colorado communities with the strong infrastructure they need for today and tomorrow.
House Bill 19-1118: Time Period to Cure Lease Violation
HB19-1118 sponsored by Representative Dominique Jackson (D-Aurora), Representative Rochelle Galindo (D-Greeley) and Senator Angela Williams (D-Denver), requires a landlord or property manager to provide a tenant 14-days notice to cure a violation for unpaid rent, or vacate the property as a result of any violation against the lease agreement before the landlord terminates the lease and initiates an eviction proceeding. Under current law, a landlord is required to provide a tenant three days to remedy a violation.
###
CAR's Legislative Policy Committee (LPC) opposes this legislation in current form due to the unintentional consequences that would ultimately hurt the tenant, and the uncertainty resulting from the lack of clarity around whether the timeframe to provide notice is in consideration of business days or all calendar days. By increasing the timeframe to remedy a violation to 14 days, landlords would lose the flexibility to work with their tenant under grace periods to find a solution together before moving down the path of eviction, an expensive course of action for everyone. Because there are many individuals, agencies and steps involved in an eviction proceeding, a landlord would have to start the process earlier than they would have originally under current statutory requirements. Not to mention, if a tenant is in fact evicted, they will carry it on their records for years, consequently affecting their future applications by making it more difficult for them to rent elsewhere in a climate where the housing supply is already limited. This bill will be heard before the House Business Affairs and Labor Committee on February 6th.
Senate Bill 19-084: Revised Uniform Law Remote Notarization
SB19-084 sponsored by Senator Bob Gardner (R-Colorado Springs), authorizes a notary public to perform notarial acts through the use of audio-visual communication, a process referred to as "remote notarization," similar to a Skype or FaceTime transaction. Current law requires any individual seeking to have a document notarized by a notary public appear in-person.
###
Although CAR is supportive of using new technology, such as remote notarization if it becomes available for real estate transactions, this legislation as drafted does not protect consumer data privacy. In fact, the bill could allow a notary to keep all the information from the transaction and sell the consumer financial data to third parties outside of the notary transaction, such as marketing companies. CAR has been active on this issue and NAR data privacy provisions  prohibit this type of careless regard for the protection and safety of consumer data-especially the kind of sensitive and personal financial information that is included in a real estate transaction. CAR's Legislative Policy Committee (LPC) opposes this legislation and continues to work on finding a solution to utilize technology advancements and protect consumer data in a meaningful way. This bill will be heard before the Senate State, Veterans and Military Affairs Committee on January 30th.
Governor Polis Presents Budget Proposal to State Legislature
On Tuesday, January 15th, Governor Polis submitted his budget request to the legislature for their consideration. You can find his full budget letter here. Here are some of the highlights:
$227 million for full-day Kindergarten;
$1.8 million for 16 new staff positions and inspectors at the Colorado Oil and Gas Conservation Commission;
$2 million to help pay for eight weeks of paid parental leave for all state employees, with plans to get another $1 million in mostly federal funding for the program;
$1.3 million set aside to explore importing prescription drugs from Canada;
$30 million to continue investing in the state's water plan to help reduce the impacts of current and future droughts;
$2 million to provide seed money for startup businesses in small rural communities;
$6.5 million for loan forgiveness and incentives for teachers who work in rural areas.
Colorado Project Wildfire
Developed by the Colorado Association of REALTORS®, Project Wildfire is designed to help reduce the destruction of land, property, and lives.  Working in partnership with other like-minded fire prevention organizations across the state, local REALTOR® associations are bringing education and awareness, as well as access to resources, directly to residents in their local communities. To learn more about Colorado Project Wildfire, click here.

REALTOR® Day at the Capitol: February 6
Don't miss your chance to learn about and discuss important policy issues affecting the real estate industry this upcoming year, as well as hear from and network with your legislators. The REALTOR® Day at the Capitol luncheon will feature Chris Brown, the Director of Policy and Research with the Common Sense Policy Roundtable (CSPR).  Mr. Brown leads the research efforts of CSPR and the REMI Partners to provide insightful, accurate and actionable information on the implications of public policy issues throughout the state of Colorado. Click here to learn more and register!
Invest in RPAC
The purpose of RPAC is to support candidates that support REALTOR® issues. Our goal is to elect pro-REALTOR® candidates at the local, state, and federal levels – candidates that share our support for homeownership, protect property rights, and who will listen to our concerns. Investing in RPAC is one of the easiest things you can do to protect your business. Our goal raise funds to continue to support Colorado's REALTOR® champions and ensure we achieve the policy outcomes necessary to protect property rights. Click here to invest today!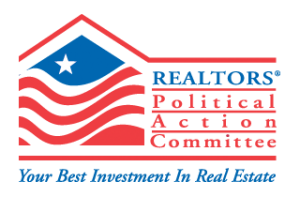 Sign up for REALTOR® Party Mobile Alerts
More than 50,000 REALTORS® from across the country have already signed up for REALTOR® Party Mobile Alerts – have you? Text REALTORS to 30644  to stay up to date on REALTOR® issues!  You'll be among the first to know about NAR Calls for Action and more! Click here for more information.