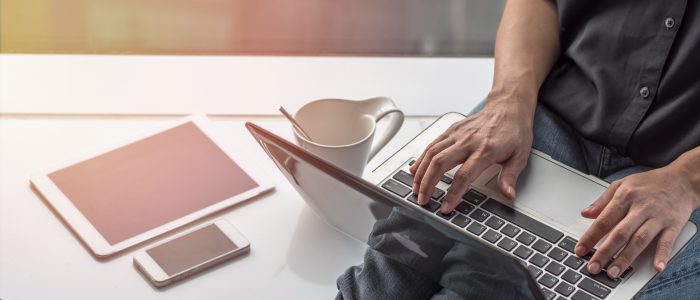 Technology is an Opportunity, Not a Disruption
An Interview with 8z Real Estate CEO and zavvie co-founder Lane Hornung 
A study conducted by the Pew Research Center shared that 89% of adults in the United States were using the internet in 2018. With such a high percentage of internet users and technology allowing for more and more of a real estate transaction to be completed in a digital space, consumers have never had as much data as instantly available as they do today. We sat down with Lane Hornung, co-founder of hyperlocal technology leader zavvie (winner of multiple innovation awards from Inman and NAR) and CEO of its brokerage partner 8z Real Estate, and asked: Does new technology pose a threat to REALTORS®? How can REALTORS® remain relevant to consumers?
REALTOR® Relevancy in Tech-Heavy Culture
"Technology empowers the best REALTORS® to become even better and provide excellent service for their clients. In today's world, to be the best agent, you have to be facile and proficient with the tech tools out there," says Hornung. "I came into real estate from a tech background 20 years ago and from what we've seen over that amount of time, I believe that technology will be an enabler of REALTORS® rather than a disruption."
So how do REALTORS® use technology to their advantage without getting left behind? 
"I believe that the machine will never replace the value of a REALTOR®," says Hornung. "We have the ability to present so much more information to consumers quickly, narrow it down, and interpret it for them. There is data overload and the REALTORS® who will do best are not the ones who will simply provide it to their clients, but the ones that will interpret it for them." He suggests knowing every nook and cranny of your local MLS and all the tools it offers, as there is an amazing sweep of materials and training. "Info Sparks also changed my life for interpreting and understanding the market. It's a game changer."
Hornung shares that the key to success is to be a "hyperlocal market expert." REALTORS® will need to specialize in market niches or local markets in order to stay ahead. "A REALTOR® who does not know more than what the consumer can get through technology will face challenges," he says. "Mostly, they will be challenged by other great REALTORS® who are doing these things, not the advanced technology itself." The bar will continue to rise with regard to what is needed to be a great REALTOR®, especially since technology cannot be ignored when the consumer is already using it.
Smart Home Technology – How Will the Market Respond?
In addition to internet usage, things like ride sharing have become more prevalent as is the expectation of smart home technology. There is some question as to how the market will respond. Will garages go away? Will smart home tech become a new norm in future years? How will development of the market respond to these types of requests in a digital environment? 
"Even though people are interested in walkable homes and ride-sharing, what I've seen is that the amount of gear, (bikes, scooters, road bikes), and hobbies that require space (studio, wood working, building), I don't think it will necessarily mean the 'end of the garage.' As much as everyone likes to talk about walkability, people still like square footage and yards. The death of the suburban home has been predicted for a long time, but people keep purchasing them because they like them," says Hornung.
The Voicebot Smart Speaker Consumer Adoption Report found that 19.7% of U.S. adults have access to smart speakers today. That is up from less than 1% of the population just two years ago. With smart home technology on the rise, Hornung believes smart home technology will eventually become the "new normal" in the future, like carpet in homes when it was introduced. "At one time carpet was new, neat, and cool, and now it's of course a house has carpet," says Hornung. "It's the same with smart home technology: it's utilitarian and makes a home much better and will likely be permanently adopted as well."
The rate of adoption of smart home technology accentuates the importance of being a hyperlocal expert. You should know if your market is an "early adopter community", or follows the lead of others in the way that smart home tech is being approached and adopted.
Words of Wisdom
Technology is a permanent fixture in the real estate transaction, but that doesn't have to be a bad thing. "The four most powerful words a REALTOR® can say to a consumer is 'I know that house…,'" says Hornung. "A computer screen can't say I've been in that house." To stay ahead, get to know your hyperlocal market better than anyone else in the world. "This is a real opportunity for REALTORS®," says Hornung. "The theme here is being a REALTOR® is becoming more complex. What you need to be well-versed in is increasing technology. Becoming a market specialist allows you to get your arms around it."
Every house is different, and by becoming the greatest expert studying market data in real time and previewing homes, REALTORS® will bring value to clients that technology alone just can't.
"I believe it is the best time in the history of the world to be a REALTOR®," says Hornung. "And I believe that BECAUSE OF the technology we can be so much more productive and helpful to our clients today than we have ever been before!"
Lane is the Co-founder of zavvie and the CEO of 8z Real Estate. As both a tech guy and real estate practitioner, Lane believes technology will empower real estate professionals to deliver amazing consumer experiences. Read more about 8z Real Estate here.