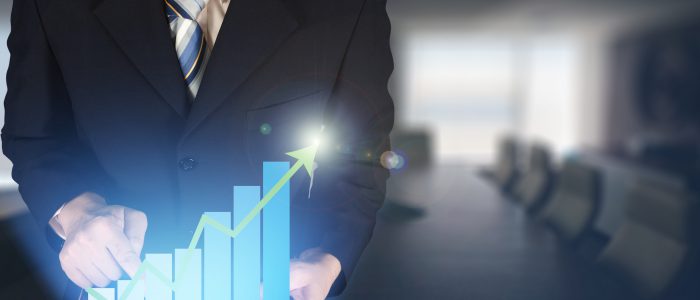 January's improved inventory falls short of buyer demand
ENGLEWOOD, CO. – Feb. 12, 2019 – When REALTORS® from across the state met earlier this month at the Colorado Association of REALTORS® annual Economic Summit, the message from economist Elliot Eisenberg was clear: Colorado's housing market continues to be plagued by an overall lack of inventory. The ripple effects on home buyers and sellers alike has remained the same for the past several years and the impact on housing affordability continues to be a driving factor.
The same conditions that have driven the market over the past several years continue their charge through the first month of 2019, according to the latest monthly market trends data from the Colorado Association of REALTORS®, as professionals across the state detail a mixed bag of results and opportunities for homebuyers and sellers.
"Statewide, the market experienced a 6.3 percent increase in single-family new listings and pending sales were up slightly (2.8 percent) year-over-year. Overall, listing inventory of single-family homes is up ever so slightly at 0.2 percent, while sales were down slightly from a year ago by 7.5 percent. Median and average prices continue to increase statewide, 3.6 percent and 4.7 percent, respectively. While it's not taking any longer to sell a property than a year ago, sellers are accepting slightly less than they are asking, with Percent of List price down from 98.7 percent to 98.3 percent.
The statewide townhome/condo market experienced greater year-over-year increases with new listings up 15.7 percent, pending/under contract was up nearly 8 percent and sold listings down 11.2 percent. Overall inventory in the townhome/condo market was up 12.1 percent from this time last year. Median and Average Sales Prices increased 3.6 percent and 3.4 percent, respectively.
Despite some strong growth in new inventory percentages, the numbers continue to be far below market demand. In addition, steady growth in home values, rising interest rates, and overall affordability continue to shape local and statewide markets and challenge buyers," said REALTOR® Karen Levine.
Taking a closer look at some of the state's local market conditions, here are some perspectives from several of the Colorado Association of REALTORS® market trends spokespersons across the state:
AURORA/CENTENNIAL
"Up and down best describes the housing market in Centennial and Aurora. Centennial saw a 25.5 percent increase in inventory over a year ago, while the median sales price rose 4.6 percent from Jan. 2018 to $442,000.  Centennial's condo market inventory rose significantly (170.6 percent) over Jan. 2018 as the median condo price in Centennial dipped nearly 6 percent from a year prior.
"Year-over-year, the City of Aurora had a 5 percent increase in available single-family units, with the median sales price up 3.8 percent to $363,454. The median varies significantly across zip codes as a single-family unit in 80013 is $355,000 while the median price in 80015 is $389,000. The Aurora condo market inventory is also up 35 percent over one year ago and the median price is 8.2 percent higher at $238,000. Days on the market are up in all zip codes.
"All of these numbers make for an interesting spring buying and selling season," said Aurora-area REALTOR® Sunny Banka.
BOULDER/BROOMFIELD
"Homeowners in Broomfield County must have received the memo that it was time to sell because apparently, they just about all listed their homes this month. Listings in Broomfield were up a whopping 72 percent since this time last year. Strangely, the number of sales is only up a bit, which challenges the before held belief that if we had more listings, we would sell them. The average price for a single-family home dropped about 6 percent year-over-year, which may be due to the increased inventory. The healthy 43 days on the market still indicates a strong market but, if the numbers aren't just a brief anomaly, the Broomfield market could be looking at a change this spring from what we've seen before.
"In neighboring Boulder County, new listings are up about 4 percent, a typical amount for a January with no Broncos in the playoffs. Prices have leveled off, however, with a slight decline of 2.7 percent since this time last year.  In fact, with attached properties, all of the numbers are dipping in the negative territory, with the exception of the number of new listings, which is up nearly 7 percent. The next few months will be telling to see if our upward trends are about to flatten out," said Boulder-area REALTOR® Kelly Moye.
COLORADO SPRINGS/PIKES PEAK AREA
"Give us inventory, or give us aspirin. With a strong start to the New Year, area REALTORS® are feeling confident for a solid 2019. With the current threat of interest rate hikes on hold, buyers are back in the market place.
"Overall, inventory is also rising, with almost immeasurable amounts in the single-family arena. Townhome listings dropped 7 percent and our pending properties increased 4.6 percent. It appears, at least for the first quarter, supply is going to be low and buyers are going to be frustrated. It's an all too common theme over the last few years. Affordability continues to be a problem and appreciation is once again outpacing wage growth locally and nationally. As markets outside of the State are finally starting to see some slowing, we can only hope we experience some of that for the local buyer population. Sellers who are moving out of area would be smart to do so now. However, sellers looking to sell and stay in the area are going to run into the same purchasing issues as the buyers purchasing their homes. Strategic moves will continue to be a balance brokers locally will have to work around on all sides until we see some inventory relief," said Colorado Springs-area REALTOR® Patrick Muldoon.
"January 2019 was indeed a good month for the Colorado Springs area housing market for single-family/patio homes, registering the third highest month of January ever in monthly sales, the second highest in monthly sales volume, and the highest in average and median sale prices. The combination of steady increases in home prices and interest rates have drastically impacted the affordability for buying homes. During the past 5-years (since January 2014), average sales price of single-family/patio homes in Colorado Springs soared over 46 percent and the median sales price escalated over 43 percent. Additionally, interest rates increased more than 1 percent. Unfortunately, every 1 percent increase in the interest rate reduces the borrowing power by 10 percent for the same number of monthly payments. The affordability challenge is causing many potential buyers to postpone buying a home now, however, this will likely result in increased future sales due to pent up demand just like the previous cycle.
"Year-over-year, active listings were up 31 percent and the months' supply was up over 38 percent in January. A word to prudent buyers, this is an opportune time to buy before the interest rates start climbing up again and before the pent up buyer demand creates another buying frenzy resulting in multiple competing offers," said Colorado Springs-area REALTOR® Jay Gupta.
DENVER
"For all those screaming 'Denver is such an expensive place to live,' we have good news! The median price for a Denver single-family home is now equal to that of March 2017, $425,000. Though $425,000 was never reached in 2016, for comparison's sake, in January of 2018, the median price was $430,000. Great news for homebuyers continues as the number of new listings has also increased from January 2018 to 658 vs. 531 the previous year. Days on Market was also up from 31 to 40 and there is now a decrease in the listed to sold price ratio for the first time in more than three years," said Denver-area REALTOR® Matthew Leprino.
"The metro Denver market experienced significantly higher percentage changes in new listings than the rest of the state, up from 3,621 new listings in Jan. 2018 to 4,195 new listings this January. Pending/Under Contracts were up 12.8 percent and Sold Listings were down 4.1 percent. We are still seeing increases in our Median and Average prices with Median price currently $410,000 and Average Sales price at $483,136, just 2.5 percent and 2.7 percent increases, respectively.  Days on Market increased from 39 in January 2018 to 45 days on market in January 2019, a 15.4 percent increase. That said, total inventory in up just slightly at 1.1 percent and the overall supply of single- family homes in metro Denver remains at 1.5 months, reminding us that a balanced market is somewhere around 4 to 5 months supply. These increases show a change in our single-family home marketplace, but nothing that should cause any extreme changes in how business has been being done over the recent years.
"Denver's townhome/condo market is a bit more reflective of the State market. Seeing greater year-over-year increases in new listings, 21.2 percent, Pending/Under contracts up 8.9 percent and sold listings down just over 13 percent. The townhome/condo market continues to see increases in the Median and Average Sales prices with a Median Sales price of $289,000 and Average Sales price at $355,253, up 1.4 percent and 2.4 percent, respectively. Days on market for the Townhome/Condo market is up from 32 days to 41 day, a 28.1 percent increase and the Month's Supply of Inventory is up from 1.3 months to 1.8 months, again suggesting that buyers in Denver's townhome/condo market now have a little more to choose from and more opportunity to be successful obtaining a property on their first offer to purchase a property rather than their 3rd, 4th or 5th attempt," said Denver-area REALTOR® Karen Levine.
DURANGO
"New listings for the Durango area were down more than 36 percent from this time last year. We attribute this mostly to the weather as January 2018 was the driest on record. With virtually no snow, more property owners kept their homes on the market through the winter months. This year is a more traditional weather season and a large number of rural property owners are waiting to list later in the season. Home prices continue to climb as a result of tight inventory and are predicted to stay that way throughout 2019. The decrease in townhouse/condo pricing is a result of fewer higher-end townhomes being sold this last month. Last year, there were several higher end units in a new development that closed in January skewing the numbers a bit. We are praying for a lot of snow over the next few months to help dig us out of the severe drought," said Durango-area REALTOR® Jarrod Nixon.
ESTES PARK
"January 2019 brought a bit of a housing frost to the Estes Valley as single-family Sold listings decreased 27.8 percent and the Townhomes/Condo market dipped 16.7 percent. These numbers paired with a welcomed inventory increase at a heated pace of 18 percent for single family, and nearly 22 percent for Townhome/Condos. The additional listings have had an effect on the average days on the market, falling for single-family residences to 83 days, yet Townhome/Condos are not seeing the same. The Average Days on Market for this category is lengthening to 114.
"The additional inventory, longer days on the market for townhouse-condos has shown power for negotiating on sale price. The Median Sales price rose 3.1 percent for single family to $400,000, and 2.4 percent for Townhome/Condos to $280,000, but the percent of list price versus what was received is fell, 0.5 percent for single-family homes and 0.6 percent for Townhome/Condos.
"While affordability in the Estes Valley will continue to be a hot topic, the increase in inventory should be a relief. If home prices fall to be more in line with local wages and interest rates can hold steady, the market will likely stay strong and improve," said Estes Park-area REALTOR® Abbey Pontius
FORT COLLINS
"The polar vortex may have had the Midwest in a bone-chilling grip of ice and snow – but the Northern Colorado housing market remains in a steady thaw early in the New Year. Inventory levels increase each day with hot price points (under $375,000) still seeing multiple offers for properties that are in good condition and move-in ready.
"Buyers have zero room in their budgets for both high prices and homes that need renovation. Our market hit a plateau last July where the convergence of price appreciation and interest rate bumps stripped buyers of their purchase power due to lagging wage increases.  Even though wages have consistently increased in our area over the last several years, home prices have advanced at a much higher rate.
"Smart sellers are putting their move-in ready homes on the market with prudent prices and enjoy a buzz of activity. Demand remains high for well-priced homes. Buyers that received salary increases or holiday bonuses at the end of 2018 are using the recent drop in interest rates to their full advantage," said Fort Collins-area REALTOR® Chris Hardy.
GLENWOOD SPRINGS
"The first month of the New Year brought a 14.1 percent decrease in New Listings for single-family homes and a 16.7 percent decrease in the Townhome/Condo market, compared to this time last year. In the single-family market, the Median Sales Price was down 6.6 percent but increased 32 percent for townhomes and condos. Days on market decreased 18.8 percent for single-family homes but increased nearly 13 percent for Townhome/Condo properties.
"Affordable inventory remains to be the biggest issue in the local market. Of the seven communities included in our report only Meeker, Battlement Mesa/Parachute and Silt had reductions in the Median Sales Price for single-family homes. Carbondale, Glenwood Springs, New Castle and Rifle all had increases," said Glenwood Springs-area REALTOR® Erin Bassett.
JEFFERSON COUNTY/GOLDEN
"Just over 30 days until Spring and the market has already seen an increase of 7.4 percent for new, single-family listings hitting the market. However, solds are down 10.6 percent even though the Median Sales Price of $437,500 is up just 1.2 percent from this time last year.
"Even with more homes coming on the market the overall inventory is still very low. Attached homes new listings are down by 5.8 percent, solds are down 10.6 percent and the Average Sales Price is at $295,000, also up just 1.2 percent from this time last year. The Days on Market has increased substantially from 22 days to 30 days as inventory has increased 11.5 percent year-over-year.
"In Golden, active listing prices are holding steady. Most single-family homes and attached homes are still selling for over list price. We're not seeing as many multiple offers as in the past however, if the home has a good location and is updated there most likely will be several offers," said Jefferson County/Golden-area REALTOR® Barb Ecker.
PUEBLO/PUEBLO WEST
"Our Pueblo market began the New Year a little slow with new listings and pending sales down 7.3 percent and 9.2 percent, respectively. January sales were down 9.3 percent year-over-year as our Median Sales price rose 8.6 percent to $192,500. Days on Market sits at 85, giving us a 1.9 month supply of inventory, still well below a balanced market (4-6 months). We had 37 new building permits in January, down 18 percent from a year prior. As expected with inventory low, showings are also down. Agents and buyers are looking forward to a strong spring market and, if interest rates remain steady or lower, spring should be an exciting time in the local market," said Pueblo-West REALTOR® David Anderson.
ROYAL GORGE AREA – FREMONT AND CUSTER COUNTIES
"New listings for January in the mountain communities of Custer County were lower by 23.5 percent while sales dipped just over 9 percent, a pretty normal result in these colder winter months. Our Median Sales Price also dropped 9.1 percent to an affordable $218,500. Days on the Market decreased nearly 31 percent, while sales are reaching 97.9 percent of list price and we are showing about 8.3 months of available inventory.
"Fremont County new listings were up a little more than 12 percent over January 2018 inventory while sales were down by 9.4 percent. The Median Home Price came in at $208,000 compared to last January's $169,900, a healthy 22.4 percent increase. Days on the Market was down slightly (-3.1 percent) and we are holding on to approximately 3.7 months of inventory. Canon City residents are excited to hear if the city will be one of the top five cities, and the only Colorado community, to be considered for Deluxe Corp's 'Small Business Revolution Main Street's' Season 4, which will be announced Tuesday Feb. 12.  Should Canon City make its way to the number one position, they will be featured in the show's fourth season bringing national attention to this quiet, affordable community," said Royal Gorge-area REALTOR® David Madone.
VAIL
"The first month of 2019 seemed to follow the macro trend from the second half of 2018. Transactions were up 1.4 percent and dollars positive 19 percent in 2019, versus January 2018.  However, there were significant swings within segments of the market as single-family-duplex transactions fell 42.6 percent while Townhomes/Condos increased 80 percent. Pending sales were positive by 5.7 percent and 13 percent, respectively thus, the Townhome/Condo market is starting 2019 on a very positive trend. Inventories are basically flat for both categories with 7.1 months of supply for single-family-duplex and 6.2 months for Townhome/Condo translating to a stable market inventory. As we look back over the second half of 2018, inventory has not followed the national trend of increasing but remained relatively stable along with the macro transaction performance.
"The significance of the high-end market continues to have a major impact on the positive dollar growth.  Six percent of the January transactions represented 33 percent of total dollar sales and 75 percent of the increase in dollar volume. In effect a two transaction increase in 2019 versus 2018 represented three quarters of the dollar growth for the month. This trend, which began last year, shows the strength of our market compared to the national picture for upper-end product.
"The market continues to be vibrant with excellent visitation over the holidays and continued strong activity due to great snow conditions and a plethora of other winter activities," said Vail-area REALTOR® Mike Budd.
TELLURIDE
"Telluride's January sales dollars were down 28 percent despite being up 11 percent in the number of sales. This just means high-end sales of luxury homes were way down. For the first time I can remember, more homes sold in the surrounding, out of town markets than in the Town of Telluride and Town of Mountain Village. It's also normal for January to be slower than December when many sellers wanted to close at the end of the year or buyers were driven by 1031 money transactions needing to close by the end of the year.
"I'm predicting a good year for the Telluride market but down a little, in the 5 to 10 percent range, due to a lack of inventory in the bottom one third of our market. That sector has been the hottest I've ever seen in the last two years and is really in short supply. Lastly, new construction inventory has always been slow to come to the market here due to the long approval process and challenges of year round construction in this climate," said Telluride-area REALTOR® George Harvey.
Inventory of Active Listings – Denver Metro area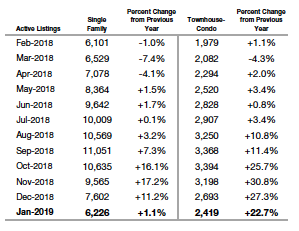 Inventory of Active Listings — Statewide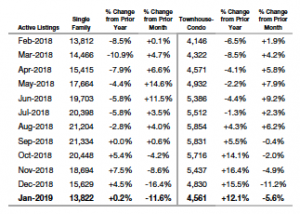 Median Sales Price Denver Metro area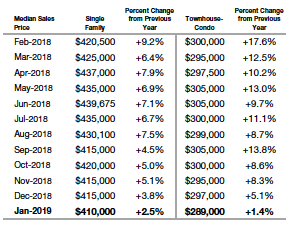 Median Sales Price – Statewide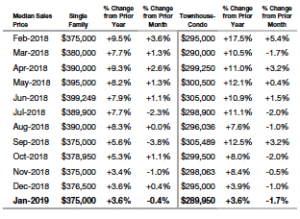 The Colorado Association of REALTORS® Monthly Market Statistical Reports are prepared by Showing Time, a leading showing software and market stats service provider to the residential real estate industry, and are based upon data provided by Multiple Listing Services (MLS) in Colorado.  The January 2019 reports represent all MLS-listed residential real estate transactions in the state.  The metrics do not include "For Sale by Owner" transactions or all new construction.
The complete reports cited in this press release, as well as county reports are available online at: https://coloradorealtors.com/market-trends/
###
CAR/SHOWING TIME RESEARCH METHODOLOGY
The Colorado Association of REALTORS® (CAR) Monthly Market Statistical Reports are prepared by Showing Time, a Minneapolis-based real estate technology company, and are based on data provided by Multiple Listing Services (MLS) in Colorado.  These reports represent all MLS-listed residential real estate transactions in the state.  The metrics do not include "For Sale by Owner" transactions or all new construction.  Showing Time uses its extensive resources and experience to scrub and validate the data before producing these reports.
The benefits of using MLS data (rather than Assessor Data or other sources) are:
Accuracy and Timeliness – MLS data are managed and monitored carefully.
Richness – MLS data can be segmented
Comprehensiveness – No sampling is involved; all transactions are included.
Oversight and Governance – MLS providers are accountable for the integrity of their systems.              Trends and changes are reliable due to the large number of records used in each report.
Late entries and status changes are accounted for as the historic record is updated each quarter.
The Colorado Association of REALTORS® is the state's largest real estate trade association representing more than 26,500 members statewide. The association supports private property rights, equal housing opportunities and is the "Voice of Real Estate" in Colorado.  For more information, visit https://coloradorealtors.com.