Capitol Connection: April 19, 2019
House Bill 19-1322: Expand Supply Affordable Housing
###
HB19-1322, sponsored by Rep. Dylan Roberts (D-Avon), Rep. Perry Will (R-New Castle), Sen. Dominick Moreno (D-Commerce City) and Sen. Don Coram (R-Montrose), appropriates a portion of the unused funds in Colorado's Unclaimed Property Trust Fund, while protecting the 20-year claims reserve. The bill ensures all unclaimed property claims will continue to be paid and allows capacity to build up reserves. $40 million would be appropriated annually to the Division of Housing for programs and projects that improve, preserve or expand the supply of affordable workforce housing in Colorado. Potential sources of revenue include the General Fund, the Unclaimed Property Trust Fund, Marijuana Cash Funds, and Gifts, Grants and Donations.
###
CAR's Legislative Policy Committee (LPC) supports this legislation as a sustainable source of revenue for affordable housing that does not burden low-income families by making housing more expensive to make it more affordable.
###
HB19-1322 passed out of the House Finance Committee and will be up for second reading on the House Floor next week.
###
House Bill 1212: Recreate Homeowners' Association Community Manager Licensing
###
HB19-1212, sponsored by Rep. Brianna Titone (D-Arvada), Rep. Monica Duran (D-Wheat Ridge) and Sen. Rhonda Fields (D-Aurora), recreates the community association managers (CAMs) licensing program in the Division of Real Estate under the Department of Regulatory Agencies (DORA). It also implements several recommendations from the 2018 Sunset Review, requires the amount of the fee or charge be disclosed on the HOA manager contract, and the Division to make rules around a complaint process.
###
CAR's Legislative Policy Committee (LPC) supports the bill because it provides increased transparency for fees and the program will continue to be regulated once it's reenacted. The harmful amendment that might have changed the bill to voluntary certification was avoided thanks to your engagement on this bill in our call for action. The bill passed out of the House Finance Committee unamended and will next be heard in Appropriations.
###
House Bill 19-1317: Income Tax Credit and Senior Property Tax Exemption
###
HB19-1317, sponsored by Rep. Chris Kennedy (D-Lakewood), Rep. Mike Weissman (D-Aurora) and Sen. Lois Court (D-Denver), would have changed the senior homestead exemption to a tax credit for all senior taxpayers with adjusted gross income of up to $65,000 according to inflation. In order to do that it would have undertaken a few steps to phase out the existing program (while keeping all those who currently use the program whole during the transition) and then set up a new program starting in 2020.
###
This new program would create the Senior Coloradans Trust fund and authorize ten years of annual general fund transfers to ensure that the fund is solvent for the foreseeable future. In previous years, the homestead exemption was swept by the Legislature and no funds were available for any seniors. The new program would have a sunset until 2029 to review the revised program, and the disabled veterans exemption would not change under HB19-1317.
###
As you may recall, the existing program was added to the Constitution in 2000, and it exempts 50 percent of the first $200,000 of a home's value from property taxation. For example, for a qualified senior who owned a home in 2018, determined to have actual value of $350,000, property tax is imposed as if the home were worth $250,000, because 50 percent of the first $200,000 is exempt from taxation. The property's assessed value is $18,000, determined by multiplying the property's taxable value by the state residential assessment rate, which was 7.20 percent in 2018.
###
The senior's property taxes are determined by the local mill levies imposed by the county, municipality, school district and special districts. If these levies summed to 90 mills, the senior would owe $1,620 in property tax, and the homestead exemption would have reduced the senior's tax liability by $648.
###
The insufficient supply of affordable housing units across the state has negatively impacted our senior citizen population as more and more of them are forced to rent instead of pursue homeownership. The enhanced senior homestead exemption under HB19-1317 would also have a market effect because it would allow seniors to use the exemption as a portable benefit for downsizing, therefore freeing up their property for a new family. The program also gives more assistance to the seniors with the most limited incomes and highest financial needs.
###
Yesterday, the bill died at the request of the bill sponsor in the House State, Veterans and Military Affairs Committee because there is not enough funding left in the state budget to fund this legislation.
###
CAR Spring Summit (April 23-25, 2019)
###
The 2019 CAR Spring Summit is just around the corner. Spring Summit is packed with business meetings, new ideas, vendors, networking and fun. The Four Seasons in Vail is the place to be Apr. 23-25, 2019. Also, during Spring Summit, join us to celebrate 50 years of RPAC at our annual Spring RPAC Reception, A Diamond is Forever. Join us in your best James Bond attire to support 50 years of RPAC and even enter a raffle to win a diamond. Registration for Spring Summit is available online. Click here for more information and the link to register.
###
NAR Midyear Legislative Meetings (May 13-18, 2019)
###
The REALTORS® Legislative Meetings and Trade Expo allows NAR members an opportunity to take an active role in advancing the real estate industry, and public policy directly. REALTORS® come to Washington, DC, for special issues forums, committee meetings, legislative activities, hill visits and the industry trade show. Registration is now open.  Click here for more information.
###
For Colorado, we have nine hill visits to complete and as we approach May, CAR Government Affairs staff will be in contact with attendees regarding the hill visits meeting schedule for their specific congressional district.
###
50th Anniversary of RPAC
This year marks 50 years of RPAC's work to advance the American dream of homeownership. Nationally, RPAC has grown from just 300 REALTORS® investing $28,000 to more than 98,000 REALTORS® investing over $36.5 million.
###
The purpose of RPAC is to support candidates that support REALTOR® issues. Our goal is to elect pro-REALTOR® candidates at the local, state, and federal levels – candidates that share our support for homeownership, protect property rights, and who will listen to our concerns. Investing in RPAC is one of the easiest things you can do to protect your business. Our goal raise funds to continue to support Colorado's REALTOR® champions and ensure we achieve the policy outcomes necessary to protect property rights. Click here to invest today!
###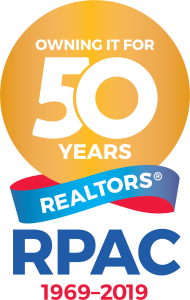 ###
Colorado Project Wildfire
###
Developed by the Colorado Association of REALTORS®, Project Wildfire is designed to help reduce the destruction of land, property, and lives.  Working in partnership with other like-minded fire prevention organizations across the state, local REALTOR® associations are bringing education and awareness, as well as access to resources, directly to residents in their local communities. To learn more about Colorado Project Wildfire, click here.
###
###
Sign up for REALTOR® Party Mobile Alerts
###
More than 50,000 REALTORS® from across the country have already signed up for REALTOR® Party Mobile Alerts – have you? Text REALTORS to 30644 to stay up to date on REALTOR® issues!  You'll be among the first to know about NAR Calls for Action and more! Click here for more information.