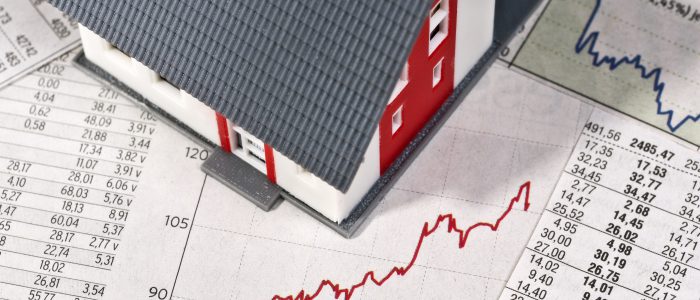 New housing inventory delivers little help to buyers as strong sales continue to drive pricing to new record highs across Colorado
ENGLEWOOD, CO. – May 10, 2019 – The much-anticipated influx of new spring season listings in Colorado's housing market has had a limited impact for buyers as strong sales and continued low inventory have driven median and average pricing to record levels in the seven-county Denver metro area, as well as markets across the state. Those high-water marks for pricing are typical for the spring and summer months and require a more in-depth look at key measurables and trends in local markets, according to the latest monthly market data from the Colorado Association of REALTORS®.
Despite a 27 percent increase in the number of new listings between March and April, the volume of sold listings and those that are pending or under contract negated any improvement in the total number of active listings in both the Denver-metro region and state as a whole.
Fueled by continued strong demand, the median price for single-family homes reached a new record at $445,000 in the seven-county Denver metro region, up 1.2 percent from its previous high in June 2018. The average price for a Denver-metro home also topped the record chart in April at $529,745, up 2.4 percent from a year ago.
The same factors drove pricing higher in the condo/townhome market in April as those Denver-metro area properties jumped to a median price of $304,400, just shy of its all-time high $305,000 mark set three times during the spring and summer 2018.
Statewide, the median price of a single-family home reached $400,000 in April, just barely higher than its previous high mark also set in June 2018. The statewide condo/townhome market matched the Denver-metro area median pricing and its previous high-water mark of $305,000. The average price for a condo/townhome across Colorado rose nearly 4 percent from a year prior to $392,885, but remains well below its all-time high of more than $414,000 set in December 2018.
Taking a closer look at some of the state's local market conditions, Colorado Association of REALTORS® market trends spokespersons provided the following assessments:
AURORA/CENTENNIAL
"April 2019 looked very similar to April 2018 across Aurora and Centennial as the number of active listings for both residential single-family and condo/townhomes were very comparable. With 484 active listings in Aurora, the $389,000 median price of a home was up about 5 percent over this time last year. A parallel 5 percent increase in condo/townhome market put the median price at $250,000. The average days on market stretched to 23 up from 19 days a year ago.
"Centennial is looking slightly different from its 2018 scenario. There are currently 144 listings with a median price of $470,000 for single-family homes. Condo/townhome median pricing is down slightly from 2018 with a median price of $318,000. The market is strong with both Aurora and Centennial providing buying opportunities that don't include the over-bidding that was so prevalent in the past several spring seasons. The market is providing both buyers and sellers with a window of opportunity to get into that ideal home or sell and relocate," said Aurora-area REALTOR® Sunny Banka.
BOULDER/BROOMFIELD
"Steady and even is how we can describe the Boulder County real estate market this spring. While we have typically seen solid appreciation and quick sales at this time of the year, we are experiencing more of a less-than-exciting market right now. Prices are holding even with what they were at this time last year. Days on the market are still about the same at 52 days and sales price to list price holds steady at 98 percent. Sellers who need to sell are finding they need to price right and stage their properties. Buyers are showing signs of hesitancy, worried about a potential decline in the market in the future. All in all, the market is strong, but the brisk appreciation of the past is not seemingly coming back for this spring.
"Broomfield County is movin' and shakin' with 30 percent more listings on the market now since the beginning of the year. But they are being gobbled up at a quick pace with a 26 percent increase in new sales since January. Prices are holding just about even, up by 1/9 of a percent from last year. Homes are selling in less than a month, so the market activity remains brisk. Townhomes and condos are showing signs again of lack of inventory, with listings down and a healthy appreciation rate of about 6 percent over last year. With only 21 days on the market, these affordable options seem to be flying off the shelves," said Boulder-area REALTOR® Kelly Moye.
COLORADO SPRINGS/PIKES PEAK AREA
"The Colorado Springs-area housing market remains strong and steady. The active listings and monthly sales levels for single-family homes have been incredibly steady during the month of April for the last three years. There were 1,570 active listings and 1,309 sales in April 2017 and 1,572 active listing and 1,320 sales in April 2019. However, the average and median prices and the monthly and year-to-date sales volumes soared over 19 percent from April 2017 to April 2019. The month of April 2019 had the highest level of single-family/patio home monthly sales, monthly and year-to-date sales volume, and average and median sale prices compared to any month of April ever. In the month of April, the days on the market were 32 days, the sales price to list price ratio was 100.1 percent, and the average sales price was $371,352 with a median sales price of $328,000. Unfortunately, the dreadful combination of pitifully low inventory, just 1.2 months supply, and ever-soaring prices continue to be the most challenging aspect of the Colorado Springs area housing market.
"We had a 24 percent drop in the sale of single-family/patio homes priced under $300,000 from April 2018 to April 2019, primarily due to the inventory shortage, while a 36 percent increase in homes priced between $300,000 and $400,000, and a robust 39 percent increase in homes priced between $500,000 and $600,000. Month-over-month, single-family/patio home new listings were up 26.2 percent, total active listings were up 7.6 percent, sales were up 7.8 percent, average sales price up 5.8 percent, and median sales price up 4.1 percent. Last month, 85 percent of the single-family/patio homes sold were priced under $500,000, 13 percent between $500,000 and $800,000, and 2 percent were priced over $800,000," said Colorado Springs-area REALTOR® Jay Gupta.
"April's snow showers have not produced early May flowers, at least not for prospective home buyers in the Pikes Peak Region.  We watched our inventory of active listing drop while prices, once again, have risen. The needed snow and moisture may have given us some relief when it comes to our average days-on-market which increased approximately 25 percent for both single-family homes and townhome-condos. A small but potential victory for buyers.
"For sellers, we're likely to continue to see multiple competitive offers as we get deeper into the May real estate season. And at this rate, both buyers and their REALTORS® will be fatigued by mid-year as homes get gobbled up in a competitive environment.
"Many of us believe that we have to be topping out on home prices due to simple math as wages and buying power start to tap out. But we've believed that year-in and year-out only to find home values going higher still. National unemployment remains incredibly low and the FED has kept interest rates steady to keep the economy going. Some of the higher price points are starting to see some cooling but that is not translating into significantly lower prices for buyers," said Colorado Springs-area REALTOR® Patrick Muldoon.
DENVER
"Denver met expectations this past month as April's numbers revealed both strong buyer and seller behavior. With 6 percent more listings than April 2018 and an overall supply increase of 50 percent in Denver County, such a robust change continues to encourage all parties to pivot their strategies towards a harmonious middle ground. With the average days on market increasing from 17 days last spring to 24 now, the 41 percent change does more than the increasing supply and slowing price rises, it shows that, though remaining strong and measurably vibrant, our shift is staying consistent through the predictably heavy sale months," said Denver-area REALTOR® Matthew Leprino.
DURANGO
"As expected in April, with warmer weather upon us, Durango and La Plata County are starting to see winter trends reversing. We had a long hard winter season and fewer new listings on the market (-+2 percent). While new listings are still down significantly year-to-date (-15 percent), April delivered many more listings than in 2018 when we had sellers coming on market through the winter months. With less inventory on the market YTD, we expected buyers would frequently hold off on purchases. April proved otherwise as demand was strong enough. Buyers purchased more this year than last when there were more homes to choose from. Our median sales price ($468,000) is continuing a steady at a healthy 4 percent increase and with rates holding, we expect sales to continue to catch up close to what we experienced in 2018. The summer selling season promises to be a robust one to say the least," said Durango-area REALTOR® Jarrod Nixon.
ESTES PARK
"The Estes Valley real estate market is slowly starting to defrost. Compared to 2018, new listings are staggeringly lower still at -27 percent for single-family homes, where townhouse-condos are filling in the gap with a nearly 10 percent increase in new listings over last year. The affordability of townhouse-condos and the lack of inventory in single-family homes is fueling motion for listings in this area. The median sales price for townhouse-condos has risen to $347,500 an 18.8 percent increase from last year. The single-family home market has taken a slight downturn with a decrease in median sales price to $492,000 a 7.5% dip from 2018. The lack of inventory for single-family homes and the increase in townhouse-condo inventory has impacted the days on the market as well with single family closings shortened in length to 77 days on the market, while townhouse-condos increased to 98 days on the market. The Estes Valley looks forward to more listings and competitive pricing across the board, we will need this happen soon to catch up to 2018," said Estes Park-area REALTOR® Abbey Pontius.
FORT COLLINS
"Migration isn't just for the birds. Just as the hummingbirds, sandhill cranes, and Canadian geese make their way back to summer territories, the housing numbers for April in Fort Collins show a continued trend of consumers migrating toward lower-priced attached condo and townhome dwellings. Inventory numbers in this housing category are up at least 5 percent compared to last year, and the number of properties sold is up at least 6 percent on the year and nearly 13 percent compared to April 2018. With steady demand, the median price has also jumped up to just over the $300,000 threshold.
"Why the migration? Clearly, price and affordability are driving part of it, but increased availability of this property type has been on the rise in both new construction and resale. Fort Collins has limited buildable space within its Growth Management Area and multi-family projects meet both desired density and price points to maximize the use of limited available land. Builders are finding the condo market a natural migration from apartment complexes as risk management costs have come down and buyers look to save money in an otherwise difficult to enter single-family market.
"The median price for single-family detached homes in Fort Collins crept up a little over 4 percent compared to last year, and now sits at nearly $425,000. While much of that increase can be attributed to substantial gains in the million-dollar home market, for most home buyers, prices and competition is too steep and money still too tight to swing at these lofty prices. Even with interest rates leveled off in the low 4 percent range, buyers are looking to multi-family as a viable alternative.
"With unemployment levels not seen since 1969, wages are roughly 3 percent higher year-over-year, and inflation basically flat, buyers are leveraging this to their advantage and making purchases that perhaps meet their needs if not their dreams. Buying a starter property now and living in it for 5 to 10 years to build equity and then trading up to a dream home is a strategy worth pursuing," said Fort Collins-area REALTOR® Chris Hardy.
JEFFERSON COUNTY/GOLDEN
"Overall, the Jefferson County market remains a seller's market but has softened a bit. With pricing increases and seasonal additions, there is more inventory with 890 homes hitting the market in April compared to 886 this time last year. The median sales price for a single-family home reached $475,500, an increase of 1.2 percent from April 2018 however, homes are sitting on the market longer at 26 days compared to 21 days this time last year.
"For townhome/condos the scenario is the same with an increase in inventory of 14.6 percent from April 2018. They are also sitting on the market longer at 18 days compared to 15 days this time last year. The median sales price for townhome/condos reached $285,000, an uptick of 3.6 percent from this time last year.
"As for the Golden area, several new construction townhome/condos that have been sitting on the market, along with single-family homes that would have flown off the shelf this time last year, are having to wait a couple weeks and/or drop their prices to go under contract. The multiple offers are no longer flooding the market unless the home is listed under $400,000 and offers they are receiving most likely will have a contingency attached," said Jefferson County/Golden-area REALTOR® Barb Ecker.
ROYAL GORGE AREA – CUSTER AND FREMONT COUNTIES
"New listings in Custer County reached a nine-month high in April while overall inventory is down 8.5 percent over this time last year. May through August is the prime selling time in this high mountain area and it appears that sellers are getting their homes on the market to take advantage. It is time for buyers to get ready to shop.
"Looking at Fremont County, we added 120 new listings to the MLS in April but the overall inventory is still down by approximately 12 percent over the same time last year. The median residential price range stands at $213,500 up 9.5 percent over last year. We are showing 2.9 month's supply of inventory which has remained stable over the last three months. Typically, the next 6 months deliver increased listings and sales in the area," said Royal Gorge-area REALTOR® David Madone.
VAIL
"April performed as it historically does with a softening of activity in sales and new listings. The sales units for all products were negative 17 percent versus April 2018, while dollars declined by 25 percent in the same comparison. On a year-to-date basis, transactions were negative 8 percent and dollars declined 9 percent.  The trend in sales has remained relatively consistent for the year and inventory is a key driver in that performance. Month's supply of inventory on a market basis was down from 6.5 months in April 2018 to 6 in 2019. The inventory of active listings is negative 12 percent versus a year ago, however, the inventory by price niche has more significant variances. All key transactional price niches are showing shortages of inventory which is the major catalyst to the performance trend.  As the market begins to follow historical trends of increased listings over the next two months, we should see an improvement in the trend of sales for the summer selling season.
"Resort markets like our valley have these cyclical swings based upon seasonality which are more dramatic than primary residence markets. We also seem to have greater impact from macro-economic trends as many of our transactions are second homes which are a 'want' and not a 'need' for the buyer," said Vail-area REALTOR® Mike Budd.
TELLURIDE
"Telluride's April sales dollars were down 35 percent and total sales volume was down 3 percent. Offseason in a ski area starts the day after the ski lifts close and that was April 7 this year for Telluride. As a result, sales usually dip a little in the second half of April and the first half of May until Memorial Day weekend. There weren't any big sales in April like there were in March. The biggest sale in the Mountain Village was a condominium that sold for $1.65 million and two home sales in the Town of Telluride totaling $3.48 million combined. Lower interest rates should help the bottom third of our market this summer and the good economy should give confidence to higher-end buyers for making those big dream property purchases. We're tracking just below our last five-year average for this period of time with summer poised to do well," said Telluride-area REALTOR® George Harvey.
Median Sales Price – Denver Metro area (Adams, Arapahoe, Boulder, Broomfield, Denver, Douglas and Jefferson counties)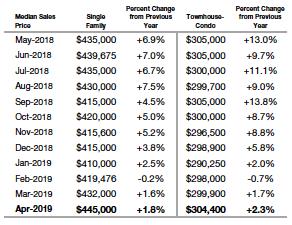 Median Sales Price – Statewide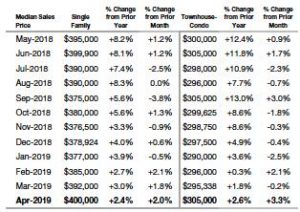 Average Sales Price – Denver Metro area (Adams, Arapahoe, Boulder, Broomfield, Denver, Douglas and Jefferson counties)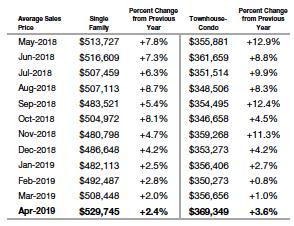 Average Sales Price – Statewide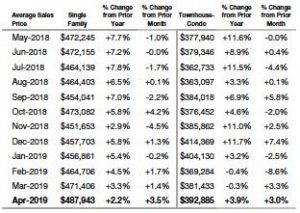 Inventory of Active Listings – Denver Metro area (Adams, Arapahoe, Boulder, Broomfield, Denver, Douglas and Jefferson counties)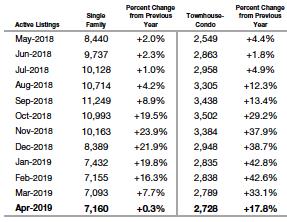 Inventory of Active Listings – Statewide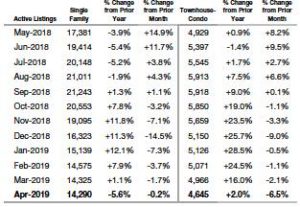 The Colorado Association of REALTORS® Monthly Market Statistical Reports are prepared by Showing Time, a leading showing software and market stats service provider to the residential real estate industry, and are based upon data provided by Multiple Listing Services (MLS) in Colorado.  The April 2019 reports represent all MLS-listed residential real estate transactions in the state.  The metrics do not include "For Sale by Owner" transactions or all new construction.
The Denver-metro region statistics reflect the seven-county area comprised of: Adams, Arapahoe, Boulder, Broomfield, Denver, Douglas and Jefferson counties.
The complete reports cited in this press release, as well as county reports are available online at: https://coloradorealtors.com/market-trends/
###
CAR/SHOWING TIME RESEARCH METHODOLOGY
The Colorado Association of REALTORS® (CAR) Monthly Market Statistical Reports are prepared by Showing Time, a Minneapolis-based real estate technology company, and are based on data provided by Multiple Listing Services (MLS) in Colorado.  These reports represent all MLS-listed residential real estate transactions in the state.  The metrics do not include "For Sale by Owner" transactions or all new construction.  Showing Time uses its extensive resources and experience to scrub and validate the data before producing these reports.
The benefits of using MLS data (rather than Assessor Data or other sources) are:
Accuracy and Timeliness – MLS data are managed and monitored carefully.
Richness – MLS data can be segmented
Comprehensiveness – No sampling is involved; all transactions are included.
Oversight and Governance – MLS providers are accountable for the integrity of their systems.
Trends and changes are reliable due to the large number of records used in each report.
Late entries and status changes are accounted for as the historic record is updated each quarter.