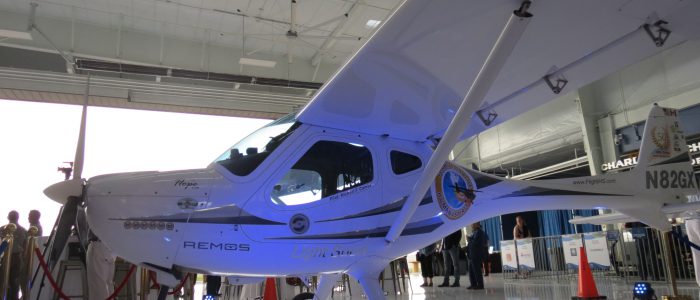 First CAR Foundation "REALTOR® Appreciation Day" a Success
On July 31, more than 300 REALTORS® gathered at Wings Over the Rockies Blue Sky Aviation Gallery at Centennial Airport to raise money for the CAR Foundation, award grants to organizations that provide safe and affordable housing for low-income Coloradans, and to celebrate the Foundation's successes.
Since it was established in 1991, the Foundation has helped raise over $7.8 million. The event helped raise over $11,000 for the Foundation and it presented $60,000 in grants to the following organizations:
Colorado Homeless Families – Arvada: $7,500
Colorado Veterans Resource Coalition – Colorado Springs: $6,500
Family Promise of Greater Denver – Denver: $6,500
Foothills United Way – Lafayette: $6,500
Greeley Transitional House – Greeley: $6,500
Habitat for Humanity of Vail Valley – Avon: $6,500
HomesFund – Durango: $6,000
Neighbor to Neighbor – Fort Collins: $7,500
Tri-Lakes Cares – Monument: $6,500
Additionally, the Foundation recognized REALTOR® Beverlee Henry Fullerton, who helped establish the Foundation, with the first CAR Foundation Champion Award.
The highlight of the evening was the keynote address by former REALTOR® and pilot Michael Combs. With his REMOS light sport plane dubbed "Hope One" in the background, Combs described overcoming a serious illness in 2003 that almost took his life, and then finally pursuing his lifelong dream of becoming a pilot. In April 2010, Combs took off from Salinas, KS in Hope One. Over two years, Combs' "Flight for the Human Spirit," took him to all 50 states and British Columbia – more than 250 stops over 58,000 miles. He has since set six world flying records. Combs' told REALTORS® Wednesday night that "It's never, ever too late to follow your dreams."
Thank you to the following sponsors who helped make REALTOR® Appreciation Day possible:
$10,000
State Farm – Roger Mangan Agency
$4,000
Kentwood Real Estate
$2,500
Metro Brokers Elite
Liv-Sotheby's
Team Liberty, LLC
$2,000
1ST Bank
RE Colorado
RE/MAX Professionals
$1,000
1031x.com
Allstate – Walker Family Insurance
Aspen Board of REALTORS®
Beyond the Mark Foundation
Boulder Area REALTOR® Association
The Buy Out Company
Denver Metro Association of REALTORS®
Colorado Association of REALTORS®
Katia de Orbegoso – RE/MAX Edge
Keller Williams DTC
Kentwood
Land Title Guarantee Company
Loveland-Berthoud Association of REALTORS®
The Matthias Group
Metro Brokers Real Estate
Modus Real Estate
Moore-Neiderman Foundation
RE/MAX of Boulder
RE/MAX Edge
South Metro Denver REALTOR® Association
Windermere Real Estate
$500
Blue Ribbon Home Warranty, Inc.
ERA Shields Real Estate
Fidelity National Title
The Knoll Team
Modus Real Estate
RE/MAX Alliance
$250
Built Right Construction
Frascona Joiner Goodman & Greenstein PC
Media Max Photography Agency
Sunnyside Builders, LLC
Unified Title Company
Under $250
Crystal Clear Solutions
Jace Glick – RE/MAX Alliance
Metro Brokers Palmer Properties
Van Westenberg Partners, Inc.