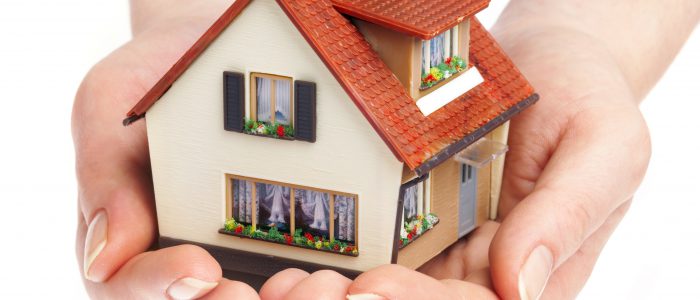 Hot or Not? Depends on Local Market Down to the Neighborhood
July housing sales strongest in years for select local markets while falling interest rates can't overcome long-term inventory issues
Contact: Marty Schechter
for CAR
marty@schechterpr.com
ENGLEWOOD, CO. – Aug 12, 2019 – With falling interest rates and less expensive mortgages, sales of single-family homes were strong in select local markets, including a record-setting month in Colorado Springs, but fell off overall from June to July in both the Denver metro area (-3 percent) and statewide (-2.4 percent), according to the latest monthly market data from the Colorado Association of REALTORS®.
The condo/townhome market went the opposite direction from June to July with sales increases of 3.8 percent in the seven-county metro area and 8.5 percent statewide. Although mortgages became cheaper, median housing prices remained flat for single-family homes and increased slightly for condo/townhomes both metro-wide and statewide.
The overall months of inventory supply fell off from June to July in all product types and buyers in many markets across the state continue to demonstrate a bit more patience with average days-on-the- market statistics ticking up slightly. On the other side of the deal, sellers are working hard to ensure properties are priced appropriately to move in a timely fashion even though the overall inventory of active listings fell off from June to July for both single-family and condo/townhome properties.
Bottom line, the undersupply of housing, a long-term trend across the state's housing markets, continues to be a major factor for potential buyers to take advantage of falling interest rates and improving mortgage payments.
Taking a look at some of the state's local market conditions, Colorado Association of REALTORS® market trends spokespersons provided the following assessments:
AURORA/CENTENNIAL
"Holding steady seems to describe the Aurora market best. Inventory is down slightly from July 2018 and prices are up about 4 percent from a year ago. The median price for a single-family home is $395,000, which is up from the June 2019 median price of $385,000. The Aurora townhome/condo market is seeing about a 22 percent increase from 2018 with a median price of $253,500. Of course, real estate is all about location. The city's 80016 zip code is seeing an 11 percent decrease in inventory with a slight increase in price. The median price for a single-family home is $553,500. In comparing various zip codes, the July 2019 median price for 80015 was $413,450 and 80013 delivered a median price of $365,250. The zip code to watch is 80010 with a median price of $310,000 for July 2019, up 4.6 percent from July 2018.
"Centennial is also holding steady with inventory the same as a year prior and the median single-family home price down just 1 percent. The median price home in Centennial will cost a buyer $480,000 and is on the market an average of just 25 days. The condo/townhome market is seeing a 10 percent increase in the median price from July 2018 at $310,000. With interest rates still at very low levels, this is still a great window of opportunity for home buyers," said Aurora-area REALTOR® Sunny Banka.
BOULDER/BROOMFIELD
"It's like time has stopped in Boulder County. New listings keep popping up (10.2 percent more than July 2018), but sales are hovering at the same numbers as last year and prices haven't moved but an inch. Overall, prices are trending downwards, but not significantly. Days on the market remain strong at 45 days (same as last year) but on the street, the market seems sluggish, especially in the higher price points. Townhomes and condos have taken a bigger hit with prices down 3.2 percent and days on the market moving upward at 59 days. Price reductions are common as buyers sit and wait to see what will happen next.
"Things are moving and shaking in Broomfield County. Listings are up 22 percent and sales are following suit, up 18 percent. Houses are selling in approximately 31 days, so as quickly as they are listed they are snatched up. In spite of all the activity, prices remain even with last year. Inventory is tight for townhomes and condos, which has moved the prices up about 3.5 percent. They are also moving quickly – 24 days on average. Affordability may be what is keeping this market healthy, for the moment," said Boulder-area REALTOR® Kelly Moye.
COLORADO SPRINGS/PIKES PEAK AREA
"In stark contrast to some areas of the country and our state, July 2019 was a record-setting month for the Colorado Springs area housing market for single-family homes. Even with the lowest level of active listings, July 2019 recorded the highest number of monthly home sales, monthly sales volume, year-to-date sales volume, average sales price, and median sales price compared to any month of July on record. The average days on market were 23 days, with the sales price to list price ratio at 100 percent. Our average, sales price was $372,607, the median sales price was $332,000, and supply of inventory was 1.3 months. Even in a record-setting real estate market, buyers generally purchase properties offering competitive values. Unsurprisingly, 41 percent of the El Paso County and 50 percent of the Teller county active listings in the Pikes Peak MLS had price reductions.
Last month, 86.2 percent of the single-family homes sold through Pikes Peak MLS were priced under $500,000, 11.2 percent between $500,000 and $800,000, and 2.6 percent were priced over $800,000. A comparison of the 2019 with 2018 single-family/patio homes sales, from January through July, showed that there was a 19 percent drop in the number of sales of properties priced under $300,000, a nice 21 percent increase in $300,000 to $400,000 price range, a modest 4 percent increase in $400,000 to $500,000 price range, a huge 26 percent increase in $500,000 to $600,000 price range, absolutely no change in $600,000 to $1 million price range, and a whopping 24 percent increase in home sales priced over $1 million. The most restrictive aspect of the Colorado Springs area housing market remains the low inventory and affordability challenges due to ever-soaring prices," said Colorado Springs-area REALTOR® Jay Gupta.
"Ask a local REALTOR® if we have seen a market shift, they would likely respond, 'Yes'. I would also guess that last year most of us felt the same way during this time period. With summer ending, vacations wrapping up and the school year about to start, it felt like there was a slow-down and less competition for properties. But the truth is, July continued the upward streak on prices, again. Overall, new listings were down and that put more pressure on the market. There continues to be low inventory and high demand and that continues to keep the market in the Pikes Peak Region humming along.
"Nationally, the news seems to show a different trend. The economy slowed down and that forced the FED into a interest rate decrease for the first time since 2008. This did bring down interest rates in housing to 3 year lows and that kept buyers engaged. Lenders are cheering the refi business that hit and I am sure the average consumer is loving the short-term rate decrease when it comes to credit card debts and anything else debt-related.
"Coming up, we need to keep watch on all aspects of the economy as murmurs of a 2020 recession grow. Another FED drop is being tossed about showing the FED is not secure in national economy. GDP dropped and the worldwide Central Banking Systems continues to lower rates and/or print money. Ultimately, the central banks will do anything to avoid recessions. So look for anything to be possible if economies continue to slow. So far, unemployment continues to be very low and that is a major plus for the housing industry and keeps the economy on stable ground," said Colorado Springs-area REALTOR® Patrick Muldoon.
DENVER
"Denver's real estate market appears to have hit an interesting pivot point in July 2019 as it appears the 'norms' we have been observing are indeed beginning to trend in different directions.
"During this month, more single-family homes sold than during the previous two years, 16 percent more, in fact, than just last year. Condos, too, sold more than the previous three Julys. This is a change from the year-over-year decreases we witnessed over the previous three years.
"Coupling that trend, there have actually been fewer new properties hitting the market than during the previous two years, 3.9 percent less than 2018 with the supply going up from 1.4 to 1.8 months' worth. While our median prices do continue their upward climb, 5.7 percent for single family over the previous year, the rate at which we observe the increase is dropping, no doubt a cause in the changes we observe in sales volume increases," said Denver-area REALTOR® Matthew Leprino.
"The July data tells an interesting story. I've been watching the Under Contract numbers for the past several months and Under Contracts have been up both Statewide and for the Metro Denver-area. July was no exception.. Under Contract Single family homes were up 11.8 percent and Townhouse-Condos were up 12.2 percent for the Denver Metro-area, looking at July 2018 compared to July 2019.
"I had anticipated that the increase in under contract properties over the past several months would translate to higher closed sales 30 to 60 days down the road and that has not been the case. Sold Listings in Metro Denver were up just 5.7 percent for single family homes and 4.6 percent for Townhouse-Condos. What does this mean? I believe it means several things. Sellers in today's market are willing to take more contingencies than they were over the past several years. Some of these contingencies are not being fulfilled, i.e. the contingent home is not selling, resulting in the property coming back on the market. Also because, buyers are feeling that they have more choices, even though inventory was slightly down, 1.8 percent, July 2018 compared to July 2019 for single family homes, but up significantly, 15.7 percent for townhouse-condos. Buyers are being more demanding in their inspection objections and Sellers are pushing back, again resulting in the property being returned to the market. We might assume that solds would keep pace with under contracts, but that has not been the case these past several months.
"Buyers, yes you have more opportunity than you've had in the past, but beware of getting over zealous. And Sellers, be mindful of your pricing and make sure you've evaluated your exposure to any contingencies you choose to accept. The help and expertise of a REALTOR® can help you navigate these somewhat unpredictable real estate waters," said Denver Metro-area REALTOR® Karen Levine.
DURANGO
"La Plata County year-to-date residential sales are down 3.9 percent compared to 2018, 578 sales compared to 601 in 2018. While the 2019 season was off to a slow start due to a late winter, the reduction in sales when compared to a year with a natural disaster of the 416 Fire is of some concern. Although the market is stable in La Plata County, REALTORS® are sensing buyer fatigue with concerns about paying too much and a sense there may be a change coming in the local market. In higher-end home segments, there are a greater number of buyers wanting wholesale pricing. Also of note, a much larger portion of 2019 sales are in condos/townhomes which are up 12.9 percent in number due to numerous new developments in 2019 boosting sales and the median price, which stands at $306,000," said Durango-area REALTOR® Jarrod Nixon.
ESTES PARK
"The Estes Park real estate market is showing major favoritism by consumers for townhouse/condos. Nearly every key metric is showing growth while single family homes are lagging behind. Year-to-date in townhouse/condos new listings are up 16.3 percent, average sales price climbed 21.3 percent to $358.972, closed sales are also slightly by 1.5 percent. While single family home stats aren't as impressive, year-to-date new listings are down 17.2 percent, closed sales -15.2 percent, even average sales price dropped 7.8 percent to $553,637 as compared to $600,678 in July 2018. The only metric that has increased is days on the market, up 15 percent, an increase from 80 to 92 days on average.
"Affordability of both townhouse/condos and single-family homes is a factor. With a steady increase of 1.2 percent and 3.5 percent for single family and townhouse/condo year-over-year to the index. Townhouse/condos are benefiting from affordability in the current market, but the average sales price of townhouse/condos is also inflating with the increased demand. In July 2018, the average sales price was $185,429, in July 2019 the average sales price was $371,432, this is a 100.3 percent increase. All this while single family homes were reducing their average sales price from $630,808 in July 2018 to $518,268 in July 2019, a 17.8 percent dip. Low mortgage rates could help affordability and boost the real estate market, as unemployment has dropped as well. Yet it seems that home prices are gaining faster than household income. With the federal reserve reducing the benchmark interest rate to about 2.25 percent, a quarter point lower, this may assist the consumer who may be trying to decide to purchase, or now able to purchase an upgrade, allowing more inventory for the potential buyer seeking more affordable housing choices," said Estes Park-area REALTOR® Abbey Pontius.
GOLDEN/JEFFERSON COUNTY
"The Jefferson County market continues to move closer to a balanced market. Sellers on some homes may still receive multiple offers, however, it's likely to be two offers instead of 10 offers as seen in the past. To receive multiple offers, the home needs to be in great condition and have a great location. For single-family homes the increase in listing is up by 4.8 percent and this is also bringing the market more into balance. The median sales price of $490,00 is up 4.3 percent from this time last year.
"Looking at townhomes/condos, there is a significant uptick in new listings with an increase of nearly 10 percent with the median sales price decreasing from this time last year to $287,500. The days-on-the-market have also increased to 22 days from 11 days this time last year.
"Golden has seen a significant amount of development this year and new townhomes/condos are being built throughout the city. Most of these properties are high-end and come with a lofty price tag. Watching to see how the market will absorb all these new townhomes/condos and if they will need to adjust the prices," said Golden-area REALTOR® Barb Ecker.
GUNNISON COUNTY/CRESTED BUTTE
After several years of declining inventories and increasing prices, dollar volumes, and sales activity, 2019 seems to be leveling off. The number of sales year-to-date is down 28 percent while the dollar volume is about the same (up about 3 percent). Several large sales this year contributed to this difference. Inventory is increasing, albeit slowly, and although we've had some significant sales, there are several years of inventory remaining in the luxury market. Sellers are looking at the past few years where every sale set a new level, so asking prices are high, but buyers seem to be unwilling to pay more than previous sales in many cases. The lower end residential market starts about $100,000 higher than it did just a few years ago, so entry-level buyers are having a tough time getting started.
"There is a lot of vacant land available in Gunnison County and the building industry is robust. Most homes are for the end user but there are some spec homes being built. No large projects have started but with Vail purchasing the ski area, developers are looking ahead to increased visitors and potential so it's likely that there will be some starting in the near future.
"While the prospect of a recession and nationwide slowing of the housing market loom, the future is bright in Crested Butte and Gunnison as we anticipate a growing winter season due to Vail's investment in the resort and marketing," said Gunnison County-area REALTOR® Molly Eldridge.
PUEBLO
"Pueblo July housing numbers are both up and down. New single-family listings were down 15.7 percent from July 2018 and active listings (408) were down 21.5 percent from July 2018. Pending sales were up 12.4 percent from last year and sold listings were up 2.5 percent. The median price of a single-family home also rose 10.6 percent to $215,000. Our average days-on-market increased 15.9 percent to 73 days.
The percent of list price received dropped a little to 98.8 percent but there are very few homes to show under $200,000. We are still seeing more and more people from Colorado Springs and Denver moving to the Pueblo area, but we also continue to suffer from low inventory and not enough new construction. The lower interest rates should provide a little boost in sales in the months ahead," said Pueblo-area REALTOR® David Anderson.
TELLURIDE
"The Telluride market is heating up. July sales were up 29 percent in the dollar amount of sales and flat in the number of sales. Sales this year are down 10 percent in dollars and down 8 percent in the number of sales, but that is an improvement from the last couple of months. A $27 million dollar ranch went under contract this morning that is scheduled to close in November. We'll keep you posted on that one. A Telluride home closed for $7.625 million at $1900+ dollars per square foot, a new record for our region. The next closest sales price was $1400+ dollars per square foot making this new sale an 'outlier' comparable. That just means a fluke sale and probably not a reliable comparable. However, there are some sellers that will try to get even higher prices for their homes than the market has supported so far and they will forget the lower sale prices happen more often.
"The Town of Telluride average home prices per square foot are almost double those of the Mountain Village prices per square foot. This big movement in higher prices is forcing some buyers to look for properties fifteen to thirty minutes out of town and is starting to push prices up in our rural markets too. Historically, August and September sales are strong meaning that our market could easily catch up to last year's sales. It doesn't hurt that Telluride, the Mountain Village, and surrounding mesas have never looked more lush and beautiful due to the tremendous snow pack from this winter and our summer rains," said Telluride-area REALTOR® George Harvey.
VAIL
"We are halfway through the summer season and have been enjoying a nice bounce back in the housing market. Pending transactions are positive 47 percent versus July 2018 and sales are plus 15.5 percent for the same period. This is an expected response to our seasonality, however, it has shown more vibrance than might have been predicted and pending sales look very positive for the balance of the summer season. The actual sales units year-to-date are only 16 units behind 2018. The top of our pricing niches represents 12 of those 16 sales which is a 25 percent decline for that sector. Thus, the balance of the market is essentially flat on transactions.
"On the dollar comparison of the market, we have a $75 million decline year-to-date in the total market which is approximately 9 percent. The top segment is down $113.5 million which accounts for the entire decline thus, we would be looking at an estimated 4 percent positive in the balance of the market. This trend began about nine months ago and continues.
"The other shadow on the market continues to be inventory in the key volume transaction segments. In the month of July, inventory of new listings was up 47 percent from July 2018 but is still down in total inventory by 14 percent versus same period a year ago. This translates to a negative months of inventory supply of 9.6 percent. This continues to be an impediment and the horizon for potential increases is still cloudy," said Vail-area REALTOR® Mike Budd.
Sold Listings – Denver Metro area (Adams, Arapahoe, Boulder, Broomfield, Denver, Douglas and Jefferson counties)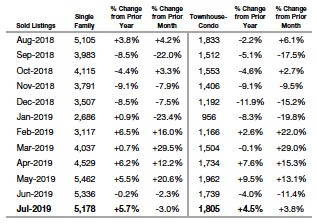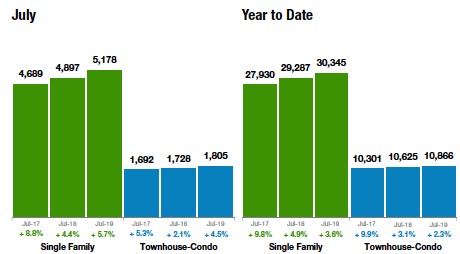 Sold Listings – Statewide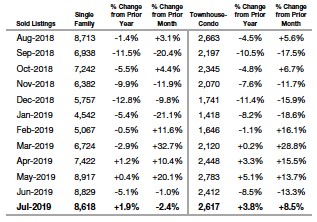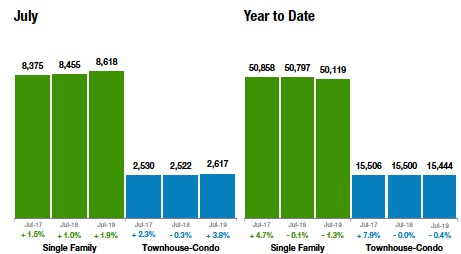 Median Sales Price – Denver Metro area (Adams, Arapahoe, Boulder, Broomfield, Denver, Douglas and Jefferson counties)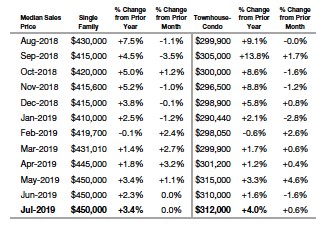 Median Sales Price – Statewide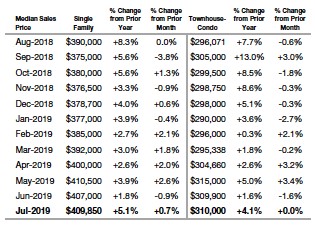 Inventory of Active Listings – Denver Metro area (Adams, Arapahoe, Boulder, Broomfield, Denver, Douglas and Jefferson counties)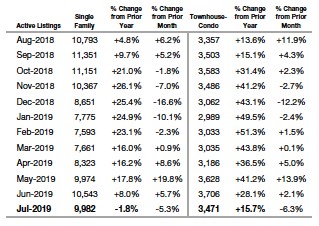 Inventory of Active Listings – Statewide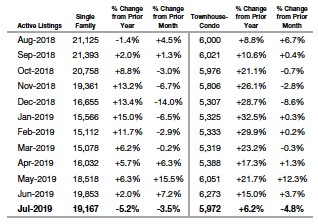 The Colorado Association of REALTORS® Monthly Market Statistical Reports are prepared by Showing Time, a leading showing software and market stats service provider to the residential real estate industry and are based upon data provided by Multiple Listing Services (MLS) in Colorado. The July 2019 reports represent all MLS-listed residential real estate transactions in the state. The metrics do not include "For Sale by Owner" transactions or all new construction.
CAR's Housing Affordability Index, a measure of how affordable a region's housing is to its consumers, is based on interest rates, median sales prices and median income by county.
The complete reports cited in this press release, as well as county reports are available online at: https://coloradorealtors.com/market-trends/
###
CAR/SHOWING TIME RESEARCH METHODOLOGY
The Colorado Association of REALTORS® (CAR) Monthly Market Statistical Reports are prepared by Showing Time, a Minneapolis-based real estate technology company, and are based on data provided by Multiple Listing Services (MLS) in Colorado. These reports represent all MLS-listed residential real estate transactions in the state. The metrics do not include "For Sale by Owner" transactions or all new construction. Showing Time uses its extensive resources and experience to scrub and validate the data before producing these reports.
The benefits of using MLS data (rather than Assessor Data or other sources) are:
Accuracy and Timeliness – MLS data are managed and monitored carefully.
Richness – MLS data can be segmented
Comprehensiveness – No sampling is involved; all transactions are included.
Oversight and Governance – MLS providers are accountable for the integrity of their systems.
Trends and changes are reliable due to the large number of records used in each report.
Late entries and status changes are accounted for as the historic record is updated each quarter.
The Colorado Association of REALTORS® is the state's largest real estate trade association representing more than 26,500 members statewide. The association supports private property rights, equal housing opportunities and is the "Voice of Real Estate" in Colorado. For more information, visit https://coloradorealtors.com.