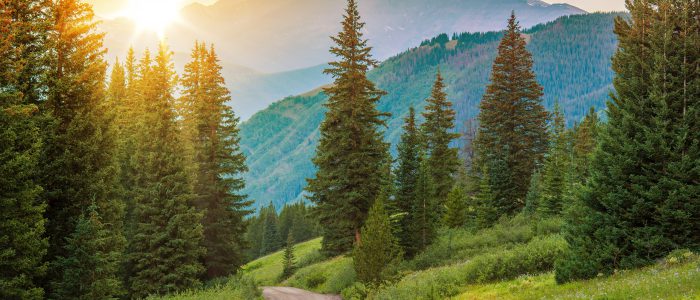 Lessons Learned From Two Forks Applied to Expansion of Gross Reservoir
By Jeff Martin, PE, Project Manager, Denver Water Engineering Division
COLLABORATIVE APPROACH WILL BENEFIT WATERSHEDS ON WESTERN AND EASTERN SLOPES
Denver Water's Gross Reservoir Expansion Project will raise the dam 131 feet; nearly tripling the capacity of a reservoir that plays a vital role in its ability to reliably provide water to 1.4 million people in Denver and many of its suburbs. Provided the remaining federal approvals come soon and lawsuits are resolved, the project is slated to be complete in 2025 at a cost of $464 million.
Along the way, this project will also create what the Colorado Department of Public Health and Environment described as a net environmental benefit to state water quality by generating a wide range of environmental improvements to streams, river flows and aquatic habitats.
A PROJECT BORN OF HARD LESSONS
In the early 1970s, Denver Water proposed building a dam called Two Forks at the confluence of the north and south forks of the South Platte River, southwest of Denver.
In 1990, the Environmental Protection Agency vetoed the Two Forks Dam, finding it would violate the Clean Water Act. At Denver Water, the decision forced the organization to re-examine its approach to all projects.
"We knew we were going to have to do business differently," said Denver Water CEO/Manager Jim Lochhead. "Collaboration and environmental stewardship would now move to the forefront of every project we pursue."
Environmental groups and project opponents at the time of the Two Forks controversy advocated for more conservation, water reuse and raising an existing dam — Gross Dam in Boulder County — rather than building a new one.
Denver Water embraced those suggestions and now has an industry-leading water efficiency program, a recycled water plant and, as is the case with raising Gross Dam, responsibly sources new supply.
IMPROVING BALANCE, RESILIENCY
Expanding the reservoir is critical to safeguarding the reliability of Denver Water's collection and storage system. Gross Reservoir is located on the north end of the utility's network. Because the north end provides just 10 percent of Denver Water's storage, expanding Gross Reservoir will bring greater balance and help ensure enough supplies should wildfire or other natural disasters disrupt or disable parts of the southern system.
And that's not just a theoretical concern. Major forest fires in 1996 and 2002 wreaked havoc on the southern end of Denver Water's storage system, clogging reservoirs with debris and making clear that the north end, with its far more limited storage capacity, can't bear the burden alone in future disasters. Enlarging capacity on the north end will help ensure dependable water supplies for the utility's customers.
The additional storage capacity not only offsets the imbalance in the storage system, but will help prevent future shortfalls during droughts, a growing concern in semi-arid Denver and across Colorado.
COLLABORATION, NOT COMPETITION
As part of its commitment to developing projects in a collaborative way, Denver Water will fund and/or participate in dozens of environmental projects across multiple watersheds at a cost of more than $20 million.
Examples of collaboration are shown — in part — by successful stream restoration projects in Grand County that are enabled by group of stakeholders called Learning By Doing. LBD includes representatives from Denver Water, the county, Colorado Trout Unlimited and other local water users who chose cooperation and collaboration over conflict.
Environmental benefits are not limited to the western side of the Continental Divide. Denver Water, in partnership with the cities of Boulder and Lafayette, will provide space for a 5,000-acre-foot environmental pool in the enlarged reservoir. This provides those partners with an opportunity to use their water to help manage and improve stream health in South Boulder Creek, below Gross Dam.
"Right now, South Boulder Creek below Eldorado Springs is often dried up completely during the winter," said David Nickum, executive director of Colorado Trout Unlimited. "By working with Denver Water, Boulder, and Lafayette can deliver water through that river down to their points of diversion. That's another place where we can see a river that has been dried up actually restored with flows."
ECONOMIC BENEFITS AND CONTRACTING
The 2014 Final Environmental Impact Statement concludes impacts to employment and business activity would be positive. A look into the details reveals direct and induced effects, the latter being "impacts created by the direct effects, such as expenditures of the direct employees circulating in a given local economy generating other expenditures, employees and personal income. Adding direct to induced effects arrives at total effects or impacts."
At its peak, the project will create more than 150 jobs at the site in Boulder County. Approximately 120 additional jobs per year will be created as a result of the construction in different industries within the Denver Metropolitan area.
Local annual income generated from construction activities — both direct and induced — would equal more than $12.5 million.
Induced sales of goods and services would result from workers and induced employees spending. Over the life of the construction activities, it is estimated that $62 million a year would be spent on goods and services.
Denver Water is in the final stages of negotiation to add a construction manager and general contractor to the project management team. Interested subcontractors can join our notification list by filling out our contractor interest form at grossreservoir.org/construction.
SEEING IT THROUGH, THE RIGHT WAY
If the current schedule holds, the Gross Reservoir expansion will hit the finish line more than 35 years after the veto of Two Forks. In all, decades of patience, collaboration and earnestly addressing the environmental impacts of a large project have been key.
"Bottom line, the environmental commitments are significant points of pride for us," said Lochhead. "They — along with the relationships we've built during the 15 years of this project's development — are part of Denver Water's promise to be a responsible community partner and to do the right thing. We're proud that this project will help us achieve our goals of providing a secure water supply for our customers while providing net environmental benefit to state water quality."
For this article and more, please see CAR's July 2019 Colorado REALTOR® Magazine by clicking here.