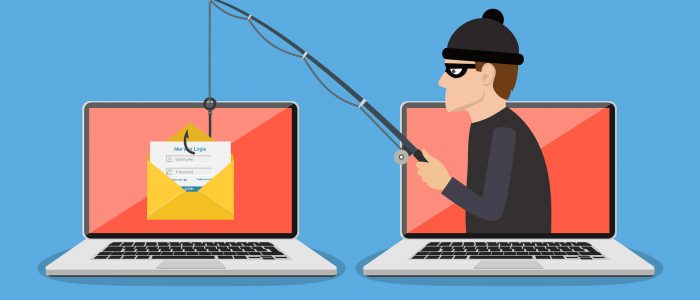 Be On the Lookout for Coronavirus Scams
As the world's attention is focused on the Coronavirus pandemic, scam artists have been coming out of the woodwork to target unsuspecting consumers, including right here in Colorado.
Earlier this week an email was sent out by a Washington state congressional candidate, Joshua Collins, asking people to sign a fake petition urging Gov. Jared Polis to suspend mortgage, rent, and utility payments during the Coronavirus pandemic (see image below). This is not a real petition, but a phishing scam in order to obtain the personal information and send recipients campaign emails and text messages.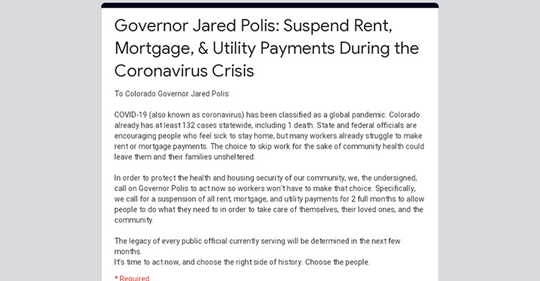 These bad actors have used a variety of other methods, including iPhone giveaways sent via text, crowdfunding, and even selling "cures."
The Federal Trade Commission offers the following tips to avoid Coronavirus scams:
Don't click on links from sources you don't know. They could download viruses onto your computer or device.
Watch for emails claiming to be from the Centers for Disease Control and Prevention (CDC) or experts saying they have information about the virus. For the most up-to-date information about the Coronavirus, visit the Centers for Disease Control and Prevention (CDC) and the World Health Organization (WHO).
Ignore online offers for vaccinations. There currently are no vaccines, pills, potions, lotions, lozenges or other prescription or over-the-counter products available to treat or cure Coronavirus disease 2019 (COVID-19) — online or in stores.
Do your homework when it comes to donations, whether through charities or crowdfunding sites. Don't let anyone rush you into making a donation. If someone wants donations in cash, by gift card, or by wiring money, don't do it.