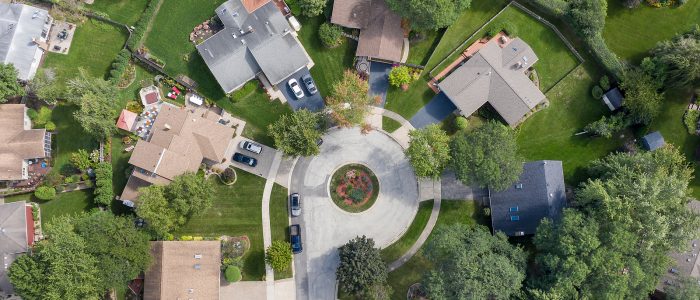 New Month, New Records Across Colorado Housing Markets
Pending Sales and Median Price hit all-time highs while Active Listings fall nearly 50 percent from a year ago
Marty Schechter for CAR
303-882-4585 cell marty@schechterpr.com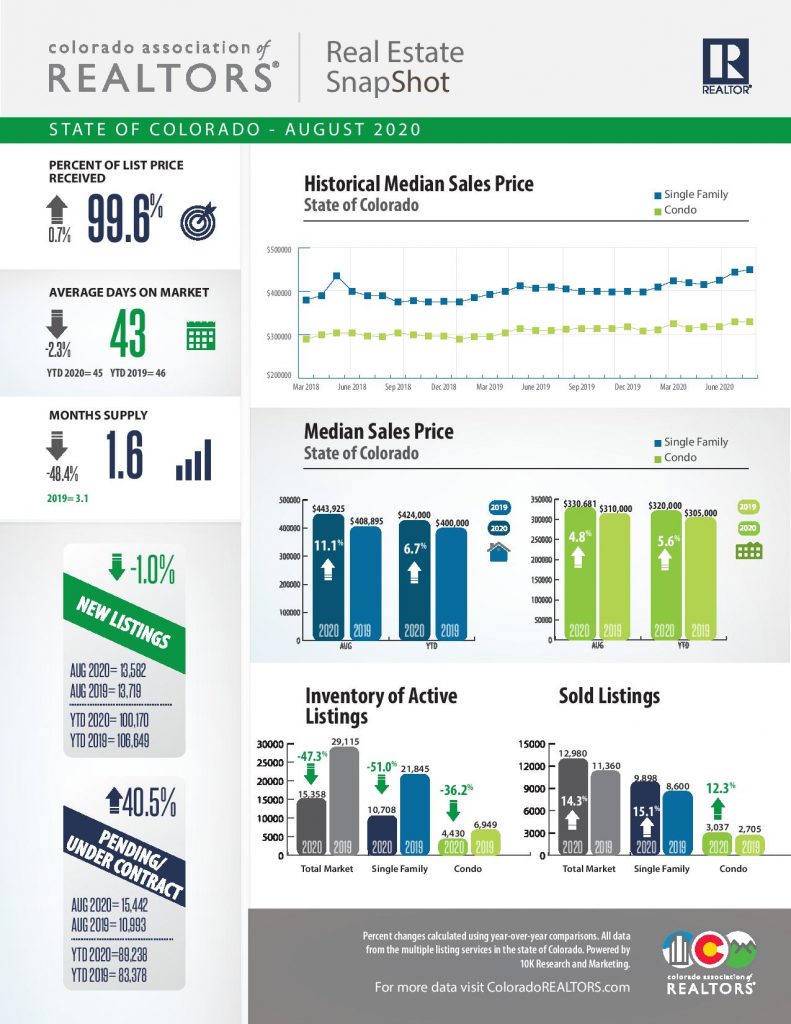 ENGLEWOOD, CO – Sept. 11, 2020 – In addition to record high temps throughout the month of August, the statewide housing market continued its hot streak as well, setting new records for pending/under contract properties and median sales price while the inventory of active listings and months supply of inventory for single-family homes fell to record lows statewide, according to the latest monthly housing data from the Colorado Association of REALTORS® (CAR).
For the third time in the past four months, the number of pending/under contract homes in Colorado hit a new record high. The 11,621 single-family homes and 3,759 townhome/condos under contract statewide in August represent a more than 40 percent increase over August 2019. Although the 13,582 new listings helped offset the continued strong demand from buyers, it was not nearly enough to keep the median pricing for single-family homes from hitting an all-time statewide high at $450,000, as well as an all-time high for the seven-county Denver metro area at $492,500, up 11 percent from a year prior.
Further complicating market conditions, August delivered a nearly 50 percent dip in the inventory of active listings across the state, 15,358 compared to 29,115 in August 2019. The numbers also pushed the months supply of inventory down another 20-plus percent to 1.5 months. That figure is down more than 50 percent from a year ago and sets a new record low for single-family homes statewide.
Pending/Under Contract – Denver Metro area (Adams, Arapahoe, Boulder, Broomfield, Denver, Douglas and Jefferson counties)

Pending/Under Contract – Statewide

Inventory of Active Listings – Denver Metro area (Adams, Arapahoe, Boulder, Broomfield, Denver, Douglas and Jefferson counties)
Inventory of Active Listings – Statewide
Taking a look at some of the state's local market conditions, Colorado Association of REALTORS® market trends spokespersons provided the following assessments:
AURORA
"If you didn't learn the principles of supply and demand in school, the lesson will quickly be learned in today's home-buying process as buyers continue to lose out on multiple homes not fully realizing the incredible demand in our market. Inventory in Aurora is down 55.8 percent over 2019. Strong demand, coupled with lack of inventory, drove prices up again in August more than 9 percent where the median price hit $425,000. The townhome and condo market is experiencing much of the same demand, with inventory down 42.5 percent and a median price of $265,500. Some zip codes in Aurora have been hit harder than others. For example, 80015 (Southeast Aurora) experienced a 71 percent drop in inventory and prices are up almost 10 percent over last year.
"Centennial is showing much of the same with supply and demand issues, pushing inventory down 63.6 percent and driving prices up 10.2 percent to a single-family median price $537,000. In the condo/townhome market, inventory is down 69 percent and the median price is now $324,000.
"In past August/Sept. timeframes, we have seen a dip in demand, but that is not the case this year. Perhaps it is due to the COVID-19 issues we experienced earlier, or it might be the low interest rates. It seems that we are seeing many of our younger people that can get into homeownership, taking advantage of the low interest rates and working to avoid the expensive rental market," said Aurora-area REALTOR® Sunny Banka.
BOULDER/BROOMFIELD
"In Boulder and Broomfield counties, homeowners are deciding if they can't be in the home they love, love the one they're with. They are sitting tight, hunkering down, and not listing their homes for sale. Remodeling their current homes is a popular trend as they try to navigate working and schooling from home. Listings in both counties are down between 10-15 percent from the beginning of the year, causing an inventory shortage for those buyers who are anxious to move and take advantage of low interest rates. The imbalance of supply and demand has caused prices to rise in both counties 4 percent from the beginning of the year. Homes that are priced right and show well are selling in under 46 days in Boulder County and a speedy 29 days in Broomfield. Bidding wars here are the norm, an unusual situation for a fall pre-election market. The typical fall slow-down is not being seen in these areas as our real estate trends are anything but typical in this interesting year," said Boulder/Broomfield-area REALTOR® Kelly Moye.
COLORADO SPRINGS/PIKES PEAK AREA
"Last month, the Colorado Springs-area housing market saw the lowest level of active listings of single-family/patio homes in the month of August ever. A measly 1,088 active listings of single-family/patio home for sale with 1,771 sales during the month represented a new metric of over 163 percent sales of the active listings. This acute short supply of homes is keeping buyers waiting on an hour-by-hour basis for the new listings to show up, then enter the fray to win the fierce bidding wars. Recently, I received 10 outstanding competing offers on one listing and seven on another with escalation clauses going way over the list price along with significant amounts for covering appraisal gaps.
"August 2020, reached the highest level of monthly and year-to-date sales, monthly and year-to-date sales volumes, as well as the highest level of average and median sales prices, compared to any August on record. The home sales activity saw a 15 percent increase in monthly sales, a 35 percent surge in the months' sales volume, a 13 percent increase in the year-to-date sales volume, 17 percent increase in the average sale price, and 15 percent increase in the median sale price. The average sale price rocketed to $435,922, and the median sale price soared to $380,000. All of this while, alarmingly, active listings shrunk by more than 51 percent.
"Looking back 5 years and comparing single-family/patio homes sales in August 2015 with August 2020, monthly and year-to-date sales are up 28 and 21 percent, respectively. Monthly sales volume spiraled 104 percent, year-to-date sales volume soared 82 percent, median and average sales prices climbed 57 and 60 percent, respectively. All of this escalation took place while active listings plummeted by over 68 percent.
"Last month, 76.6 percent of single-family homes sold were priced under $500,000, 18.7 percent were between $500,000 and $800,000, and 4.7 percent were priced over $800,000. Year-over-year, there was 45 percent drop in the sale of single-family homes priced under $300,000, primarily due to the inventory shortage, while a 78 percent increase in homes priced between $400,000 and $600,000, over 53 percent increase in homes priced between $600,000 and $1 million, and 37 percent in homes priced over $1 million.
"Even in a strong real estate market, buyers generally purchase properties offering competitive values. Unsurprisingly, 12 percent of the El Paso County and 14 percent of the Teller County active listings in the Pikes Peak MLS had price reductions.
"Sadly, pathetically low inventory and affordability challenges due to ever-soaring prices continue to be the most problematic aspect of the Colorado Springs-area housing market, especially for first-time homebuyers. Though the current level of escalated prices presents a daunting challenge for our local buyers, for buyers from the Denver area, our housing prices are still very attractive. As a result, we continue to see a steadily increasing interest of Denver buyers in our Colorado Springs listings," said Colorado Springs-area REALTOR® Jay Gupta.
"There has been a direct correlation between the drop-in inventory and the increase in pricing along the Pikes Peak Region. We saw active listings drop over 50 percent among all listings. As demand did not subside, even during COVID-19, prices continued to push up 14.1 percent among all properties in August, year-over-year. This played into an 18.2 percent drop for the average days on market for single-family homes. For each month that begins with fewer days on market, prices push up, and we see more competition among the buyers who are brave enough to go to war over homes in our area. There seems to be no reprieve on the way for a blistering hot housing market even as we approach fall.
"It is almost laughable to think that if a buyer missed out on a home in May, that they have been priced out of many markets in the last four months. Homes that were 'affordable' have become unaffordable in just a matter of months. Many buyers are finding out that, unless you are willing to go significantly above full price, add in appraisal gap coverage and toss in their first born, getting a home in these conditions may be impossible. Even with the first-born, buyers are losing out to other buyers who offer higher, give additional appraisal gap coverage and toss in the first two kids and a dog. Insane isn't even a word I can use for this market after losing seven offers in a row for a buyer who just four months ago missed out on a home by $1,000 and is now coming in $10-15,000 above asking and still missing out in the same subdivision.
"There's no doubt that sellers are reaping the benefits of this market. Placing a home on the market and knowing that buyers are going to give their best to get a home, is nice. Knowing that homes that price right will see multiple offers and a seller will have the luxury of picking the best offer for them is a seller's dream. A special closing date, timeline adjustments, free living and more are now being offered by buyers just to take a stab at getting into a home. As a seller you are going to get what you want, when you want it if you are in the most highly-needed price points. However, your plans need to include leaving town or you're going to get to experience the buyer frustrations mentioned above.
"The U.S. economy is in shambles by any measurements used. COVID-19 wrecked a strong GDP, record low unemployment and strong sales in almost every industry. But for now, housing along the Front Range mocks a failing economy by showing it is more resilient than a cockroach and harder to kill then the Terminator," said Colorado Springs-area REALTOR® Patrick Muldoon.
DENVER COUNTY
"One can't simply answer the question 'How's the market' anymore without inquiring the more specific 'which one' in context to Denver's real estate economy. While August continued the insatiable demand for the single-family home, the need for condos and townhomes takes a noticeable and drastically different course. Year-over-year, the median price appreciation for single-family has risen 11.2 percent while condos and other attached dwellings saw only a 2.2 percent increase. COVID-19 has likely had an impact but so too has the supply, or lack thereof, feeding those needs.
"August 2020 saw a 15 percent increase over last year's new homes reaching the market in the single-family category while only 3.9 percent more condos arrived on the market vs. last year. Both in line with the price increases as both still have marketing times of less than 30 days.
"Once the world's certainty on vaccination and people's appetite to density returns, one could assume the condo market will rebound in force. With 11.2 percent vs. a 2.2 percent price appreciation occurring within the same geographic market, expect a sharp increase in condo prices in the years to come as these two friends, generally speaking, like to follow similar paths up or down," said Denver-area REALTOR® Matthew Leprino.
DENVER METRO COMMERCIAL
"The commercial real estate market is a "mixed bag" of headlines right now. Many are concerned about lost tax revenue for schools as commercial real estate tenants impacted by the pandemic, not landlords, shoulder the responsibility of paying property taxes in most NNN leases. This concern is amplified, because commercial real estate, not including apartments, also accounts for 55 percent of the value allocation statewide and is taxed at a rate of 29 percent (vs. +/- 7 percent for residential/multifamily).
"CoStar Group, Inc., a major commercial real estate data company, reported today that COVID-19 has resulted in loan delinquencies exceeding $64 billion for Commercial Mortgage Backed Securities (CMBS) lenders.
"Most Colorado real estate brokerage activity came to an abrupt halt from March-May during Stay-at-Home and Safer-at-Home orders due to a "black swan event that created unpalatable uncertainty for investors." Several of my colleagues at commercial real estate firms shared anecdotally that they took extended vacations, both literally and figuratively.
"Sales activity has picked back up in the multifamily arena as a response to the expiration of the IRS 1031 Exchange relief that moved all Identification Deadlines to July 15, 2020. Commercial real estate transactions are typically in escrow twice as long compared to residential, which is why sales activity appears to be trending upward in the 3rd quarter.
"In 2019, Denver experienced approximately $600 million in multifamily sales, representing about 13 percent of Denver's apartment stock, according to CoStar research. 2019 was the 9th consecutive year that more than 10 percent of Denver's multifamily inventory traded hands. We are waiting with baited breath to see how the statistics fare for the rest of 2020," said Denver-area Commercial REALTOR® Kyle Malnati.
DURANGO
"With our real estate market delayed by the COVID-19 shutdown earlier this year, La Plata County and Durango are now smack dab in the middle of what feels like a summer market, our busiest time of year. August numbers showed the closings from the frenzy of purchases in July. September may be slowing from the frenzy, but we still have a solid stream of buyer activity hitting the market.
"With August sales crushing 2019 numbers, Durango and La Plata County are far surpassing YTD total number of sales from 2019. If current pending sales close, that gap will be even more significant. August sold listings were up 25 percent for single family over 2019, and 54 percent for condo/townhomes. Year-to-date total number of sales residential combined are up 7.9 percent.
"With 46 percent less inventory of homes currently for sale than in August 2019, we are in a strong seller's market. Our median is climbing at a healthy 4.2 percent for single family year-to-date. Even with 21 percent more sales in the $1 million plus market this year, there are fewer sales in the higher end in our county than in other price brackets and the higher end sales don't skew the median much.
"We expect the current market to continue at least into mid-fall, if not later before slowing down significantly in our winter months," said Durango-area REALTOR® Jarrod Nixon.
ESTES PARK
"Larimer County is showing no signs of stalling out, now or anytime soon, as single-family homes sell quickly. Compared to August 2019, we've seen a nearly 5 percent drop in the average days-on-market and a dip of 3.3 percent year-to-date. Our average sales price continues to climb going from $478,306 at this time last year to $529,701, a 10.7 percent increase. Year-over-year single-family homes have increased 3.9 percent in average sales price however, the inventory of homes has not increased. New listings are down 12.9 percent from August last year, and down 3.5 percent compared to last year-to-date. The months supply of inventory is ever dwindling and making for tight and competitive transactions and pushing the list price received to 99.5 percent.
"The townhouse/condos market, which was going so strong last year and the beginning of this year, has started to experience some growing pains. Inventory is not keeping pace with demand, yet these properties are sitting on the market a little longer with single-family homes going from an average of 60 days in August 2019 to 88 days-on-market this past month, a staggering 46.7 percent increase. New listings are down 8 percent compared to this time last year and are negative 10.3 percent year-to-date. Year-to-date townhouse/condos have lengthened 18.5 percent to 96 days. The outlook for sales price and percent of list price received is steady and increasing. Average sales price has increased 9.5 percent over August 2019, going from $315,220 to $345,115. Percent of list price received has also increased, but not notably at 0.2 percent growth over August last year, and a negative 0.2 percent year-to-date. The percent of list price received is a healthy 99.3 percent," said Estes Park-area REALTOR® Abbey Pontius.
FORT COLLINS
"What do the monthly numbers for August tell us about the housing market for the greater Fort Collins area? The headlines will talk about the 8.5 percent increase in median price, the 10 percent increase in the number of closed sales and the astounding 41 percent drop in active listings. While these are all noteworthy statistics, a deeper dive may be worthwhile to illustrate some dynamics at play that should not be overlooked.
"The luxury home market is typically defined by those homes in the top 10 percent of purchase price in a given area. In Fort Collins, that category starts at $650,000 and goes up to over $2 million. When you look at the year-over-year numbers in this category, it is striking how robust this segment of the market has become. Collectively, the $650-plus market has seen a more than 20 percent increase in homes sold compared to the previous year. In contrast, the number of homes sold in the sub-median price range has dropped 13 percent and available listings for sale in this sub-median price has dropped more than 70 percent. Clearly, there aren't enough homes available at the sub-median price to meet demand. At the high-end, ridiculously low interest rates are providing move-up sellers an opportunity to cash-in equity in their current home and use the increased buying power of low interest rates to purchase a home with some combination of more space, more land, and/or updated and attractive features and finishes.
"From a mathematical standpoint, the effect of a robust luxury market is illustrated in the average sales price, which in Fort Collins was over $520,000 for the month of August. That's a $60,000 swing from the August median price of $460,000. While there were an equal number of homes sold below and above $460,000, the number of homes closing at the high-end of the price continuum are helping to drive these figures higher.
"Given the current status of the financial sector with interest rates remaining at these historic lows, now may be one of the best times to leverage accumulated equity in your existing home and realistically pursue the home of your wildest dreams," said Fort Collins-area REALTOR® Chris Hardy.
FREMONT AND CUSTER COUNTIES
"Listings are down, and sales are up, it's the tune of the modern real estate broker. Custer County new listings in August 2020 compared to 2019 are down 18.2 percent and sales are up 10.5 percent. Year-over-year listings are down 10.7 percent while sales rose 18.5 percent. This crazy cycle is only fun if you are ready to sell and already have a home to move into. The year-over-year increase in the average sales price of a home in Custer County is up over 38 percent. Some might think more people would take advantage of the profit, but the low interest rates are enticing people to stay put, some are refinancing and adding improvements. The cycle continues to drive the prices up, drive inventory down, and the process spins the heads of those that need to sell and buy.
"Fremont County real estate brokers sing the same song, 'Listings are down, sales are up.' Fremont County's new listings in August 2020 compared to August 2019 are down by a whopping 30.2 percent and sales are up 26.7 percent, while new listings year-over-year are down 11.6 percent, sales are close to even with just a 1.3 percent drop. The average sale price of a home here in Fremont County comes in at an affordable $265,066, an increase of 13.4 percent year-over-year. Brother, can you spare a home?" said Fremont and Custer County-area REALTOR® David Madone.
GOLDEN/ARVADA – JEFFERSON COUNTY
"In Jefferson County, new listings for single-family homes were off and running with a 7.8 percent increase followed by a rising median sales price, now $525,000. Homes are only on the market for 19 days with buyers still needing to compete with other multiple offers. However, with the school year beginning it seems new listings have dropped a bit and the numbers for next month will be interesting. As for condos/townhomes, it's a different story, new listings were off 5.6 percent driving the median sales price up to $314,950. Properties that do hit the market are lasting only 17 days on average. Will there be the usual dip in real estate transactions as the fall season plays out? With the sales price needle moving consistently upward, the need for affordable housing increases greatly," said Golden/Jefferson County-area REALTOR® Barb Ecker.
PUEBLO
"Pueblo's real estate market was as hot as the weather throughout August with pending sales up more than 27 percent over August 2019 and more than 10 percent year-to-date. Sold listings were up 11.7 percent over last August and are up 2.1 percent year-to-date. The only negative for August was the 16.1 percent decline in new listings which put us down 5.4 percent year-to-date.
"August active listings were down 53 percent from this time last year and, with just 256 active listings, in the market, and only 33 homes listed in Pueblo West, we continue to face incredibly low inventory for buyers who are in a situation where they must write a very good offer immediately if they want a chance in this competitive market. As always, new listings that are priced right and in good shape are selling in a couple of weeks with multiple offers. The August median sales price was up 13.4 percent to $243,000 and is up just shy of 10 percent year-to-date.
"New construction has been sound with 52 new permits in August and 271 for the year, up 19.3 percent over 2019. This summer has been more active than predictions made last spring and the remainder of the year still looks very good for our market," said Pueblo-area REALTOR® David Anderson.
STEAMBOAT SPRINGS/ROUTT COUNTY
"Well, as they say, August is like the Sunday of Summer! It sure did bring a surprise with new listings in Routt County up over 61 percent for single-family and over 67 percent for multi-family. So, what happened? For one, the market is seeing sellers who decided not to list in May and June because of COVID concerns, reconsider and list their properties due to the active market. Even with the increase of new listings, there is not enough inventory to meet the demand. While YTD listings are down 9 percent from last year, September also seems to be off to a good start with new listing activity. Not all sellers are leaving this beautiful valley; there are many who are cashing in on their equity, listing their homes and buying another home in the Yampa Valley. The average sales price in Steamboat Springs is $1,278,219 for a home and $581,551 for multi-family; fortunately, more affordable housing options are available in Hayden, Oak Creek/Stagecoach and Clark/Steamboat Lake.
"The $2 million-plus upper end market continues to flourish with 55 homes either under contract or sold compared to 37 sales in 2019. The Steamboat ski rea is opening with extra COVID precautions on November 21. As Steamboat Resort seeks approval for a 650-acre expansion making it the second largest Colorado ski resort and construction of the longest gondola in North America (the Wild Blue Gondola), a real estate investment in the Steamboat Springs area looks to stay promising," said Steamboat Springs-area REALTOR® Marci Valicenti.
TELLURIDE
"The Telluride regional real estate market continues its steep incline with $125 million in real estate sales in August shattering the one-month sales record of $96.9 million from December 2019. With buyers motivated by low interest rates, ever disappearing inventory, urban unrest, and COVID-19 urban density fears, we see the possibility of breaking the all-time annual sales record of $760 million set in 2007. This high demand has resulted in a 54 percent increase in dollar volume this year through the month of August. Thirty seven percent of the buyers are coming from Texas, Arizona and California. Listings are coming on the market 10-15 percent higher than the first quarter of this year, including a 2019-acre ranch about 45 minutes west of Telluride that just came on the market at $35 million," said Telluride-area REALTOR® George Harvey.
VAIL
"The trend is crazy and the activity from May through August is beyond normal market conditions, rivaling the performance of the 2005-2006 market. Predictability is out of the question and the contract activity, plus sales activity, in the past four months has eclipsed anything we could imagine, in spite of declining inventory. The pending sales for August were up 87.2 percent for single-family/duplex and the townhouse/condo segment was up 75 percent compared to August 2019. Closed sales in August 2020 were positive 83.1 percent for single-family/duplex and 35.7 percent for townhome/condos compared to August 2019. The year-to-date closed sales are up 6.9 percent for single-family/duplex, while they are down 15.6 percent for townhome/condos. At current absorption rates, we have 4.5 months of supply on single-family/duplex and six months on townhome/condos. The combined inventory gives approximately five months of supply, a 33.3 percent decline from 2019. The declining inventory has caused a significant swing in transactional volume for our market," said Vail-area REALTOR® Mike Budd.
The chart below reflects actual sales year-to-date by price niche and the range in dollars and shares of market. "The key to analyzing a market like ours is to break it down into bits that lend themselves to analysis which gives us some visibility to trends when our samples of statistical data are in such small buckets," said Budd.

Median Sales Price – Denver Metro area (Adams, Arapahoe, Boulder, Broomfield, Denver, Douglas and Jefferson counties)

Median Sales Price – Statewide

Months Supply of Inventory – Denver Metro area (Adams, Arapahoe, Boulder, Broomfield, Denver, Douglas and Jefferson counties)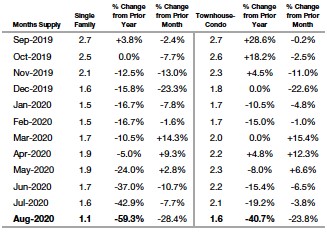 Months Supply of Inventory – Statewide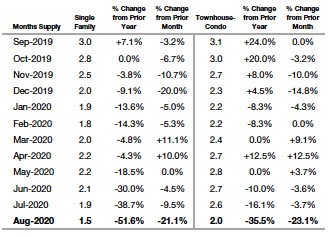 The Colorado Association of REALTORS® Monthly Market Statistical Reports are prepared by Showing Time, a leading showing software and market stats service provider to the residential real estate industry and are based upon data provided by Multiple Listing Services (MLS) in Colorado. The August 2020 reports represent all MLS-listed residential real estate transactions in the state. The metrics do not include "For Sale by Owner" transactions or all new construction. CAR's Housing Affordability Index, a measure of how affordable a region's housing is to its consumers, is based on interest rates, median sales prices and median income by county.
The complete reports cited in this press release, as well as county reports are available online at: https://coloradorealtors.com/market-trends/
###
CAR/SHOWING TIME RESEARCH METHODOLOGY
The Colorado Association of REALTORS® (CAR) Monthly Market Statistical Reports are prepared by Showing Time, a Minneapolis-based real estate technology company, and are based on data provided by Multiple Listing Services (MLS) in Colorado. These reports represent all MLS-listed residential real estate transactions in the state. The metrics do not include "For Sale by Owner" transactions or all new construction. Showing Time uses its extensive resources and experience to scrub and validate the data before producing these reports.
The benefits of using MLS data (rather than Assessor Data or other sources) are:
Accuracy and Timeliness – MLS data are managed and monitored carefully.
Richness – MLS data can be segmented
Comprehensiveness – No sampling is involved; all transactions are included.
Oversight and Governance – MLS providers are accountable for the integrity of their systems.
Trends and changes are reliable due to the large number of records used in each report.
Late entries and status changes are accounted for as the historic record is updated each quarter.
The Colorado Association of REALTORS® is the state's largest real estate trade association representing more than 27,000 members statewide. The association supports private property rights, equal housing opportunities and is the "Voice of Real Estate" in Colorado. For more information, visit https://coloradorealtors.com.