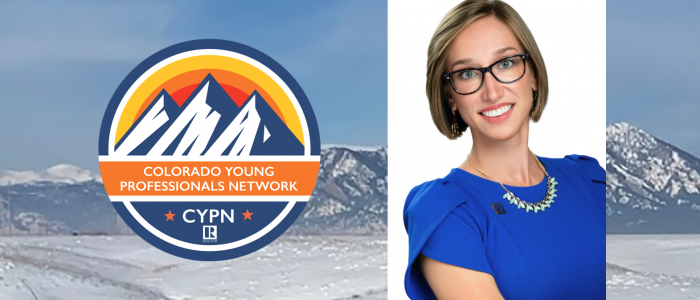 2020 CYPN of the Year Kate Kelley
Colorado Association of REALTORS® honors Kate Kelley as Young Professional of the Year
Kate Kelley, broker at WK Real Estate in Boulder, Colo., was recently awarded the "Gus Williams Colorado Young Professional network REALTOR® of the Year" during the Colorado Association of REALTORS® (CAR) 2020 Virtual Fall Forum.
This award honors an individual who exemplifies leadership and has a strong commitment to the Young Professional network, as well as raising the bar for success both in their community and business.
Kate has a passion to lead and serve. She currently serves on the Board of Directors for the Boulder Area REALTOR® Association and is a dedicated YPN member within her network. Kate is the 2020 President of Women's Council of REALTORS® North Metro Denver. Kate also does so much for her community; She is a volunteer delivery driver at the Coal Creek Meals on Wheels and she hosts an annual shoe drive benefiting Soles 4 Souls, where they have collected over 4,000 pairs in four years.
In 2019, CAR began donating $500 to a nonprofit of the winner's choosing. Kate selected Coal Creek Meals on Wheels to receive a $500 donation as it is a mission close to her heart.
"I have been volunteering with (Coal Creek Meals on Wheels) for probably 3 or 4 years. It's been a wonderfully rewarding experience," said Kate during her virtual award ceremony. "They served more than 42,000 meals in 2019 and they've seen a large uptick in need from the community since the beginning of Covid. Before Covid hit, they served 100-115 meals a day, and they're up to 175 to 200 meals a day. They're in great need of more dollars and volunteers and that is something that I know the REALTOR® family is incredibly passionate about."
Learn more about Coal Creek Meals on Wheels.
"Congratulations, Kate. We are extremely proud of you and so honored to have you be a part of our REALTOR® family," said Siân Murphy, 2020 CYPN Chair and 2018 CYPN of the Year.
The Colorado Association of REALTORS® is the state's largest real estate trade association that represents more than 27,500 members statewide. The association supports private property rights, equal housing opportunities and is the "Voice of Real Estate" in Colorado. For more information, visit www.ColoradoREALTORS.com.