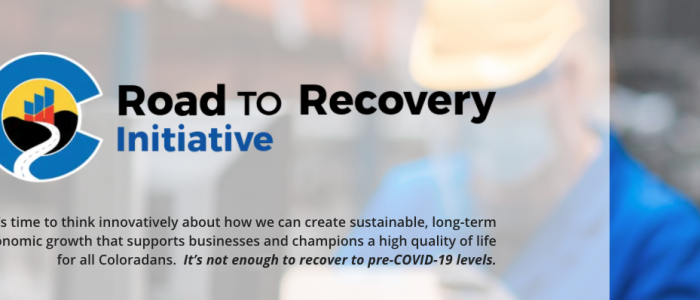 Colorado Leaders Launch Road to Recovery
The Road to Recovery, a project developed by the Colorado Business Roundtable and Common Sense Institute, brings together dozens Colorado leaders from a wide range of industries and backgrounds to develop recommendations for getting Colorado back to work.
"While COVID-19 has brought unprecedented challenges in terms of health and safety for Coloradans and the business community, the disruption has brought an opportunity to rethink and rework policies that could further elevate Colorado into a faster and more sustainable economic recovery," said Debbie Brown, President of the Colorado Business Roundtable.
The report focuses on three pillars:
Prioritize a Competitiveness Agenda
Reimagine Tomorrow's Workforce
Prioritizing a Future-Forward Infrastructure
The Common Sense Institute's team of economists put together Key Pillar Indicators for each of the pillars that helped frame policy recommendations with key metrics and data to mark our past performance, current status and where we want to be.
"Prior to 2020 and the global economic and cultural upheaval brought with the COVID-19 pandemic, Colorado stood out for having strong economic growth and offering a desirable lifestyle. Coloradans had created the #1 economy in the nation and were experiencing competitive advantages in attracting business growth and an educated workforce. The US News World Report ranked Colorado's business climate across the board as a top state in the nation at the end of 2019," said Kristin Strohm, President and CEO of Common Sense Institute.
"Fast forward to today, due to the pandemic, many businesses have faced closures and restrictions, and the state's unemployment rate at one point jumped to 12.2% in April, the highest level since record-keeping began in 1976. Staggeringly data though shows 602,000 initial unemployment insurance claims were made at the start of the pandemic and 1 in 5 Coloradans have now filed for unemployment at some point.
2nd Quarter real GDP was 9% below 2019 4th Quarter levels, with the largest industry reductions in jobs across key sectors like hospitality followed by health care and social assistance; arts, entertainment, and recreation; and, finance and insurance. Small businesses and women with kids have been disproportionately affected, as well," continued Strohm.
"Within disruption there is opportunity. We have an opportunity to protect and influence our economic success in Colorado, but also ensure sustainable and long-term economic growth provides a high quality of life for all four corners of our state," continued Brown.
Participating Colorado Leaders:

Debbie Brown, President, Colorado Business Roundtable
Chris Brown, Director of Policy and Research, Common Sense Institute
Jack Collins, Chief Financial Officer, BP
Jonathan Coors, CO-Chief Executive Officer, Coorstek
Dave Davia, Exec. Vice Pres. & Chief Executive Officer, Rocky Mountain MCA
Paul T. Deaderick, Continuity of Operations Lead, Aerospace Data Facility Colorado, Buckley AFB
Heather Gilbertson, Director of People & Organization, AveXis, Inc.
Byron Haselden, Chief Executive Officer & President, Haselden Construction
Scott Hughes, National Director of Strategic Initiatives Group, APPLE
Chris Jensen, Region Manager, JP Morgan Chase
Ray Johnson, Corporate Social Responsibility Manager, IBM
Katie Kruger, Chief Executive Officer, Denver Metro Commercial Association of Realtors
Scott LaBand, Colorado Succeeds, President
Lauren Larson, Executive Director, Governor's Office State Planning & Budgeting
Lloyd Lewis, Chief Executive Office, ARC Thrift Stores
Justine M. Metz, President, Sapientia, LLC
David Miller, Chief Executive Officer, Barton Institute
Tony Milo, Executive Director, Colorado Contractors Association
Gary Nuss, Senior Vice President, Jacobs Engineering
Felicity O'Herron, Senior Vice President, Human Resources, Zayo Group, LLC
Kevin O'Neil, Chief Executive Officer, The O'Neil Group
Elizabeth Peetz, Vice President of Government Affairs, Colorado Association of REALTORS
Roberta Robinette, President, AT&T
Chris Schmidt, Managing Partner, Deloitte
Henry Sobanet, Chief Financial Officer, Colorado State University
Mark Soltes, Assistant Vice President, Century Link
Terry J. Stevinson, Shareholder, Stevinson Group, Inc.
Kristin Strohm, President and Chief Executive Officer, Common Sense Institute
Lee Wheeler-Berliner, Managing Director, Colorado Workforce Development Council Office
Chris Wright, Chief Executive Officer and Chairman of the Board, Liberty Oilfield Services

Download the full report here: https://www.roadtorecoverycolorado.org