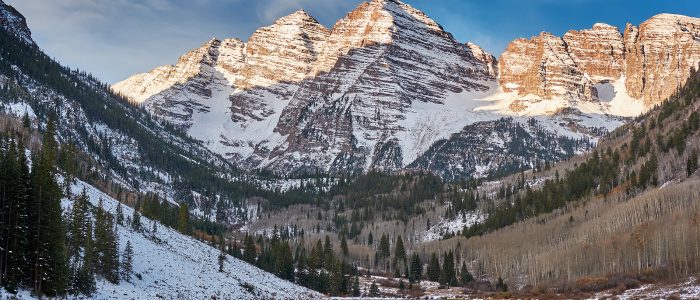 Unpredictable Factors Deliver Record Setting 2020 Housing Market Across Colorado
ENGLEWOOD, CO – Jan. 13, 2021 – While coronavirus delivered devastating effects on our personal and professionals lives throughout 2020, the oldest laws of supply and demand carried Colorado's housing market through health-focused restrictions, as well as changing residential and work wants and needs. Coupled with historically low interest rates, the combination of circumstances delivered record-setting results in most measurable industry categories, according to the December 2020 housing data and year end analysis from the Colorado Association of REALTORS® (CAR).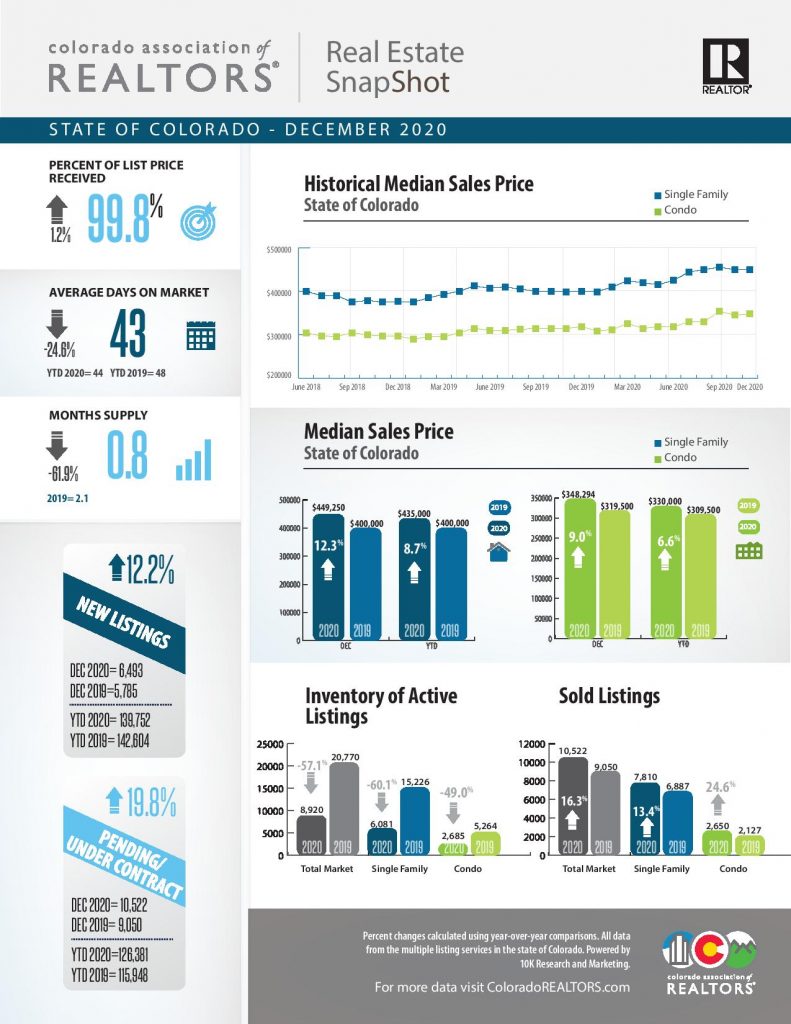 Whether in the Denver-metro area or nearly any other market across the state, REALTORS were eager to point out that inventory actually did rise during 2020 but was simply eaten up faster than what was coming available.
"The most startling statistic of 2020 is that supply actually did skyrocket in 2020. In Denver alone, 24% more homes sold in 2020 than in 2019 while the previous change, 2018 to 2019 saw only 3.8% more sales. This means that even though 20.2% more homes became available, the increase didn't come near demand," said Denver-area REALTOR® Matthew Leprino.
In Fort Collins, nearly 9% more homes were sold in 2020 than 2019. In Summit County, there was a 21% increase in the number of sales in 2020 over 2019.
"Interest rates are expected to remain at or near record lows for the next 12-18 months, and to cap it all off, the pandemic-fueled phenomenon of WFH (work-from-home) is likely to continue, allowing many employees to live anywhere they would like and not be restricted to locations near their employer's headquarters. Colorado remains a highly desirable area to live, work, and play. It may now be all the more desirable as companies from around the globe release the geographic shackles of employee job location requirements," said Fort Collins-area REALTOR® Chris Hardy.
"The innovation and constant adaptation of our industry this year has been fantastic, but it's far from over. In fact, I see this as a catalyst to future and permanent change in the way we work and live. We will need to continue to change and adapt to our new surroundings and work procedures. We have opportunities to create new paths of knowledge and get better at what we do," said Estes Park-area REALTOR® Abbey Pontius.
With December's inventory of active listings at all-time lows for all property types, the months supply of inventory reached figures not seen before either. December's 2,353 active single-family listings in the Denver metro area were down more than 68% from a year ago and reflect the lowest figure ever recorded by CAR's Market Trends data. That scenario pushed the single-family inventory supply to 0.5 months, down more than 70 percent from December 2019. Condo/townhome inventory fell to a 0.8 month supply, down 55% from a year prior. Statewide, the numbers weren't much better as there were only 6,081 active single-family listings in December, down 60% from a year ago and pushing the months supply to just 0.8 in the single-family market. The statewide condo/townhome category finished the year with 2,685 active listings in December, down 52% from a year prior and leaving potential condo buyers with just a 1.1-month supply. A balanced market would have between 4-7 months supply.
"Perhaps the most important factor to take into consideration is that recession or boom, bubble or bust or even a worldwide pandemic, people need homes," added Leprino.
The Colorado Association of REALTORS® market trends spokespersons have provided the following assessments of the past year, as well as some insights, analysis and advice to buyers and sellers on what the rest of 2021 may bring.
AURORA
"Like the rest of the state, Aurora experienced a tremendous benefit from the low interest rates throughout the past year. With 1,866 active listings in December 2018, and 1,468 in December of 2019, we closed out 2020 with only 413 active listings. Ironically, December 2020 delivered 1,276 sold properties that were selling above asking price as soon as they hit the market. Our days on market was down 58% in December as the median price of a single-family home rose 10% from $410,000 in January to $440,000 in December. The $400,000 to $499,000 price range saw the greatest number of solds but it also experienced an inventory drop of 76% compared to 2019 with only 105 single-family homes for sale.
"We hope to see more inventory come onto the market as we move into the spring months. Warmer weather and increased availability of the COVID-19 vaccine may entice more homeowners to be active in the market," said Aurora-area REALTOR® Sunny Banka.
BOULDER/BROOMFIELD
"Looking back to the end of 2019, Boulder and Broomfield counties appeared headed to a plateauing real estate market, and maybe even a more balanced one. Prices were up, but not much, inventory was still low but real estate professionals watched and wondered if the traditional real estate cycle was about to move to the next stage. Much to all of our surprise, the global pandemic actually provided a 'shot in the arm' to the real estate market and quite literally, propelled Boulder and Broomfield counties out of what appeared to be a slowing market. Boulder County experienced a healthy 5% appreciation in single-family homes and 7.9% in attached dwellings during 2020. With less than one month of inventory on the market, the demand once again outpaces supply and homes sell quickly (under 44 days on average) and within 1% of list price.
"In neighboring Broomfield, the appreciation is similar (4% and 8%, respectively) but homes here are selling faster (under 26 days on average) and often, for more than list price.
"If the unusual sales activity for the first part of January is any indication, this trend will continue. That being said, there are many sellers who chose not to sell last spring and instead, may be listing this spring, changing the supply and demand ratios we are currently experiencing. Interest rates will continue to be low through 2021 and with continued confidence in the vaccine, we expect an active market this year. However, if supply increases due to pent up necessity from last year, that may affect the seller's market that is in place right now.
"To buyers out there – jump in the market now while interest rates are low and be prepared to be competitive. Better to fight to get into this market now than wish you had in a year or two.
"To sellers – if you're thinking of moving, do it now as you might be right at the top of a market that just gave you another shot and another chance to get top dollar for your home," said Boulder/Broomfield-area REALTOR® Kelly Moye.
COLORADO SPRINGS/PIKES PEAK AREA
"When talking about the Colorado Springs area housing market, it is the same old story and same old song, month after month. The inventory of active listings keeps declining to new record low levels, while prices and sales keep rising to new record high levels, month after month. Last month, the inventory of Single-family/patio homes in the Colorado Springs market shrank to a meager 532 properties compared to 1,302 in December 2019, and always above 2,000 in any December until 2015. While the inventory sank to a new record low, the year-to-date sales skyrocketed to a new record high level of 17,337.
"For the Colorado Springs area single-family/patio homes housing market, 2020 was unequivocally a stellar year with the year-to-date sales volume surpassing the $7 billion-mark, highest level of year-to-date sales totaling 17,337, and record-high average and median sales prices skyrocketing to $437,365 and $379,999, respectively. The higher end market saw an incredible surge. Year-over-year, the sales of single-family/patio homes priced between $400,00 and $600,000 increased by over 50 percent, over 66 percent increase in homes priced between $600,000 and $1 million, and a gigantic 110 percent increase in homes priced over $1 million.
"In general, the people were experiencing a seesaw level of stress from COVID-19 as the hospital rooms were reaching capacity and the empty shelves when dealing with a home purchase.
"Colorado Springs is poised for steady growth and higher demand for housing. The supply of serviced land is limited to support a higher level of building activity. Accordingly, we'll continue to be challenged by a significant lack of inventory, especially affordable housing, and skyrocketing prices. On the other hand, the outlook for the real estate market and economic growth in general is looking very promising.
"If you are not ready for the bidding wars or if you are purchasing with a modest down payment, you may want to consider more seriously buying a new built home," said Colorado Springs-area REALTOR® Jay Gupta.
COLORADO SPRINGS/PIKES PEAK AREA
"2020 will go down as the most unpredictable year many of us have ever experienced. I remember sitting at a bar with colleagues the night before they were all closed. It was just days before St. Patrick's Day, and we had no idea what was coming at that time. The new COVID-19 virus stirred a country and shook us to the core. Lives have been lost, businesses have disappeared, life savings gone, and the feeling of hope vanished the longer this lasted. That evening is burned into my mind because it's the last evening I recall it being normal. Since then, we have been plagued with closures, struggles, and overall helplessness as the governments of the world would pick who could and could not stay open.
"And yet, through this, real estate prevailed. Thanks to extremely low interest rates and low inventory housing just withstood this virus better than almost anything else. December jumped up 10.7% on sold properties and 15.6% on median sales price. The only thing that did better on overall ROI was the stock market from the drop at the beginning of the year to now.
"As unemployment across our state and country skyrocket weekly, lack of inventory continues to keep the housing market on fire. We have created two economies in the midst of this. The shaking of the economic tree has not shaken real estate yet. But its roots are beginning to lose grip as the rest of the U.S. industries show staggering losses. There are only so many months in front of us where the news will continue to be like this for housing if the other news in all other sectors are poor.
"In 2021 many in this nation will begin to feel the economic tides change. Colorado may withstand that at this time due to being 'the place' to move. But the economy is emotionless. Its tides will change and when they do the damage in both the housing and stock market will be felt across the world. Until then, it seems it will be business as usual. Maybe we can meet at a bar, have a beer, and pretend for a bit 2020 did not occur," said Colorado Springs-area REALTOR® Patrick Muldoon.
DENVER COUNTY
"When we visit the grocery store, the only reason there isn't multiple bids on, say, carrots, is because the store carries more than enough to satisfy the need. More often than not, we have to assume they've got it down to a science and they are able to predict demand. Now, let's take the same situation and compare those carrots to housing units. When a buyer enters the market looking for a carrot, and there is only one bundle for every 200 people who want them, one could imagine the pandemonium. The price of carrots would skyrocket as 200 people all place their best bid for carrots, write love-letters even, and the carrot becomes something once taken for granted, now a luxury once accessible to everyone who wanted one. Now there are 199 people left carrotless.
"Dear Reader, houses are the new carrots. The lowest-ever availability of houses was recorded in December 2020 with just 0.4 months' worth of inventory. That means that for all single-family homes that come on the market in a typical 30-day month, the supply would be sold out in just 12 days. So, what to do with the other 18 days? Well, those buyers keep on bidding, the prices keep going up and the median price keeps skyrocketing. These buyers haven't stopped looking and they certainly didn't stop bidding so the demand and price, continue to rise.
"Unfazed by the Pandemic, median prices continued to rise even in the March, April and May months of 2020. April, the month after the world shut down, saw a 5.9% increase year-over-year in price while May, cooling a little, also saw a 3% increase over the previous May. Despite some areas not being able to market, let alone show houses to prospective buyers, the demand only became more insatiable.
"The most startling statistic of 2020 is that supply actually did skyrocket in 2020. In Denver alone, 24% more homes sold in 2020 than in 2019 while the previous change, 2018 to 2019 saw only 3.8% more sales. This means that even though 20.2% more homes became available, the increase didn't come near demand. Think of it as the grocery store adding 24% more carrots to the misty-wonderland of the grocery shelf and the mayhem didn't budge an inch – a grocer was then left stumped he had already ordered every carrot he could.
"In 2021, we have to assume that the demand for the single-family home will continue to persist. Demand for a home is one of those basic things we all need, right? New construction continues to lag despite huge production numbers and the price, well, you get the idea. Perhaps the most important factor to take into consideration is that recession or boom, bubble or bust or even a worldwide pandemic, people need homes. The trouble home sellers have gotten the market in to is this notion of 'well, where am I going to go if I do sell? I don't want to be a buyer in this madness.' While true, we are stuck in a 'chicken or the egg' scenario where we must accept that neither really matters in the Denver market. As long as we want to remain a desirable place to live, undersupply will persist. We have two options: to either build a sensational amount of new product for homebuyers or stop paving our roads, close all commerce and impose martial law, the latter making Denver not so desirable and causing a massive uptick in supply.
"Until then, buy stock in carrots," said Denver-area REALTOR® Matthew Leprino.
DURANGO/LA PLATA COUNTY
"Traditionally a destination for second homeowners and vacationers from Texas, New Mexico, Oklahoma, and Arizona, it appears that Durango has been discovered. In 2020, we saw an influx of people moving from all areas of the country to make Durango their permanent base of operations. The endless options for outdoor activities and the healthy, laid-back lifestyle that the area has to offer has been a draw for many.
"2020 was a banner year for real estate sales in La Plata County. Virtually every segment of the market saw record sales volume and appreciation. The year began with historically low inventory levels, and it ended with even less options for buyers. December levels dropped to less than two months of inventory overall, and the inventory was less than two weeks for homes under $500,000. New listings were down over 8%, while sold listings were up 36%, leaving nothing but scraps for potential buyers to choose from. The median sales price rose just under 14%, breaking the $500,000 mark for the year. Condos and townhomes also saw similar increases.
"Some notable statistics from 2020: first, the luxury market was one of the most active segments of the market. In the $1 million-plus category, 93 properties sold versus 43 in 2019. Properties of 35 or more acres also saw a huge increase, with 50 properties sold in 2020 compared to 28 in 2019. Land sales skyrocketed as well, with 398 parcels being sold in 2020 versus 230 parcels in 2019. The resort market also experienced a large increase in activity, with 174 units sold in 2020 versus 129 in 2019.
"The buyers learned quickly that the Boys Scouts' mantra, 'always be prepared' was never more applicable than when trying to buy a home in 2020. Buyers that hesitated or didn't have their finances in order were sure to miss out on their dream homes. Other challenging aspects of 2020 were the bottlenecks created by the sheer volume that the market experienced. Getting an appraisal or inspection done in less than 3 or 4 weeks was like getting a plumber to your house in hunting season: it just wasn't going to happen. Our title companies were so overburdened that trying to close even a cash deal in less than 30 days was impossible. To sum up Durango real estate in 2020: it was an incredibly exhausting year for all parties involved, not to mention all of the COVID-19 protocols that had to be followed.
"So, what will 2021 have in store for us? As of today, there are 177 active properties and 150 pending sales overall in the county. There are 18 active listings and 47 pending transactions for properties under $500,000. Currently, we need 900 new homes just to meet the current demand. Builders I spoke to this week say they are booked out until 2022 and some as far out as 2023 for new starts. Those lucky enough to find an available builder will be faced with labor shortages and material costs that have more than doubled in the last 12 months. I believe we will see some relief with inventory with seasonal adjustments that typically happen in the summer season. The takeaway for buyers this year: be prepared, have your financing in place, and be ready to pull the trigger at a moment's notice. Any desirable properties will be snatched up right away, and don't expect sellers to be in a negotiating frame of mind. Fasten your seatbelt, 2021 promises to be an exciting and adventurous ride," said Durango-area REALTOR® Jarrod Nixon.
ESTES PARK
"Between stay-at-home orders, safe showing orders and drive though closings we never knew exactly what was around the next corner. The real estate market stayed strong, vibrant and fast paced on its way to delivering one sweet bite this year while looking at other facets of the economy. No doubt this has been a positive point to the economic pressure being felt internationally.
"Larimer County has been selling fast with sold listings up 11.5% year to date for single-family homes, and an 11.6% bump for townhome/condos. This is fantastic news to keep the ball rolling. However, the inventory cannot support the demand. This is no new statement, but the incredibly low inventory is pushing prices up as well. Inventory for single-family homes plummeted down to 58% of what it was in December 2019, and townhome/condos followed suit with another whopping -44.2% dip in inventory. This puts single-family homes down 61.9% in months supply of inventory and a negative 48.1% months supply as compared to December 2019 year for townhome/condos. This has put a major strain on the market and is forcing prices up. The average sales price has increased 9.4% for single-family homes to $513,076, and townhome/condos average sales price has gained 8.9% to $341,898. With the low inventory, days on market has also shortened. Single-family homes are living on the MLS for an average of 64 days, down 11.1% from 2019. Townhome/condos are going even faster at a 12.5% decrease for days on market, down to an average of 70 days. With the staggeringly low inventory and rising average sales prices, it's no surprise that single-family homes are selling for over list price at 100.2%, an increase of 1.3%. Townhome/condos are nipping on their tails with 99.3% of list price received.
"The innovation and constant adaptation of our industry this year has been fantastic, but it's far from over. In fact, I see this as a catalyst to future and permanent change in the way we work and live. We will need to continue to change and adapt to our new surroundings and work procedures. We have opportunities to create new paths of knowledge and get better at what we do. The biggest challenge is staying involved, keep connected, and above all, stay positive.
"Clients this year have been incredible and understanding through this tough year. Understanding however doesn't necessarily get you to close on a property. A little grit, pre-qualification and putting the best offer first goes a long way. With the fierce competition on listings priming your clients in advance to prepare for emotional ups and downs like rejected offers, being outbid, competing with multiple offers is paramount. It can be frustrating with the intensity of the current market but with the right preparation and mindset you will get to close on your dream property. Patience is a virtue.
The coming year will stay strong for real estate. If interest rates stay competitive, and people continue re-organizing their way of life, work and school needs, the home is morphing into more than just a home. Some need more space; others may decide it's time to downsize as their finances have changed. We have to be ready for change and the future is knocking on our front doors," said Estes Park-area REALTOR® Abbey Pontius.
FORT COLLINS
"The flow of homes for sale and homes purchased along the Front Range is as steady as the water from a hose with the spigot turned on low. Yes, low. The flow of our housing market is at once constrained by a lack of inventory and propelled by high demand. Mortgage interest rates are ridiculously low which increases the purchase power for buyers which somewhat offsets increasing prices of the few homes available for sale. This tug-of-war creates a steady flow of transactions and was in place until the pandemic shut everything down in early 2020.
"With the near-complete societal shutdown mid-March through May 2020, the steady flow of housing transactions was artificially restrained and just like with a thumb over the end of a hose, the pressure in the hose grows and the water begins to spray out – lower in volume but higher in velocity. The need for housing remained steady as people continued to move to Colorado and as younger folks branched out to form their own households. The shutdown increased the velocity of the transaction process as desperate buyers bought the few available homes, often sight unseen. Transactions slowed but the pressure continued to build. In June, with the restraints on showing property lifted, the thumb over the end of the hose was removed. Homeowners felt somewhat safer to sell or anxious to refinance to a lower monthly payment. Buyers remained anxious to buy and housing transactions streamed out across the state. Record numbers of transactions were completed for the year with effectively nine-and-a-half months to sell them. Brokers, lenders, appraisers, inspectors, title insurers, contractors all made up for slowed times of March, April, and May by doing more business in 2020 than 2019 (in Fort Collins, nearly 9% more homes were sold in 2020 than 2019). It has taken through the Christmas holiday season for the stream of transactions to return to the steady and modest flow of the pre-pandemic.
"In the Fort Collins area, the most striking numbers showed a nearly 57% drop in active inventory year-over-year; median price settled in at $447,000 for the year-end average; and the price points with the biggest gains occurred in the luxury market with a 48% increase in homes sold between $700,000 and $1 million, and a near 40% increase in townhomes sold between $300,000 and $400,000. And perhaps the most startling statistic for 2020, homes sold for over $1 million increased by 80%.
"What does the New Year hold? Likely, more of the same. Restrained housing supply coupled with high buyer demand will continue to drive prices higher. Interest rates are expected to remain at or near record lows for the next 12-18 months, and to cap it all off, the pandemic-fueled phenomenon of WFH (work-from-home) is likely to continue, allowing many employees to live anywhere they would like and not be restricted to locations near their employer's headquarters. Colorado remains a highly desirable area to live, work, and play. It may now be all the more desirable as companies from around the globe release the geographic shackles of employee job location requirements.
"The coming year won't be without its obstacles, however. We must gain the upper hand in reducing the rampant spread of the virus, vastly improve the number of vaccinations given, and provide relief to frontline workers and hospitals. We need to re-open the restaurants, schools, and other small retail businesses lest our economy falter and prolong and even delay recovery. Tenants may default on leases. Banks may begin to foreclose on delinquent mortgages. The commercial real estate may find an over-abundance of office space due to WFH trends. There's no telling how serious any of these possible scenarios may play out – but one thing seems certain; the steady flow of real estate transactions appears to be undeterred," said Fort Collins-area REALTOR® Chris Hardy.
FREMONT AND CUSTER COUNTIES
"Fremont County year-over-year new listings were down 2.4% while sales were up 6.5%. Our median sales price delivered a year-over-year increase of 12.2% while the average sales price of $282,252 reflects an increase of 17.9%. For the year, the median sale price came in at $250,000.
"Looking forward, our 1.5-month supply of inventory is the lowest this area has seen in many years and our biggest challenge for 2021 will be the continuation of the fight for inventory as many Americans realize that the work from home scenario is viable. Smaller more affordable communities such as the Canon City, Florence, and Penrose areas become the hot ticket. My advice to my clients is simple and comes from this Chinese proverb, 'The best time to plant a tree was 20 years ago. The second-best time is now,'" said Fremont and Custer County-area REALTOR® David Madone.
GOLDEN/ARVADA – JEFFERSON COUNTY
"It was surprising to see Jefferson County's December new listings increase more than 25% for single-family homes and more than 50% for condos/townhomes compared to a year prior. Inventory is at 0.3 months supply, a 75% drop from 2019, and the lowest inventory we have ever recorded. These circumstances have driven the single-family median sale price to $530,000 and $312,000 for condo/townhomes. Days on market is at 18, which will decline in January 2021with the continued high demand and lower supply.
"For buyers to be competitive they need to be very aggressive, passing on inspections, offering over asking price and covering any appraisal deficiencies. New builds are not keeping up with demand and it is challenging for builders to get in the $300,000 to $400,000 range which is the most sought-after product," said Golden/Jefferson County-area REALTOR® Barb Ecker.
GLENWOOD SPRINGS/GARFIELD COUNTY
"The most interesting statistic coming out of the Garfield County Market in 2020 seems to be the amount of property listed and sold is not that different from 2019. Agents spent the year lamenting over the lack of inventory, when in fact, inventory was up over 2019 by close to 5%. Sold listings surpassed 2019 by 18% with the median and average sale prices up 18% and 23%, respectively. The big change was in the buyer arena. As many rural and resort areas have attested to our markets have seen an influx of out of state buyers, many of them second homeowners, scrambling to get a place in the mountains. Multiple offers have become the norm and escalation clauses are highlighted in every offer. The frenetic pace has attributed to the decline in days on market by 51% or an average of 45 days, and 1.7 months of supply, which is unheard of for the end of December.
"Unfortunately, for the local trying to get a foothold in the market, many of the offers coming from out of the area are cash. At the same time low interest rates fueled the first-time home buyer to get off the couch, so to speak, and quit paying astronomical rental rates by buying their own home. These dynamics have created 'the perfect storm.' Homes with accessory dwelling units and 'mother-in-law' units have reigned supreme in this market as a way for first time homebuyers to purchase more home with the guarantee of income to help with their payments. The single-family home market was really the shining star in 2020 as more and more homebuyers realized they needed more dedicated space for work and family. The townhome/condo market remained steady from 2019 with inventory down 1.6%, sold listings down 8%, median and average sold prices up slightly by 3%, respectively.
"As we move towards 2021, Garfield County will continue to struggle with affordable housing for its workforce. With no major developments in single-family neighborhoods on the horizon we can expect rising prices and a continued frenetic pace in sales," said Glenwood Springs-area REALTOR® Erin Bassett.
GRAND JUNCTION/MESA COUNTY
"It was definitely a year of many firsts in the Grand Junction housing market as our new listings were the lowest seen in the last four years, yet our pending and solds were the highest for that same period. Our median price ended the year at $288,000, which is $70,000 more than in 2017, and our average price ended the year at $319,572, an increase of $75,000 from 2017. Also, our active listings are dramatically lower, down 45% from 2019, and down 50% from 2018. We sit with just 1.2 months of inventory.
"Our local economy might be faring a little better than some other parts of the state, thanks to our 5 Star Business Program. This is a program that was launched by our Health Department and Chamber of Commerce, and those businesses that applied had to guarantee to maintain an extensive checklist of requirements over and above any other mandates, which allowed them to be able to accommodate better percentages of customers. Other counties are now adapting the program, as Gov. Polis gave the program his blessing.
"Because of continuing low interest rates, I believe 2021 will continue very similar to the last few months of 2020. The most challenging issue will be the lack of inventory, which does not seem to be improving. Our clients need to realize they might not get everything that is on their list of wants if they really want to be able to buy. Also, they will need to make decisions quickly, as demand will exceed supply at least in the first, and maybe even the second quarter of the year," said Grand Junction-area REALTOR® Ann Hayes.
PAGOSA SPRINGS
"2020 was an epic year of real estate sales numbers in Pagosa Springs and South Fork. Every price category shattered records from previous years with the now result of slim inventory, down a crushing 76% in December 2020. Even land mimicked homes sales statistics with record sales numbers. Buyers would never have imagined there would be a day with seeking a home with only the selection of 3-12 homes (or less) in every price point. In South Fork, there are price points with no homes available. Buyers are hoping the bubble will burst so they can capture the black diamond run. Sellers & buyers watched the average sales price jump to $479,367 (up 20.4%) from 2019 ($398,000). Days on market changed slightly, higher at 136 days, not uncommon for a resort community. Historically, days-on-market is longer as the discretionary resort buyers do not have the same sense of urgency to purchase as traditional home buyers. With minimal inventory and rising prices, even these buyers are feeling the pressure of buy now.
"The realistic view is Pagosa Springs and South Fork has at least a decade-long of homes underproduction in new inventory construction. Unlike larger metropolitan Colorado areas, Pagosa Springs and South Fork do not have the builder construction companies. And, even if they did, there is not the workforce and weather to sustain large numbers of new home construction in any given year.
"The winter is still young. More snow will grace southwest Colorado and bring visitors who will embrace the southwest Colorado lifestyle. The 2021 black diamond shows sellers it is a remarkable time to sell, as their home, condo or land value is at an all-time high and there is an abundance of buyers who have low interest rates as their buying power. With the onset of the COVID-19 vaccine and spring snow melt, more inventory will embrace the market and sellers will experience a more comfortable selling atmosphere. Buyers should be on their game with pre-qualification letters, and market knowledge to help them make the strongest offer," said Pagosa Springs-area REALTOR® Wen Saunders.
PUEBLO
"Pueblo's December listings rose 3.8% and solds were up 23.5% over 2019. For the year, active listings were up 1.4% and solds up 10.8%. The median sales price is up 13.2% to $240,000 for the year. The percent of list price received rose to 99.1% for 2020. December ended with less than a month supply of inventory.
"The past year also delivered the sale of five homes over $1 million compared to 0 in 2019. As we talked about all year long, low inventory was the biggest problem in 2020. The positive in this market was and remains low interest rates.
"The 2021 market looks to remain strong with low inventory and low interest rates dominating the story. The demand for homes will be high and sellers won't have a problem finding buyers who will need to make strong offers and quick decisions in the multiple offer environment. We anticipate and hope that new home construction will also stay strong in 2021," said Pueblo-area REALTOR® David Anderson.
STEAMBOAT SPRINGS/ROUTT COUNTY
"Field of Dreams. That's what we became.
"When COVID-19 concerns caused for every event to be canceled including the marathon, Mustang Rally, Triple Crown, 4th of July Parade & fireworks, Art in the Park, Strings in the Mountains, Parade of Homes etc., we feared for our small businesses – just like Ray Kinsella feared for the survival of his Iowa farm. But then, they came. They came in record numbers to flyfish, tube the Yampa river, play golf, tennis, pickleball, bike ride, hot air balloon ride, kayak, water ski, paddleboard, hike, ATV, camp and hunt. And they came to buy real estate. Buyers needed to decide whether to 'go the distance' and in doing so, would compete in many multiple offer situations. At a time where new listings are typically scant, December saw an increase in new listings as sellers continue to take advantage of the market, helping to increase total residential listings over 2019 by approximately 6%. Like most of the state, inventory is the biggest problem and active listings for single-family were down 70.3% and townhouse/condo listings were down 59.6%. Last year at this time, there was a seven-month supply of single-family homes and a 3.5-month supply of townhome/condo; current supply is 1.7 and 1.2 months, respectively. The median sales price for a single-family home in 2020 was up 13.1% to $840,750 and 14.7% to $489,950 for townhomes/condos.
"The upper-end market of $2 million and above closed 70 transactions in 2020 vs. 37 in 2019 at an average price of just under $3.1 million. Routt County is blessed with a lot of private land and there were 328 closings on vacant parcels ranging from $4,500 – $4.9 million with an average sales price of $381,621.
"With the current market, buyers will need to keep their eye on the ball, while it seems sellers may hit it out of the park. As the Steamboat Resort continues its process for approvals of a 650-acre expansion that would make Steamboat the 2nd largest Colorado ski resort and construction of the longest gondola in North America (the Wild Blue Gondola), the desirability of real estate in the Steamboat Springs area looks to stay promising.
"Is there a heaven? Oh yeah. It's the place where dreams come true. We call it Steamboat," said Steamboat Springs-area REALTOR® Marci Valicenti.
SUMMIT, PARK AND LAKE COUNTY
"Buying and selling real estate in our mountain communities in 2020 was like that experience of skiing down a slope in the middle of a snowstorm when you unknowingly hit a jump and land in a puff of powder. These aren't normal conditions, but everyone is excited when they tell their story in front of a cozy fire. Sellers are happy because their properties moved quickly at a great price. Buyers are happy because they have their getaway and can relax, play and work in a beautiful environment with lots of year-round recreational opportunities.
"Records were broken with over $2 billion in Summit County sales in 2020. Sales of homes over $1 million soared with more selling this year than ever before. Even with low inventory, down 56% for active listings, there was a 21% increase in the number of sales. This means more properties sold fast, which leaves fewer homes on the market. It is a snooze-you-lose situation for buyers.
"More people from the front range are buying homes in Summit, Lake and Park counties than ever before. As people feel comfortable travelling, we'll see that mix shift to out-of-state buyers. As interest rates stay low and demand stays high, our prices will be stable or rise. Be calm, be ready, be patient, and then be ready to go, go, go," said Summit-area REALTOR® Dana Cottrell.
TELLURIDE
"'There's gold in them thar hills' – that was the saying in 1875 when the first gold was discovered in Telluride. By 1900, $360 million of gold was extracted from the mines in and around Telluride where the population neared 5000.
"March 14, 2020 the Governor of Colorado closes all ski areas due to a national COVID-19 pandemic. For approximately two months, the real estate market sputters until the first week in June. Then all heck broke loose and buyers were calling to escape the cities, find a place they could 'hunker down', and somehow work remotely and set up online learning for their kids and grandkids. They also wanted a place to get outside as much as possible to stay sane and healthy.
"Total 2020 sale volume in dollars – $1,161,696,436 and 814 transactions. Telluride population in 2020, approximately 2640 full time registered voters. Population on a festival weekend as high as 11,000 with cars parked out of town for five miles.
"Lesson: The gold miners of 1875 should have held on to their real estate!
"Thoughts about the real estate market for Telluride in 2021: Colorado is a beautiful state with a wide variety of wonderful summer and winter resorts. However, Mother Nature has significantly restricted the development in and around Telluride and the Mountain Village due to tight terrain and mountains. There hasn't been a new subdivision in or near either town in over 20 years. In my opinion, the Telluride and Mountain Village supply of real estate is the most restricted of any resort in Colorado.
"At the end of 2010, there were about 1,600 listings in the Telluride MLS in San Miguel County. On December 31, 2020, there were 344. If something comes on the market that is in your price range and reasonably close to what you're looking for, put in an offer today at asking price or very, very close to it if you can pay cash.
"Parting thought: Inventory goes away faster as it shrinks. By the summer I may get to play enough golf to lower my handicap. There is always a silver lining," said Telluride-area REALTOR® George Harvey.
VAIL
"The year finally came to an end with December setting records just like each month in the second half. No one forecast the phenomenal performance that occurred. On June 30, 2020 we were sitting at a negative 26% in units and negative 21% in dollars versus the same period in 2019. Everyone was cautiously optimistic that we might get back to even by year-end.
"Thanks to some amazing results in the third and fourth quarters, the final numbers in both units and dollars set records for the year. Units were plus 24% versus year-end 2019 and dollar performance was even greater with the year-end dollars plus 51% versus 2019. We have never experienced this level of growth in any six-month period with a swing of 50% in units and 72% in dollars in the second half of the year. The trend in unit sales continued as the under $1 million category dropped from 64% in 2019 to 55% in 2020. All other priced niches picked up the sales and the $5 million-plus niche increased 66% for a total of 5% of unit sales.
"The negative of the tremendous sales performance is a significant inventory dearth. The total inventory is down 46.8% versus same period 2019. This is the lowest inventory in more than 20 years. It translates to 2.7 months of supply for the total market. We could be limited in growth in the forthcoming months without an infusion of new listings. Everyone is aggressively pursuing new listings, but time will tell the success level.
"Suffice it to say, projecting 2021 at the moment is questionable as inventory is the overriding issue and the only thing we can focus on is convincing our clients this is definitely a sellers' market if that is a thought in the foreseeable future," said Vail-area REALTOR® Mike Budd.
Inventory of Active Listings – Statewide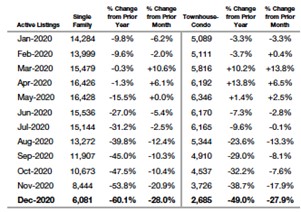 Inventory of Active Listings – Denver Metro area (Adams, Arapahoe, Boulder, Broomfield, Denver, Douglas and Jefferson counties)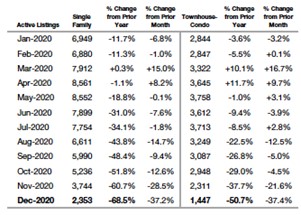 Months Supply of Inventory – Statewide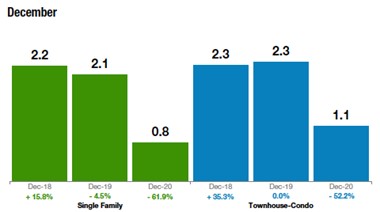 Months Supply of Inventory – Denver Metro area (Adams, Arapahoe, Boulder, Broomfield, Denver, Douglas and Jefferson counties)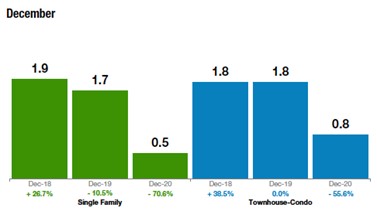 Median Sales Price – Statewide

Median Sales Price – Denver Metro area (Adams, Arapahoe, Boulder, Broomfield, Denver, Douglas and Jefferson counties)

The Colorado Association of REALTORS® Monthly Market Statistical Reports are prepared by Showing Time, a leading showing software and market stats service provider to the residential real estate industry and are based upon data provided by Multiple Listing Services (MLS) in Colorado. The December 2020 reports represent all MLS-listed residential real estate transactions in the state. The metrics do not include "For Sale by Owner" transactions or all new construction. CAR's Housing Affordability Index, a measure of how affordable a region's housing is to its consumers, is based on interest rates, median sales prices and median income by county.
The complete reports cited in this press release, as well as county reports are available online at: https://coloradorealtors.com/market-trends/
###
CAR/SHOWING TIME RESEARCH METHODOLOGY
The Colorado Association of REALTORS® (CAR) Monthly Market Statistical Reports are prepared by Showing Time, a Minneapolis-based real estate technology company, and are based on data provided by Multiple Listing Services (MLS) in Colorado. These reports represent all MLS-listed residential real estate transactions in the state. The metrics do not include "For Sale by Owner" transactions or all new construction. Showing Time uses its extensive resources and experience to scrub and validate the data before producing these reports.
The benefits of using MLS data (rather than Assessor Data or other sources) are:
Accuracy and Timeliness – MLS data are managed and monitored carefully.
Richness – MLS data can be segmented
Comprehensiveness – No sampling is involved; all transactions are included.
Oversight and Governance – MLS providers are accountable for the integrity of their systems.           
Trends and changes are reliable due to the large number of records used in each report.  
Late entries and status changes are accounted for as the historic record is updated each quarter. 
The Colorado Association of REALTORS® is the state's largest real estate trade association representing more than 27,500 members statewide. The association supports private property rights, equal housing opportunities and is the "Voice of Real Estate" in Colorado. For more information, visit https://coloradorealtors.com.