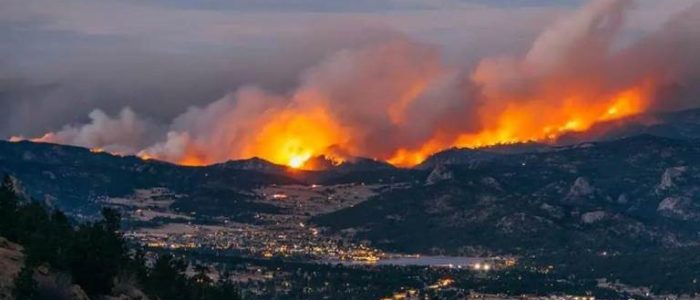 Summit REALTORS® Raise Over $19,000 for Neighboring Communities Ravaged by Wildfires
The REALTORS® of Summit, Park and Lake Counties recently raised money to support residents who have been evacuated or have lost their homes during the Grand County wildfires
Dillon, CO — February 16, 2021 — Summit REALTORS®, the leading advocate of the local real estate industry consisting of Park, Lake, and Summit County members, executed a donation campaign to raise money for those affected by the Grand County Wildfires in late 2020. All the proceeds from the campaign went directly to the Grand County Wildfire Emergency Fund administered by The Grand Foundation.
Summit REALTORS® (SAR) donated 100% of their SAR Charitable Fund donations collected through annual dues billing to the cause. The contributions were collected from members starting in mid-November of last year through January 2, 2021.
In addition to member contributions, SAR is pleased to be donating $3500 from the SAR Charitable Fund through the Grand Foundation to assist with those in need from the East Troublesome Fire. The Summit MLS, Inc. is also pleased to announce it is matching SAR's donation for a total of $7,000 in contributions from both organizations.
In total, SAR has raised just over $19,000 to support the needs of Grand County residents. "We are grateful that we were able to support our sister organization with the Grand County Board of REALTORS®and their community during this terrible hardship," said SAR Board President, Courtney Peroutka. The hope is that the funds will go a long way towards helping impacted families as they continue to rebuild their lives.
"The Grand County Board of REALTORS® has been amazed and humbled by the enormous out-pouring of good will and charitable donations to our community by our mountain district REALTOR®associations, in the wake of the devastation brough on by the East Troublesome Fire this past fall," said Debra Brynoff, RCE, CEO, Grand County Board of REALTORS®. "In particular, we want to acknowledge our good friends to the south at Summit REALTORS®who have absolutely gone above and beyond with contributions of $19,000.00 to the Grand foundation to help families impacted. We are so grateful for your generosity and we know this will go along way to helping our community heal and rebuild. Many thanks from all of us in Grand County."
About Summit REALTORS®
For close to five decades, Summit REALTORS® (formerly Summit Association of REALTORS®) has served as the leading advocate of the local real estate industry providing members with professional development and business tools, technology resources, market data, political advocacy and additional resources necessary to conduct business competently and professionally. With nearly 1,000 primary and affiliate members, Summit REALTORS® promotes and enforces ethical standards, encourages real property ownership and strives to improve the quality throughout the communities it serves. For more information, visit https://summitrealtors.org/.