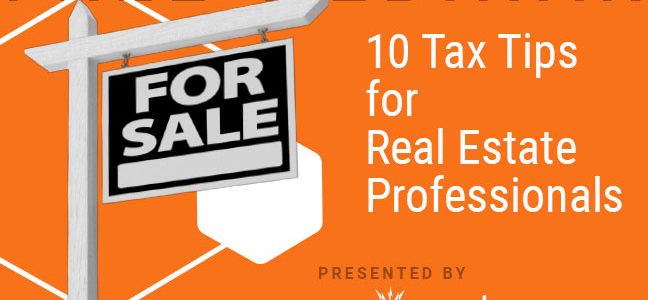 Free Webinar: 10 Tax Tips for Real Estate Professionals
As a real estate professional, you have a whole list of tax deductions available to you.
Ones that most people can't claim.
And hopefully you're taking advantage of them!
But even the most seasoned real estate professionals are usually missing out on thousands of dollars worth of deductions every year.
Which means that you're probably giving the IRS thousands of dollars every year for free. That's money you're legally entitled to keep, but that you are essentially donating to the government each year.
It's not your fault, the tax code is extremely complex and is constantly changing.
My name is Sandy Botkin. I'm a former IRS tax attorney and I know the ins-and-outs of the tax code better than anyone in the business. I'm hosting a special presentation highlighting the top 10 deductions real estate professionals should be using right now.
This one presentation could save you thousands in taxes this year alone.
And the best part is it won't cost you a dime!
Imagine landing in Hawaii this winter and heading to your 5-star resort for the week… Knowing that it's all paid for by the money you would've normally paid to the IRS.
Sounds good right?
That's why I'm hosting a FREE webinar on this very subject!
Join us for this FREE Webinar!
Date: Wednesday, March 24, 2021 at 12:00pm MST
10 Tax Tips for Real Estate Professionals
Here are just a few of the things we'll cover:
Meals…The latest stimulus brought back the 3 martini lunch
Tools of Your Trade…Are software tools, MLS access and key boxes deductible?
Vehicles…Deducting your vehicles correctly could save you thousands of dollars
over your lifetime
Travel Rules…We'll cover the details so that you know what qualifies
Retirement Accounts…The best ways to save for retirement and what the limits are
So, if you're in business, and you like the idea of keeping a much bigger chunk of your hard-earned money out of the IRS' greedy hands…
Click here to access this FREE training on "10 Tax Tips for Real Estate Professionals!"