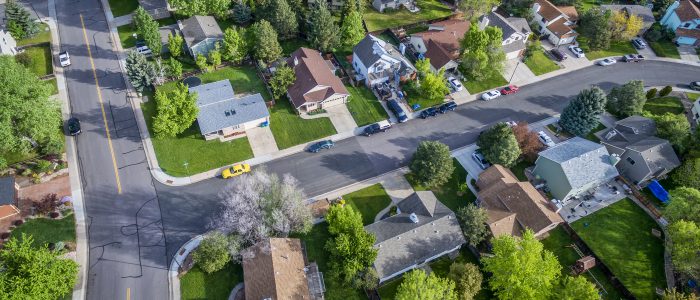 Summer getaways, back to school activities slow the pace and competition but Colorado's housing markets remain hot through August
ENGLEWOOD, CO – Sept. 13, 2021 – End of summer vacations, kids returning to school, and typical seasonal slowdowns did not impact the continued hot housing market across the seven-county Denver metro area and state, according to the latest monthly market data and analysis from the Colorado Association of REALTORS® (CAR).
Despite anticipated seasonal dips in new listings, under contracts and pending/solds held their own during the month pushing the inventory of active listings down 21.5% for single-family homes between July and August to just 3,681 homes – off 47% from a year prior. Statewide, single-family homes fell nearly 15% from July to August and, with just 8,228 homes active across the state at the end of August, we remain down 41% compared to a year prior when buyers were looking at more than 13,900 active listings.
Overall, the months supply of single-family inventory continued to take a hit in the seven-county Denver area, down more than 20% from July to August and -50% from a year prior. Statewide, single-family supply fell 9% from July to August and is down more than 47% from August 2020.
Conditions did result in a very small decrease in the Denver area single-family median sales price, down just shy of 2% in August to $565,000. However, that price is up 14.7% from a year prior. Statewide, the median sales price fell just 1% from July to August and remains up 15.6% from a year prior at $520,000 – off just 2% from its all-time high in June ($530,000). Those slight dips in median pricing improved the Housing Affordability Index (HAI) ever so slightly for the month however, HAI remains down more than 14% in the Denver metro area and statewide compared to this time last year. The HAI is the measure of how affordable a region's housing is to its consumers based on interest rates, median sales price and median income by county.
"In spite of incredibly strong numbers, there is a window of opportunity for buyers as some sellers priced their homes using the spring market comparables, and although the inventory is low, their homes still remain on the market. We are seeing many price reductions and sellers who were hoping for a quick sale and top dollar and are suddenly more realistic now and more motivated. The time for buyers to buy will be in the next 3 months so they can take advantage of this situation and purchase before interest rates increase next year," said Boulder/Broomfield-area REALTOR® Kelly Moye.
METRO DENVER SINGLE-FAMILY REPORT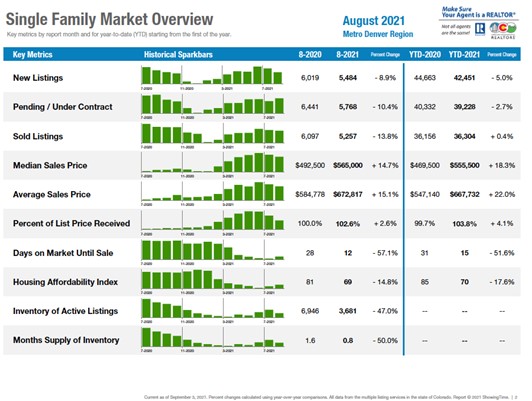 STATEWIDE SINGLE-FAMILY REPORT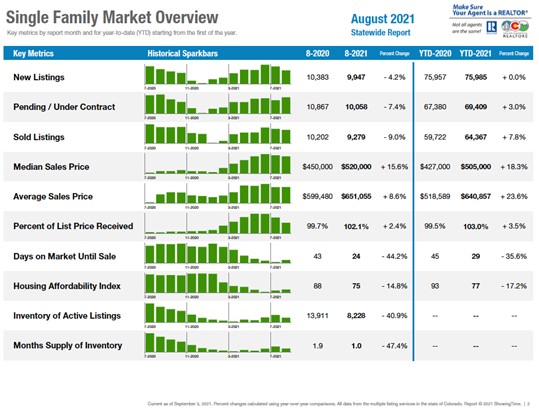 Taking a look at some of the state's local market conditions, Colorado Association of REALTORS® market trends spokespersons provided the following assessments:
AURORA
"Aurora, Centennial, Arapahoe County, and Adams County all show the same type of numbers, inventory is down over 50% from 2020 and pricing is up anywhere from 13% to 20% across these same areas. Aurora zip code 80010 seems to show a little better story if it could get any better; inventory is down almost 50% however, pricing is up 30% with a median price of $416,500 and an average of eight days on market. This is one of the areas of Aurora that has always been perceived as most affordable and now touts a median price over $400,000. Aurora zip code 80015 shows pricing up 20% from 2020, with a median price of $540,000 and days on market at eight days. Going further to the south and east in Aurora to zip code 80016, pricing is up 19% from 2020 and a new median high of $706,000.
"Centennial shows inventory down almost 60% and a median price of $603,000 with an average of nine days on market. Looking north to Adams County, expect to pay a median price of $490,000, an increase of 18% over the median price of 2020. Again, the average days on market is nine days.
"While we hear that the market is slowing, I am not sure that we are seeing that on the south and east side of the metro area. We are still experiencing fast sales, median prices at all-time highs, multiple offers, and an inventory shortage," said Aurora-area REALTOR® Sunny Banka.
BOULDER/BROOMFIELD
"Boulder and Broomfield show no signs of a seasonal slowdown. Inventory continues to wane, and prices continue to go up. On the street, the pace does seem slower and much less competitive but the numbers show a strong seller's market. Boulder's single-family homes continue to appreciate and now at 25% higher than where we started in January, it will likely be a record-breaking year. Broomfield is keeping up nicely with appreciation since January of 20% for single-family homes and 17% for condos and townhomes.
"Broomfield appears to be an especially popular place with homes now selling in an average of 13 days on the market. In both areas, the typical sales price/list price ratio is 104%. The bidding wars are still happening, but the demand slowed a bit during August due to school starting and travel.
"In spite of incredibly strong numbers, there is a window of opportunity for buyers as some sellers priced their homes using the spring market comparables, and although the inventory is low, their homes still remain on the market. We are seeing many price reductions and sellers who were hoping for a quick sale and top dollar and are suddenly more realistic now and more motivated. The time for buyers to buy will be in the next 3 months so they can take advantage of this situation and purchase before interest rates increase next year," said Boulder/Broomfield-area REALTOR® Kelly Moye.
I-76 CORRIDOR
"As the summer starts to wind down and people are starting to think of kids back to school and other fall activities, our August stats tell the same story. Along the I-76 Corridor, the month-to-month reports are showing inventory of active listings are steady along with the median sales prices. A slight slowdown is common for this time of year. Buyers burned out on the spring market may want to revisit the thought of purchasing. A slight softening in the market can make all the difference in the world to buyers purchasing homes. Sold prices are still holding in the area, but good news, we are not seeing the large differences between the listing prices compared to the sold prices as we were last spring. Builders in the Brighton and surrounding areas continue to build and expand. Following the I-76 Corridor east, average sales prices in Adams County – $517,933, Weld County – $484,408, Morgan County – $318,853, Washington County – $245,727, and Logan County – $226,867. Growth and affordability are headed northeast of the Denver area," said area REALTOR® Jody Malone.
COLORADO SPRINGS/PIKES PEAK AREA
"As kids returned to school, and families finished out their summer trips, we felt a slight lull. Social media in the REALTOR® world was discussing a possible stall. Are showings down? Could this be it? Did we finally hit the top? There were discussions back and forth on whether or not this happens every year, or is this different than every year? And it is very much like working out. If you don't have a gauge of where you started, then you cannot really recall where you ended up. So, when these numbers dropped in my lap to review for August it showed that the housing market is still as hot as the month itself.
"How does that break down for the average consumer? Median price was up 18.4% to $450,000 for single-family homes. Days on market decreased, again. Overall, MLS price increase among all properties was just shy of 18%. It appears that maybe that feeling of a slowdown was just that, a feeling. Many are hoping, even praying for a slowdown so buyers can find homes. But, we do not really show that to be true. We saw sellers getting very strong offers and buyers having to compete. Adding to the buyer stress is a heavy play in investor and Ibuyers jumping in. So, not only are buyers competing against low inventory, but now against institutional buyers with cash. On one property I had listed, we received 9 offers, two from institutional investors.
"What is the secret sauce? Try not to be a buyer. And, if you sell, you may need to leave the state to find a home – I partly kid. Or, sell here but understand that you are competing across the region with a lot of buyers, investors, and ibuyers. I can say with certainty that the market has to shift, and it will. Regardless of how much free money is thrown at it, we have past experience that shows the market always finds its true values. But when, where, or what sets that off is beyond my pay grade. With foreclosure moratoriums still in place and evictions still on hold, it may be awhile before we can gauge any housing shifts," said Colorado Springs-area REALTOR® Patrick Muldoon.
DENVER COUNTY
"Exactly how long does it take sell a home in Denver? Well, the answer is 'a heck of a lot less time than it used to!' With August numbers just released, there were 17% less new arrivals to the market while 4.8% more freestanding homes sold. That crunching of availability continues to soar the price, up 15.3% median on average with 48%, yes, nearly half the days on market from just last year. At just 11 days, each of the previous 4 years were north of 20 days which has sellers packing before the sign goes in the yard.
"In contrast, the time to sell a home in the condo or townhome market is nearly double. In August, homes in this sector took 21 days on average to sell. Down 27.6% from the year before and 41.7% from 2019, the after effects of a COVID-induced up-sizing appear to still be lingering," said Denver-area REALTOR® Matthew Leprino.
DURANGO/LA PLATA COUNTY
"At first glance, it looks like our numbers in La Plata County are down; and while it is true that August 2021 numbers are down from a year ago, in contrast to 2019, our current numbers are far and above what they were then.
"We have to remember that in August of 2020, the market was the wild west, with multiple offers on virtually every listing and buyers paying tens of thousands over asking price. Undoubtedly, it is still a strong seller's market for several reasons. The biggest factor is that we did not experience the bump in inventory we usually get in the spring and summer months. With such low inventory this year, it wasn't enough to change the market dynamics.
"New and sold listings were down more than 20% this August compared to August 2020, again a symptom of extremely low inventory levels. Prices continue to climb to historic highs as a result of strong demand and few options for buyers. Stats indicate that buyers were continuing to offer more than the asking price on most homes that went under contract in June, July, and August; however, we are seeing more price reductions and offers under the asking price for active homes in early September. I believe we will see this reflected in the October stats. There also seemed to be a lull in activity for the first part of August. Word on the street is this has changed in recent weeks with a new surge of showing activity and contracts. With low-interest rates and strong buyer demand, I believe we will see a very active fourth quarter real estate market in La Plata County," said Durango-area REALTOR® Jarrod Nixon.
ESTES PARK
"What a crazy season, and frankly last 2 years. From COVID protocols during showings, drive thru closings, and everything in between. I would never have guessed this would be the busiest summer season I have seen yet. The incredible rate homes are posted to the MLS and then immediately snagged and under contract is amazing. The summer has seen multiple offers – many well exceeding asking price – along with throwing caution into the wind with waiving inspections, promising quick close of the loan, etc. to sweeten the offer. Low interest rates have aided this growth in real estate and it seems nobody wants to miss out.
"As the summer season slows down, historically, so does the market. This year, we're not feeling it cooling down yet (except for new builds). Larimer County is no different than a lot of other Colorado counties with the apparent shortage of new listings and low inventory. Really a shortage of housing all together. New construction has slowed, which is partly due to rising costs for materials, lumber and a supply chain that is at a crawl. New appliances are a commodity and the chips that are in them. New construction declined 4.5% for single-family homes, and an incredible dip of 13% for townhouse/condos/apartments. New listings for single-family homes decreased 6.3% year to date. The opposite is true for townhouse/condos. New listings year to date have increased 3.8%. The increase in the townhouse/condos is a drop in the bucket when looking at the overall inventory of homes for sale. Compared to 2020, single-family homes on the market dropped 43.4% from 908 to 514. Townhouse/condos show an even larger dip from 301 in August last year to only 115 this year. That's a 61.8% decrease in options for buyers.
"The average sales price for a single-family home in Larimer County is sitting at $626,068, a 17.9% increase from August last year. Townhouse/condos have gained 11.3% in value. The average price last August was $342,239, this year $380,834. The percent of list price received shows the competition is fierce. 101.8% over list for townhouse/condos, a 2.5% increase year-to-date. Single-family homes are fetching 102.6% over list, a 3.1% increase year to date.
"Days on the market until sale is an interesting figure. It's shrinking dramatically. The lenders and title companies are working double time, appraisers are backed up, surveyors the same. Not to mention REALTORS®! The demand being placed on these key people involved in the transaction is getting heavier. The days until close for single-family homes has gone from an average of 58 last August to 39 this year. That's a 32.8% decrease. Townhouse/condos are following right along with a slashing of the days on market from 95 to 63 year to date, a 33.7% decrease. The demand is definitely outgrowing the inventory and new builds.
"'Hang in there' as the inspirational poster with the super cute kitty dangling from whatever said. It's a motto worth repeating (over and over and over) this year," said Estes Park-area REALTOR® Abbey Pontius.
FORT COLLINS
"With the advent of end-of-summer vacations peaking, back-to-school shopping in full swing, and the general economic uncertainty sustained by the ongoing pandemic, August's real estate stats are a direct reflection of these competing lifestyle items.
Median Price: In spite of fewer sales for the month of August, the median price in the Fort Collins area swelled to $555,000 – a jump of $15,000 from July's mark of $540,000. The thing to keep in mind here is that closed sales in August reflect the highly competitive June/July market as most sales take 30-45 days to close. It would be safe to say, it is a lagging indicator in this regard. According to information from the multiple listing service, August saw a 33% increase in price reductions from July and a 58% increase from June. Clearly, sellers have had to temper their expectations with regard to original list price as the seasonal summer demand ebbed from the zenith of the spring.
Supply of Inventory: Demand was propped up somewhat by a drop in new listings and available housing even as pricing required some recalibration from earlier months. With an 11.5% drop in new listings of resale homes and builders still struggling to deliver new construction due to labor shortages, cost of materials increases and shortages of equipment and appliances, the supply of inventory based on demand is still less than 30 days. This number may go up if the seasonal slowdown continues into September and more houses come online than are purchased.
Conclusions: Fall has traditionally been a better time for buyers to purchase in a less-competitive environment. If you have been waiting for an opportunity to buy and want to close before the end of the year, now may be as good a time as any with interest rates still exceedingly attractive. For sellers, if you need to sell in the next 60 days, talk with your real estate broker about current market conditions. Showings appear to have slowed and recalibrating your pricing strategy is crucial to enticing buyers to make offers," said Fort Collins-area REALTOR® Chris Hardy.
GOLDEN/ARVADA – JEFFERSON COUNTY
"Although the numbers may not actually reflect it until next month, we've definitely hit the fall seasonal slowdown in Jefferson County. August new listings increased 4.3% and the median sales price ticked up to $605,000 for single-family homes year over year. As for sold listings, they decreased 13.7%, days on market was down 52% and the inventory is down 28% from this time last year.
"For townhomes/condos new listings were down 2.3%, solds -8%, days on the market down to 9 days on an average and inventory decreased 28.6% year over year. The median sales price did increase 17.5% and is now at $370,000.
"Homes hitting the market in September are not seeing the multiple offers as in the past few months. Buyers are afforded a little more time to decide on the purchase of a home and have a bit more leeway in asking for items to be repaired or replaced by the sellers. Are we moving into a more balanced market? We shall see. Often there is an uptick in buyers re-entering the market at the end of September once the school year has begun," said Golden/Jefferson County-area REALTOR® Barb Ecker.
GRAND JUNCTION/MESA COUNTY
"The real estate market in Mesa County is definitely setting new records, both in single family homes, and also condos/townhomes. In the single-family market, August 2020 to August 2021, new listings are 399, but solds are down from last August by 20.8%, primarily because our lower price buyers have pulled back from the market. Our median price has reached $344,000, but our average is an astonishing $402,836. If you are a buyer under $280,000, it is not your market right now. Days on market are down to 61, a drop of 20.8%, and we have 1.3 months of single-family homes available. Year to date figures are pretty similar. Once again, median and average price up 17.2% and 19.3%, respectively.
"Condo/townhomes, while a much smaller market, still very impacted, with inventory down 50.8% to 20 units available end of August, which is a half month supply. There is a lot of new construction, most of which goes under contract well before finishing, and because of prices of materials and developments, not doing anything to solve entry level pricing. Also, it is all single family. Any multifamily is rental, not for sale," said Grand Junction-area REALTOR® Ann Hayes.
PAGOSA SPRINGS
"Summer in Pagosa Springs and South Fork, Colorado brings an abundance of visitors seeking escape from heat temperatures and a fun escape from their everyday lives. Historically, visitors and resort owners alike from Texas, Oklahoma, New Mexico, Arizona and the front range of Colorado have discovered Pagosa Springs and South Fork. The summer of 2021 has changed the visitor and resort owner demographic. More and more out-of-state homeowners are spending more time here or even selling their out of area homes (and living full time) than ever before! Why? Folks have fine-tuned remote working and schooling scenarios. Employers are accepting remote working as the new normal. Retirees selling out-of-state homes have taken to the road in RVs and awaiting the perfect home to appear on the market. This area now sees homebuyers from throughout the United States. Competition for homes, land, and condo properties has created a not-so-pretty buyer's experience. Frustration over numerous property contracts, multiple offers and higher than list price for land and homes is prevalent. August continued to set historic buying records in land, condo and homes, even with the median (year-to-date) price up almost 33% at $465,000 (compared to $350,000 in 2020). Average sales price (year-to-date) is up almost 26% at $566,691 (compared to $450,362). Although listings sold in August were down 25% from 2020 (contributed to low inventory), the higher price point purchases were up. Homes under $600,000 are showing a relaxing in sales, as the demand is there but the houses are not. The onset of winter is bringing price reductions. With about one-third of homes for sale inventory over $900,000 and 50% over $600,000, it appears Pagosa is tracking to higher sales price points. Mountains and rural lifestyle have a new price. A recent Pagosa Housing Study and analysis indicates a number of county residents are experiencing a housing cost burden over the past three years. A recent 2021 Pagosa Springs analysis indicated about 60% households who responded to the survey are cost burdened and spending over 40% of their total income on housing.
"Like many Colorado mountain communities, short-term rental property purchases are booming and contributed to historical sales records and prices. In Pagosa Springs, summer produced rumblings of short-term rental properties burdening the rental and local home buyer markets. There is a suspicion with new short-term rental (STR) regulations for Pagosa Springs (town & county), there will be a softening of out-of-state buyers. Many out-of-state owners desire to rent their homes in months when they are not there. This provides income for heating in the snowy winter, the home having use and the affordability for a second home purchase for many out-of- state buyers. Under the new rules, current STRs will include a blanket exemption for current homeowners, although when sold the blanket exemption does not run with the property. Those homeowners have little incentive to place their homes on the market for sale and will continue to contribute to low inventory. With restrictions such as a buyer owning the property for two years before an STR is considered, tighter area density restrictions, much higher STR Permits fees (directed at out-of-state buyers) and 250-feet radial buffer zone, it appears Pagosa Springs has decided there are too many resort buyers and visitors desiring STRs. The town and county officials have voted to curtail such activity. Those buyers desiring a short-term rental property will choose to buy and live elsewhere. Unfortunately, even with the STR curtailment, locals find it difficult to afford rents or the current home prices. They are also moving and leaving job positions unfilled.
"2021 is an ambitious year of real estate sales numbers in Pagosa Springs and South Fork. Most price categories are shattered from previous years creating very slim inventory (down a crushing 74.5%). Even land mimicked homes sales statistics with impressive sales numbers. Buyers would never have imagined there would be a day with seeking a home with only the selection of 5-18 homes in every price point. In South Fork, there are price points with no homes available. Buyers are wishing it were not true. Days on market changed dramatically, lower at 94 days, longer than most areas, although not uncommon for a resort community. The start of fall and onset of winter is showing some amazing price reductions. Buyers should pay close attention and acquire during price drops," said Pagosa Springs-area REALTOR® Wen Saunders.
PUEBLO
"The Pueblo housing market is just plugging along with a lot of activity throughout the month of August including new listings up 13.6% compared to August 2020 and up nearly 10% year to date. Pending sales were strong in August, up 21.4% compared to August 2020 and up 4.3% year to date. Sold listings were down 7.9% compared to August 2020 but remain up 4.1% year to date.
"Although agents are saying they feel the market has slowed some, we're still seeing some under contracts fall apart, but go back under contract in a short time. The median sale price rose 30.2% from August 2020 to $312,500 and is up 23.1% year to date. The percent of list price received is still above full asking price at 101.2% and is up 22% over August 2020. The supply of homes is at 1.2 months down 20% and is resulting in a continuation of multiple offers on properties.
"Looking to our new home permits, we have stayed relatively flat over the past 3 months with about 65 permits per month. Pueblo County is up nearly 40% year to date in permits. Just like everywhere else right now, builders are facing rising material costs, labor shortages and supply chain setbacks. People are still eager to move but are simply having trouble finding a home," said Pueblo-area REALTOR® David Anderson.
STEAMBOAT SPRINGS/ROUTT COUNTY
"Yes, Virginia, there is a Santa Claus. Steamboat celebrated Christmas in July as an anonymous and generous donor contracted on 536 acres of land on the western boundary of the city of Steamboat Springs. The Yampa Valley Housing Authority – Routt County's affordable housing agency – is the recipient of this extraordinary gift. This transaction completed in August with a purchase price of $24 million. This closing arises after a twice-failed venture by previous developers on the same site. And so begins the laborious job of the Housing Authority to embark upon a comprehensive development for a locals' community- to include much needed affordable & deed restricted housing.
"If one were to look only at August's year-over-year decrease of pending sales/sold listings, which for single-family was -28.6%/-22.6% and -50%/-52.6% for multi-family; you might think the market was changing. However, when we look at the reduced new listings/active listings which are -14.3%/-53.9% for houses and -19.3%/-55.5% for townhomes/condos, we can see that the lack of inventory is what is slowing the market. Demand is still evident with days on market for both single and multi-family teetering around 30 days, and months supply at 2 months for houses and almost 1-month for townhomes/condos.
"Like many places in the country, the low-standing inventory has buyers frustrated as they lose to multiple-offer situations, cash offers or simply find themselves waiting longer than they were wanting to wait to get a suitable property. Some may even begin to feel that it is never going to happen – although, as the wise editor of New York's Sun told Virginia, '…your little friends are wrong. They have been affected by the skepticism of a skeptical age. They do not believe except what they see.' Skepticism aside, if buyers believe, are patient and persistent, then it can still ultimately happen.
"Similar to other mountain communities, Steamboat finds itself in its own short-term rental discussion with city council. Professional property rental companies encourage licensing, permitting and enforcement – something many of the other mountain towns have already enacted. COVID is also being blamed for our housing shortage; yet the reality is that construction ceased for a number of years during the Great Recession and during the recovery, most new construction was in the upper spectrum of the market. As we look towards the development of our west-end local's community, we all acknowledge that it cannot happen fast enough. We look for a collaborative effort between the Housing Authority and for the city to remove construction barriers that could impede the process. Steamboat's second homeowner community is a vital and important component to our town – they support our non-profits and our small business owners and they do so because they love Routt County and want to feel a part of us," said Steamboat Springs-area REALTOR® Marci Valicenti.
SUMMIT, PARK AND LAKE COUNTY
"Do you remember that amusement park ride, the Rotor? It was so fun to get on and spin, then the floor drops out and you're sticking to the walls trying to move around, laughing so hard. If you are not faint of heart you can make it to the end of the ride still laughing but many are falling down, dizzy, trying to get off the ride. Mountain resort real estate is like the Rotor. Prices are spinning up and up and when a buyer successfully closes they are laughing, but the buyers who have lost that deal, again, are feeling dizzy.
"As we wrap up the summer, we are all wondering when the ride might at least slow down. Properties are still hitting the market and selling fast. Days on market has gone down over 50% compared to last August. Breckenridge's and Frisco's average single-family home prices both were over 2.5 million. Residential prices in Summit MLS range from about $200,000 for a Park County home to $19 million for homes near Kremmling and Breckenridge," said Summit-area REALTOR® Dana Cottrell.
Aug Average Prices (% change YTD from Previous Year)
| | | |
| --- | --- | --- |
| Single Family | Year to Date | Average Price YTD |
| Summit County | 35% ↑ | $ 1,849,186 |
| Park County | 38% ↑ | $ 548,603 |
| Lake County | 46% ↑ | $ 504,034 |
| | | |
| Townhouse / Condo | Year to Date | Average Price YTD |
| Summit County | 19% ↑ | $ 657,744 |
TELLURIDE
"August sales for the Telluride region were $95.5 million, up almost double the monthly sales for 2010 through 2019. A back story that is also driving the market in our region for the last 17 months is the cost of construction and how long it might take to actually design, build and furnish a new home in our region. Currently, the hard cost of construction without fee and permits is estimated to be from $900 per square foot to $1300 per square foot with most contractors booked out two to four years from now. That has put more pressure on sales because many buyers just don't want to wait that long to move into a house.
"We are seeing some prices drop a little for properties in the lower to mid-range of pricing. The upper range continues to climb where buyers have more wherewithal to be flexible if they find what they want. There is also a little urgency from buyers wanting to close sooner than later due to historically low interest rates. While most economists think interest rates will only move up about a point in the next six to 12 months, that will increase the cost of real estate somewhat," said Telluride-area REALTOR® George Harvey.
VAIL
"August is the second month of 2021 that compares to the rocket take off in activity in 2020 as the pandemic began to subside. We are seeing the month performance compared to same month in 2020 with declines. Listings are a good place to start the comparison, August 2020 versus August 2021 reflect a 41.1% decline in new listings, while the year-to-date comparison is only down 9.9%. However, overall inventory is down 55% for the August versus August inventory. These numbers bring the months' supply of inventory from 5.5 down to 1.7 which is a 69.1% drop. These are macro numbers and inventory varies dramatically by price niche and local market in the valley.
"Pending sales were off for the month 42.1%, yet up 6.4% year to date. Closings followed the same trend as they were negative 35.7% for the month, but positive 31.7% year to date. Sales in dollars for the month were negative $108,000,000 versus 2020 however, sales year to date are positive $687,638,000 for a 58% increase versus 2020.
"The key for the final four months of the year will be inventory in key price niches as overall inventories may stay in a relatively narrow range on a macro basis. However, opportunities do exist for both buyers and sellers if they talk to a trusted real estate advisor," said Vail-area REALTOR® Mike Budd.
Seven-County Denver Metro Area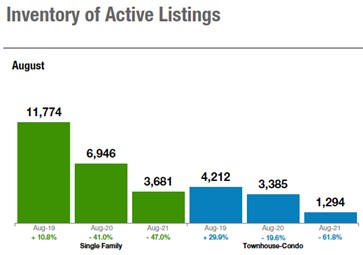 Statewide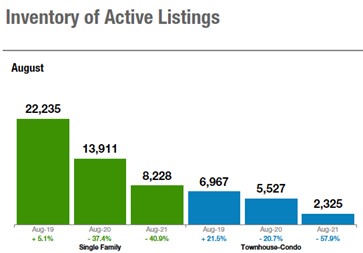 The Colorado Association of REALTORS® Monthly Market Statistical Reports are prepared by Showing Time, a leading showing software and market stats service provider to the residential real estate industry and are based upon data provided by Multiple Listing Services (MLS) in Colorado. The August 2021 reports represent all MLS-listed residential real estate transactions in the state. The metrics do not include "For Sale by Owner" transactions or all new construction. CAR's Housing Affordability Index, a measure of how affordable a region's housing is to its consumers, is based on interest rates, median sales prices and median income by county.
The complete reports cited in this press release, as well as county reports are available online at: https://coloradorealtors.com/market-trends/
###
CAR/SHOWING TIME RESEARCH METHODOLOGY
The Colorado Association of REALTORS® (CAR) Monthly Market Statistical Reports are prepared by Showing Time, a Minneapolis-based real estate technology company, and are based on data provided by Multiple Listing Services (MLS) in Colorado. These reports represent all MLS-listed residential real estate transactions in the state. The metrics do not include "For Sale by Owner" transactions or all new construction. Showing Time uses its extensive resources and experience to scrub and validate the data before producing these reports.
The benefits of using MLS data (rather than Assessor Data or other sources) are:
Accuracy and Timeliness – MLS data are managed and monitored carefully.
Richness – MLS data can be segmented
Comprehensiveness – No sampling is involved; all transactions are included.
Oversight and Governance – MLS providers are accountable for the integrity of their systems.
Trends and changes are reliable due to the large number of records used in each report.
Late entries and status changes are accounted for as the historic record is updated each quarter.
---
The Colorado Association of REALTORS® is the state's largest real estate trade association representing more than 29,000 members statewide. The association supports private property rights, equal housing opportunities and is the "Voice of Real Estate" in Colorado. For more information, visit https://coloradorealtors.com