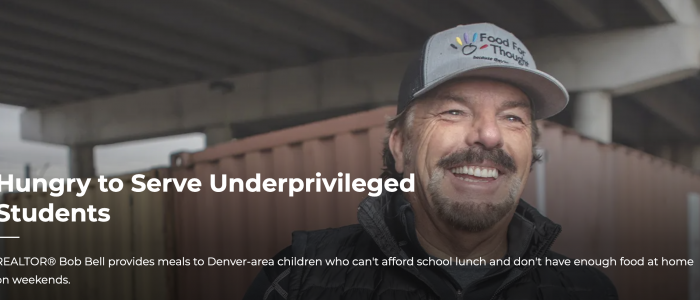 Denver's Bob Bell Wins NAR's Good Neighbor Award
Realtor® from Denver Wins National Award for Delivering Weekend Meals to At-Risk Children
WASHINGTON (October 20, 2021) – Realtor® Bob Bell with Mile Hi Property in Denver is one of five winners chosen for the National Association of Realtors® Good Neighbor Award. For nine years, Bell and hundreds of volunteers have been up at dawn every to pack and deliver weekend meals to 10,000 at-risk schoolchildren across 72 Denver-area schools. Bell has turned Food for Thought into a powerhouse, with 497,205 backpacks of food – the equivalent of nearly 4 million meals – delivered to date.
"Despite the many challenges navigating COVID-19 restrictions and running a nonprofit during the pandemic, Bob was there to help his community at a time when those contributions were needed most," said NAR President Charlie Oppler. "Realtors® are rooted in their communities and committed to helping their neighbors. I am so proud to honor Bob for making a difference in so many lives."
To read Bell's full story and watch his video, go to nar.realtor/gna/bob-bell. Bell and the other four Good Neighbor Award winners will receive a $10,000 grant for their charity and will be featured in the Fall 2021 issue of REALTOR®Magazine. They will also be presented with crystal trophies on Saturday, November 13, during the 2021 REALTORS® Conference & Expo in San Diego.
NAR's Good Neighbor Awards program is supported by primary sponsor realtor.com®, along with Chase and the Center for REALTOR® Development.
"The Good Neighbor Awards reflects our shared commitment to purposeful work and giving back to our communities," said realtor.com® CMO Mickey Neuberger. "It's an honor to recognize these Realtors® for their outstanding efforts, who represent the spirit of generosity and goodwill that is at the heart of the real estate community."
Nominees were judged on their personal contribution of time as well as financial and material contributions to benefit their cause. To be eligible, nominees must be NAR members in good standing. The Good Neighbor Awards have been granted annually since 2000. Nearly $1.4 million in grants have been awarded to 220 Realtor®-led charities. More information about the Good Neighbor Awards winners is available at https://www.nar.realtor/good-neighbor-awards.
The National Association of Realtors® is America's largest trade association, representing more than 1.5 million members involved in all aspects of the residential and commercial real estate industries.
# # #
Information about NAR is available at nar.realtor. This and other news releases are posted in the newsroom at nar.realtor/newsroom.