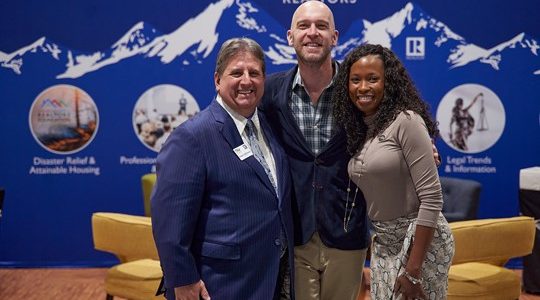 Colorado Association of REALTORS® Announces 2021-2022 Leadership; Matthew Hintermeister Installed as Chairman
ENGLEWOOD, CO – The Colorado Association of REALTORS® (CAR) installed its 2021-2022 Leadership Council at the Association's 100-year anniversary celebration and annual conference.
Matthew Hintermeister, a broker associate at LIV Sotheby's International Realty in Telluride, Colo., was inducted as chairman of the Colorado Association of REALTORS®, a role he will assume from Dec 1, 2021, through Nov. 30, 2022.
Hintermeister has worked with Liv Sotheby's International Realty in Telluride for 20 years. He is a Past-President of the Telluride Association of REALTORS®, where he was REALTOR® of the Year in 2008 and 2019. For CAR, Hintermeister was the former Mountain District Vice President, Director for Telluride, and member of the CAR Business Services Board of Directors. In addition, he was a member on the National Association of REALTORS® Public Policy Coordinating Committee. Outside of his service to the real estate industry, Hintermeister, who owns two small businesses in Telluride, has served on the Board of Directors for the Telluride AIDS Benefit for 10 years, and formerly served on the Telluride Historic and Architecture Review Commission.
In his new position as chair, Hintermeister will serve as a conduit between CAR's nearly 30,000 members and the Board of Directors. Working in tandem with the leadership council, he will assist with strategic planning, helping to set the organization's direction and vision for the coming year.
"I'm proud to represent our REALTOR® members and hope to make strides in some of our most challenging industry dilemmas like affordable and fair housing," says Hintermeister. "As an association, we will be working on some key issues surrounding the rental market, which is close to my own heart, as a Telluride resident."
"We're fortunate to have Matthew's experience and proven leadership in this important role in the coming year. His unique perspective, coming from a mountain resort community, is so valuable for our state association and our industry as a whole," said CAR CEO Tyrone Adams.
Other top officers who will serve with Hintermeister are:
Chair-Elect: Natalie Davis, The Evolution Group, Greenwood Village
Treasurer: Dana Cottrell, Summit Resort Group, Dillon
Immediate Past Chair: Robert Walkowicz, The Group, Fort Collins
The board's main responsibilities include leading and coordinating volunteer efforts of the association aimed at maintaining stability in Colorado's real estate industry, protecting private property rights, supporting efforts for affordable housing opportunities, and providing resources and services designed to help Colorado REALTORS® succeed in their business.
Other members of the 2021-2022 Leadership Council:
District Chairs
Heather Hankins, EXP Realty, Englewood
Jackson Horn, Douglas Elliman Real Estate, Aspen
Cher Smith, ERA Tradewind Real Estate, Longmont
David Madone, River Street Real Estate, Cañon City
Lynn Gillespie, RE/MAX 4000 Inc., Grand Junction
Division Chairs
Legal & Risk Division Chair: Derek Camunez, RE/MAX Avenues, Denver
Member Services: Abbey Pontius, Anderson Realty & Management, Drake
Government Affairs: Richie Averill, Madison & Company, Arvada
Other Appointments
Appointed Past President: George Harvey, The Harvey Team Inc., Telluride
AE Representative: Robyn Pale, Telluride Association of REALTORS®, Telluride
Ex-Officio
Tyrone Adams (CAR) – CEO