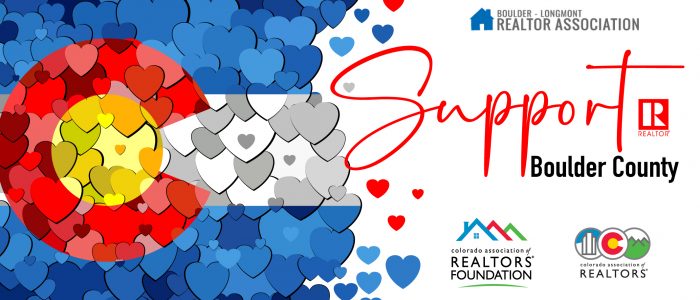 Support Boulder County Wildfire Victims
CAR Family –
Although the Marshall and Middle Fork fires continue to burn across Boulder County and the surrounding communities, our leadership team has been working with local association leaders and your CAR Foundation to take some initial steps in support of the thousands of wildfire victims.
Beginning immediately, you can make financial contributions to the CAR Foundation using the link below. This is a safe way to help fire victims – all contributions collected will provide housing-related relief funds to those impacted by what are already being called the most destructive fires in our state's history.
https://coloradorealtors.charityproud.org/Donate/Index/17404
In the coming days, we will continue our work with BOLO (Boulder-Longmont) REALTORS® and the National Association of REALTORS® to provide additional resources and financial support to the victims of this tragedy, including members of our REALTOR® family. We will keep you apprised of those opportunities as details are confirmed.
Again, we thank you for the outpouring of care, generosity and desire to lend aid to your fellow Coloradans and REALTOR® members in need. Please share this message and link widely with your network.