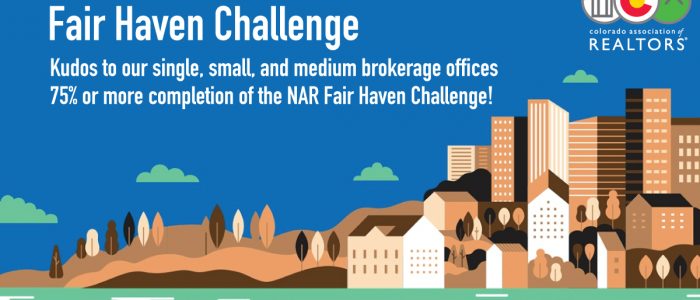 Congratulations to REALTOR'S® Who Completed NAR's Fairhaven Challenge!
Congratulations to firms that had at least 75% participation rate, and in some cases 100% completion rate, for NAR's Fairhaven Challenge during Fair Housing month! These single-, small-, and medium brokerages put their fair housing law knowledge to the test by completing the online simulation.
These companies will earn some sweet Fair Housing merchandise.
CAR's Diversity and Inclusion Committee congratulates the following Firms
Medium-Size Firms With 100% Completion:
Regents Real Estate Group is a medium-size brokerage in Cortez, Colorado, and covers 18 areas in southeast Colo.
Paul Adams, Paul Beckler, Elecia Bellmire, Brittany Chavez, Eric Cheever, Brenda Hindmarsh, Amanda Maxwell, Gina Nelson, Merridith Obletz, Adam Priestley, Hilary Priestley, Hunter Ray, Jennifer Sanchez, Carolyn Witt, Jason Witt, and Khrysta Woody.
Medium-Size with More than 75% Completion:
Re/Max Royal Gorge is a medium-size brokerage in Cañon City, Colorado. Lisa Ford, Missouri McCullough, Margaret Ritter, Tim Ritter, and Myra Smallwood.
Novella Real Estate is a medium brokerage in Denver and DTC: Lisa Arteseros, Jennifer Blake, Stacie Duffy, Vali Hooker, Terry Kowalsky, Kristal Kraft, Crystal Lowe, Larry McGee, Charles Ward, and Cynthia Webb.
Norm Murphy & Associates, is a medium-size brokerage in LaJunta, Colorado that serves Arkansas Valley, Colorado Springs, Walsenburg, and Pueblo. Angela Ayala, Keith Brann, Linda Brann, Thomas Brann, Beth Howe, Tracy Martin, and Brenda Tenney.
Small Team with 100% Completion
RE/MAX Avenues is a Denver medium-sized firm in the Denver and metro-area communities.
Derek Camunez
Gloria Lara
Priority Properties, Inc. is Denver based, medium-sized firm serving the Denver and metro areas.
Deb Kirschbaum
Kennedy Kirschbaum
Small Team with 75% Completion
Jamie Dodd, Colorado Peak Real Estate
Donna Major, Colorado Peak Real Estate
James Flood, Flood Realty, Inc.
Kathleen Flood, Flood Realty, Inc.
Ammie Thomas, Integrity West Realty LLC
Richard Thomas, Integrity West Realty LLC
Cheri Long, Priority Properties, Inc.
Sonda Banka, Sunny Homes & Associates, Inc.
Sharon Berkowitz, Sunny Homes & Associates, Inc.
Mark Stetzer, Zadel & Associates Realty, Inc.
Greg Zadel, Zadel & Associates Realty, Inc.
Single Owner Agents Who Completed the Challenge
John Adams, Adams Real Estate Associates
Jaryd Takushi, Aloha Real Estate LLC
Shigemi Cree, Ascendant Real Estate, LLC
Valli Crockett, Bergen Peak Realty
Elizabeth Gillard, Blue Ribbon Brokers, LLC
Judy Trout, Blue Spruce Real Estate, LLC
Ann Connelly, Bluebonnet Services LLC
Kimberly Hoffman, Center Real Estate Group, LLC
John Berry, Colorado Luxury Realty, LLC
Christine Volz, CURB Real Estate
Jo Ann Apostol, Deer Creek Appraisals
Gretchen Rosenberg, Denver Rental LLC
Bonnie Smith, Dream Big Colorado
Terra Smith, Element Home Life LLC
Jan Levy, Focus Funding & Realty
Glenna Clark-Olmsted, Glenna Clark Real Estate Inc
Vel Mattson, Global Real Estate
Ruth Grainger-Starr, Gold District Realty LLC
Kelly Swindell, Home Sweet Colorado Realty LLC
Michael Ihlenburg, Ihlenburg Realty
Dawn Utrup, Just Real Estate, LLC
Alexandra Marshall, Keywater Real Estate
Adam Vincent, Lost Creek Realty, LLC
Gregory Foster, MB Foster & Associates
Stew Meagher, MB-Commonwealth Realty
Charles Strauss, MB-Denver Home Guru, Inc.
Kay Watson, MB-K Watson Properties
Monique Durham, MB-Realty In Colorado
Lisa McKim, McKim Real Estate
Maria Perez, MD Realty, LLC
Angela Burdick, Metro Brokers, Realty Innovations
Cecilia Montalvo, NextHome Infinity
Barbara Asbury, Peak Realty & Consulting, LLC
Rich Workman, Pinnacle Design & Marketing
Robb Green, Platte Canyon Area Chamber of
Keith Kanemoto, Prudential Rocky Mountain
Vickie Radovich, Radovich Real Estate LLC
Liz Bowen, Red Bow Realty
David Madone, River Street Real Estate, Ltd.
Richard Kim, RKS & Associates, LLC
Darlene Haines, Rocky Mountain Property Shop
Tammy Ackerman, Rocky Mountain Property, Inc.
Linda Philpott, Westwind Realty
Keep a look out for next year's event for registration launching in November. https://coloradorealtors.com/fairhousing/