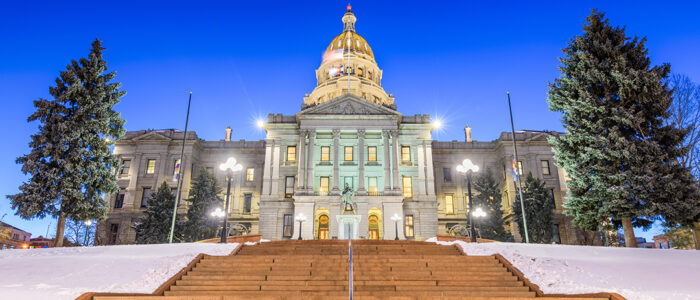 CAR Announce Legislators of the Year for 2022
ENGLEWOOD, Colo. – The Colorado Association of REALTORS® (CAR), the state's largest real estate trade association representing more than 30,000 members statewide, has announced Representative Shannon Bird (D-Westminster), and Representative Marc Snyder (D-Manitou Springs) as its "Legislators of the Year" for 2022. As a part of its annual recognition program, CAR extended thanks to Governor Jared Polis and honored Eleni Angelides, Legislative Advisor to the Governor on Housing, with its first-ever, "Raise the Roof" Award.
These policymakers worked closely with CAR to enhance public policy that will help current and future homeowners. They realize the importance of protecting property rights as an important link to general prosperity and a cultivator of future economic growth. Colorado REALTORS® work diligently to pursue public policy that builds better communities, preserves our environment, improves real estate practices, and ensures economic vitality.
"The REALTORS® of Colorado appreciate Rep Shannon Bird, Rep. Snyder, and Angelides for Gov. Polis–for being instrumental in ensuring Coloradans can access the American Dream of homeownership," said Matthew Hintermeister, 2022 CAR chair of the board.
CAR congratulates the following legislators for voicing industry stories to promote homeownership:
Rep. Shannon Bird (D-Westminster)
Rep. Bird, now in her third term, is a persistent champion of affordable homeownership. During the 2022 Legislative session she worked to protect property owners from burdensome property taxation changes being proposed and she is always searching for public policy that takes a balanced approach to housing regulation. As a strong ally for affordable housing, she was instrumental in the continuation of the Low-Income Housing Tax Credit program for the next 10 years that creates hundreds of affordable housing units each year. Rep. Bird was also a critical voice in ensuring that statewide building code legislation gave consumers choices that are affordable by making sure that there was robust local government participation that respects local control, and the state code board includes affordability definitions in their regulatory processes after the passing of HB-1362.
Rep. Bird is the chair of the House Finance Committee and on the Business Affairs and Labor Committee. She is an attorney and previous councilwoman for the City of Westminster from 2016-2018.
Representative Marc Snyder (D-Manitou Springs)
Rep. Snyder continues to be a regular champion of small business owners and affordable housing problem-solver. He is a strong advocate for wildfire mitigation funding at the Colorado Capitol for local governments, individual property owners, and forest health alike. Rep. Snyder always listens to conversations about the effects of high property taxation on working families especially in the face of rising costs of living and inflation. He is highly engaged in conversations around balancing the mitigation of the housing affordability and regulatory policy in the energy and environmental space.
This was Rep. Marc Snyder's second term as the Vice-Chair of the House Finance Committee and a member of the Business Affairs and Labor Committee. He was a former mayor and a councilman for Manitou Springs. Snyder is an attorney, specializing in trust and estate law for families with disabilities.
Raise the Roof Award:
CAR's newest award, "Raise the Roof," represents an advocacy voice that is akin to the 101st person on the team. Beyond the 100 legislators in the House and Senate, the Governor's voice and his position on legislation are critically important for any state legislation to receive his support to become law. This award recognizes that the legislative housing policy champions are not only sitting legislators but also the Executive Branch. It also recognizes the impact on the development of balanced housing policy that gives all Coloradans the potential to access homeownership. The Governor's Office prioritized affordable housing this past session to brighten the future for prospective homeowners and boost their opportunity to create intergenerational wealth through access to affordable homeownership.
CAR would like to recognize Eleni Angelides, Legislative Advisor to Governor Polis on Housing for Gov. Polis's tireless support of:
Creating homeownership opportunities for those with in urban, rural, and rural-resort communities as seen in 2022 House Bills 1304 and 1282 and Senate Bill 159.
Finding the balance in mobile home park legislation that creates more notice and comment periods for residents to be able to purchase their own mobile parks in HB22-1287, without regulating the housing market too much to remove affordable housing options for Coloradans.
Continuing to prioritize affordability in the conversations around statewide building codes
Supporting the "Century of Opportunity" Realtor and Habitat for Humanity legislation in 2021 that increased transparency of affordable housing dollars spent (HB21-1028), requiring financial literacy in future high school curriculum (HB21-1200), enabling renters to build their credit to access homeownership (HB21-1134), and incentivizing local governments to create affordable housing units and remove regulatory barriers (HB21-1271).
Finding a more balanced policy approach to inclusionary zoning for local governments that pursue those policies and get state grant funding.
About the Colorado Association of REALTORS®
The Colorado Association of REALTORS® is the state's largest real estate trade association that represents more than 30,000 members statewide. The association supports private property rights, equal housing opportunities, and is the "Voice of Real Estate" in Colorado. For more information, visit www.ColoradoREALTORS.com.
###