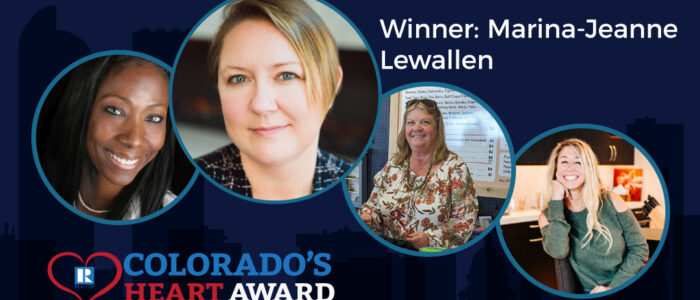 The 2023 Colorado's Heart Award Winner is Loveland's Marina-Jeanne Lewallen
ANSWERING THE CALL TO SERVE LOVELAND, COLORADO REALTOR® MARINA-JEANNE LEWALLEN PROVIDES A LIFELINE FOR VICTIMS OF SEXUAL ASSAULT
Marina-Jeanne Lewallen, a REALTOR® from Loveland, Colorado, has been chosen as the 2023 Colorado's Heart Award Winner for her volunteer work with the Sexual Assault Victim Advocate Center (SAVA) of Fort Collins. The Colorado's Heart Award is presented by the Colorado Association of REALTORS® meant to recognize REALTORS® who give back to their communities.
Lewallen has been a REALTOR® for three years and began volunteering with SAVA four years ago. Since then, she has answered their crisis line, covered community booths, and provided support for survivors of sexual assault. She has also been a strong advocate for raising awareness of sexual assault and promoting prevention programs through community outreach and education.
SAVA provides crisis intervention, advocacy, and counseling services to those affected by sexual violence in Larimer and Weld Counties. They also offer education programs to community members and students. Each year, SAVA provides confidential support to over 1,200 victims of sexual assault and educates over 1,000 community members and 9,000 students.
Lewallen's passion for helping survivors of sexual assault is evident in her work with SAVA. When asked about what inspired her to continue her work with the nonprofit, Lewallen shared a story about her initial struggles in collecting bedding and undergarments for victims of assault. She said, "A friend told me that no one wants to know what is happening behind closed doors, that we as a community will always tell ourselves and each other that these types of things don't happen in our community. It takes a strong person with a strong heart and even stronger mindset to not give up and to keep showing up even when I think it is too hard to do anymore."
Lewallen's dedication and perseverance have made a significant impact on her community. Her efforts have provided critical support to survivors of sexual assault and helped to raise awareness of the issue in the community. Through her work with SAVA, Lewallen has shown that even small actions can make a big difference in people's lives.
When asked about what she has learned in the past year, Lewallen spoke about the importance of community support in achieving a common goal. "People are willing to help a lot more when they don't have to do it alone. Sometimes it takes just one person saying, 'I am going to do this to support this cause, who's in?' to get a group together. That support and camaraderie is usually enough to keep the ball going," said Lewallen.
Lewallen's work with SAVA has not been without its challenges. One of the biggest challenges she has faced is not letting the calls she takes on the hotline affect her personal life. However, she has also found her work to be extremely rewarding. "Having the strength [after a] call or hospital visit to turn it all off so that I am not impacting my family is hard. I think the most rewarding part is that I have a unique ability to turn the commentary off after a call so that I am not taking it home. It makes me feel special that I have a skill that very few other people have, that allows me to [not only] support the people who need SAVA but [also] support the team and other volunteers so they can also be impactful," she said.
A Navy veteran, Lewallen's dedication to her community extends beyond her volunteer work with SAVA. "I was in the Navy and on my way home when 9/11 happened. That moment when we turned that ship around, our floating city of 5,000 turned into a ship of [one]. We were all one, working toward one mission and one goal," Lewallen shared. As a REALTOR® at a supportive brokerage, RE/MAX Alliance, she experiences similar feelings of collaboration and purpose. "Being a REALTOR® has opened up so many doors for me to be involved in the community. It has allowed me to meet people I never would have met before and to be a part of something bigger than myself."
Contact Marina-Jeanne at hellonocoliving@gmail.com and learn more about RE/MAX Alliance at www.HelloNoCoLiving.com.
DISTRICT FINALISTS:
Metro District
ON A MISSION TO HELP
DENVER REALTOR® STACYE PRATT MARKS TWO DECADES OF VOLUNTEERISM
Stacye Pratt has been named the Metro District Finalist for the Colorado's Heart Award.
The Denver Rescue Mission serves some of the most vulnerable people in the community, those struggling with homelessness and addiction. Pratt's role as a volunteer has been pivotal in raising money for the organization.
Over the years, Pratt's individual efforts have made a significant impact on the community. The money she has donated and raised has helped provide meals, nights of shelter, clothing, permanent housing, and even vehicles to those in need. In the past year, Pratt raised $1,187 for the Denver Rescue Mission.
What motivates her longtime service at the Rescue Mission? "There are a lot of people, from all walks of life, [who are] without four walls [and] just need a chance and encouragement," Pratt said.
Pratt's impact on the Denver Rescue Mission and the Denver community over twenty years continues to inspire her. What is the most rewarding part? "Seeing a smile and glimmer of hope [in] people who are discouraged," says Pratt.
As a REALTOR®, Pratt understands the value of community both in volunteerism and in business. When asked how her work as a REALTOR® inspires her, she says, "[It's] the opportunity, through homeownership, to help people begin the path to intergenerational wealth." Pratt's passion for giving back is a testament to the power of individual efforts in making a real difference in people's lives.
Contact Pratt at stacye@LSPRealEstateSolutions.com and learn more about LSP Real Estate at www.LSPRealEstateSolutions.com.
Mountain District
SOMEONE TO LOOK UP TO
REALTOR® ANA BOWLING MENTORS YOUTH IN TELLURIDE
Ana Bowling, a REALTOR® from Compass in Telluride, Colorado, has been named the 2023 Mountain District Finalist for the Colorado's Heart Award. Bowling has been a REALTOR® for five years and serves as a Board member for One to One Mentoring, a nonprofit organization based in San Miguel County that empowers youth to achieve their social, emotional, and academic potential through professionally supported mentor relationships.
As a Board member, Bowling has raised a significant amount of money for the One to One Program, actively recruited new potential mentors for the program, and spoken on behalf of the program and its results throughout the community. Bowling has also been a mentor for the past five years and has been fortunate enough to have had a mentee for the same amount of time. She not only has the incredible opportunity to influence her mentee's life and growth, but her mentee also impacts Bowling's life and growth for the better.
"I believe that the goal of youth mentorship is to improve the well-being of the child by being a role model that offers consistent support," says Bowling. "This support may come in a variety of ways and may change throughout the relationship as needed. Some of the ways that I have and continue to provide support to my mentee are academically, socially, and personally. I strive to set a good example and provide an open and safe place to share. Being a Board member combined with the responsibility of being a mentor affords me the opportunity to share with the organization the firsthand needs and experiences of the mentors and mentees. I am proud and humbled to have the opportunity to impact another's life in a positive way."
Bowling's work with One to One Mentoring has made a significant impact on dozens of lives in the community. She has raised $10,000 for the organization and has personally volunteered 120 hours and recruited 12 volunteer hours from others to work for the organization.
Bowling believes that authentic relationships and being open to listening and learning from one another are what makes the world go round. She is inspired by the difference that she can help to make behind the scenes and believes that the most beautiful gift to give is the gift of time and energy to someone whom you may never know.
Aside from her work with One to One Mentoring, Bowling is also a vice-chairperson on the Board of Directors and fundraising committee for the San Miguel Resource Center (SMRC), a Domestic Abuse and Treatment Center. She believes that everyone has the right and should have the ability to feel safe, respected, and empowered. Bowling is inspired by the difference that she can make behind the scenes and hopes to serve every person in need that crosses the path of the SMRC.
Bowling is also a Board member and development committee member of the Ah Haa School for the Arts, a community hub for creative exploration offering classes and exhibitions to and by both adults and children. Bowling believes that art makes us smile, think creatively, and brings the community together.
"I am honored to be recognized for my work in the community," says Bowling. "I believe that we all have the power to make a difference in the lives of others. It doesn't take a lot of time or resources to make a positive impact. I have always believed that one of the most beautiful gifts to give is the gift of time and energy to someone whom you may never know."
Contact Bowling at ana.bowling@gmail.com. Learn more about Compass here: www.TellurideLuxuryProperties.com.
Western District
FROM SELLING HOUSES TO SAVING LIVES
WESTERN DISTRICT REALTOR® DEBBIE LAITY PUTS HER HEART INTO LOCAL ANIMAL SHELTER
REALTOR® Debbie Laity from Cedaredge Land Company in Cedaredge, Colorado, has been named the 2023 Western District Finalist for the Colorado's Heart Award for her outstanding volunteer work at Surface Creek Animal Shelter. Laity has been a volunteer with the organization for the past nine years, and her work has made a significant impact on the shelter and the community it serves.
The Surface Creek Animal Shelter, located in Cedaredge, Colorado, has a mission to help homeless and mistreated animals find forever homes. The shelter relies heavily on donations and volunteers to provide care for its animals and to support its day-to-day operations. One way that Laity has contributed to the shelter's success is by volunteering at its thrift store, which raises funds to support the shelter's operations.
"I started working with the Surface Creek Animal Shelter in 2000," says Laity. "I was a stay-at-home mom back then, and I would even bring my toddler along to help out as well. Volunteering with me at such a young age was good for her and taught her how rewarding volunteering can be," said Laity. "I served on the shelter Board of Directors for several years before taking a break from the organization. In 2013 I decided it was time to get involved again, and I started working at the thrift store that benefits the animal shelter. I will be starting my 10th year in August or September."
Laity has been working at the thrift store every Tuesday morning for the past nine years, and her efforts have helped keep the store's sales numbers up. All profits from the store benefit the animal shelter, and without the volunteers, the group would not be able to keep the shop open. Over the years, Laity has seen the shop's business grow, and the community support for the shelter has been amazing.
"The most challenging part of volunteering is working my business schedule around my volunteer schedule," says Laity. "But I do it because I love the animals. I want to help stop the overpopulation of animals and the abuse. We are a small, rural/mountain community and everything helps to keep the shelter operating."
Laity's efforts have helped raise around $3,000 for the animal shelter in the past 16 months alone. She has also personally volunteered 156 hours and recruited 30 volunteer hours from others during this time. Dozens of animals have been saved and adopted to loving homes because of Laity's service.
Contact Laity at dancuttbow@aol.com and learn more about Cedaredge Land Company at www.cedaredgeland.com.