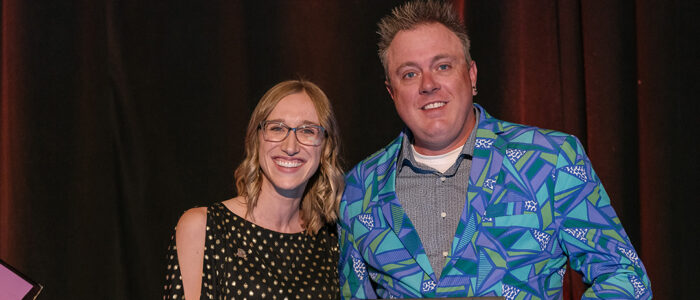 Colorado REALTORS® Honor Mark Kinslow II as Colorado Young Professional of the Year
ENGLEWOOD, CO – Mark Kinslow II, a REALTOR® with Key Real Estate Group in Englewood, Colorado, was named Colorado Young REALTOR® of the Year by the Colorado Association of REALTORS® (CAR) and the Colorado Young Professionals Network (CYPN) at its annual convention in Snowmass, Colorado.
This award, also known as the Gus Williams Young REALTOR® of the Year Award, recognizes young professionals who strive each day to better the industry and their local community. The CYPN is a group of REALTORS® who strive for leadership, and they honor individuals who have a strong commitment to the Young Professional network, as well as those who raise the bar for success both in their community and real estate business.
Kinslow received the 2023 award for being a guiding light for young professionals and encouraging others into leadership roles with the South Metro Denver Young Professionals Network. Fellow REALTORS® appreciate Mark for his inclusiveness, innovation, and support.
Mark is being recognized for his positive attitude, and always being there to support his REALTOR® family and association. In addition to the award, CYPN donated $500 on his behalf to Freedom Service Dogs.
The Colorado Young Professionals Network (CYPN) is a group of REALTORS® who are "young at heart or young in age" and lead the way in the real estate industry and their local communities through educational, philanthropic, and social events. They value education, cultivate leaders, and support local communities.  For more information, visit www.coloradorealtors.com/colorado-young-professionals-network.
The Colorado Association of REALTORS® is the state's largest real estate trade association that represents more than 28,000 members statewide. The association supports private property rights, equal housing opportunities and is the "Voice of Real Estate" in Colorado.  For more information, visit www.ColoradoREALTORS.com